Keeping our glass windows and furnishings spotless makes our home sparkle. However, lint and dust collect all the time, and some glass cleaners leave marks on clean surfaces. Having a plan for how to clean glass without streaks ensures that you never get caught flat-footed.
Streak-free glass is easy to attain if you have the right tools and recipes. When you know reliable ways to clean glass without streaks, your home remains beautiful and ready for a magazine cover. This guide gives you our favorite methods for cleaning glass without streaks.
We offer daily treatments ideal for inclusion in your regular cleaning checklist, and you also get some of our most robust DIY cleaning solutions for stubborn streaks and smears. Our organic mirror cleaner will keep your glass bright and your light fixtures looking like a million bucks.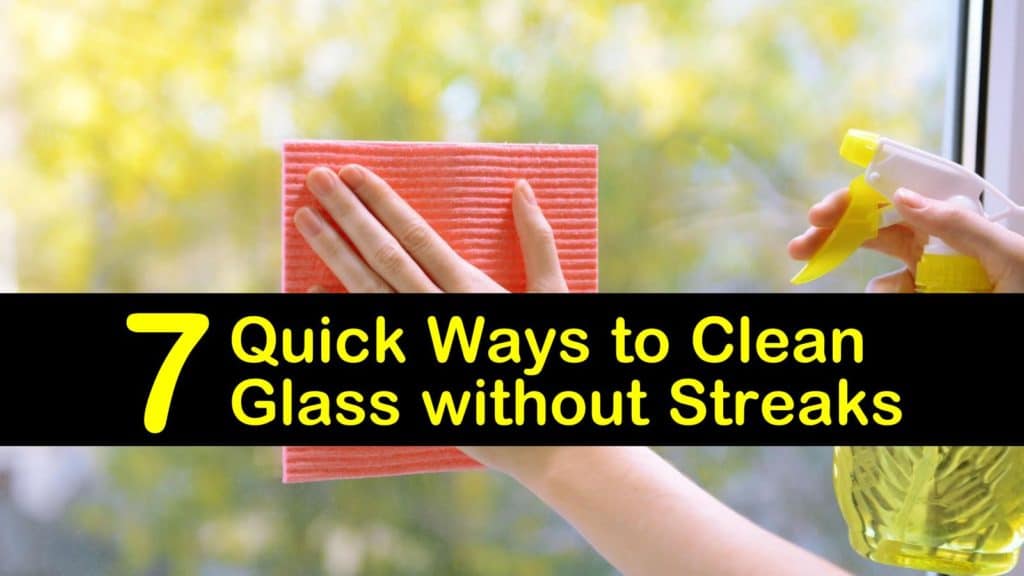 Cleaning Glass without Streaks
Cleaning windows is likely already part of your regular chores. Glass requires regular maintenance, and it just takes a few simple steps to maintain it. The first step toward cleaning a glass table without streaks is to give it daily care with a time-tested cleaning approach.
Daily Cleaners
This section shows you how to clean glass without streaks using basic cleaning tactics that fit right into your standard chore list. You get info on brightening your glass to a high gleam using coffee filters, plain water, and an unorthodox hack that doesn't require water or a cloth. These daily cleaners work wonders on cloudy glass.
Clean Your Windows with Water
Most of the time, glass streaks result from impurities in the cleaner drying onto the surface of the window. Using plain water avoids that issue and allows the glass to shine through. Hit your glass with water and cloth the next time you clean them; it's one of our top cleaning options.
Dampen a clean cloth with cold water. Wipe the window with the cloth from top to bottom, and apply mild pressure to dislodge residue. Dry the glass with a clean microfiber cloth while the surface is still damp. The dry cloth buffs the glass to a shine.
Wipe the Windows with Coffee Filters
The type of cleaning cloth you use to wipe down and dry your outside windows makes a huge difference in the way the glass looks when you finish. Terry cloth and other towels often leave lint behind and do a poor job of soaking up the liquid. Use coffee filters, newspaper, or a lint-free cloth to give your windows a squeaky-clean wipe down.
Spray your preferred window cleaner or plain water on the glass and wipe the surface with coffee filters. Change out the filter when it gets too soaked. Use a dry coffee filter to buff the window.
The coffee filters leave no residue or lint on the glass. Throw the filters away when you finish cleaning.
Dry Clean Dusty Windows with a Vacuum
Some windows don't have much exposure to the elements and have little more to deal with other than dust and dander build up. In these instances, glass cleaner and cloth are often unnecessary and risk causing streaks where none previously existed. Use a vacuum on windows that pick up nothing other than dust and dirt.
Attach a crevice tool to your vacuum cleaner to hit the cracks and corners. Work the vacuum from top to bottom, and give any curtains a cleaning while you're there. Continue until the glass is dust-free and sparkling.
The Best Ways to Clean Glass Without Streaks
Regular glass cleaning helps you dodge bad streaks and grime most of the time, but even a conscientious cleaner runs across a tough customer now and again. Some glass streaks more than others, and having a more potent cleaning product gives you tools to bring to bear when you encounter it.
How to Clean Glass Without Streaks – Heavy-Duty Cleaners
In this portion of the guide, we present window washing approaches that knock streaks right out of the glass. You get directions for making a homemade glass cleaner with vinegar as well as dynamite cleaning concoctions that use rubbing alcohol and ammonia to make your glass shine.
Restore Your Glass with Liquid Dish Soap
Our recipe for a window cleaning solution with dishwashing liquid gives you a basic cleaning agent with surprising power. Use our soapy glass cleaner as a go-to approach to deal with streaking and white marks on windows. When combined with scrubbing and elbow grease, spots and streaks don't stand a chance.
Mix the dish soap and water in a bucket. Wet the squeegee, and clean the glass from the top down. Swipe the squeegee blade across the glass surfaces. Wipe drips on the side of the window and windowsill with a cloth. Buff dry with a clean cloth or chamois.
Get the Glass Spotless with Vinegar
Water and soap aren't the only agents that leave your glass looking like new. Use white vinegar to clean glass and leave behind nothing other than a shine.
Vinegar is a clean-windows-without-streaks miracle. Our vinegar glass cleaner gives you extra power when you need it to get the job done right.
Add equal parts white vinegar and warm water to a spray bottle. Spray the window and use a sponge to clean it from the top of the window down. Clean anodized aluminum window frames with this solution, too. Wipe away excess water from the window frame with a clean cloth and buff the window dry with another cloth or paper towels.
Not only is vinegar beneficial for your windows but it's also one of the ways to clean wine glasses that may be stained. Spritz some vinegar on the glass and wipe it down to eliminate any spots.
Vinegar is an all-around excellent cleaner. Use it to clean algae from fish tank glass, eliminate hard water, and even clean the coffee maker.
Make Your Glass Shine with Rubbing Alcohol
Rubbing alcohol is the ideal active ingredient when you want to make your own eyeglass cleaner, and it does fantastic work on streaks. Our rubbing alcohol window cleaner recipe knocks out buildup and resists streaks.
Combine the soap, alcohol, and water in a spray bottle. Spray the entire surface, and clean the glass from top to bottom with a sponge. Buff the window dry with a clean cloth when you finish washing it and repeat whenever you encounter a resistant streak.
If you need to remove super glue from glass surfaces like windows, alcohol is ideal.
Rubbing alcohol is also one of the essential whiteboard cleaner ingredients to get a nice clean board again after light or heavy use.
Use Ammonia to Buff Your Glass
Ammonia is often the key active ingredient in commercial glass cleaners like Windex, and for a good reason. It's a windows-without-streaks cleaner that tackles dirt and streaks on glass without blinking.
Hit the worst cases of streaky glass with an ammonia-based glass cleaner to take care of your problem and enjoy streak-free windows.
Turn on fans and open windows to give yourself enough ventilation. Mix the ammonia and water in a large bucket.
Wet the squeegee in the mixture, and clean the windows from the top of the window down. Push the liquid off the glass with the squeegee blade. Buff the glass dry with a clean cloth.
Use this mixture as a home or car window cleaning solution that leaves the surface, both inside or out, gleaming once again.
We hope you had a delightful adventure investigating our glass cleaning tips. Glass streaks show up without a moment's notice, and it's crucial to know how to handle them. Our look at glass maintenance shows you ways to get your glass clean and looking its best.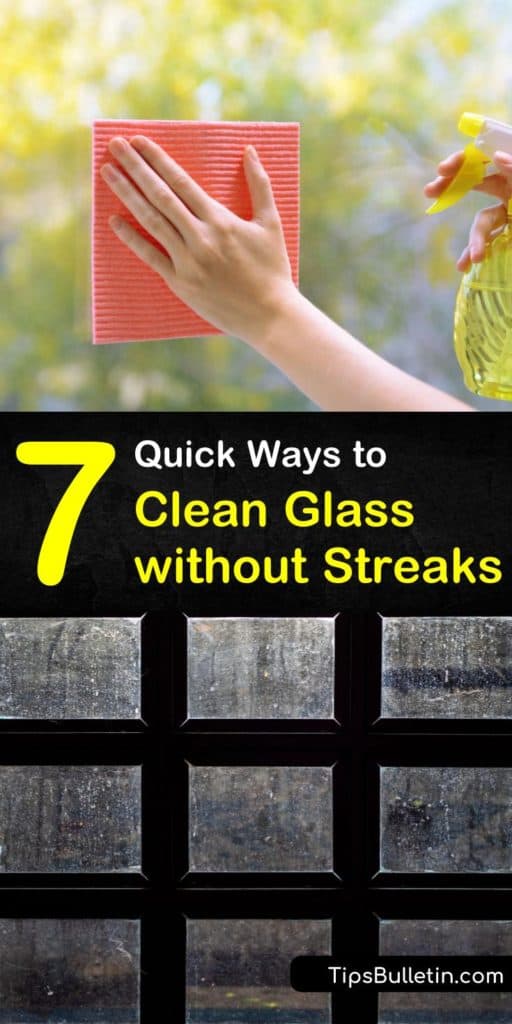 Thanks for reading our glass care suggestions. Facebook and Pinterest are excellent venues to share how to clean glass without streaks, as you might wish to help others learn about glass cleaning options, too.