One of the toughest questions to address in the kitchen is how to clean grease off a stove hood. The grime gets stuck in impossible to reach places. The range hood is an excellent addition to the modern kitchen, and the exhaust fan does a fantastic job of removing harmful airborne oils, smoke, heat, steam, and fumes from the air.
Unfortunately, we all know the underside of the hood is pretty good at collecting these microscopic particles and turning them into grease stains, and crud that is challenging to remove. You are in luck because we have several great ideas on how to take care of this problem.
We have a few DIY cleaning tips to show you the best way to degrease range hood build up. We will also demonstrate how to remove grease from kitchen hood stainless steel. We can help you get your greasy range hood looking brand new in just a few steps.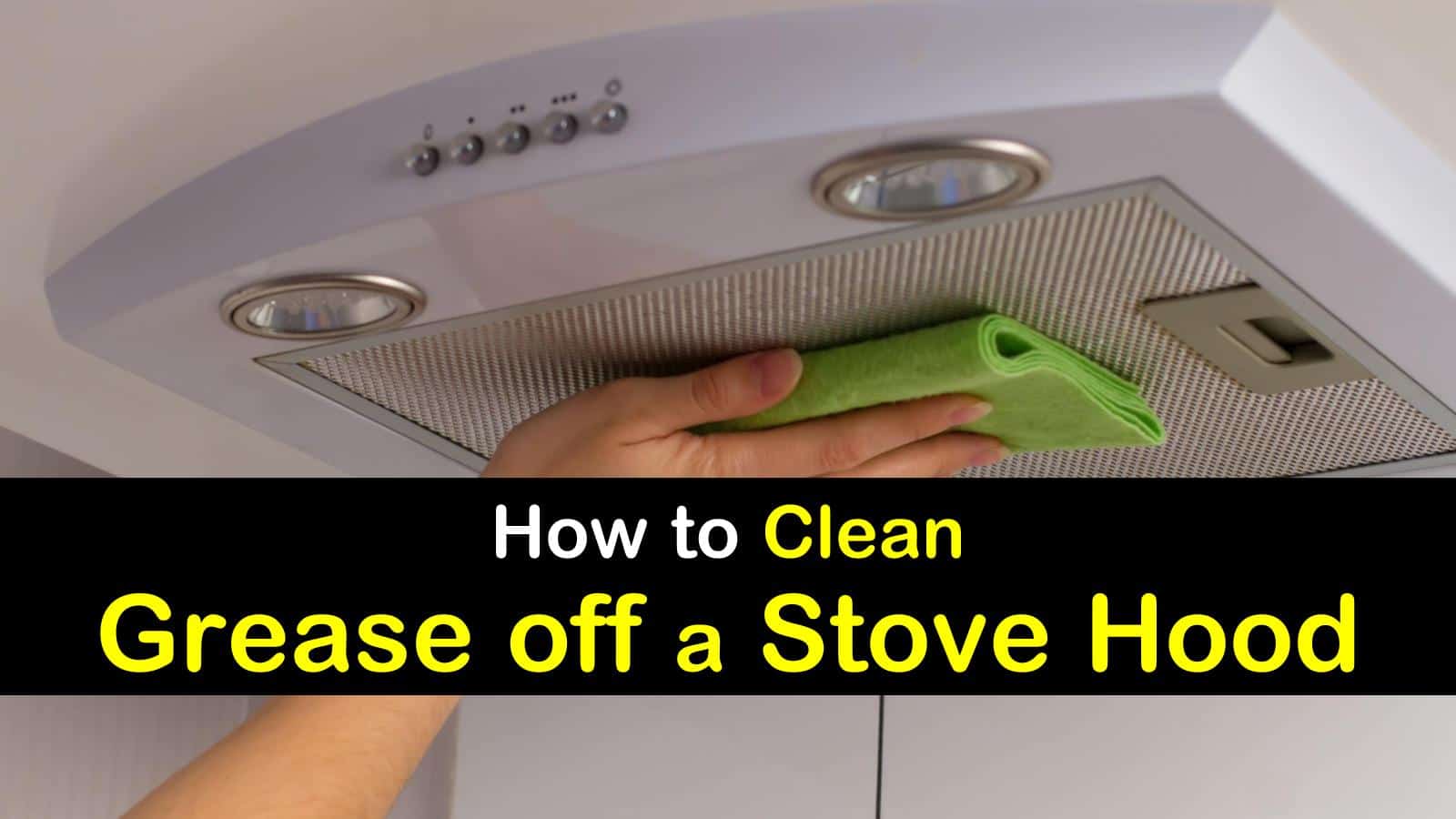 Cleaning Grease from a Stove Hood – Getting Started
Here's a quick list of the items and cleaning supplies you are likely to need if you follow the recipes we have outlined in this article for grease remover for pans and getting grease off a stove hood.
How to Clean Grease Off a Stove Hood – Preparation
Cleaning a greasy range hood is undoubtedly one of the messier cleaning projects. Grease, grime, and cleaning solution will drip from the underside of the hood to the stovetop below it.
Remove the stove grates. If they are in bad shape, soak them overnight in a bucket or a pail filled with water to cover them and one cup of OxiClean or white vinegar. The next day, use a scrub brush to remove any remaining debris.
This method is probably the best way to clean gas stove grates. With the cooking grates removed, cover the burners with newspaper or old rags, so no crud gets in while you work.
Note that many of these recipes also work quite well to clean an greasy oven, too. It may be best to tackle your stove and oven cleaning at the same time so you can knock this extensive cleaning operation off your kitchen cleaning checklist at one go.
How to Remove Grease from Kitchen Hood – White Vinegar
One of the many vinegar cleaning uses involves its efficacy as a degreaser. Remove the range hood filter if it has one and set it aside for later. Fill a spray bottle with white vinegar.
Spray the entire underside with the vinegar and let it sit for about an hour, spraying more as necessary. Do not mix baking soda with vinegar because they cancel each other out.
Vinegar is also an important ingredient in your favorite homemade glass cleaner recipe. It has a million uses for cleaning both inside and outside the home.
Best Way to Degrease Range Hood – Dawn Dish Soap
Once the vinegar has had a chance to penetrate the grease and grime, give everything above the stovetop a good wipedown with a cleaning solution made from Dawn dish soap and warm water. Dawn dish soap has excellent degreasing properties, so use soapy water and paper towels to clean up the greasy range hood and get as much gunk and grime off as possible.
It is often quite helpful to place the cleaning solution in a spray bottle and use the sprayer to deliver the solution to hard to reach areas on the underside of the hood. The best degreaser for kitchen and bathroom is usually enough to tackle grease stains. Be sure to clean the small area around the metal filter the best you can as this is often an area that collects the most grease.
Degreaser
Once you have done your best with soapy water, let it air dry so you can take an inventory of any gunk that remains on the hood. What's left will require using a scrub brush and possibly a putty knife to scrape away the remaining gunk. Scrubbing with Oxiclean and more hot water and using a commercial grade degreaser may also be needed to get rid of what's left.
Range Hood Filter
If you have a stainless steel range hood filter, clean a kitchen hood filter by placing it in a pot of boiling water for a few minutes, or by running it through your dishwasher once or twice. If you use charcoal filters, purchase a refill at your local hardware store and replace periodically.
Finishing Up
Once you have removed all of the grime, replace the filter and give everything a final wipe down with some general purpose cleaner. This cleaning project is a great excuse to clean a burnt stove top, and you can make a homemade cleaner for stoves that's very similar to what we're doing here.
We hope that we have helped you learn how to clean grease off a stove hood. The white vinegar and Dawn will break down the grime while the OxiClean and degreaser will tackle the tough parts, helping to minimize elbow work.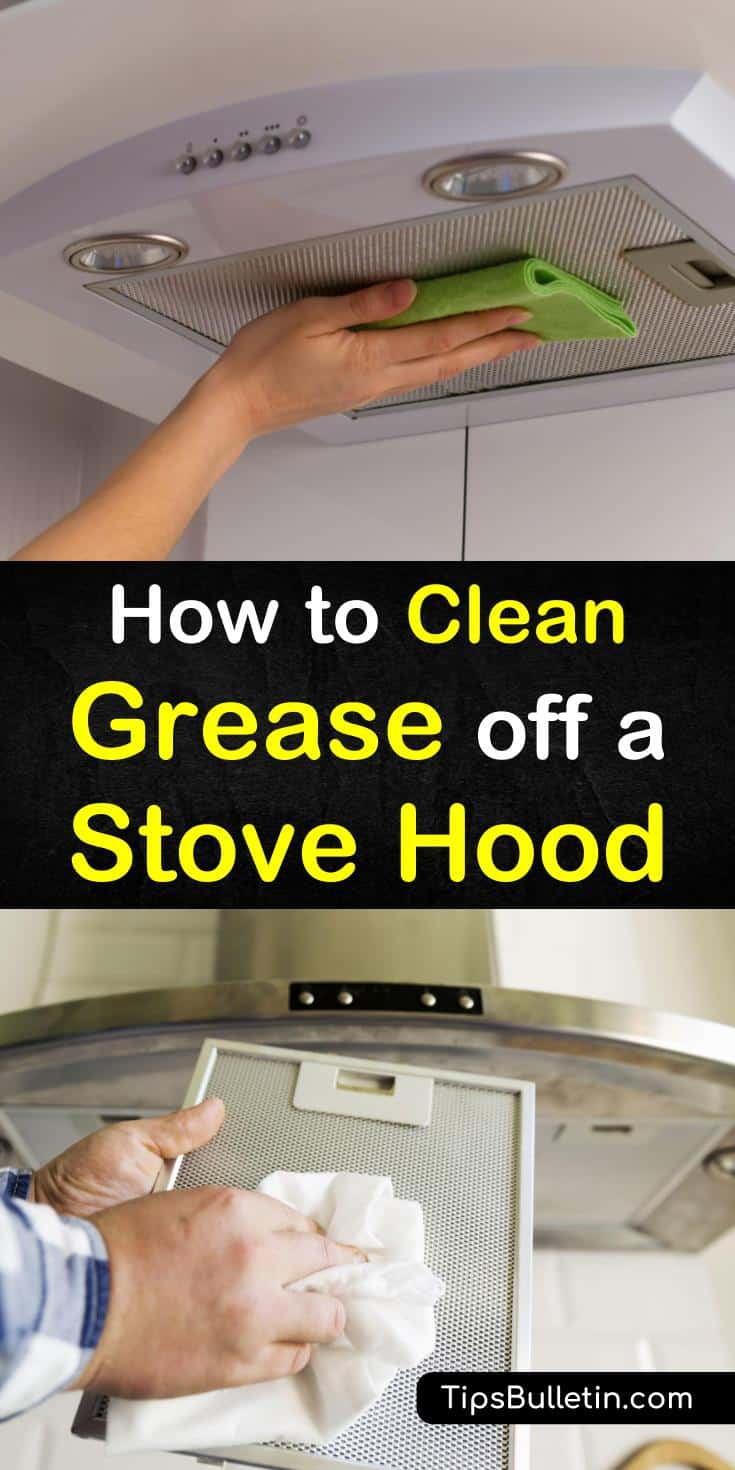 If you have enjoyed learning how to clean grease off a stove hood, please share your newfound stove hood degreaser information on Pinterest and Facebook.