Having an outdoor grill is one of the sweetest perks that comes from having a home. On a summer evening, nothing's more pleasant than the smell of cooking meat and charcoal wafting on the breeze from folks grilling meals. Keeping your grill in top condition is essential, which is why it's crucial to know how to clean grill grates.
Having the tools and knowing how to clean cast iron grill grates keeps your meals sanitary and prevents dangerous flare-ups. In this article, we've put together the most valuable cleaning tips so you can enjoy your grill for years to come.
You'll get some excellent options you can use every time you cook on your grill to keep it clean and looking fantastic, and we also show you the top heavy-duty cleaning methods. With some elbow grease, you can use these cleaning solutions to whip even the dirtiest grill into like-new condition.
Clean Grill Grates the Right Way
Your grill performs at its peak when you maintain it. That means that you need to keep your grill clean and seasoned to prevent rust or grease buildup. Ensure that you clean your grill every time you use it if you want it to stay at the top of its game.
A daily cleaning method keeps your grill clean without risk of damage. Find a cleaning option that works for your needs, and don't grill without it.
Not only should you clean your grill after each use, give it a little attention right before using it, too. Burn residue off the grates and clean off dust that may have accumulated since the last grilling session so that you can enjoy fresh, delicious grilled food every time you cook.
Cleaning Stainless Steel Grill Grates and Other Grate Types
In this section, we show you the best conventional cleaning methods. These options for how to clean grill grates get them looking their best without harming the metal. Use these cleaning options without fear, and they will leave your grill looking fantastic.
A clean and grease-free grill is essential if you want to serve your family healthy and tasty meals. Our low-impact cleaning options are perfect for the daily barbecue and marinade specialist and make your grill perform at its best.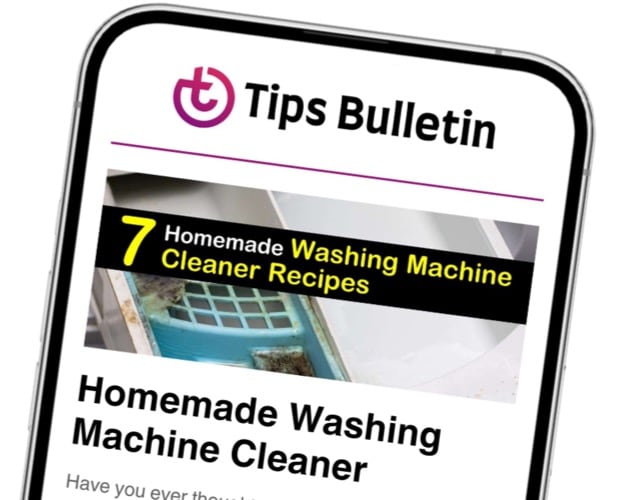 Finally, an email that Transforms Your Home.
Get the latest home and garden tips from our experts, delivered straight to your inbox.
Brush the Grill
How to degrease a grill starts with using the most common and useful cleaning tool you have in your toolkit. The humble grill brush will usually take care of a lot of food debris and grease if you use it regularly. Every time you barbecue on your grill, plan on giving the grates a good brush down as a final act before heading inside.
Regularly brushing your grill cuts through grease build up to expose the seasoned metal or porcelain. Best of all, you can brush your grill while it's still hot, which gives you extra cleaning power.
Brush the grill while it's still hot, starting at the top of the grates and working downward. Porcelain grates and stainless steel grates require special care. Avoid steel wool or a wire brush for removing stains from porcelain grill grates or for cleaning stainless steel grill grates to avoid scratching and damaging them.
Wire brushes are a good option when you want to know how to clean cast iron grill grates, though. Dip your brush in water to add some steam cleaning power to the mix.
When you've finished cleaning, it's important to season cast iron grill grates again. Re-season your grill with a light coating of vegetable oil to keep it non-stick and provide a nice fresh surface for your next grilling adventure with your favorite meat and veggies.
Burn Away the Gunk
If you wind up barbecuing something that has a heavy sauce, your BBQ grill can get pretty caked with old, baked-on food. You might have trouble getting some stubborn spots clean using a brush by itself, which is when heat comes in handy.
Self-cleaning ovens use heat to burn away any organic material and leave only ash, which you can easily wipe away. You can turn your grill into a self-cleaning oven, too. It's the best way to clean grill grates in a hurry.
Burning away food requires high temperatures. Stoke the flames to get your grill hot enough for this method to work.
Turn up your propane gas grill or add enough fuel to your wood or charcoal grill to get the temperature up to at least 550°F. You can also opt to put the grates in a self-cleaning oven and burn off any food or debris that way.
How to Clean Cast Iron Grill Grates – Heavy-Duty Cleaners
You'll eventually encounter a grill grate that won't come clean with a low-impact method. To tackle tougher stains and caked-on grease and grime when you need to know how to clean BBQ grates, reach for a heavy-duty cleaning option.
Having a high-powered grill cleaning method in your back pocket will prepare you for any eventuality and give you peace of mind. It's what you need to become a master griller and top outdoor chef.
This section examines different methods of cleaning grill grates when the usual options don't get the job done. You'll get an excellent solution for cleaning stainless steel grates with vinegar that you can also use on other grate types.
And, we show you some options on how to clean grill grates that use household items such as salt and baking soda to knock out even the most formidable grill stains.
Use a Hardwood Block or Aluminum Foil as a Scraper
Depending on your grill grate's composition, whether it's cast iron or stainless steel, a simple wooden block or a wadded-up ball of aluminum foil will do a better job as a BBQ grill cleaner than just about anything else. It's incredibly easy to make a DIY scrubber from wood or aluminum foil that will not only clean your grill grate but leave it looking like it just came out of the box.
The baked-on gunk is loosened and removed with a couple of well-placed scrubbing motions and a bit of elbow grease. It's a great first option when you don't want to use a harsh cleanser that is homemade or a commercial product on your grill.
Don the gloves and glasses. Scrub the grates with the block to loosen and lift away any grime or food. After a few sessions, you'll begin to wear grooves in the wood.
After you've cleaned away much of the debris from the grate, wad up the aluminum foil and rub it on the grate. This method works exceptionally well for stainless steel, but it's an excellent grill cleaning option for any material.
Soak the Grate
Soaking works wonders when cleaning all sorts of materials, and your BBQ grates are no exception. Use this strategy to deep clean grates on your gas stove, too. If you find that you haven't had any luck cleaning a gas grill using a low-impact method or scrubbing block, try good old hot water.
Boiling water will cut through grease and soften organic material and make your cleaning much more manageable. Give this method a shot if you need a cleaning boost that takes only a little time and effort.
Fill a basin with warm water and add liquid dish soap. Use the tongs to add your grates to the basin, and allow it to soak for at least an hour. Scrub with the brush until the grates are clean.
Rinse the grates thoroughly and wipe them dry. If the grates are cast iron, coat them with vegetable oil and place them in high heat to season.
Clean Your Grates with Vinegar
Vinegar is one of the most potent household cleaning agents around. Thanks to the acetic acid it contains, vinegar slowly eats away at grime and dirt. Vinegar is perfect for cleaning up coins, tiles, and laundry, and it'll clean up your worst barbecue grill grate issues. Use it to remove corrosion from aluminum, too.
Cleaning stainless steel grill grates with vinegar keeps them looking sharp. You can use this method with cast-iron and porcelain grill grates, as well.
Dip the brush in vinegar. Scrub the grill with the brush until it's clean and all the food particles are gone.
You can add a teaspoon of table salt if you're working with cast-iron grates and need some extra cleaning power. Repeat until the grate is clean, rinse the grate and re-season it if required.
Deep Clean with Vinegar and Baking Soda
Sometimes, nothing but the most robust option gets your grates clean and happy. Most grates come clean with less powerful cleaners, but if you run across a particularly tough customer, go for a vinegar and baking soda solution.
Baking soda is an amazing natural scrubber and contains mild abrasives. When you combine it with vinegar, you get an unmatched DIY cleaner that cuts through all kinds of stains. It's an excellent deep cleaning option.
Add baking soda and vinegar to the trash bag, and then add the grates. Seal the top of the bag with a rubber band, and leave it overnight. When you open the bag the next day, any food or grease should fall off the grates. Rinse the grates, and re-season them if needed to prevent rusting.
We hope you had a blast exploring our grill grate cleaning tips. A grill is a beautiful addition to summer nights in our backyards, but we need to know how to clean grates to continue enjoying healthy and delicious meals. Our guide shows you how to clean cast iron grill grates and other grate types to keep your grill looking and acting its best.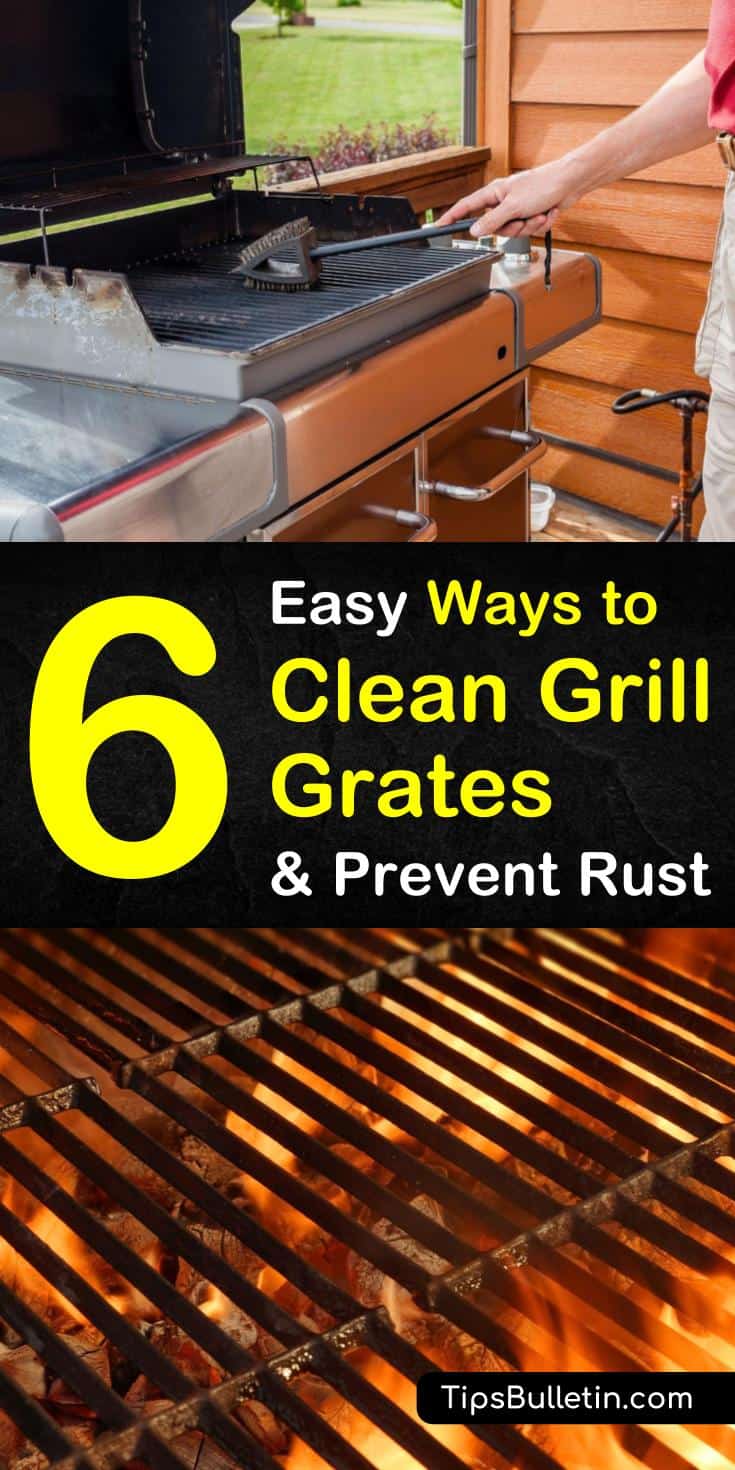 Thanks for reading our grate cleaning guide. If our advice on how to clean grill grates was useful to you, please share our cleaning stainless steel grill grates suggestions with family and friends on Pinterest and Facebook.