Grill cleaning is a chore. Have you ever wondered how to clean grill racks without banging up your hands? What if we told you there's a way to clean grill racks without dealing with much gunk or dirt build up?
Regular cleaning keeps harmful bacteria, gunk, and food particles from building up on your grill, which could protect you from health concerns and even pose a fire risk. Cleaning is essential because it also determines the longevity of your grill.
To make genuinely mouth-watering food, start with a clean grill every time. If you love grilling your food, but hate the clean up process, read on. Achieve super-clean-grill-grates with less scrubbing and elbow grease. We'll show you how to clean grill racks both indoors and out.
Learn All the Ways to Clean Grill Racks
If you never learned how to clean grill racks, you came to the right place. Our ways to clean grill racks include options for all types of BBQ grill racks and ovens. There are many ways to clean grill racks, but none require special equipment or products.
Whether you regularly grill in oven or on your Big Green Egg, you need to know the right way to remove stuck-on food and sauce drippings from the racks. Read more to find the best strategies.
How to Clean Grill Racks: Outdoor Grills
Learning how to clean grill racks keeps your BBQ grill in proper working order. If you start with a clean BBQ each time you fire up the grill, your meals taste better. Clean the grill after cooking or eating for the best results.
How you clean the grill, however, varies. Outdoor grills come in gas or charcoal. They also include porcelain, cast iron, or stainless steel grates.
Each option requires different care, but they all have the same deep-cleaning method. Follow the owner's manual instructions for cleaning grill racks, or you may void the warranty.
Gas Grill Rack Cleaning
Most gas grills have a clean setting, but fancy equipment can't accomplish what vegetable oil can. Set the flame to low and scrub the racks with a grill brush.
Turn off the burners and spray on the vegetable oil. Vegetable oil loosens food particles, allowing them to drip down and burn the next time your grill is on.
Soak Charcoal Grill Racks
The easiest way to clean charcoal grills is to brush the slightly warm grates with a grill brush after cooking. Then, soak them in hot water with dish soap.
If your sink isn't large, turn the grates periodically when cleaning a charcoal grill rack. Allow them to sit for an hour in the soapy water, then scrub the racks with a scouring pad. Rinse and repeat if needed.
Cleaning Propane Grills
Scrub propane grills at high temperatures using a stainless steel scrubber. Allow the grill to heat to around 500°F for approximately 10 to 15 minutes. Turn it off and start scrubbing the grate in a back and forth motion. Scrub until the bars are free of gunk.
Cleaning Grill Grates: Porcelain Grates
Cleaning grill racks made from porcelain requires care. The material is fragile and easy to damage with harsh scraping. For porcelain grates, check your manufacturer's instructions.
Use a nylon scrubber on porcelain rather than a brass brush, which can scrape away the top of the grates' coating. A curved brush gets between the grating and cleans better. When deep cleaning porcelain coated cast iron grill grates, scrape diagonally, starting close to you and moving up and out.
Try scraping in a single direction to reduce damage. Flip the cooled grill over to scrape the grime on the underside. Excess build up often accumulates outside of the grill, so this side may take considerably longer to clean.
Hot water and dish soap clean stuck-on gunk off the outside of the grill nicely. Keep scrubbing until the grate appears clean.
Cleaning Grill Grates: Stainless Steel and Cast Iron Grill Grates
Stainless steel and cast iron grill racks require much more care because they scratch easily. Cleaning grill racks made from stainless steel or cast iron involves using equipment designed for them and a soft cloth.
Use a stainless steel grill brush to clean a grate surface made from the same material, choosing between a straight or roll option. Both clean the top of the grates thoroughly, but roll brushes make it easier to clean the grate sides.
Scrub the rack. Dab a paper towel or cloth in a teaspoon of vegetable oil. Wipe the towel along each bar using a pair of tongs to prevent rusting. Allow the oil to dry directly on the grate.
It makes clean up effortless in the future, preventing food and germs from sticking later. Avoid steel wool and wire brush scrubbers on stainless steel because they cause scratching and lead to rust.
If you do see rust, rub it with aluminum foil to help redeposit chromium. Try also rubbing an old stainless steel grill rack with aluminum foil to spruce it up. Never use abrasive cleaning products.
Cleaning Cast-Iron Grates
The best way to clean a cast iron grill is to soak it in vinegar, baking soda, or hot water. Use a steel wool brush or scraper to remove the gunk before soaking cast-iron grates. Rinse thoroughly.
How to Get a Deep-Clean-Grill with Vinegar
Outside of regular cleaning, deep clean your grill once in a while. A homemade natural grill cleaner with vinegar deep cleans any type of grill grates. It also helps fight grime flare-ups.
For cleaning stainless steel grates with vinegar and baking soda in this recipe, combine vinegar and baking soda in a bowl. Pour it into a container or garbage bag that can fit the grates. Add your grates to the bag. Cover the container or use a rubber band to tie the garbage bag closed and soak the racks overnight.
The next day, remove the grates and rinse. Scrub away any remaining gunk vertically, using a nylon brush for porcelain grates or stainless steel bristles for steel and cast iron grates. Rinse with warm water again and pat dry.
Vinegar is a powerful natural cleaner. If you use vinegar as a marinade, cleaning the grill afterward is much easier as well.
Ways to Clean Grill Racks from the Oven
When it comes to cleaning grill racks in the oven, either go with a store-bought cleaner or use a homemade degreaser for oven and stove deep-cleaning. Commercial grill rack cleaners are safe for use on oven interiors too.
The easiest, scrub-free way to clean dirty oven racks is to use the dishwasher. For this method, grab the dish soap. Place the oven racks inside the dishwasher and run on the harshest cycle. The bottom shelf works best.
Natural Ways to Clean Grill Racks vs. Store-bought Cleaners
Natural options like vinegar are popular in homemade cleaning products because they work. You can also buy a grill rack cleaner.
If you purchase a commercial cleaner, use it outdoors. Find rubber gloves, newspaper to set the grill racks on, and protection from the harsh fumes. Allow the cleaning products to sit for 10 to 15 minutes, then scrub. Rinse thoroughly.
Why Should You be Cautious when Cleaning Grill Racks?
Cleaning grill racks is tough on your hands. You may bang your fingers when scrubbing the grates. Avoid touching hot surfaces. Wear rubber gloves for protection against soapy water and harsh chemicals.
Clean Grill Racks Regularly
When flare-ups happen, you soon face a host of other issues. Clean BBQ grill racks for a few minutes after every use. Deep clean the grill once per month, scrubbing the bars and outside of the grill thoroughly.
These tips save you elbow grease when using natural cleaning products, help you clean more efficiently, and ensure your grill remains in lasting condition – no matter what type.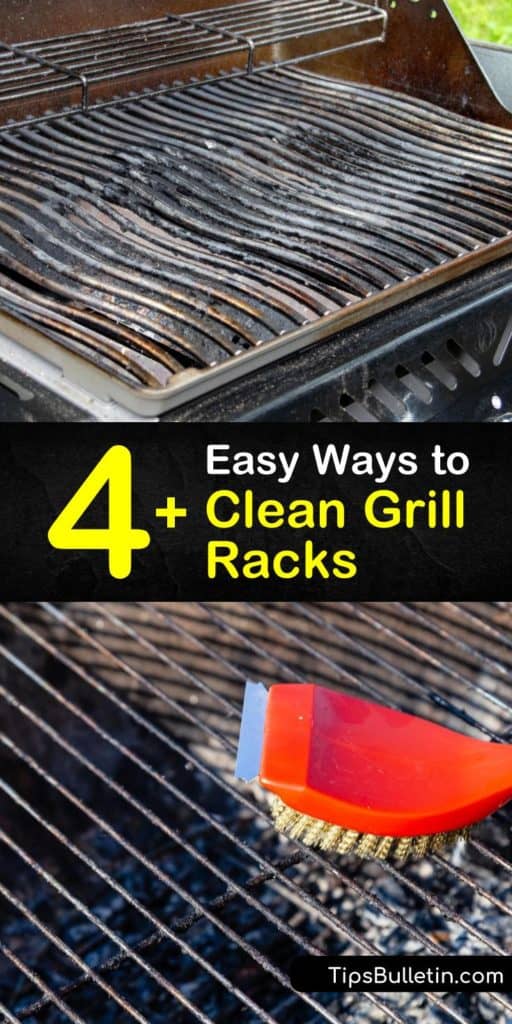 How will you clean your grill? We hope you learned how to clean grill racks properly and would appreciate it if you share our tips for grill rack cleaning on Facebook and Pinterest.