With the various types of tile available these days, floor tiles can be like a piece of artwork displayed across your floor. Unfortunately, they are a little more challenging to clean due to the grout sealer that holds the tiles into place. We'll show you how to clean grout between floor tiles to keep your tiled floor looking like new.
Tile floors can be a lovely addition to any home, but they do require extra effort while cleaning. The grout lines between the tiles of your floor dip slightly below the surface of the tiles.
While mopping your floor, dirt can get pushed into these lines and remain there, so even if you have a sparkling clean floor, the grout lines may remain dirty.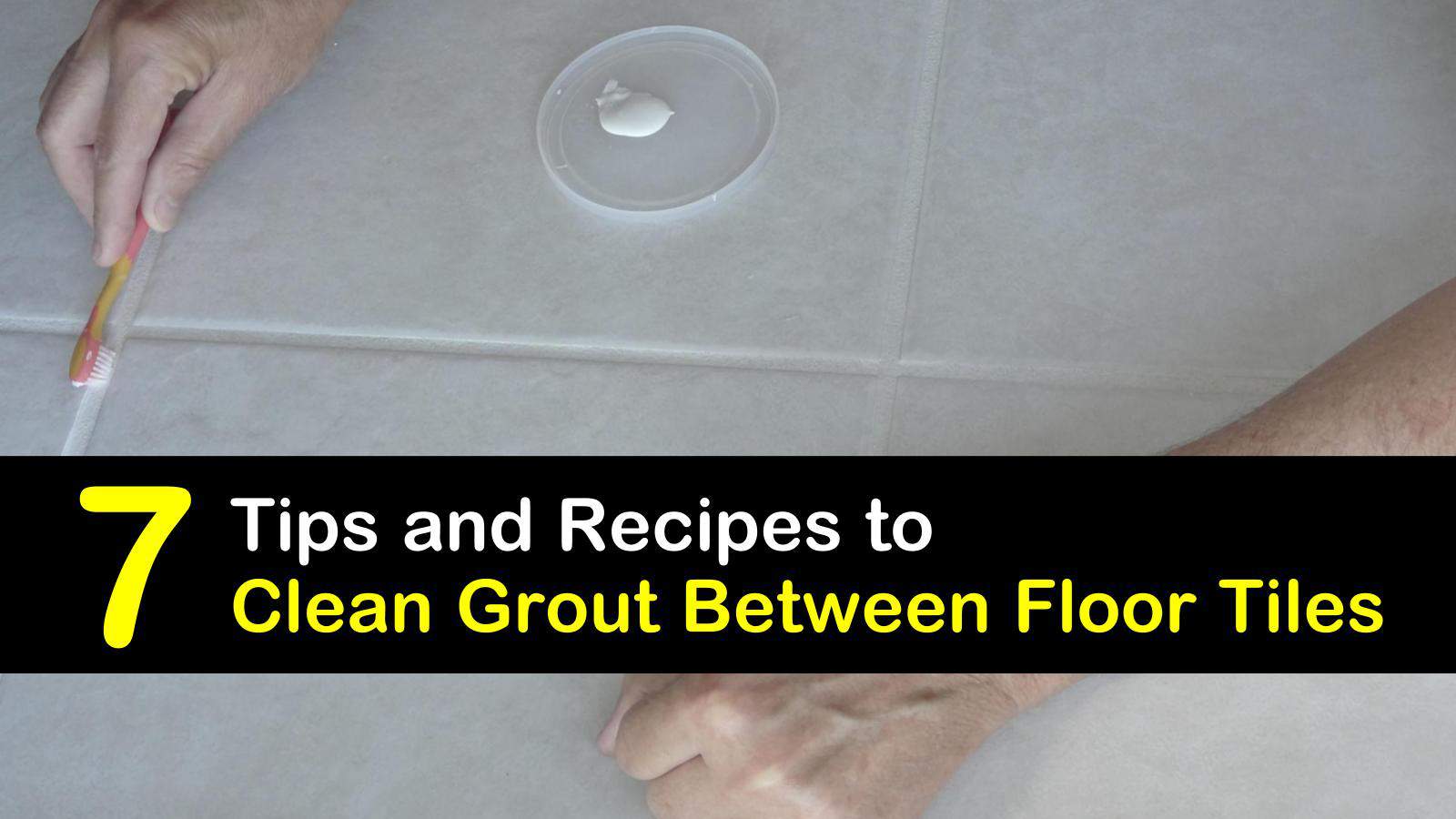 Cleaning Grout Between Floor Tiles
The best way to clean a ceramic tile floor is to take care of the grout while you wash the tiles. Tile grout can get stained with leftover soap scum and dirt that is left behind while mopping your floors. These grout stains make your tile flooring appear dirty even when it is clean, especially with a bright white grout.
Here are several methods for you to use to clean dirty grout and remove tough stains. Choose the easy way to clean floor tile grout that works for you from one of our simple recipes and solutions that include basic household ingredients.
Clean Grout on Tile Floors Quickly
If you want a straightforward cleaning method without the fuss of using too many ingredients, we'll show you how to clean grout on tile floors quickly. The following process uses oxygenated bleach instead of chlorine bleach to safely clean grout lines and get them shining again.
Combine the oxygenated bleach and water into a spray bottle and label for safety purposes. Shake the bottle well to dissolve the bleach. Test the cleaner solution on an inconspicuous area first for colorfastness.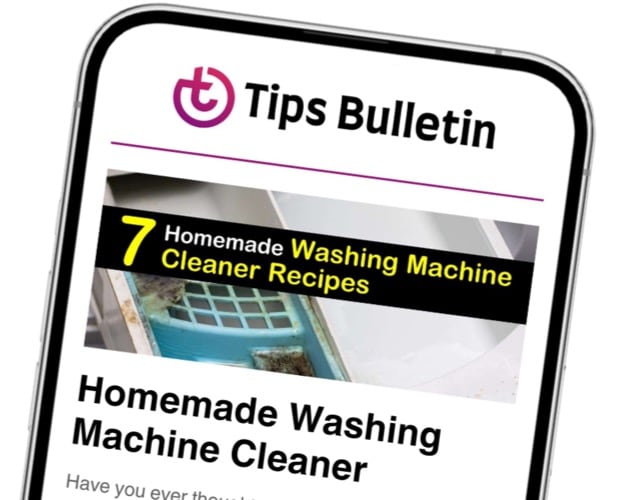 Finally, an email that Transforms Your Home.
Get the latest home and garden tips from our experts, delivered straight to your inbox.
Put the sprayer nozzle of the bottle onto the stream setting and spray it into the lines of the dirty grout in sections. Use an old toothbrush to scrub inside each area of the grout. Use clean water and a mop to wipe away the residues and dry the floor with a towel.
Best Way to Clean Grout on Tile Floors
The best way to clean grout on tile floors is to use the cleaning power of baking soda and household vinegar. These two ingredients work together to remove mildew and grime from the crevices of grout lines.
Add baking soda to a small bowl and just enough warm water to create a thick paste. Apply the paste into the lines of grout using your fingers. Pour the white vinegar into a spray bottle and label if you plan on using it again in the future.
Spray the vinegar along the lines of baking soda paste and allow the ingredients to bubble. This chemical reaction breaks up the dirt held in the grout lines.
Once the bubbling has stopped, use a toothbrush to scrub away the loosened gunk. Finish up by rinsing the cleaning solution away with a wet mop. After your stains are gone from the grout, mop tile floors with your favorite cleaner to get the entire surface looking like new.
Cleaning Dirty Floor Tile Grout
The following tile and grout cleaning solution provides a three-step cleaning action without having to apply much elbow grease. The dish soap helps to loosen grease and grime, the baking soda is a mild abrasive to scrub away dirt, and the combination of peroxide and baking soda acts as a bleaching agent.
Combine baking soda, hidrogen peroxide, and dish soap into a small bowl. Dip a small scrub brush into the paste and apply it to the grout lines in sections.
If your tiles have colored grout, you may want to test this solution on an inconspicuous area first. Let the paste sit for about 15 minutes. Wipe the grout cleaner away with a towel and then rinse the area with clean water and a mop.
How to Use a Steam Cleaner to Clean Grout
Steam cleaners are an excellent tool to use to clean tile and grout, as you effectively wash and wipe at the same time. If you do not own one, you can find one to rent or purchase at just about any home improvement store. The best thing of all, they do not use any chemicals to clean grout and remove mildew and you can take care of grout cleaning without scrubbing.
Begin by following the manufacturer's instructions to assemble the steam cleaner and add water. Attach the hose and small brush attachment, turn cleaner on, and allow it to heat up before using it.
Start at the corner of the floor and move the brush attachment along the grout lines in a back and forth motion. Continue doing this in sections as you move from one side of the room to the other. Use a towel to wipe the entire floor dry each time you move to a new section.
Remove Stains from Grout Lines
This recipe is an excellent kitchen floor grout cleaner because of the combination of baking soda, lemon juice, and vinegar. These three ingredients combined make for an ideal degreaser and mildew remover.
Combine the water, vinegar, lemon juice, and baking soda in the spray bottle and shake well to mix. Put the sprayer nozzle on the stream setting, spray along the grout lines of the floor, and let the mixture sit for several minutes as the lemon and vinegar solution loosens dirt and grime.
Use a grout brush to scrub the solution into the dirty grout. After cleaning the grout, rinse the floor with clean water and dry with a towel.
Cleaning Small Sections of Floor Tile Grout
If you have small sections of grout that are stained or need cleaning, use this method to remove dirt in a few simple steps.
Sprinkle the baking soda into the grout lines until they are covered. Fill a spray bottle with hydrogen peroxide and spray the peroxide onto the baking soda.
Allow the two ingredients to sit for ten minutes and then use a scrub brush to brush away grime. Finish by wiping away the residue with a wet cloth or mop.
Cleaning Grout on Tile Floors
This cleaner uses the mild scouring power of baking soda and the gentle cleaning power of Castile soap. Not only will this cleaning solution get those tile grout lines clean, but the essential oils will leave your home smelling fresh.
Combine the warm water, Castile soap, and baking soda into a spray bottle and shake gently to mix. You can add several drops of your favorite essential oil to the cleaner to give the room a pleasant scent while cleaning.
Spray the gentle grout cleaner onto the tile floor and use a toothbrush to work the solution into the grout lines. Use a wet cloth to clean away the dirty residue and dry the area with a towel.
After cleaning, if your grout seems to be beyond standard cleaning, it may be time to take advantage of our grout removal tips to get rid of the old grout and replace it with new. Although a little time consuming, it is not difficult and you will have fresh clean grout to maintain.
Cleaning grout can be time-consuming, but the right cleaning solution can make it a whole lot easier to get the job done. Understanding which ingredients can be used safely on tile grout floors, whether they are stone tiles or ceramic tile, can go a long way to restoring your tile floor to its original beauty.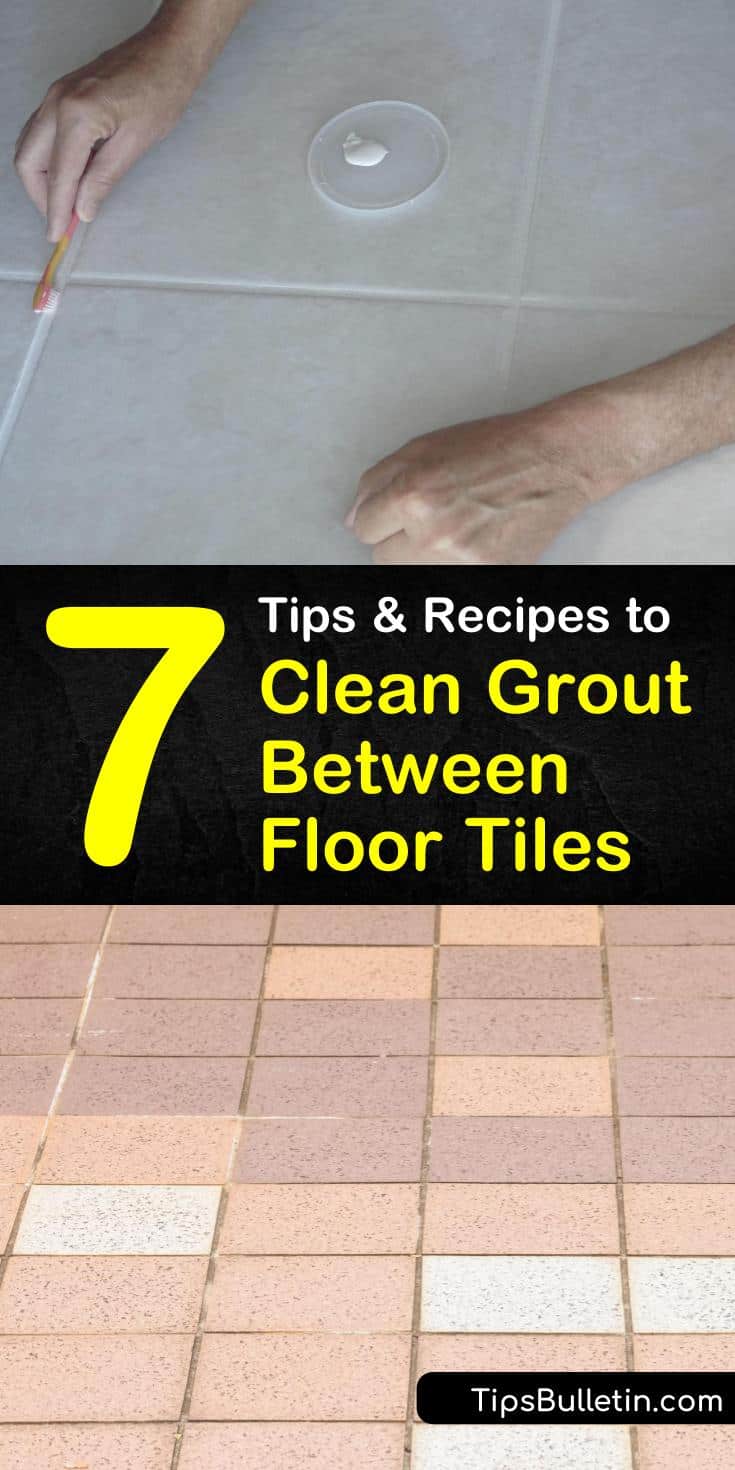 It's been our pleasure showing you how to clean grout between floor tiles, and we'd love it if you shared these floor tile grout cleaning tips and recipes with your family and friends on Pinterest and Facebook.