Don't you love the look of stainless steel sinks with their immaculate shine and luster? Unfortunately, it doesn't take much for the stainless steel to lose its appeal as it accumulates water spots and rings. Find out how to clean hard water stains from a stainless steel sink and restore its original brilliance.
Stainless steel is highly durable. The material does not crack, peel, or chip like enamel or porcelain sinks, and they don't stain as easily. Nonetheless, they aren't invulnerable to stains and suffer from a rust stain or hard water stain now and then.
A hard water spot is challenging to remove, as it doesn't come off as quickly as other stains. Regular cleaners don't have the power to dissolve hard water deposits from the sink surface. No matter how often you clean a water stain with an all-purpose cleaner, the stain remains. This type of water stained marble or steel requires unique cleaners like white vinegar and baking soda to dissolve the mineral deposits.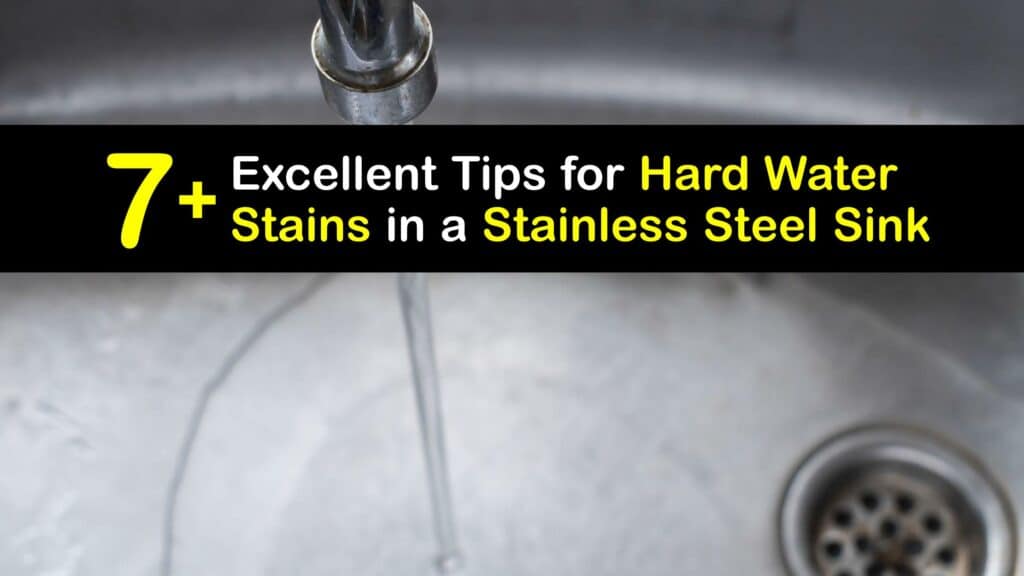 Clean Hard Water Stains From Stainless Steel Sinks
It takes some patience, but it is possible to get stains out of a porcelain sink or stainless kitchen sink. Discover ways to use common household ingredients to remove tough water stains from stainless steel and bring back its shine.
What Causes Stainless Steel Sink Water Stains?
Crusty water spots seem to come out of nowhere. You scrub at them with soap and sink cleaners, yet they refuse to budge. What are water stains, and why are they difficult to remove?
Water Stains and Spots
Hard, mineral-rich water is the primary cause of water stains on stainless steel. Water contains magnesium and calcium, which leave mineral traces on the stainless steel surface when the water evaporates. An accumulation of the dried minerals creates a white, crusty-looking stain.
Learn more about the benefits of cleaning your stainless hardware and how to descale calcium from a stainless kitchen faucet and sink to leave your kitchen hardware free from mineral buildup.
Cleaning Hard Water Stains From a Stainless Steel Sink
Cream of tartar is an acidic powder often used for cooking, and you can find it in your grocery store's baking aisle. We generally use cream of tartar to stabilize egg whites or stop sugar crystallization when baking. Yet, it has another use that may surprise you. Discover how to get water spots off a stainless sink with this kitchen staple.
Dampen the water stain with hot water and sprinkle cream of tarter over the spot. Leave it for ten minutes and scrub the area with a soft cloth. Repeat until the stain is gone, wipe away the residue with a damp cloth, and dry the sink thoroughly.
How to Get Water Spots off a Stainless Sink With Vinegar
Vinegar is excellent for cleaning hard water stains from a stainless steel sink. It has mild acidity that breaks up hard water deposits and other hard-to-remove stains. It is safe for many materials, including a stainless steel appliance or a sink.
To remove hard water spots from a sink, combine equal amounts of distilled water and distilled vinegar in a bottle sprayer and shake it well. Spray the solution over the affected areas of the steel sink and let it soak for 15 minutes.
Scrub the stain with a non-abrasive sponge and wipe it clean with a damp cloth. Check for remaining stains and repeat the process if necessary.
Ceramic fixtures in your house can also suffer from unsightly hard water spots. Follow our helpful tips on how to get hard water stains off a bathtub, ceramic sink, and even the toilet.
How to Clean Hard Water Stains From a Stainless Steel Sink
Lemon juice is an alternative if you don't have any white vinegar. It contains citric acid and is ideal for getting water spots off a stainless sink. Use the juice straight from a lemon or grab a bottle of lemon juice from the fridge.
Pour a cup of lemon juice into a spray bottle and add a cup of distilled water. Shake the container to mix and spray the liquid on the stainless steel stains. Allow the water stain marks to soak for about 15 minutes, and use a damp rag to wipe away the residue. Check to ensure the stain is gone, and dry the sink with a towel.
Remove Stainless Steel Hard Water Stains
Just about everyone has a box of baking soda in the pantry or refrigerator. This alkaline powder is a common ingredient for baking and works great as a gentle scrubbing agent. Learn how to get water spots off a stainless sink with sodium bicarbonate.
Baking soda is the easiest ingredient to wash water spots off stainless steel. Sprinkle the powder directly over the water stains and use a damp sponge to scour the stains.
Make sure to scrub with the grain of the steel to prevent tiny scratches, and apply more baking soda as needed. When the stain is gone, clean the sink with warm water, and dry it with an absorbent towel.
Combine Baking Soda and Vinegar to Clean a Stainless Steel Sink
You may need something stronger when cleaning hard water stains from a stainless steel sink, especially if you have very hard water. Combine white vinegar and sodium bicarbonate to make a natural stainless steel cleaning solution that breaks up even the toughest stains.
Dampen the sink stain, sprinkle baking soda over the area, and scrub it with a soft sponge. Fill a bottle sprayer with distilled white vinegar and spray it over the baking soda. Wait until the vinegar and baking soda stop fizzing, and rinse the sink with clean water. Once the stain is completely gone, dry the stainless steel with a microfiber towel.
Clean Hard Water Spots With White Toothpaste
Toothpaste is a simple cleaner for removing small water spots from stainless steel. It's important to note that gel toothpaste does not remove hard water stains; only white toothpaste is effective.
Apply enough white toothpaste to the water spot to cover it and rub the area with the grain with a soft cloth. Check to see if the mark is gone, and reapply more toothpaste if necessary. Otherwise, clean the area with warm water and a couple drops of dish soap, and dry it with a towel.
Use Rubbing Alcohol to Remove Water Spots From a Stainless Sink
Rubbing alcohol is great for cleaning and disinfecting many materials. While it's not ideal for cleaning large areas of hard water stains, it works well for cleaning small water spots.
Alcohol Water Stain Remover
Apply rubbing alcohol to a cotton ball or pad and rub it on the water spot. You don't have to worry about cleaning away residue since rubbing alcohol evaporates, making it ideal for quick clean-up. Always work in the direction of the stainless steel's grain.
Remove Hard Water Stains With Commercial Cleaners
Not everyone is a DIY person, and some of us lack time. It's understandable if you prefer a commercial cleaner over a homemade one. Yet, not all cleaners are suitable for removing hard water stains.
There are countless cleaners on the market. Choosing one that works to dissolve and remove hard water spots is essential. Bar Keepers Friend, CLR, and ZEP are a few options. If you're unsure, check the product label for its recommended uses.
Follow the instructions for your water stain remover and apply it as directed. Use a soft sponge to remove the stain, rinse the stainless sink with clean water, and dry it with an absorbent towel.
Clean a Stainless Steel Sink With Club Soda
As strange as it sounds, club soda is effective for cleaning the tub of your stainless steel sink. It removes water spots and surface rust and leaves the sink basin sparkling.
Place the stopper in the drain and pour enough club soda into the sink basin to cover the stained area. Dunk a soft cloth into the soda, and rub the entire sink with it to remove dirt and stains. Once the sink is clean, rinse it with cool water and dry it with a soft towel.
Polish a Stainless Steel Sink With Olive Oil
You may notice that the stainless steel lacks luster after you clean hard water stains from the kitchen sink. Polishing a stainless steel sink with oil leaves the stainless steel shiny and spot-free.
Fold a paper towel in half and pour olive oil on the top. Begin at one side of the sink and polish the stainless steel by rubbing it with the oily towel. Go with the grain and use fresh paper towels and more oil as needed until you cover the entire sink. Repeat the steps with a dry microfiber cloth to remove oil buildup and buff the stainless steel surface.
Preventing Water Spots and Damage
Stainless steel sinks and appliances have a clean and modern look, and their durability makes them perfect for the kitchen. Nevertheless, a stainless sink only looks good if you care for it properly. Learn ways to prevent water spots and stains and maintain a stainless sink to keep it looking its best.
The ideal way to stop water stains on a stainless steel sink is to soften your water. Water softeners remove magnesium, calcium, and other minerals from the water, exchanging them for sodium and potassium.
If you can't install a water softener, keep paper towels or dry towels near the sink. After each use, wipe down the sink tub, handles, faucet, and other sink areas to prevent water evaporation and hard water stains.
Allowing water stains to remain leads to oxidation, which causes rust. Always clean stainless steel promptly with baking soda, white vinegar, or another water stain remover.
Things to Avoid When Maintaining a Stainless Steel Sink
As durable as stainless steel is, some cleaners are too harsh for use on this material. In addition, common kitchen items may cause damage to the steel surface. Discover what to avoid when cleaning the sink and how to care for it to ensure it stands the test of time.
Never clean stainless steel with steel wool or other abrasive cleaners, which may cause sink scratches. Steel wool pads leave iron particles behind, causing rust and corrosion. As tempting as it is, don't keep rubber dish mats in the sink. They trap water, causing discoloration and staining.
Avoid leaving damp sponges, rags, towels, or other materials on the sink's surface. They breed bacteria and can dull the stainless steel. Rinse and dry the sink thoroughly after washing dishes or applying cleaners to remove chlorides that affect the sink's natural luster.
Do not use the sink as a cutting board. Knives and other sharp utensils scratch the steel. Avoid putting cast iron and steel cookware in the sink for long periods. Moisture and iron lead to staining and rust on the stainless steel.
Hard water stains are unsightly on stainless steel appliances or in a stainless steel sink. The bad thing about them is that regular cleaners aren't enough to remove stains from the surface. Instead, vinegar, lemon juice, and other home remedies remove these stubborn stains, leaving the entire sink sparkling.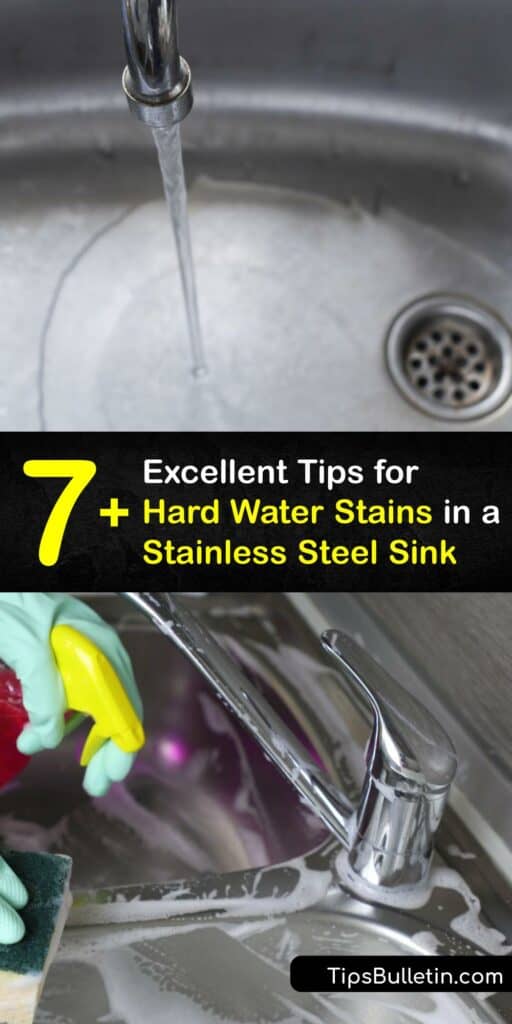 We hope you enjoyed discovering how to clean hard water stains from a stainless steel sink, and we'd love it if you'd share our tips for cleaning stainless steel water stains with your family and friend circle on Pinterest and Facebook.