Aside from your oven, nothing inside your kitchen gets dirty as fast as your kitchen cabinets. Grease spatters, cooking spills, dust, dirt, food particles, and everything you can think of has probably landed on your kitchen cabinets at some point in time. Learning how to clean kitchen cabinets doesn't just keep your kitchen looking nice, it helps prolong the life of your cabinets and drawers.
One way to clean a wooden kitchen cabinet is with Murphy's Oil Soap or other expensive commercial cleaners. Yes, these cleaning products do an excellent job on grime build up and greasy cabinets, but they also contain harsh chemicals.
Rather than spending money on store-bought cleaners, you can make a homemade kitchen cabinet cleaner that works just as well at a lower cost. Even better, most of the ingredients in our homemade kitchen cabinet cleaner recipes can already be found inside your home, and they are not harmful to the environment.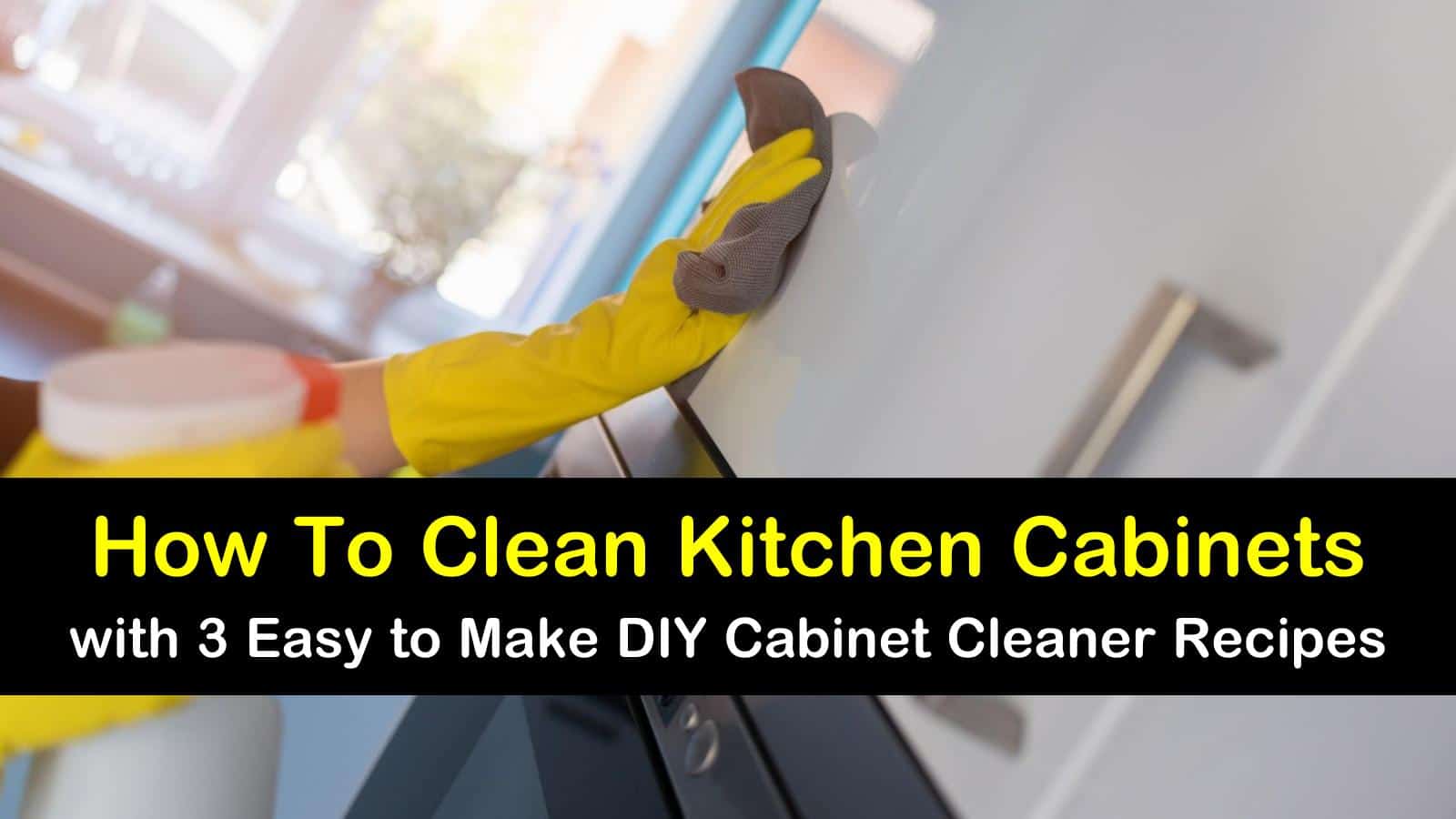 Essential Kitchen Cleaning Tips for Kitchen Cabinets
Regardless of the cleaner you decide to use; whether it's store-bought or homemade, there are some basic things you need to know about cleaning your kitchen cabinets and drawers. When using any cleaner, you want to wipe it off with a sponge or soft cloth, and avoid using any abrasive cleaning agent as it can scratch the surfaces.
Elbow grease may be required when removing grease or massive grime buildup. How much effort you need to put in when cleaning depends on how frequently you clean your cabinets and drawer faces.
Don't limit your cleaning to the outside of your cabinets and drawers. Use your preferred cleaner on the insides of each door, as well as the drawers.
After wiping off the cleaner, use a sponge or clean cloth dipped in warm water to rinse all surfaces of any cleaning residue left behind. Once rinsed, be sure to dry your cabinets and drawers using a clean towel to prevent water damage or stains.
Drawer pulls and other hardware, including handles and hinges, need to be cleaned, as well. Wipe down the handles and pulls with the cloth or sponge you are using to clean the cabinets and drawers. If any scrubbing is required, use an old soft, toothbrush. The benefit to using the toothbrush is it allows you to get into all of the nooks and crannies, including any fancy trims.
Tips for Removing Common Stains from Kitchen Cabinets
The best way to remove the oily residue your fingerprints leave behind is with white vinegar. Remove fingerprints stain as part of your weekly or daily cleaning. Dip a rag in vinegar, wipe the doors and hardware, and rinse with clean water.
Grease is similar to fingerprints, as it leaves an oily stain behind. Use diluted vinegar to remove all grease stains. A little more scrubbing is required for removing grease stains, so repeat cleaning until all stains are gone.
The best way to rid your wooden cabinets of hard water stains is to change the water you use. If you are currently using tap water and are continually battling water stains, switch over to distilled water for your cabinet cleaning.
Scuff marks are easily removed with any soft eraser, including the Magic Eraser. Remove the marks by rubbing the eraser along the mark.
Once removed, rinse away any residue from the eraser with a clean rag. Erasers come in handy on white kitchen cabinets as they tend to show almost everything.
Food stains need removal as soon as they occur or as soon as they are noticed. Use a wet washcloth to wipe up as much of the spill as possible. Do not use any cleaners, homemade or commercial, until you have wiped up as much as you can with hot water and a washcloth.
Once clean, apply a small amount of baking soda paste to the stain. Allow the paste to soak up the stain for several minutes. Wipe away all of the paste with a clean, damp rag.
How Often Should Kitchen Cabinets be Cleaned?
In an ideal situation, clean cabinets every week with a nice wipe down of the exterior cabinet doors. If you can't do it weekly, they will still benefit from having it done every other week or even monthly. The cupboards require deep cleaning every few months.
Deep cleaning doesn't mean just quickly wiping down the exterior with warm soapy water or a homemade kitchen cabinet cleaner. It involves removing everything and cleaning them inside and out.
You don't have to empty every cabinet you own and clean them all at once. Deep clean your cabinets as you have space. For example, your entire silverware drawer is inside the dishwasher, as well as all your cups.
Take advantage of the empty cabinets and wipe everything down before replacing the dishes. Cabinets filled with stuff you only use occasionally need emptying before cleaning.
When you have to clean greasy kitchen cabinets, the best way to clean them depends on the surface you are cleaning. The best way to clean a wooden kitchen cabinet is different from cleaning a metal, laminate, or painted cabinet door. Keep reading to find out the best homemade kitchen cleaner to use on a variety of cabinets, as well as tips and tricks for cleaning every cabinet type.
Best Way to Clean a Wooden Kitchen Cabinet
It doesn't have to be a challenge to take care of cleaning wood kitchen cabinets. Usually, oil soap wood cleaners work great to clean wood kitchen cabinets, but you can also homemade cleaners with the same results at greater cost savings for you. The type of homemade cleaner you use depends on what you have on hand, as well as what kind of stains you have on your cabinets.
For regular maintenance-type cleaning, laundry detergent or dish soap with grease cutting abilities works wonders to get your cabinets sparkling. For sticky messes from food residue, try a solution of vinegar and water. For stubborn stains, a baking soda paste cuts through the stain with ease.
Create a paste with the oil and baking soda. If it is runny, add a small amount of baking soda at a time until you reach the desired consistency. Use your fingers, a cloth, or an old toothbrush to apply the paste to your wood cabinets, including handles and other hardware. Leave on for about four minutes and wipe away with a damp rag.
When cleaning wood cabinets, always use a slightly damp cloth, and not a soaking wet one. If the rag is too wet, it will leave behind water that soaks into the wood.
Use this simple solution to remove a sticker from wooden surfaces like cabinets. It works like a charm.
Any oversaturation of the wood can result in irreversible wood damage. Cabinets above the stove are exposed to high levels of moisture, so, to prevent accidental damage, apply an extra coat of sealant.
Once you have your wood cabinet surfaces clean, protect them from future stains and splatters. The best way to protect them is with a mix of vinegar and vegetable oil.
Use equal portions of each ingredient to mix up a batch of wood protector and rub it lightly onto all surfaces with a clean cloth. Or, use one of our DIY wood furniture polish recipes to protect your newly cleaned cabinets and drawers.
Cleaning Painted Cabinets in Your Kitchen
An oil-based cabinet surface is a lot more durable than a wood cabinet door. Oil-based surfaces can stand up to a lot of scrubbing without ruining the finish.
Use any of the homemade recipes we provide or purchase an all-purpose cleaner to clean painted cabinets. As the surface isn't susceptible to scratching, you can scrub the surface as hard as necessary to remove stuck on food or stubborn stains.
Cleaning kitchen cabinets with baking soda should only be done on oil-based painted surfaces. Baking soda is abrasive and may scratch the surface of a water-based latex painted surface. For tough stains on a water-based latex surface, use warm water and a washcloth or a nonabrasive commercial cleaner.
In a medium-sized bowl, mix Borax, vinegar, and dish soap with a spoon or whisk. Dip your material into the cabinet cleaner and wipe down all of your painted surfaces. Pay close attention to areas around knobs, corners, and edges.
Rinse and remove all remaining suds with a clean, damp cloth. Use a Magic Eraser on any stubborn stains left behind. After cleaning your painted surfaces, apply a thin layer of clear paste wax.
The wax protects the surfaces from everyday stains and splatter. Avoid using liquid wax or orange oil on your painted surfaces as these react negatively with the paint.
Diluted ammonia is an excellent way to remove grease from painted kitchen cabinets. If using diluted ammonia or an ammonia-based cleaner, ensure you have proper ventilation, use exhaust fans, and open windows.
Over time, the paint will chip and wear off your kitchen cabinets, no matter how well you take care of them. When chipping or peeling occurs, you will need to take care of removing old paint from kitchen cabinets and either repaint or replace your cabinets.
How to Clean Laminate Cupboard Doors
Regular dusting of laminate cabinet surfaces is just the first step to keeping them clean. Regular cabinet cleaning can be done with warm, soapy water and a sponge, followed by a quick rinse of warm water and drying with a soft cloth.
For a little more in-depth cleaning, consider using a vinegar and hot water cleaning solution or a baking soda paste. For stains like coffee or grape juice, use a lemon juice and baking soda paste along with a damp sponge to lift the stains away.
Mix everything in a spray bottle. Spray doors, handles, pulls, and drawer faces liberally with cleaner. Use a soft rag to wipe down all surfaces and scrub away stains. This mixture is also safe for cleaning antique wood furniture.
Shake the bottle in between each use, as the oil will separate from the water. If this doesn't work, a 50/50 mix of vinegar and water with a teaspoon of dish soap works great to cut through grease.
Cleaning Metal Cabinets in Your Kitchen
Of all surface types, metal ones are the easiest to clean. The only thing to avoid using on metal surfaces is baking soda. Cleaning with white vinegar, warm water, dish soap, or any other kind of homemade or store-bought cleaner is fine, but don't over wet the cabinets.
Over-wetting or not properly drying metal surfaces may cause rust issues. Use a dry cloth to remove leftover water.
How to Clean Kitchen Cabinets with Glass Faces
The glass portion of these cupboard doors should be cleaned the same way you clean the rest of the glass in your home. A cleaner made of equal parts distilled white vinegar and water will leave a streak-free shine, or you can buy commercial glass cleaners. Warm, soapy water rinsed with clean water removes stuck on foods and other daily grime build up.
If the glass is inside a wooden frame, some spray cleaners can ruin the finish of the door. If any over spraying occurs, wipe down the wood frame quickly to prevent damage.
If your glass has decorative divisions made up of wood, do not spray the glass directly, as the cleaner can seep in behind the wood and lead to discoloration. Instead, spray the cleaners onto rags or a paper towel and then wipe down the glass.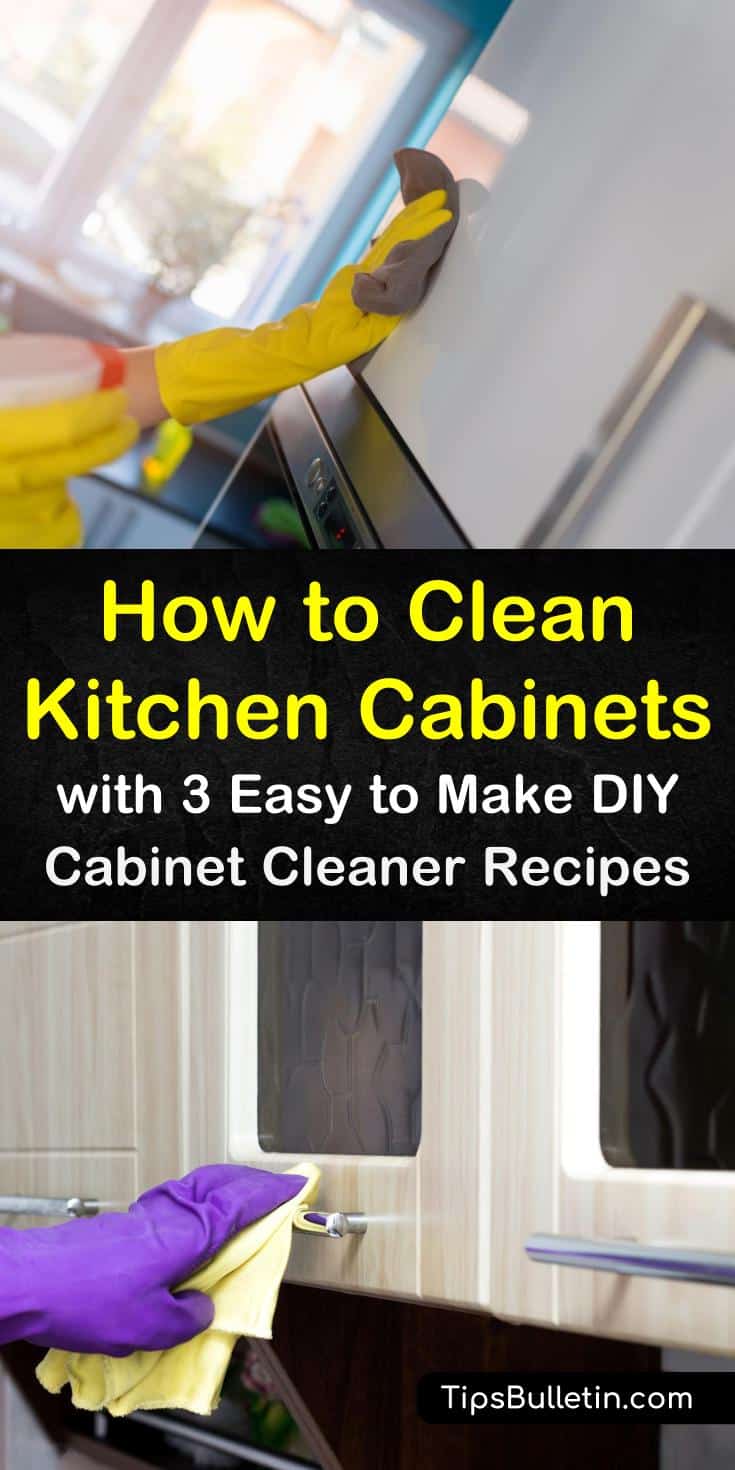 Thanks for spending a few minutes learning how to clean kitchen cabinets. If you have found our homemade kitchen cabinet cleaner tips or recipes helpful, please share your favorite way to clean wood cabinets with others on Facebook and Pinterest.