Having laminate flooring in your home can be beautiful and complement the interior style and decorating. However, when it comes to the monthly scour, it is hard to know how to clean laminate floors without streaks.
Cleaning hardwood floors rarely seems as straightforward as carpeting, where you can quickly send the vacuum cleaner over it. Instead, doing the wrong thing means sliding around from window cleaner or jarring streaks in the middle of the floor, catching the sun ostentatiously on a bright day.
All is not lost if this is a weekly struggle for you. Knowing how difficult it can be to get the flooring looking as perfect as possible, we compiled a list of options. Read through them and pick the right product mixture for you and learn about the benefits of setting up a cleaning schedule. Then, when the time comes to clean again, you are geared up for a hassle-free floor cleanse.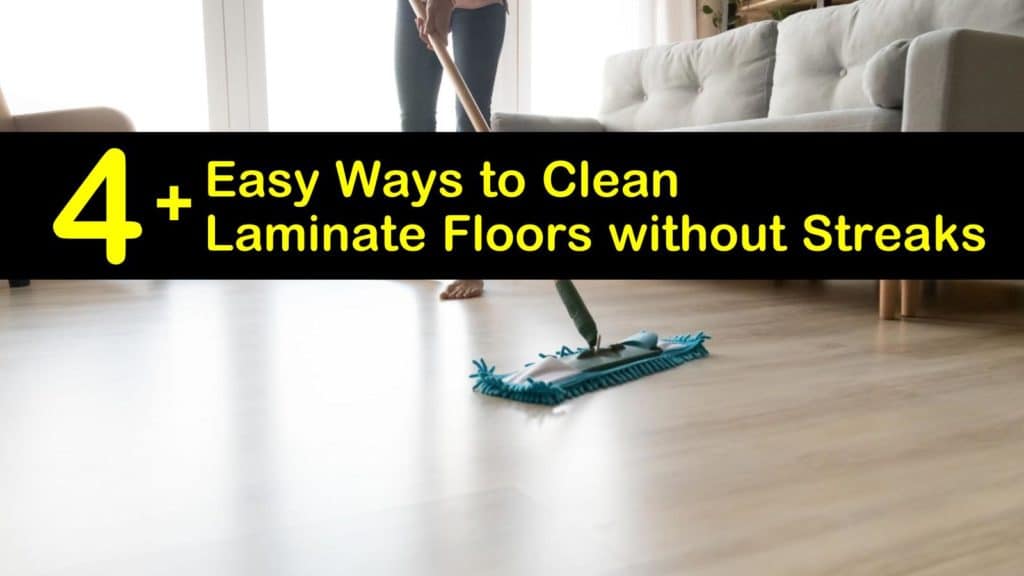 How to Clean Laminate Floors without Streaking
For many people, cleaning may not be a favorite activity. This attitude doesn't make it any less necessary, but it does mean that if you can find hassle-free cleaning techniques, it might not be so bad.
Follow these recipes and tips to make laminate floor shine without ugly streaks. It's easier than you might have thought.
Choose a Streak-Free Cleaning Product
There are many cleaning products out there that shout to the skies about how effective they are. However, spending money on products like Bona might not always be the budget-friendly solution you want.
You may want to find a DIY laminate flooring cleaner since natural cleaners tend to leave less residue when laminate floor cleaning. Try these DIY home remedies and to see the reflection on the floor in no time and avoid streaking.
When applying any of these, dry the floor with a dry cloth or a dry mop immediately afterward to succeed at laminate floor cleaning without leaving streaks. White vinegar and water are some of the best natural home cleaning solutions for almost any situation.
Try Vinegar
In this recipe, you can also use apple cider vinegar, but it does not have as much sanitizing power as a laminate floor cleaner. Learn more about white vinegar benefits to use it in many areas of the home.
Mix the white vinegar and the distilled water in a 50-50 mixture in the spray bottle. If the smell of vinegar isn't preferential, add essential oils. Spray it on the floor and use a damp mop to wipe it up.
Clean Laminate with Baby Shampoo
The gentle power of baby shampoo is harnessed in this recipe, helping you steer clear of more abrasive cleaners that can cause damage, like bristle brushes. It leaves minimal residue on floors and is cheap at any local retailer.
Fill the spray bottle until it is just about full. With baby shampoo, a little goes a long way. Add one tablespoon of the shampoo and then shake the bottle until it starts to fill with bubbles.
Similar to before, this mix should be sprayed on the floor and mopped up for an effective clean. When the goal is laminate floor cleaning without leaving streaks, tea is a handy solution.
You might be surprised, but baby shampoo will also work to get paint off a laminate floor. The gentle cleanser gets under the paint to lift it off in one easy motion.
Use Tea to Clean the Floors
Now it isn't only for you, but your floors as well. A cup of tea and some scrubbing is an effective homemade mopping solution that goes a long way.
Brew one cup of black tea using one tea bag. Wait for the tea to cool down and then mix with water in a spray bottle. Shake it up right before use and then spray it on the floor to mop. Do not store this laminate cleaner.
Remove Stains with Baking Soda
Baking soda is another one of those cleaning ingredients that are always a go-to solution. In this case, it is especially handy for removing food stains from the floor by making a paste.
This mix shouldn't clean the entire floor. First, clean the floor by vacuuming or using one of the methods above. Then, make the paste by stirring the baking soda and water.
You may need to put in more water to get the right consistency. Place it on the stain and let it sit for a few minutes. Wipe it off with a dampened cloth or a wet mop.
Rubbing Alcohol for Stubborn Stains
For adamant stains that are determined to sit around, use an alcohol-based substance. You can use nail polish remover or even rubbing alcohol.
Lightly soak the cotton ball in the alcohol. Apply it directly to the stain. Let it sit for a minute and then wipe it off with a damp cloth. Do not leave it too long, or it may damage the protective coating on the floor.
Laminate Floor Cleaning without Leaving Streaks
Making a cleaning schedule is the best way to make sure you keep up with it. This plan keeps you from suddenly finding grime-covered floors throughout the home.
Use a calendar or set reminders in your phone to vacuum or Swiffer the laminate at least once a week. The next reminder should be to mop with a cleaning solution at least once a month. This consistency stops residue from building up.
Learning how to clean laminate floors without streaking helps to make this job smoother. However, if it gets terrible, use a steam mop to clean laminate floors, but keep in mind that steam cleaners can cause warping and should be used infrequently.
Don't ever use buffers or oil soap since these leave lots of difficult-to-remove residue. When mopping, be sure to wring out the mop to avoid excess water.
Protect Wood Laminate
Finally, protect your floors by keeping any water spills off of them. Use rugs in the kitchen and entryways to stop spills and dirt from reaching the floor. Place protective mats under heavy furniture or anything that could slide.
Watch out for the comings and goings on the floor, instating a no-shoes policy for anyone entering. If you have furry friends, keep their nails trimmed so they don't cause scratches.
After we have shared these recipes and methods on cleaning laminate floors with no streaks as well as some ways to protect your floors before cleaning, you should have the best flooring in the neighborhood.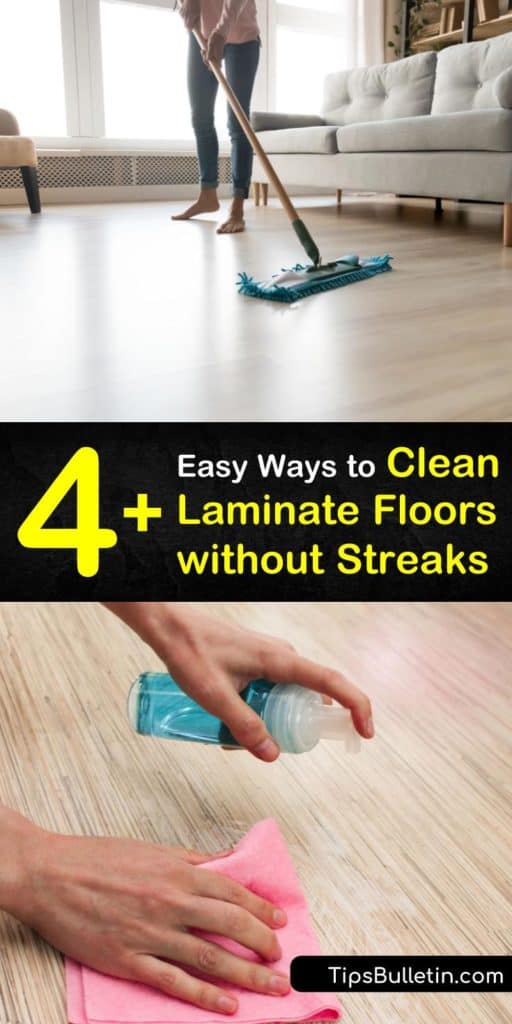 We hope that you have found the techniques and tips useful for developing better cleaning methods. If you learned anything new about laminate floors, please share these cleaning laminate floors tips on Pinterest and Facebook.