Leather shoes are popular and a bit more expensive, but for good reasons. Leather produces a more quality shoe that will last longer with good care. They are breathable, durable, easy to clean, can be water resistant, and mold to your feet for a better fit and more comfort. Learn how to clean your leather shoes, boots, and sandals and keep them looking like new with the following tips.
Whether you have a leather purse, boots, booties, or shoes, we can help you with simple DIY recipes to keep them clean and ready to wear.
If your shoes are dirty and in need of a good cleaning, start by wiping off any visible extra dirt that you can with a dry cloth or shoe brush.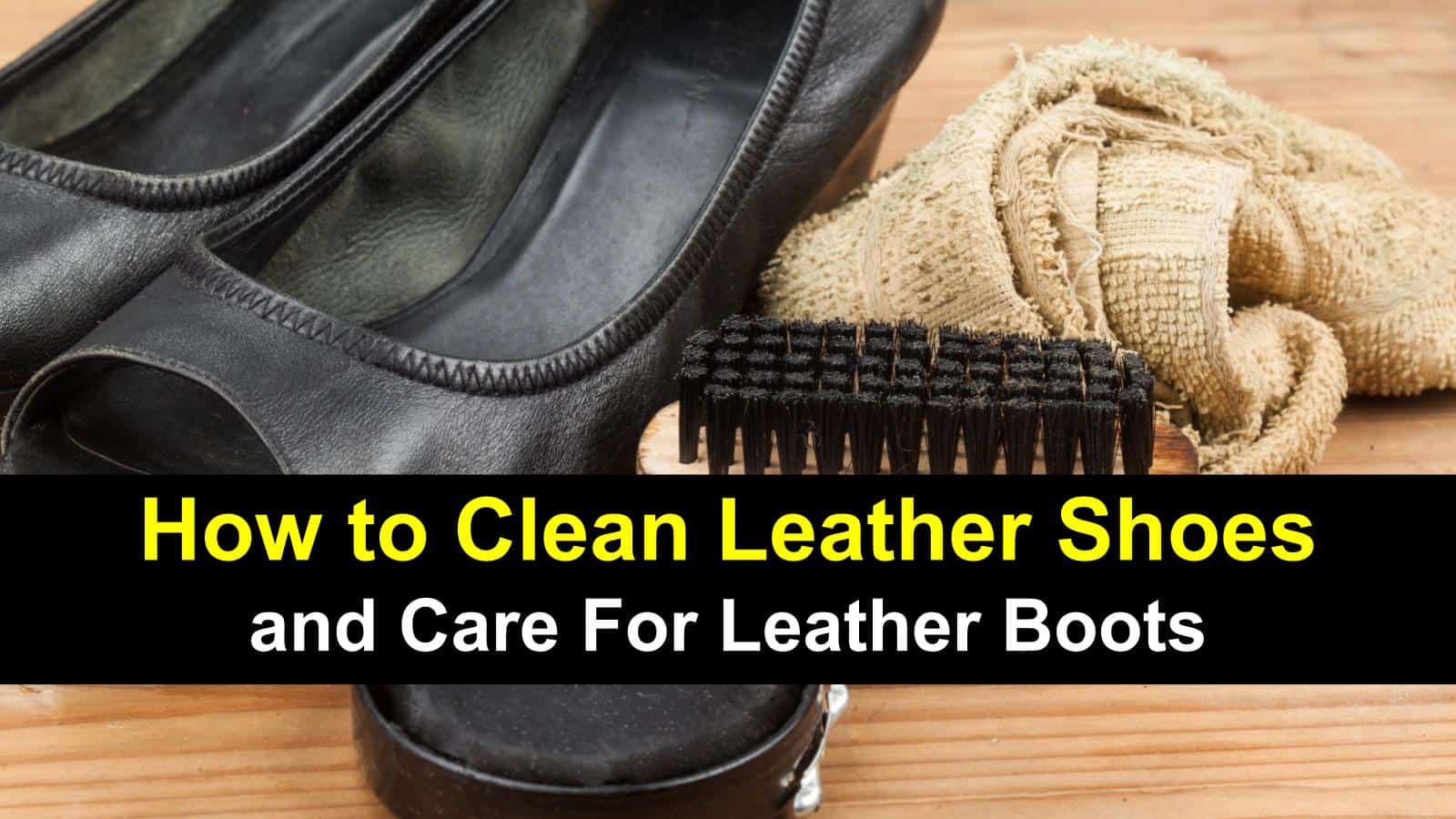 Ways to Clean Leather Shoes
Check the care tags either inside the shoe or in the box to check if your shoes are finished or unfinished leather.
Remove the laces if your shoe has them. These can be washed by soaking them in water and detergent or putting them in a mesh bag in the washing machine. Dry them in the dryer or let them air dry.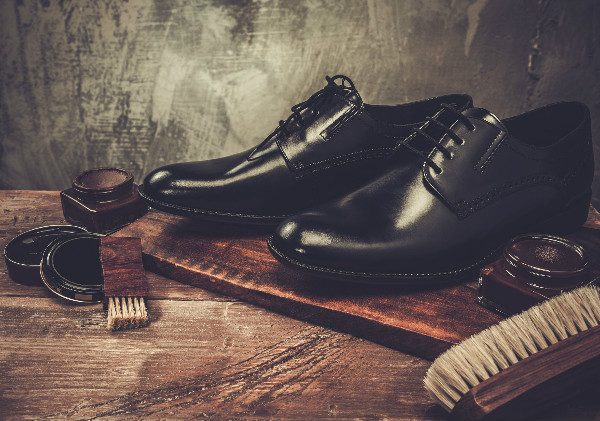 When soaking in water, sometimes leather shrinks. If this happens to you, there are some effective ways to stretch leather shoes so that they fit you again. Follow our recommendations for the correct way to stretch the shoes without damaging them.
For finished leather, use a slightly damp clean cloth to clean the shoe with a very mild soap, such as dish soap or laundry detergent. Make sure to rub in the direction of the grain. Follow with a second slightly damp clean cloth to rinse. This remedy is usually all you need to clean white leather tennis shoes.
If your shoes are unfinished leather, it is better to clean them with saddle soap. You can find saddle soap in tack stores and some shoe stores. Rub it into the leather with a damp cloth and wipe off any extra, then let dry.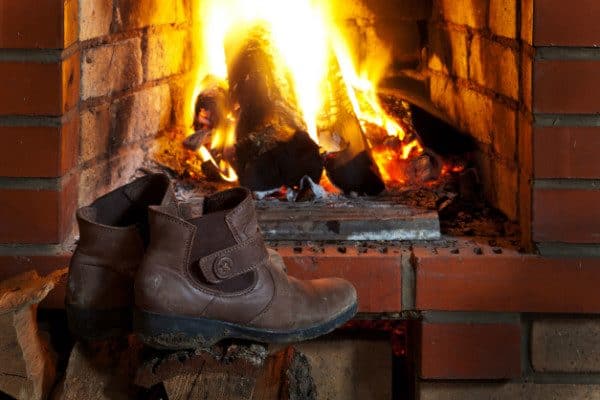 Let the shoe air dry out of direct sunlight or heat, as this can cause cracking. Be careful not to get your shoes too wet while cleaning, as too much water, can remove natural oils from the leather and ruin the finish. Too much soap as well can damage the leather, preventing it from breathing.
How to Remove Water Stains from Leather
There are a few ways to remove water stains from shoes. Water down some vinegar or lemon juice and apply it to the stains, then dry with a clean cloth.
Plain water or a little bit of soap with the water can also remove water stains. Diluted rubbing alcohol can get ink off leather and help with water stains, as well.
How to Remove Salt Stains from Leather
If you wear your shoes in snowy weather, you may end up with salt stains on your shoes. You can remove stains from leather with a solution of water and vinegar and cleaning the shoes with it.
To remove salt stains from leather shoes, mix the vinegar and water in a bowl and apply to the stains with a soft cloth. Let the shoes air dry after cleaning.
Vinegar can be helpful as a way to get cat pee out of leather boots and eliminate the strong odor, too. Soak up as much of the stain as possible and wipe well with vinegar on a clean rag. Follow the same procedure to remove dog poop from leather shoes. Repeat applications may be required.
Sidenote: On boots from sheepskin like Uggs®, do not use water to clean any stains. Cleaning stains from Uggs is best done with white vinegar on a microfiber cloth.
How to Remove Grease Stains from Leather
Sprinkle and use baking soda onto any greasy stains and rub it in. Let it absorb overnight for the best results. In the morning, wipe off the excess baking soda with a clean cloth. Cleaning black shoes with baking soda is just as easy as dealing with leather.
Use baby powder or cornstarch if you don't have baking soda. Remove oil stains from leather shoes by absorbing the stain and gently wiping off the powder. Reapply if needed.
How to Remove Scuffs from Leather
If your shoes have scuffs that you can't remove with a good cleaning, use a tiny dab of white toothpaste on the scuff. For removing scuffs from shoes, rub in with a soft cloth and repeat until the scuffs are gone.
Follow the same process to remove scuff marks from patent leather shoes and then buff to a nice shine.
Shining and Buffing Leather Shoes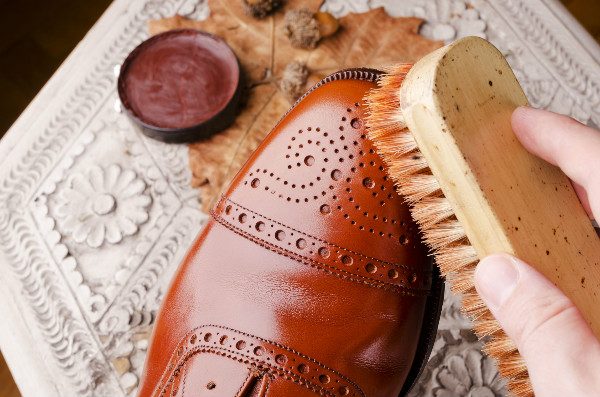 What's the best way to shine boots and shoes? Learn how to clean your leather shoes with a leather cream polish to clean finished leather shoes. Choose one the same color as your shoes and test it in an inconspicuous spot to make sure it looks good.
For the way to get scuffs out of boots and shoes, apply the polish with a clean cloth, let it sit, then buff it with another cloth or shoe brush. To shine, dampen the clean cloth slightly. Make sure you protect your work surface with some newspaper, so you don't make a mess with the leather polish.
To properly shine leather shoes, apply shoe polish to one shoe, making sure to get the tongue and all small parts. Let that shoe dry while you take care of the second one. Once they are both coated, use a shoe brush to remove excess polish.
Repeat once for a second layer. Brush the shoe with your shoe brush in a circular pattern to bring out the shine. For a 'spit shine,' use the polish up to 5 times until you've achieved the desired result. Finish with a slightly damp clean cloth.
For unfinished leather, use oil to preserve the leather-like mink oil. Follow the same instructions for the leather polish.
How to Care for Leather Boots and Shoes
Don't wear your leather shoes day after day. Giving them a day off once in a while helps prolong the life of your shoes. Be sure to use an oil stain remover on leather if you see any excess oil stains.
When you're not wearing them, don't store them in shoe boxes as this keeps them from breathing. Keeping your shoes out in the open lets them absorb moisture from the air to stay moisturized.
Another great homemade leather cleaner is made by mixing lemon juice and cream of tartar. It works slightly better, especially for getting Sharpie marks off leather shoes or for getting rid of water stains.
Condition your shoes with a leather conditioner a couple of times a year to keep them looking sharp. Doing so can also help waterproof your leather shoes. Condition right after using a DIY shoe cleaner while the boot is still a bit damp.
For a homemade conditioner, use linseed oil and white vinegar. Wipe onto shoes and let it sit for 15-20 minutes. Using a soft, clean cloth, buff into shoes for so they'll shine. You can also use plain olive oil, letting it dry on the shoe.
Storing your shoes on a shoe tree also has benefits. It will remove creases from leather shoes and maintain the shape of your shoes until the next time you wear them.
Suede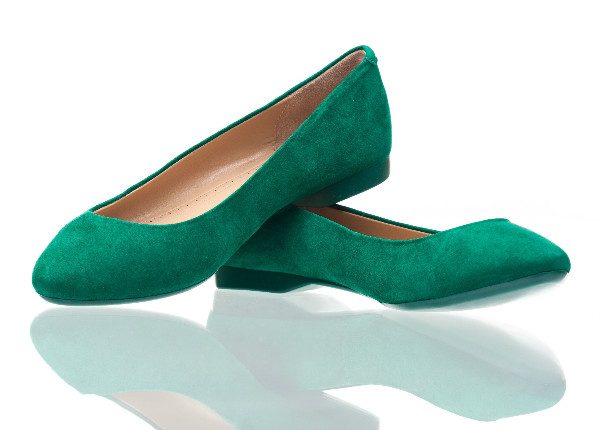 While a type of leather, suede shoes require a unique treatment. If your shoes have gotten wet and muddy, let dry before cleaning, using a paper towel to dry as much as possible.
As we already covered this in our tips on how to clean suede shoes, it is best to use a suede brush, consisting of stiff metal. Use this on any dirty spots, and make sure to brush in the same direction.
For scuffs, rub the shoe with a white pencil eraser. Do this before brushing. For greasy stains, use a sprinkling of baking soda or talcum powder. Rub into stains and let sit for several hours before brushing with a suede brush.
Removing Water Stains from Suede
When cleaning suede, only blot, never rub the shoe. Rubbing can mess up the natural nap. To weatherproof and care for suede shoes, use a weatherproofing spray that is silicone based once a year.
To remove water stains from suede, apply water to the entire shoe. Blot the shoe until you've removed all excess water and there are no visible watermarks. Fill the suede shoe with white paper to keep its shape and let it dry overnight. In the morning, brush with your suede brush.
If the Shoe Fits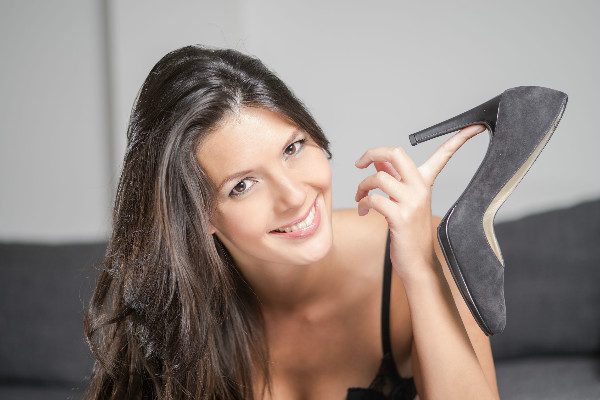 With just a little bit of DIY effort, you can save yourself a lot of money and effort that you would have otherwise spent on replacing or removing water stained, salt-stained, grease-stained, or scuffed leather shoes.
If your leather shoes have stretched out and no longer fit you properly, it is possible to shrink leather to make the shoes conform better to your feet. Our guidelines can help you achieve the desired results. In this article, you learned how to clean and care for leather boots and shoes, and how to clean and care for suede shoes.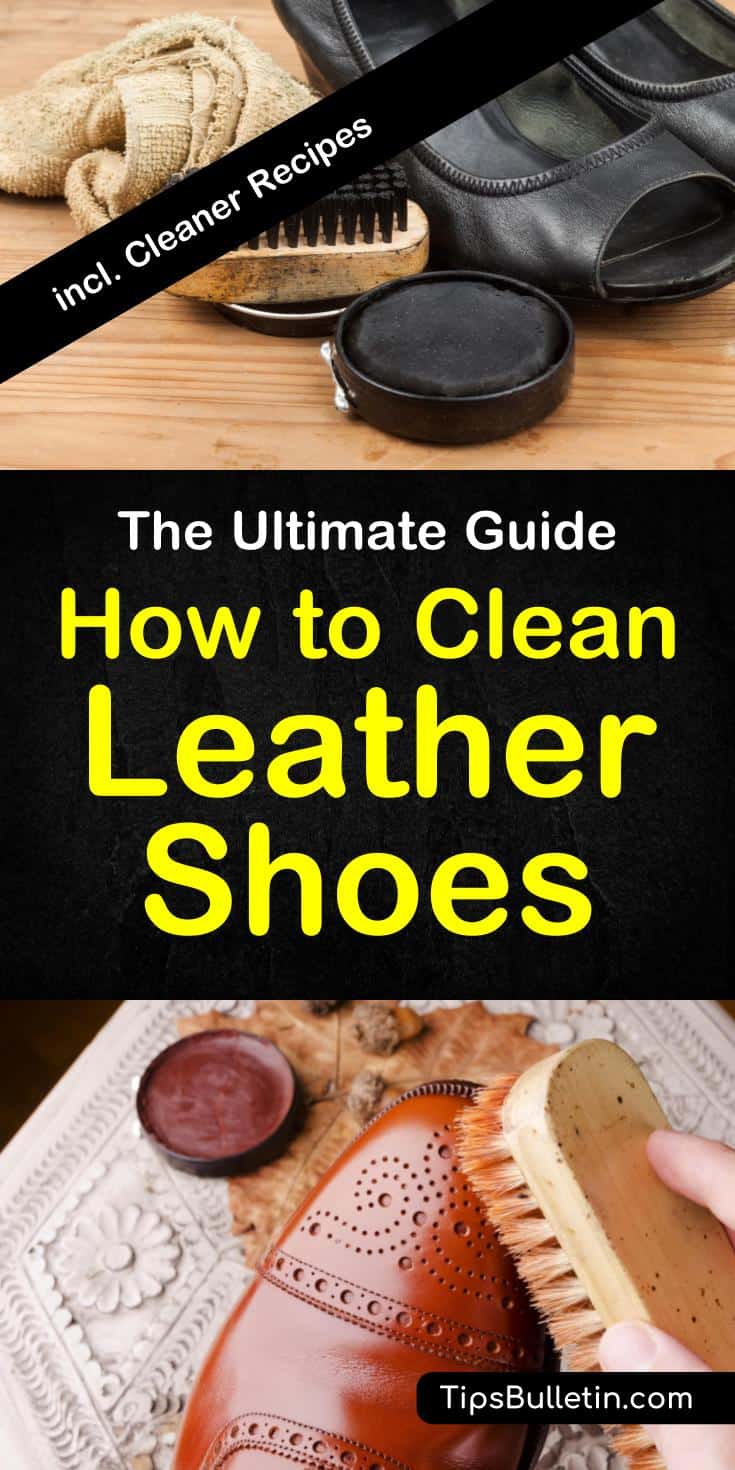 Do you know someone whose shoes need a bit of care? Use the buttons below to share to Facebook, Twitter, and Instagram!