You may have heard that you can wash makeup brushes, but did you know that you can also clean your blender sponge? Yes, you can clean those beauty blender sponges. We've got some excellent tips that will show you how to clean makeup sponges.
Those handy dandy beauty blenders aren't always cheap, and it's one of the many makeup tools women have in their beauty products bag. Ask any makeup artist, and they'll tell you that caring for the items in your makeup bag is one of the essential beauty tips.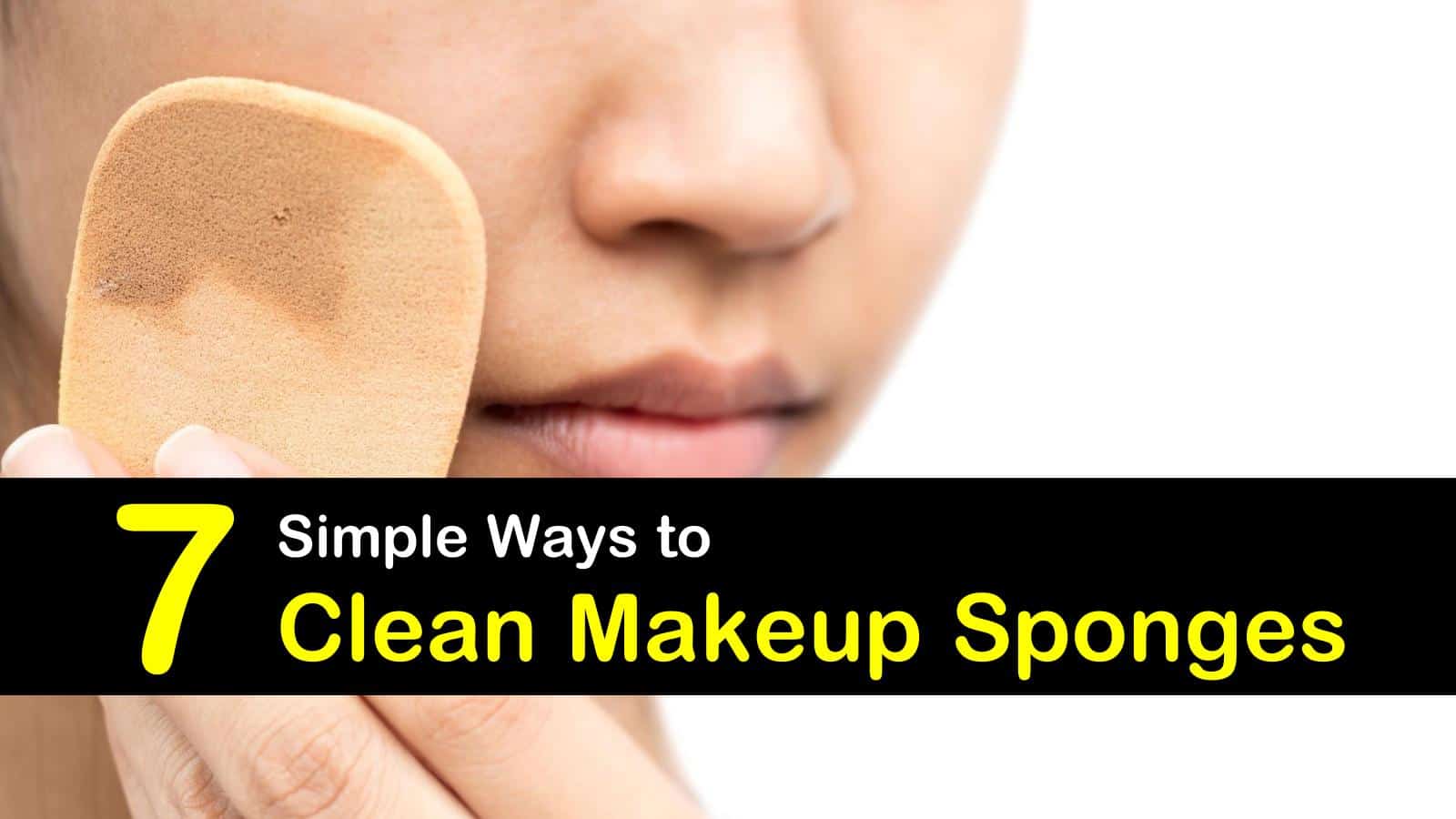 Cleaning Makeup Sponges
Once you've mastered the technique for cleaning beauty blenders, you can learn how to wash makeup brushes at home. Hold on to that beauty blender sponge even after it's discolored with foundation, eyeshadow, and blush.
We'll help you turn that dirty sponge into a brand new one by following these simple steps. These beauty hacks will save you money while allowing you to get more use out of those makeup sponges.
How to Clean Makeup Sponges
What color were those sponges when you first bought them? They were not the odd posh of colors they are now! We'll show you how to clean makeup sponges using the most fundamental techniques.
Believe it or not, the best sponge cleaner is sitting in your shower — a bar of soap. You can also use antibacterial soap as a homemade makeup brush cleaner.
Antibacterial Bar Soap Sponge Cleaner
Soak those dirty sponges under warm water until they are completely saturated. Use a bar of antibacterial soap and rub it back and forth onto the sponge to build up a lather.
Once you have a hand full of colorful makeup suds, hold the sponge under clean water. Continue holding them under the water while squeezing the soapy water out. Once the water coming off the sponge is clean, squeeze out the excess water and then lay the sponges out to air-dry.
Cleaning a Makeup Sponge in a Soak
This double-cleansing technique will not only get that sponge clean but eliminate leftover stains that may otherwise bring out the OCD in even the best beauty.
Start by putting a few drops of liquid soap into a bowl of warm water. Using your hands, swish the liquid around to mix it into a soapy solution. Drop the dirty sponges into the solution and let sit for several minutes.
Rub the bar of soap across the sponge until there is a good lather. Using your fingers, massage the sponge, paying close attention to those stained areas. When you see old makeup oozing out of the sponge, it's time for a rinse-off.
Hold the sponge under clean water while squeezing to remove excess residue. Once the water runs clear, you can lay out the sponge to dry.
How to Wash a Beauty Blender Using the Microwave
The microwave isn't just for cooking! While the microwave does have its limits, it is a great way to clean and sanitize sponges. Don't simply put it into the microwave though or you'll end up with a melted mess of something otherworldly. Follow these steps to wash a beauty blender using your microwave.
Squeeze a few drops of Johnson baby shampoo into the bowl of water and stir it to mix the solution. Pre-wet the sponge and submerge it in the liquid.
Pop the bowl into the microwave for one minute. Remove the sponge from the soapy, dirty water and wring it out under running water until clear.
Using a Blendercleanser to Clean a Makeup Sponge
Using a Blendercleanser solution for cleaning your makeup sponges is ideal if you are hesitant to create a homemade solution. You can also use the Blendercleanser solid for cleaning blender sponges on the go.
Blendercleanser Cleaning
Start by dampening the sponge. Place a dime-size amount of Blendercleanser onto the sponge and massage the soap into the stained areas.
Use your fingertips for kneading the sponge until the stains are gone. Place the sponge under running water and continue squeezing until the water runs clear.
Makeup Sponge Cleaner using Olive Oil or Coconut Oil
The combination of oil and soap makes an excellent makeup sponge cleaner. The whole process is quick and easy, taking only a few minutes to perform.
Oil is ideal because it helps to break up and loosen the makeup color pigments in the sponge. This technique also works to get hair dye off hands.
Add the dish soap and oil to the bowl. Roll the sponge around in the mixture while kneading to loosen stains. Massage the sponge under warm water while squeezing out the soap, oil, and makeup residue until the water runs clear. Lay the sponge out to dry.
Washing Machine Sponge Cleaning
This hack is ideal when you have a large assortment of makeup blenders that need cleaning, and you don't have the time. This trick shows you how to wash a beauty blender without getting your hands dirty.
Presoak the sponges in a bowl of soapy solution of water and a few squirts of dish liquid cleanser. This process will help loosen stains and break down the makeup residue.
After soaking, place the sponges into a pillowcase and tie the end shut. Put the washing machine onto the warm and delicate cycle with no spin. Once they are clean, lay the sponges out on a paper towel to dry.
Clean Your Makeup Sponge Using Facial Cleanser
The soap that you wash your face with is also ideal as a makeup sponge cleaner. Since you use a facial cleanser on your face every day, you already know that it is free of harsh chemicals. It's also handy considering that both items are probably sitting side by side on the bathroom sink.
Dampen the makeup sponge with warm water. Add a couple of drops of your facial cleanser to the sponge and work it into a lather. Once the lather has changed color from white to murky brown, rinse the sponge beneath running water until clear. Using some paper towels, blot the sponge to remove excess water.
You don't have to use a store-bought sponge cleanser such as Bronners to clean those sponges. Fine salons such as Sephora are known to incorporate beauty hacks for cleaning and maintaining beauty tools. It's easy to see why makeup hacks seem to be one of the top stories in fashion magazines.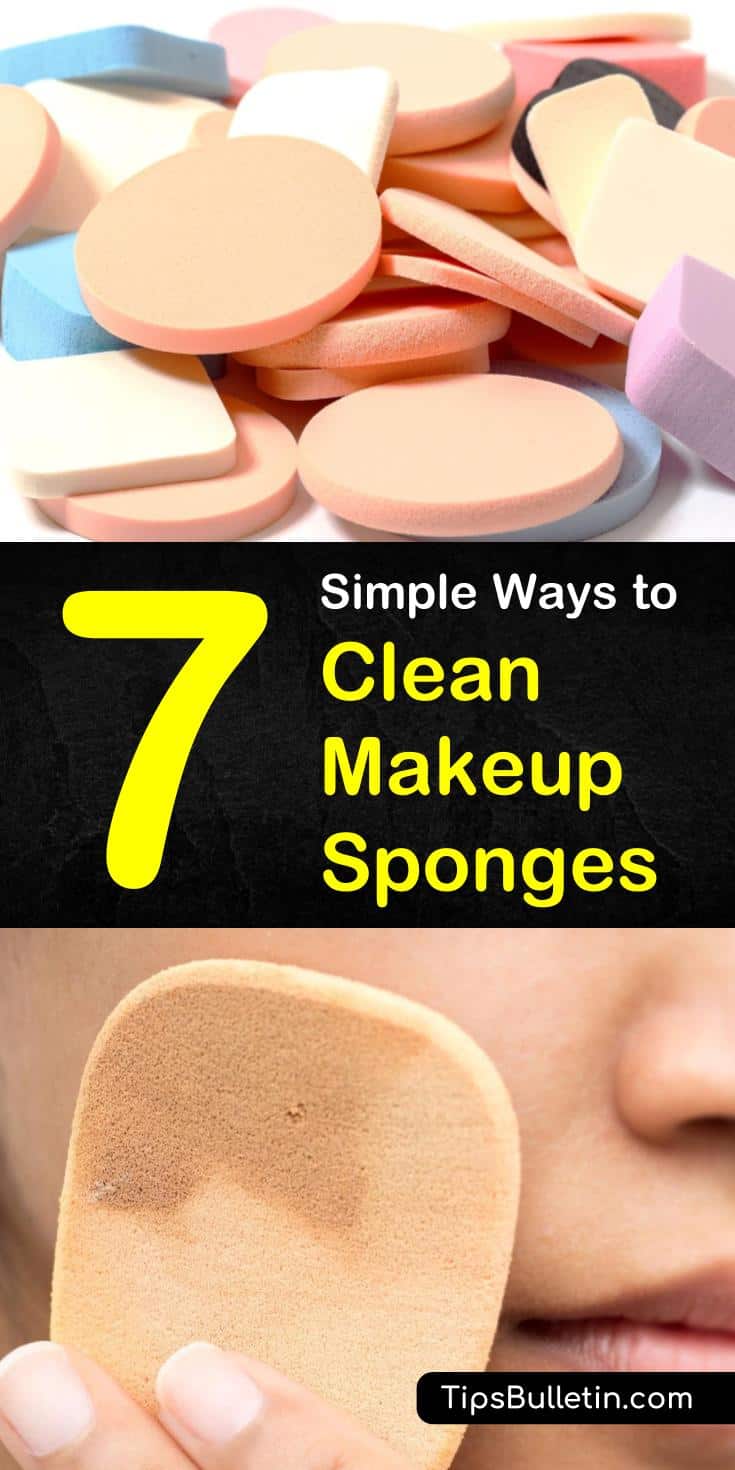 You, too, can achieve the perfect makeup look using liquid or solid cleanser solutions made from items in your own home. Now that you've learned how to clean makeup sponges in a few easy steps, why not share these ideas with your friends and family on Facebook and Pinterest?