If you want to add a sleek and polished look to a kitchen or bathroom, marble countertops are guaranteed to make a room shine. The natural stone provides durability and comes in a range of colors to suit any homeowner's style. Unlike granite countertops, the porous makeup of marble can leave it susceptible to stains and etching, having homeowners frequently question how to clean marble countertops without damaging the natural stone.
Carrara marble is a white marble that is very popular and often chosen by homeowners to put in kitchens and bathrooms. These two rooms are hotspots for leaks and spills.
Although the decision to install marble countertops can feel scary, they aren't as daunting as many people make them seem. Listed here are some of the safest ways to clean marble countertops.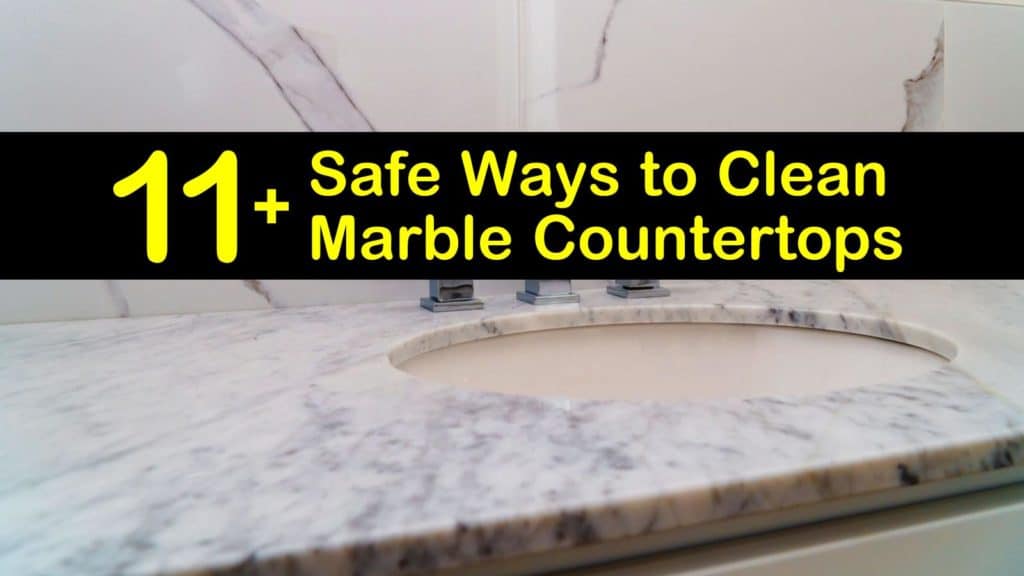 Must-Knows about Marble Counter Cleaning
Whether you want to clean marble floors, tiles, trivets, or kitchen countertops, having the appropriate knowledge about how to clean marble countertops is vital in properly maintaining them. If you have marble in your home, know that you should never use common household cleaners.
Marble contains calcium carbonate, which causes an adverse reaction when exposed to acids. Many store-bought cleaners such as Lysol, Windex, and even bleach contain acids that initiate corrosion and leave stains and etching.
Your go-to homemade cleaners aren't always acceptable when marble counter cleaning or when investigating ways to remove stains from granite, either. Many homemade cleaning products use ingredients like lemon juice and vinegar, but these leave your marble discolored and scarred.
How do you make sure your marble counter cleaning practices are safe? Here are some of our favorite ways to create clean-marble-countertops.
Natural Ways to Clean Marble Countertops
The best way to clean marble kitchen countertops is by making natural marble cleaner. When you make your cleaning products, you have control over which ingredients you use, ensuring that you'll never accidentally etch your marble. Below are some of the best ways to clean your marble countertops.
Soap and Water Basic Cleaning Solution
To keep your marble countertops looking clean, make sure to wipe them daily with a simple combination of fresh water and mild dish soap. Combining gentle soap (often not the kind used for dishwashing) and water creates a result that both sanitizes and assists in stain removal.
The simplest solutions are sometimes the best ones. For quartz countertops cleaners or those made of marble, start with gentle soap and water.
In a small bucket or spray bottle, combine equal parts warm tap water and Castile soap and gently mix. Lightly spray or apply to your countertops. Wet a cloth with hot water and wipe.
Immediately dry the marble countertops with a dry, soft cloth or microfiber towel until all areas are free of moisture. This quick and easy spray can be applied daily to keep your marble counters looking spot-free and shiny.
The Best Cloth for Cleaning Marble Countertops
If you're only looking for a quick clean up and polish, a microfiber towel is an ideal way to get rid of dust, dirt, or debris. Wipe the surface in small circular motions.
The tiny fibers cling to and lift the particles on the marble's surface. Although a quick wipe won't disinfect your countertops, it still leaves them looking clean and polished.
How to Clean Marble Countertops with Peroxide
Marble often becomes stained in small spots from the splash of simmering tomato sauce or a ring left behind by a coffee mug. To get rid of a compact stain or to get hair dye out of a marble countertop, hydrogen peroxide is your best bet when looking for a natural stain remover.
Peroxide is known for its stain-fighting qualities and also helps prevent bacterial growth, like mildew. Pour the peroxide on the targeted area and let it sit for 10-15 minutes as one of the easy ways to remove water stains from marble surfaces.
Dab with a rag until the stain lifts. Ensure that the area is completely dry by rubbing with a soft cloth or microfiber towel.
Baking Soda Marble Cleaning Paste
For a deeper clean, baking soda is a safe and effective way to clean your marble countertops. Because of its mild alkalinity, baking soda easily dissolves dirt and grease.
Baking soda is an everyday household staple that keeps well in the cupboard for at least two years after opening. It also has a bonus of eliminating unpleasant odors.
Combining baking soda with water creates a poultice cleanser that can either clean large surface areas or smaller stains. In addition to cleaning marble, baking soda is the best way to clean granite counters, too.
To make this natural countertop cleaner, combine equal parts baking soda and water in a large bowl and stir until it resembles a thick paste. Adjust the overall amount of the mixture depending on the size of the area you want clean. Apply the paste to the countertops and cover with plastic wrap.
Let it sit for 24 hours. Use a sponge or a warm, damp cloth to wipe away the paste. Immediately dry and buff countertops with a microfiber towel or soft cloth.
Flour Based Stain Remover for Marble Countertops
If you've rifled through all of your cabinets and couldn't find baking soda, flour can be made into a poultice as well. Many homeowners aren't aware that this common household ingredient can be just as effective as a stone cleaner as baking soda.
In a large bowl, combine flour and dish soap and add water until it resembles a thick paste. Apply a thick layer to the stained area, cover with plastic wrap, and let it sit for 24 hours.
Wet a sponge or cloth with hot water and wipe away paste. Immediately dry and buff countertops with a microfiber towel or soft cloth.
Use this remedy as a DIY headstone cleaner for those made of marble and eliminate water stains and other problems with ease.
Peroxide Marble Cleaning Paste
Another popular poultice combines peroxide with baking soda and a small amount of ammonia. This homemade quartz cleaner is packed with popular cleaning ingredients and is excellent for the grout between marble tiles.
Put your rubber gloves on to protect yourself from touching harmful chemicals. Stir the peroxide with three to four drops of ammonia and add baking soda.
If the consistency is watery, add more baking soda one teaspoon at a time until a thick paste is formed and spread this natural stone tile cleaner on the desired area and cover with plastic wrap for 24 hours.
If cleaning backsplash, you may need to tape the edges of the plastic wrap to prevent them from falling. Wipe away paste with a damp cloth or sponge. Use a soft cloth to dry the area thoroughly.
Cleaning Marble Countertops with Ammonia
Ammonia is okay to use on marble surfaces only when adequately diluted with water. It is useful for dissolving grime from cooking oils and evaporates quickly to reduce visible streaking or water spots. Mineral spirits can be substituted for ammonia if you don't have any on hand.
Put on rubber gloves to protect your skin and mix the ammonia with warm water. Soak a cloth in the mixture and ring out the excess liquid.
Wipe down marble countertops, dipping the cloth in the marble cleaner as needed. Thoroughly dry countertops with a dry microfiber towel or cloth.
Isopropyl Alcohol Based Marble Cleaner
Sometimes marble countertops look clean but, despite its natural bacterial resistant qualities, can still be covered with dangerous germs if not properly disinfected. Isopropyl alcohol can be made into a liquid cleanser and properly disinfects bacteria that may be lingering.
Combine equal parts isopropyl alcohol and warm water in a spray bottle. Gently shake to combine. Spray a thin layer on countertops. Wipe with a dry microfiber towel or cloth until all moisture is gone.
Alcohol based marble cleaners are one of our favorites. Not only do they leave your marble countertops looking polished, but they thoroughly disinfect as well. Alcohol also is ideal to remove hard water stains from marble surfaces without damaging the material.
Don't like the smell of alcohol? Try adding a few drops of your favorite essential oil to the recipe.
Prevention is the Best Way to Clean Marble Countertops
Regardless of how often you practice marble counter cleaning, the best ways to clean your marble countertops are by preventing damage in the first place.
Because marble is porous, applying a sealant to the stone reduces the chance of liquids and acids from penetrating the small holes in the stone. We recommend sealing your marble countertops every three to six months to preserve the quality of the stone.
Etching in Marble Countertops
Etching is when something corrosive eats away at the marble. To fix and prevent etching, use a 0000 grade steel wool pad and rub over any nicks, scratches, paint stains, or watermarks before sealing.
Be careful not to use a higher grade steel wool, or you risk scratching the marble instead of buffing it.
Sealing Marble Countertops with Tung Oil
Tung oil is an excellent alternative to store-bought sealant if you're on a budget. Although you may be tempted to use whatever oil you have on hand, not all oils are safe on marble and may cause discoloration.
Tung oil is a safe oil to apply to marble. It comes from the nuts of the Tung tree, a plant native to China, and leaves your countertops with a durable shine. This sealant allows a safe and budget-friendly alternative to traditional marble sealers.
Mix equal parts oil and water in a plastic bowl. Do not use a metal bowl; it may cause an adverse reaction. Wipe down countertops with the microfiber towel or soft cloth to remove dust or debris.
Put on rubber gloves to protect your hands and soak a cloth in the oil/water until wet. Ring out the cloth and apply a thin layer of the sealant to countertops. Allow countertops to dry completely and repeat. Apply a third coat if preferred.
Store-Bought Marble Cleaners
Not interested in making your own cleaners and sealants? Many products are both affordable and practical for cleaning your marble countertops.
Brands like Simple Green and MarbleLife sell bottles of cleaners that are equally powerful, just make sure that you double-check the ingredients list to ensure that none will harm the stone.
Store-Bought Marble Sealers and Polishers
A store-bought marble sealer is an excellent option if you've noticed that your countertops need a touch-up. Big-name brands like Tuff Duck, Tenax, and Stonetech provide highly-rated options and generally range from $20-$50.
These can be purchased at any large department store, on amazon.com, or directly from the company's website. If you're looking for added shine, bottles of stone polisher can make your marble sparkle.
Giving Marble Countertops Extra Shine
If you want your marble countertops to make a statement, consider purchasing a marble polishing kit. A quick Google search provides you with affordable polishing sponges and wax that is safe on the stone.
Polishers take your cleaning to the next level and offer a like-new shine that will have family and friends fawning over your kitchen or bathroom.
Despite needing to be cautious about the products you apply to your marble countertops, there are many options for cleaning your marble in a safe and environmentally friendly way. We hope you liked learning about the many strategies on how to clean marble countertops.
If you've enjoyed learning how to clean marble countertops safely, please share this list of ways to clean marble countertops on Facebook and Pinterest.