Marble floors are an incredible addition to any home. Their smooth, sleek finish shines when adequately cleaned and transforms almost any home into a palatial escape. Knowing how to clean marble floors will save you the agony of ruining this marvelous illusion and will also ensure these sensitive flooring tiles aren't destroyed either.
This process is both easy and time-consuming but worth every bit of the effort. So what should you use when cleaning your marble floors? And which cleaning method and products should you avoid?
Because cleaning marble floors requires a light touch, there are numerous do's and don'ts you need to follow when choosing a marble tile floor cleaner. We have compiled a list of some of the best-kept secrets and recipes for cleaning these delicate floor tiles. We have also included a helpful collection of advice for what not to use on your marble floors.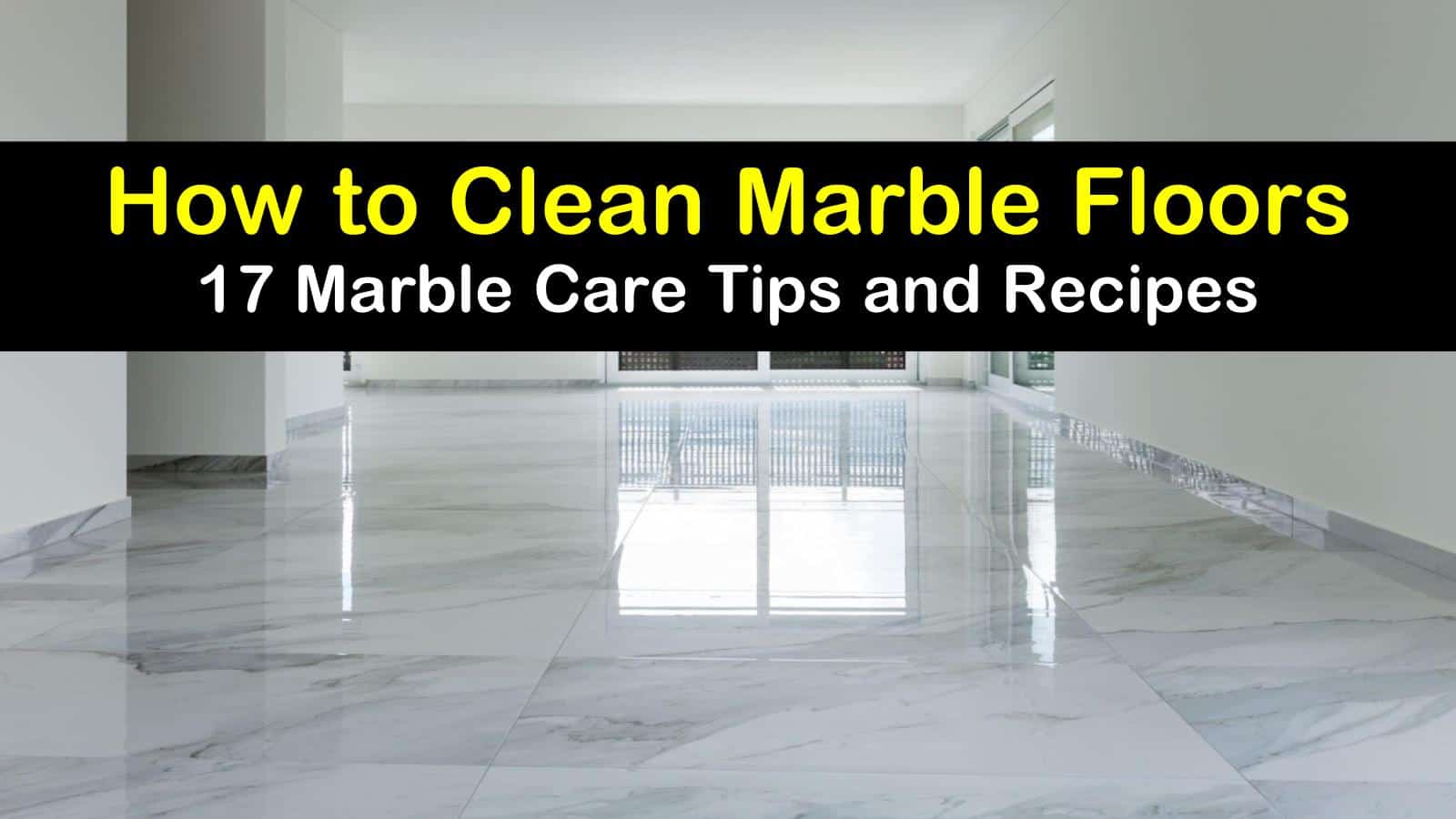 Dos and Don'ts for Cleaning Marble Floors
When cleaning natural stone flooring, you want to use only the best cleaning products. Some will even argue that the only cleaning solution is a commercial cleaner, but that isn't true. There are plenty of natural ingredients that work well on marble without ruining the material.
Start with a Basic Sweeping
The first step to take in any cleaning regimen is to remove as much loose dirt and dust from the area as possible. The best way to take care of this is by using a dust mop or broom to sweep the stray particles away.
Doing this regularly will also prevent gritty pieces of dirt from scratching the surface of your marble flooring. This step will also reduce the potential of spreading dirty water across your clean marble floors when mopping.
How to Clean Marble Floors with Gentle Cleaning Products
An easy way to clean your marble floors is to use a cleaning agent like baking soda. Baking soda is abrasive enough to remove grit and grime from your floors, but gentle enough to clean without scratching the sensitive flooring. You may also want to add a few drops of dish soap to the recipe for greasy stain removal. Use only a phosphate-free dishwashing detergent with no additives.
For the best way to clean marble or for how to clean porcelain floors, start by placing the ingredients in a large container. Apply the cleaning product to your floor using a sponge or wet mop and work in small areas of about two square feet at a time. Rinse the soapy water clean, then dry any remaining liquid using a microfiber mop or cleaning cloth. Your floors will shine.
Try Castile Soap for an Alternative Cleaning Recipe
Another mild soap you can use to keep your floor clean is Castile soap. This detergent comes in multiple forms, including a bar and a liquid version. For our purposes, the liquid version works best and will cut through grease and grime with ease.
Mix the Castile soap with water in the sink or a large bucket, then transfer the mixture to a spray bottle for easier access. Lightly spray the Castile soap across the marble surface, then wipe away using a soft cloth.
Rinse with warm water when finished, then buff dry. An excellent natural stone cleaner, Castile soap also works as the perfect homemade cleaning solution for granite.
Cleaning Marble Floors with Ammonia
Though ammonia seems like a harsh cleaner to use on most surfaces, it is safe to use on marble when adequately diluted. Ammonia works well as part of a poultice or even when cleaning on its own.
When it's time to clean a marble tile shower or your marble floors or countertops, remember to wear long sleeves and rubber gloves for protection against the ammonia.
Combine the two ingredients in a large bucket. Wipe the floor down with the ammonia solution. Rinse the stone thoroughly when done, and dry the area.
Seal Your Marble Tiles for Added Protection
Sealing your marble tile and countertops is essential for preventing problems down the line and making regular cleaning easier. Using a sealant to protect your tiles gives the marble a higher resistance to water and other spills. To apply your sealer, use a lint-free cloth and rub the sealant along the surface, going in small areas at a time.
Wait approximately 40 minutes before applying your second coat of sealant.Once the second coat is applied, ensure any excess sealer is wiped away with a towel. Wait an additional 30 minutes for your second coat to dry.
Your final step for a marble or quartz sealer is to wait. Sealants need to cure, which can take up to three days to do correctly. During those three days, these floors or countertops should be off-limits. Afterward, you will have a fantastic finish and an added layer of protection for your floors.
Use a Poultice to Remove Rust and Metal Stains
For challenging stains that have already started to penetrate the marble, you need to use a poultice to clean deep within the tiles. This process requires mixing a powdery substance with a solvent to reach those deep-set stains. Here are some powders you can use for the poultice.
When making the poultice, add one cup of whatever ingredient you have handy and add water. The amount of water you need depends on the consistency of the treatment. Your combination should look similar in texture and weight to peanut butter or frosting. Once it's ready for use, slather it over the stain and leave it to sit for up to 48 hours.
Use the Right Solvent for Your Poultice
So you have your poultice, you used it, and it still isn't working. One reason for this is the type of stain and the solvent used. Depending on what stain you are attempting to combat, water may not be enough.
For organic stains like blood or grass, hydrogen peroxide works the best. Oil-based stains require an acetone remover, while ink stains require a blend of peroxide and ammonia.
Remove Stains with Hydrogen Peroxide
For stubborn stain removal, your go-to product is hydrogen peroxide. This medical miracle and stain-fighting ingredient is one of the many uses for peroxide and works best on lighter marble, primarily since it uses mild bleaching agents when cleaning.
Surprisingly, this cleaner is safe to use on your marble tiles, but only as a spot treatment and occasional use, not for an overall, regular cleaning project. To apply, pour the cleanser directly onto the stain. Rub it into the marble using a damp cloth, then let it soak for approximately ten minutes.
Gently blot at the moisture with a dry cloth to slowly absorb the stain. Rinse the area with clean water and dry thoroughly. Your marble surface should shine again.
Clean Marble Grout with Peroxide Paste
Depending on the tile floor you have, you will also need a spectacular grout tile cleaner to keep it looking fabulous. While there are many incredible ways to keep grout lines looking white and bright, some of the ingredients are ones we have already used.
This natural grout cleaner recipe is simple to make and use and is the perfect supplement to your marble cleaning process.
This grout cleaning recipe will form a thick paste that reaches a consistency similar to toothpaste. Using a brush with soft bristles, such as a toothbrush, take care of cleaning floor tile grout by applying a thick layer to grout.
Let the paste sit for around ten minutes, then scrub in between the grout lines using the toothbrush. Rinse with warm water and dry.
Marble Tile Floor Cleaner Tips for Removing Paint
The thought of getting paint on your marble floor is a horrifying concept. With such a permanent staining component like paint and a limit on the acceptable cleaners for marble, the answer for your cleaning conundrum does not come easily.
However, according to the National Stone Institute, there are two ways to remove paint: a lacquer thinner or a razor blade. When using the lacquer thinner, gently rub the product into the paint and wipe away with a damp cloth. For the razor blade, you will want to scrape away the paint without applying too much pressure to prevent damage.
Use a Commercial Cleaner for Your Marble Floors
Another effective way to clean marble is to use a commercial cleaning product. Some homeowners even argue this is the best way to clean your floors since these cleaners are explicitly geared toward the sensitive surface of your marble tiles.
When using these cleaners, always consult the manufacturer's guidelines for proper procedures and quantities. Some examples of commercial cleaners are MarbleLife Marble and Travertine Cleaner, MB Stone Care spray, Black Diamond, and Granite Gold.
Test Cleaners Before Cleaning Entire Floors
No matter what cleaning solution you use, test a small area first. Doing this will ensure that there are no adverse effects to using the cleaning solution you have selected on your particular marble tile.
Start with an area of the floor hidden from view, such as under a piece of furniture, a corner, or flooring covered with a floor mat. Test the area and wait a few hours to ensure no residual effects develop over time. Once convinced of your cleaner's capabilities, this cleaning solution is ready for a full-scale job, set to work, and enjoy the finished product.
Don't Leave Standing Water on Marble Floors
Marble is a porous stone material that absorbs liquids quickly, especially when those liquids have been left on the marble for an extended period. To avoid ruining marble floors, ensure that all spills and areas with standing water are immediately cleaned up.
You also should thoroughly wring out your mop before using it to limit unnecessary amounts of water. While it seems like an obvious solution, there are times where muddy boots track in dirt and water without being immediately cleaned.
Even when coming in from a cold winter evening, boots will slowly melt and form puddles of water on the floor. Keep an eye on these areas, and use rugs to keep entryways protected.
Stay Away from Acidic Cleaners
Among the many things to avoid when selecting a marble cleaner is anything with an acidic base. This list includes cleaners that use citric acids, such as lemon juice, or acetic acid, as with vinegar. Most floor cleaning solutions use these products religiously because they do make excellent cleaning products and disinfectants – just not for marble.
Vinegar and citric acid eat away at stone materials like marble and granite, leaving behind fine markings etched into the surface of the tiles. Over time, these scratches form discolored splotches, so only use cleaners with a pH neutral rating.
Do Not Use Bleach or Windex
For similar reasons for why you don't want to use acidic cleaners, avoid using bleach or glass cleaners like Windex on your floors and marble countertops, as well. These cleaners cause corrosion on the tiles, eating away little pieces one scratch-like line at a time.
Even if you used bleach on your floor once or twice without any noticeable effects, using this cleaner over time will cause discoloration and dull the brilliant shine of your tiles.
Stay Away from Abrasive Cleaning Supplies
We've discussed scratches by way of cleaning products. However, there are plenty of tools and supplies that we regularly use that may also cause these adverse effects. To prevent scratching your marble flooring, do not use scrubbers like scouring pads or steel wool.
If regular scrubbing with a clean cloth is not enough, the next best option is to use a soft bristle brush or toothbrush. Cleaners should be mild, nonabrasive products to prevent scratching. When removing dirt, always use a broom or dust mop, never a vacuum cleaner. Vacuuming your marble floors may also cause scratches to form.
Use Rugs in High Traffic Areas
For areas of your home with high foot traffic, such as entryways, or even kitchens that face a high incidence of spills and stains, consider using a rug. Placing a rug or slip mat in these areas decreases the marble's exposure to potentially harmful elements, such as liquids and dirt.
Using these mats will also limit the amount of dirt being tracked across your floors overall since strategically placing these mats will encourage your guests and family members to wipe their shoes off before entering.
Some Final Pieces of Advice about Your Marble Tiles
If burning questions about your marble floors are still plaguing you, we may have the solution for you. Remember that finding the perfect cleaning routine that fits your lifestyle is a matter of trial and error. Don't be afraid to experiment with new techniques and try something different.
How often should I clean my marble floors?
When it comes to maintaining your marble floors, ensure you are spending the appropriate amount of time cleaning them each month. Deep cleaning of your marble floors should take place about once a month using the products and solutions listed above. Otherwise, a quick dusting is all you need regularly.
With tiles that quickly develop scratches, avoid letting any lingering pieces of dust and dirt collect in between deep cleanings. Use a dust mop to clean your floors as often as possible. The general rule for how regularly to dust your marble floors depends on the number of people contributing to the dirt in your household.
For every person, add one cleaning a week. This same rule applies to pets. For example, if you have two people and one pet, increase your weekly dusting routine to three times a week.
Where can I find more information about my marble floors?
If you still aren't sure which cleaning method to use, or if you have additional questions about your marble floors, the Marble Institute has resources at your disposal. The website for the Marble Institue of America provides ideas from installation to maintenance to industry statistics.
There are even some videos available on their blog to assist you with the proper cleaning and care of your marble floor. Marble floors are aesthetically pleasing works of art that require a fair amount of upkeep to maintain their pristine shine. However, that doesn't mean keeping your marble floors spotless and looking brand new is entirely out of reach.
Using these helpful cleaning tips will guide you along your journey to a cleaner, shinier floor. With several options to choose from and plenty of ideas to start with, cleaning marble floors has never been easier.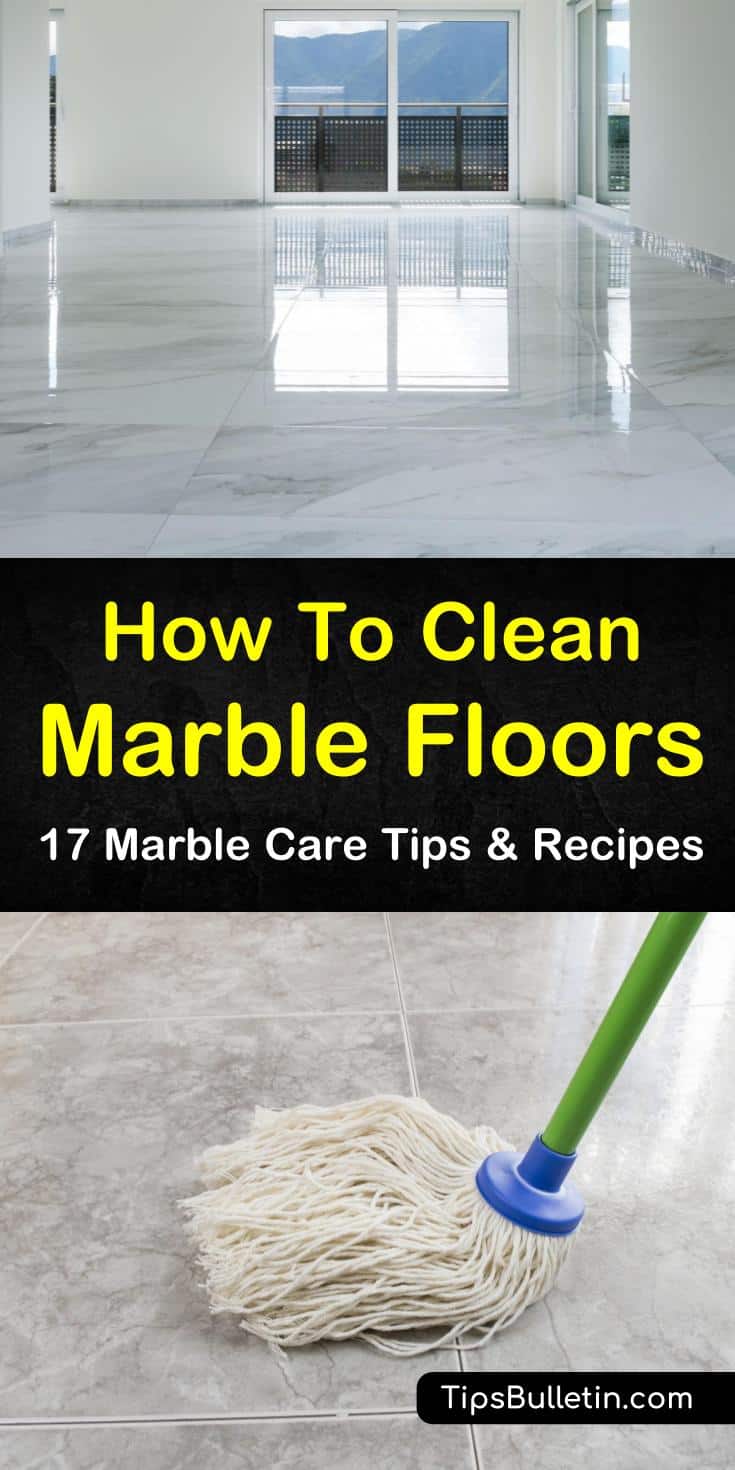 We hope you have enjoyed learning the dos and don'ts for cleaning marble floors. If you gained some valuable info about washing marble, please remember to share how to clean marble floors with these amazing recipes on Facebook and Pinterest.