One of the drawbacks of outdoor furniture is the exposure of pieces to the elements. Not only is this a problem for plastic and wood furniture, but it's troublesome for deck furniture made with metal. Knowing how to clean metal patio furniture not only keeps it from oxidizing and rusting but also ensures it maintains the same luster and appearance as it did the day you first bought it.
Understanding proper maintenance techniques start with knowing the specific metal your outdoor furniture consists of. How to clean oxidized aluminum patio furniture differs from cast iron or wrought iron furniture because certain cleaners damage them faster than the aluminum.
And, while proper care and handling of your deck furniture prevent most issues, some problems with rust still arise. Knowing how to clean rust off metal garden furniture is just another critical piece of the maintenance pie to keep in mind when protecting your belongings. Luckily, we cover all of these scenarios and more with some quick and simple cleaning tips.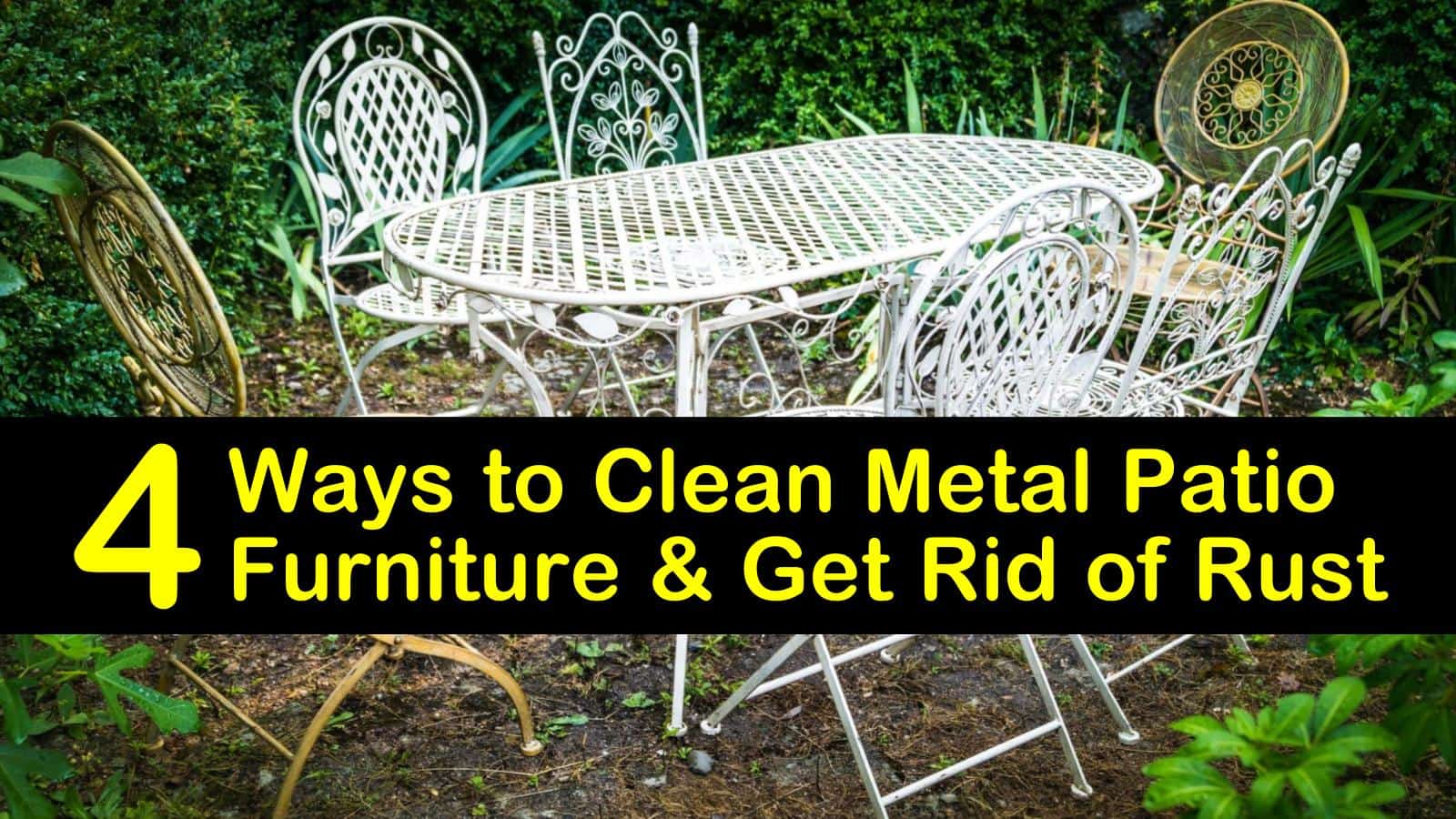 Cleaning Metal Patio Furniture
There are many advantages to having metal furniture, one being a higher resistance to mildew than wicker or wood furniture. However, getting sap off outdoor furniture is necessary for any material. Metal chairs and tables are way more durable than plastic furniture and enhance the stylish look of your property.
With just a few simple techniques and a killer cleaning solution, keeping these advantages well within reach is not only plausible but more straightforward than you imagine.
Deep Cleaning Metal Outdoor Furniture with Soap
No matter what type of metal your furniture is made of, always start with a basic gentle cleanser like dishwashing detergent. The initial step is to scrub away any loose dirt and debris using a soft brush or a clean cloth.
Make sure you get into all the small crevices. If you notice a build-up of grime or sticky substances on the metal, use a garden hose to spray off the metals before washing.
The most basic cleaner for patio furniture requires no more than a little soapy water. A mild dishwashing soap or laundry detergent is perfect for all patio pieces, from wicker furniture to even the most challenging metals like wrought iron and cast iron furniture.
It's also a fantastic way to scrub clean any outdoor cushions if your chairs come with those. For a more intense clean of outdoor pillows, especially if you accidentally left them out in the rain, pop them in the washing machine.
How to Clean Rust Off Metal Garden Furniture
Another vital thing to note when you clean outdoor furniture is the type of metal you're working with, such as stainless steel versus aluminum or cast iron. In general, stainless steel is much more rust-resistant than other metals. But, that doesn't mean that it's completely impervious to rusting now and then.
One simple solution to clean rust from stainless steel is by using a potato. It may sound strange to clean patio furniture with something you usually cook as a side dish, yet potatoes contain an essential rust-fighting ingredient known as oxalic acid.
When cut in half, the potato acts as a scrubbie. Rubbing the raw part of the potato along the surface of the furniture reacts with the metal to gently remove rust. For extra removal power, get rust off metal by adding coarse sea salt. Using salt and lemon the same way works, too.
This quirky method is also ideal to clean rusty grill grates or the grates in your oven without using harsh chemicals. When the grates are sparkling, there is a lingering fresh citrusy scent, as well.
Be sure to also use a DIY deck cleaner to remove any rust or stains that are left over on cement or brick deck.
Quick Clean Metal Patio Furniture
Among the greatest home remedies for rust is to use baking soda to sand down the layer on the surface of the metal. A similar technique occurs on other patio furniture like teak, which requires sanding down the top layer of the patio furniture to remove damaged parts and have a fresh, clean surface.
The baking soda acts as a gentle abrasive, which is perfect to clean outdoor plastic furniture with only a moderate amount of dirt.
To make this simple metal cleaning solution, create a thick paste, adding more baking soda to the water as needed until you attain the right consistency. Slather it over the rusty spots, then leave the baking soda solution to soak on the rusted area for approximately 20 minutes before using a scrub brush to clear away the remaining particles.
Once you finish, use a damp cloth to wipe away the baking soda and let the furniture air dry. For particularly tricky rust spots, add a little bit of hydrogen peroxide to the mix. Never use bleach on your metal furniture, however, no matter what type of metal to prevent long-lasting damage to the metal.
Clean Oxidized Aluminum Patio Furniture
Handling aluminum furniture can be a little tricky at times. You can use vinegar to get rust off chrome without scratching the surface. Before you begin the rust removal process, start by cleaning the surface with soapy water.
Doing this removes any scuff marks, debris, or dirt and gives you a clean space to work with. After the washing and scrubbing are complete, the sanding process can begin.
Surprisingly, vinegar is also a great way to remove rust from metals. Whether removing rust from cast iron with vinegar or using the same method on aluminum and iron, you also need to incorporate a sanding tool such as steel wool or sandpaper.
To use one of the home remedies for cleaning aluminum, start by spraying the surface of the metal with the water and vinegar solution. Next, use the sander to gently scrape away the layer of rust coating your patio furniture.
After removing all the rust with one of the best ways to clean aluminum, add a layer of protectant over the freshly sanded area, such as paste wax, sealant, or mild oil. Your aluminum patio or deck furniture will look almost brand-new again after just a little time and attention with basic household ingredients.
With these fantastic recipes and cleaning tips for maintaining your iron patio furniture, you are now fully equipped to handle any challenge that comes your way – at least when it comes to your outdoor patio pieces.
Whether your furniture needs a basic clean or a ton of TLC when it comes to your next home improvement project, these DIY recipes are precisely what you need.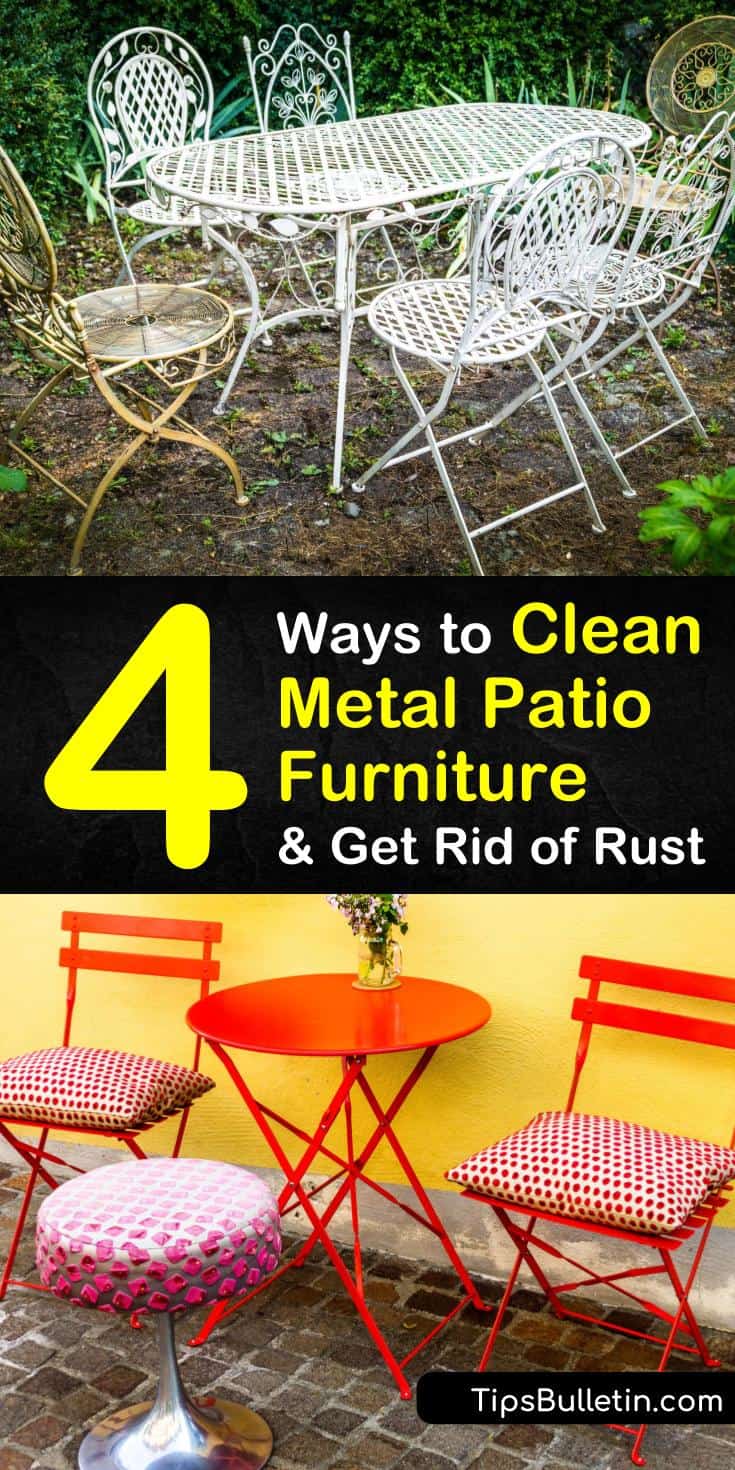 If you loved learning about how to tend to rust and your metal seats, then please remember to share how to clean metal patio furniture with all your fellow homeowners on Facebook and Pinterest.