Do you know that unpleasant smell you experience when you walk into a damp basement or garage? That smell is a result of mold and mildew that has built up over time due to excess moisture. We will show you here how to clean mildew using everyday ingredients.
While you may be able to prevent mold in specific areas using a dehumidifier, there are times when mildew and mold growth are inevitable. There are many cleaning solutions that can be used to get rid of mold and mildew growth. You may want to skip many of the commercial cleaners that are not only costly but bad for your health and the environment.
Our cleaning recipes contain common ingredients that are more than likely located throughout your home and can get the job done quickly to clean mold off shoes and many other surfaces. Removing mold and mildew can be a dirty job because, well, it's just plain gross.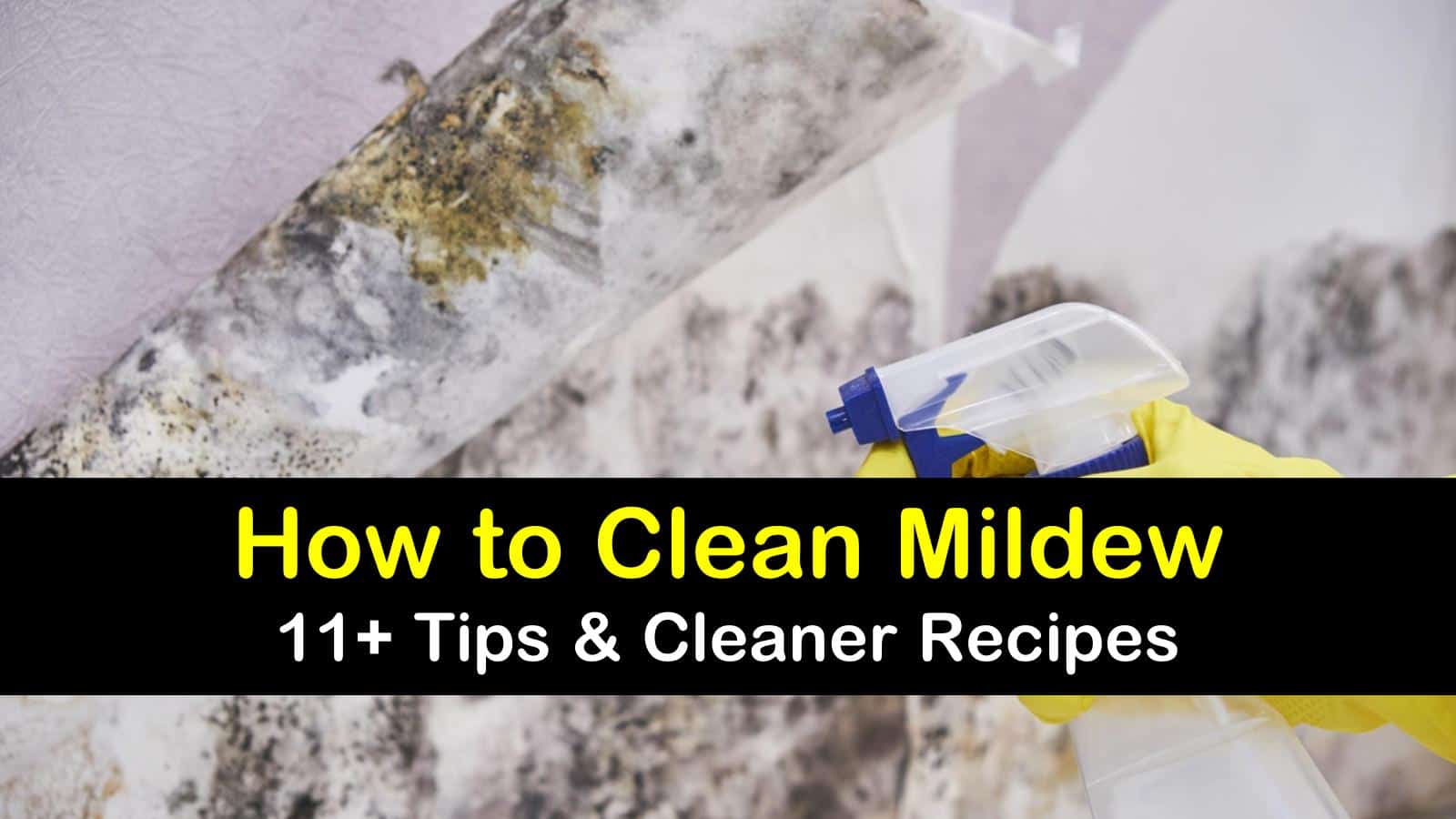 How to Get Rid of Mildew
Our cleaning recipes contain common ingredients that are more than likely located throughout your home and can get the job done quickly. Removing mold and mildew can be a dirty job because, well, it's just plain gross. You've probably wondered, are mold and mildew the same thing? They are, and they aren't.
They are both a fungus, yet mold tends to be green or black, is fuzzy and slimy, and grows beneath wet surfaces. Mildew is white or gray, fluffy or powdery, and thrives on top of warm, damp surfaces.
Using the right tools and know-how, you'll be able to kill mold, clean mildew, and tackle that gross job with ease. These solutions can be used on a multitude of surfaces to get rid of mold and mildew. Try one recipe for removing mildew from wooden deck and another for eliminating mold from your mattress. You're certain to find a remedy that works for your needs.
What Kills Mold and Mildew?
When trying to discover what kills mold and mildew, we have come across various substances that will do the job. While many people automatically reach for a bottle of chlorine bleach to kill mold and mildew, it only kills the spores that reside on the surface of the material.
We have found that white vinegar not only kills the surface spores but also penetrates the porous material to kill the mold inside. Vinegar also kills over 82% of the mold species, whether you are looking for a way to remove a mildew smell from your bathroom or the laundry room smells funky.
Fill the spray bottle with the vinegar and spray the full-strength vinegar solution onto the entire moldy surface. Let it rest on the surface for about one hour.
Use a wet sponge to wipe the area clean. If the smell of vinegar is intolerable to you, you can add a few drops of your favorite essential oils to the solution. Pine and citrus essential oils work best.
Add 1/2 to a whole cup of vinegar to the rinse cycle to remove a mildew smell from towels while washing them. A dryer ball or dryer sheet included in the dryer will double your smell elimination efforts.
Cleaning Mildew Using Hydrogen Peroxide
Hydrogen peroxide is excellent at killing mold due to its anti-fungal, anti-bacterial, and anti-viral properties. Peroxide also acts as a mild bleaching agent. Peroxide can be used safely on many surfaces, including floors, walls, appliances, and bathroom fixtures.
Pour a solution of 3% hydrogen peroxide into a spray bottle. Spray the mold and mildew affected area and allow to sit for about ten minutes.
Use the scrub brush to scrub the area clean, making sure to get into the crevices where mold may be hiding. Use a sponge wet with hot water to wipe all of the residues from the surface.
Cleaning Mildew with Vinegar and Baking Soda
Cleaning mildew with vinegar and baking soda has become a common theme in households because of their natural ability to clean just about any surface. They can even be used as a homemade siding cleaner, and for cleaning upholstery. The combination of acidity from the vinegar mixed with the alkalinity of the baking soda makes them the perfect team for cleaning mold and mildew.
Pour the white vinegar into the bottle and spray the mildewed surface. Allow this to sit for about one hour. Get the sponge wet with warm water and sprinkle a decent amount of baking soda onto the sponge.
Use the sponge to clean the surface area, making sure to get into crevices such as grout. Wring and rinse the sponge with clean water and wipe down the entire surface until all of the residue is gone.
Cleaning Mold and Mildew Using Baking Soda
Baking soda is excellent at removing mold stains and cleaning mildew. It is also an ideal DIY ingredient to deep clean old tile grout. Baking soda is a mild alkali and works wonders at loosening grime and removing mold and mildew. It is also an absorbent which will help to keep mold and mildew at bay.
Pour water into the spray bottle and add the baking soda. Spray the mildew affected area with the baking soda and water solution. Use the scrub brush to work the cleaning solution into the area and loosen up the mold and mildew.
Rinse the entire surface clean using water. Spray the area an additional time with the solution and let dry. This final step will not only kill any leftover mold but keep future mold from growing.
Using Lemon Juice to Clean Mold
Lemon is naturally acidic and works wonders for cleaning mold off leather furniture. Not only will it help to break down the mold and mildew, but it will leave the room with a fresh, clean scent.
This method is ideal for daily use on consistently wet areas, such as the bathroom. It can be used regularly on a shower curtain and shower walls to prevent mold build up.
Mix equal parts water and lemon juice into the spray bottle and give it a good shake to mix well. Spray the mold affected areas and allow to sit for about ten minutes before rinsing with clean water.
How to Remove Mold and Mildew from a Washing Machine
Front-loading washing machines tend to get mold and mildew growth. Front-loading machines have a tighter seal than top loading machines which trap in moisture, harboring more growth of mold and mildew.
Follow our tips to get rid of mildew smell in a washing machine with just a few household ingredients and a little time.
Washing Machine Mold Remover Tips
If you already have mold and mildew in the washing machine, you can clean the rubber gasket on the door and soap and softener dispensers using one of the cleaning recipes listed above. Once the mildew is gone, wipe all surfaces using clean water.
Set the washing machine to the hottest, longest setting without adding clothing. Add one cup of baking soda directly to the water before running. Run the full cycle to ensure that all traces of mold or mildew disappear. Your washer is now ready for the next load of laundry.
How to Clean Tough Mold and Mildew Surfaces
There will be times when a mild cleaning solution will not be enough to tackle those areas that are heavily infested with mold and mildew. If the mold has gotten out of hand and you need to bring out the heavy guns, the following cleaning method is probably your best shot. You'll be using chlorine bleach for this process so you'll want to be sure the area is adequately ventilated.
If you are unsure how this solution will affect the surface that needs cleaning, you may want to test this on a small area first. Mix the water, bleach, and Borax into a large bucket.
Making sure that you are wearing gloves, dunk the brush into the cleaning solution, and scrub the affected area using circular motions and a little elbow grease. Rinse the area thoroughly using hot water and allow to air dry.
This solution is ideal to clean mold from a washer that has stubborn stains. Scrub well, let the mixture soak for a half hour or so and run the machine on a hot cycle.
Removing Mold from Wood Furnishings
If you have had furniture sitting out in the garage or down in the basement, then you have probably encountered mold growth on the wood due to it being subjected to long periods of high moisture. This discovery can seem disappointing at first. We're here to tell you that the furniture can be cleaned and salvaged using the following steps.
Dissolve the washing soda into the water in a bucket. Dip the sponge into the liquid and lightly apply it to the affected areas of the wood.
Use the soft bristle brush to gently work the solution through the area, scrubbing away all of the molds. Use clean water to rinse off the area and buff the wood dry using a soft cloth.
Cleaning Mold and Mildew Off Clothing
Clothing that has been exposed to moisture will get contaminated with mold and mildew and can be the result of improper storage in damp areas of the house.
It can also be a result of leaving the clothes in the washing machine and forgetting to dry them or putting them in the dryer and not turning it on. We have a few tips to help you remove those mold spots and mildew smells from those clothes.
Cleaning Moldy Clothing
If the clothing can be washed in a washing machine without special care, then we have a couple of methods you can use. The first method is to fill the washer with the mildew smelling clothes and run the machine until the tub is filled with water. You'll want to use the hottest setting for this method.
When the washer tub is full of water, add two cups of white vinegar. Let the clothes soak for an hour or so before running the full washing machine cycle. Once the hour is complete, add your regular laundry detergent and finish the cycle to get rid of the nasty mildew smell in clothing. If the stains or odor remain after washing, repeat the process.
The second method is to substitute one cup of baking soda for the vinegar using the same steps as above. For clothing that needs special cleaning care, you'll need to take a different route. Shake any loose mold off the clothing outside and then hang the fabric in the sun.
Make a solution of one cup of warm water and one tablespoon of vinegar into a spray bottle and very lightly spray the material. Allow the fabric to air dry. Doing this will kill the mold spores, eliminate the odor, and renew the clothing.
How to Clean Mold Off Upholstery
Perhaps you have picked up an antique piece of furniture from a local thrift store or found grandma's favorite chair in the back corner of the basement and discovered that the treasure is spotted with mold. We're here to inform you that you can safely remove mold and mildew from the upholstery of that furniture and restore it to new.
Moldy Upholstery Cleaning
First, use a vacuum to remove as much of the dried mold and mildew from the upholstery as possible. Mix equal parts rubbing alcohol and water in a small container and use a sponge to carefully wipe the solution onto the fabric. The alcohol and water combination will kill any remaining spores.
Once the upholstery has dried, you can give it another vacuuming. Test this on an inconspicuous area first. Mold and mildew can be harmful to the people living in the home as well as the house itself.
Get Rid of Mold on Leather
If you have a leather bag, furniture, or shoes, getting mold and mildew off these items requires special care to keep from harming the durable yet delicate material. How to remove mildew from leather or cleaning moldy suede shoes involves using a suede brush or other soft brush for dry brushing first.
This action helps to get rid of loose dirt and grime before you start to clean moldy leather. An equal mixture of vinegar and water dabbed on the stain with a microfiber cloth will usually take care of it, although you may need to try it several times if the mold covers a large area.
Be sure to wipe clean and dry the surface after cleaning carefully. Use a leather conditioner after cleaning to restore the suppleness to the material.
Mildew Smell
Not only is mildew unsightly, but it also smells. Vinegar is the best solution to remove a mold smell from the basement. Spritzing surfaces with vinegar or a combination of vinegar and water works well. However, vinegar has a unique scent of its own that many people don't like. You can add a few drops of your favorite essential oil to the mixture to eliminate the moldy smell and leave the area with a pleasant aroma. Our favorites are lemon, orange, and lavender.
Mildew is harmful to foods and can cause adverse reactions in people but is not detrimental to household structures. Mold can damage an entire structure as well as cause serious health problems for people. Therefore, both must be taken care of as soon as the problem arises.
Cleaning those mildewed areas, killing those mold spores, and removing mildew stains is not for the faint of heart. You wouldn't be the first person to walk into a moldy area and then make a quick exit while mumbling, "Nope, not going to do it."
Now that you see that cleaning mold and mildew can be appropriately done using the right applications and a bit of elbow grease, we hope you'll give one of our recipes a try.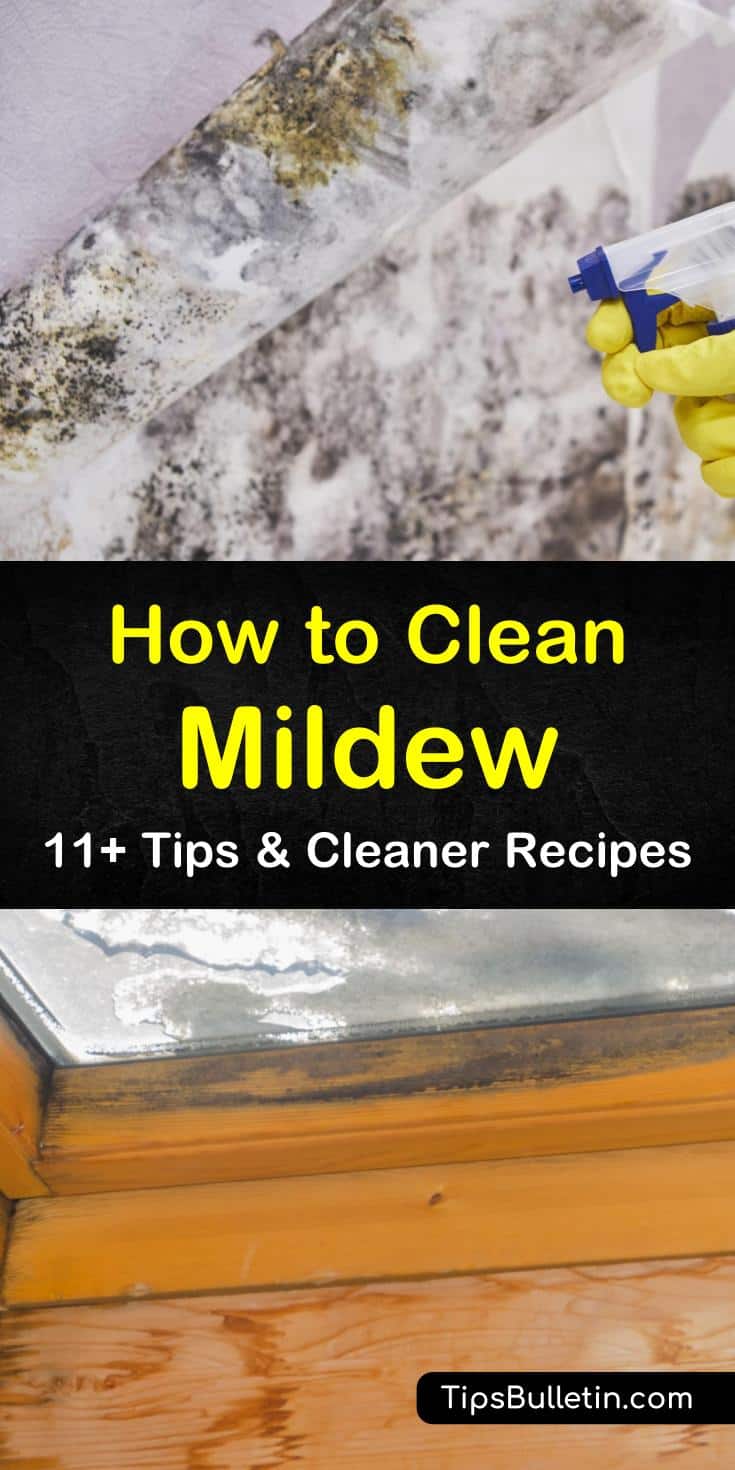 Thanks for taking the time out of your day to read our cleaning tips and recipes. Now that you know how to clean mildew quickly and efficiently, why not share these tips about mildew and mold cleaning with your family on Pinterest and Facebook?