Leather is one of the most challenging materials to clean without damaging it. So, when mold or mildew makes its way onto your favorite leather item, you already know it's going to be a long day. How to clean mold off leather may seem like a chore, but it is quite easy if you use the proper techniques and cleaning supplies to get the job done.
To clean moldy leather or suede, a variation of leather, shy away from harsh chemical cleaners that will ruin your suede. It's a hard thing to do when bleach tends to be the go-to cleaner for obliterating mold.
Fortunately, bleach is not the only cleaning agent out there that effectively and safely removes mold. In just four simple steps, you will learn the best methods for tackling mold on leather, which cleaners to use, and when to use them.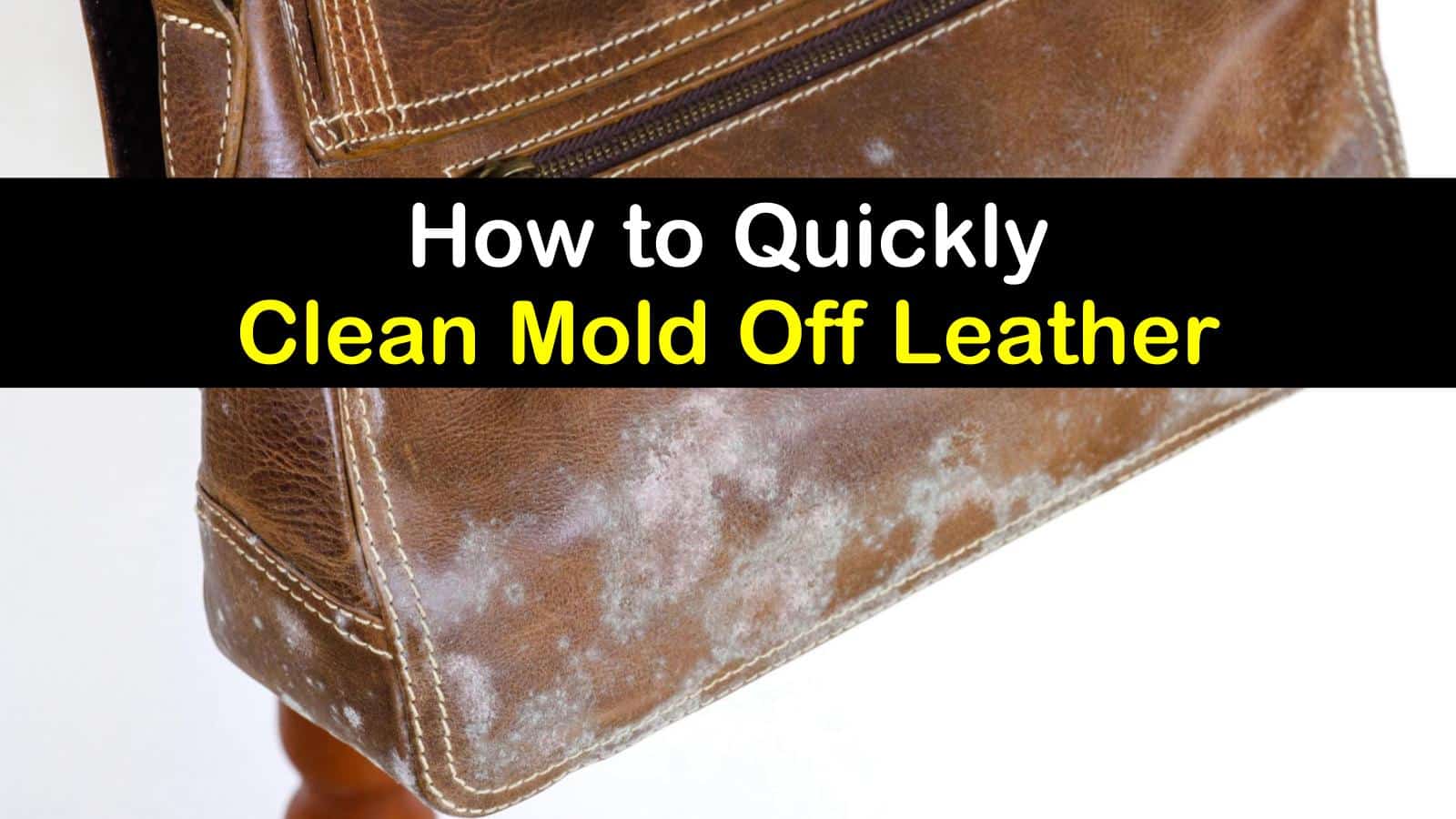 Tips to Know Before You Clean Moldy Leather
Before you get started removing the mold from your leather items, here are a few additional tips to help you along the way. If you are unsure whether you should treat the spot on your shoe as mold or mildew or what supplies are necessary when cleaning, these helpful cleaning tips will answer your questions.
What's the difference between mold and mildew?
While mold and mildew often go hand-in-hand, they are two very different beasts when it comes to cleaning. Both are fungi that thrive in moisture-rich climates with plenty of warmth, and both grow on leather.
When it comes to mildew vs mold, as far as differences, the most obvious way to tell them apart is color. Most mildew appears as a white, grey, or yellowish substance on fabrics and paper materials, while mold grows in shades of black or green.
Both can cause long-term health problems if not taken care of quickly, so act as soon as you see either developing on your items. Using a dehumidifier in areas with heavy moisture is a great way to reduce the amount of mildew and mold growth in your home.
What supplies will I need when cleaning my leather goods?
When cleaning mold off of leather, always start with safety first. When you get rid of mold at home on your own, wear rubber gloves and a mask to prevent mold spores from getting anywhere on or in your body. Some other supplies you may need when cleaning are listed here.
When used with the cleaning solutions and strategies below, these supplies will clean mold from even the most delicate leather fabrics. Whenever possible, wash your leather goods outdoors to avoid spreading mold spores inside your home. Sunlight is also a great aid in killing mold.
Cleaning Mold from Leather in 4 Easy Steps
By now, you should have your cleaning equipment ready and in hand. Whether you are trying to clean your leather furniture, shoes, or that jaw-dropping leather jacket, these steps show you the proper way to clean them.
Brush Away Mold Particles
To clean leather, start by removing as many loose mold particles as possible. To do this, you will need a bristled brush and a vacuum cleaner. Depending on the amount of mold present on your item, you may only need to use one. Start by gently scrubbing the brush along the surface of the leather.
If cleaning inside, make sure you sweep up or vacuum the area around where you are cleaning. Once you have finished removing as much mold from the surface of the leather as possible, run your vacuum cleaner over the same area with one of the upholstery attachments to collect any additional particles.
How to Clean Mold Off Leather Gently
Once you've thoroughly prepped your leather, it's time to add a gentle cleaning agent such as a mild soap. This safe leather cleaner may be dish soap or laundry detergent that is free of all additives like bleaching agents, fragrances, or dyes.
To use this homemade mold remover, apply the soapy water to a soft cloth or sponge first, then smooth over the surface of your leather. Avoid soaking your item, as this may cause permanent damage to the leather instead of salvaging it. After every swipe of the damp cloth, use another dry one to absorb the moisture.
For unfinished leather, clean using saddle soap instead. After you have safely removed all of the mold from the leather item, apply a leather conditioner to protect it. Let the unfinished leather piece air dry. However, keep it out of direct sunlight to prevent fading and discoloring the leather.
Spot Cleaning Mold from Leather with Vinegar
Now you are ready to move onto a spot treatment and handling those challenging mold and mildew stains. One of the best solutions to remove mold from leather is using white vinegar. Vinegar is a highly effective disinfectant and cleaning agent known to kill most kinds of fungi, including black mold.
While the odor of this cleaner may not be the most pleasant at first, it will also remove the musty smell often associated with mold. Try this natural mold and mildew cleaner recipe before going on to more potentially damaging types of cleaners.
To remove mildew and mold using this home remedy for leather cleaning, mix the two ingredients in a small spray bottle. Do not spray the leather directly. Instead, spray a cleaning cloth with the solution, then gently dab at the area until the mold is gone.
As with soap, absorb the cleaner with a dry cloth before setting it somewhere to air dry. Always test a small section of the fabric first to ensure the vinegar does not discolor the leather or otherwise harm it.
Spot Clean Moldy Leather with Rubbing Alcohol
Another solution for removing mold stains is cleaning leather with alcohol. Another powerful disinfectant, rubbing alcohol works great on most leather goods, including couches, purses, and leather shoes. Like vinegar, test a small area first, since the rubbing alcohol may bleach part of the leather.
When cleaning your items, dilute the alcohol in warm water. Once the rubbing alcohol solution is thoroughly mixed, apply a small amount of the cleanser to a cotton ball. Gently blot the cotton ball over the moldy area, being careful not to saturate the material. Allow it to air dry on its own, then repeat as necessary.
Try this recipe to get marker off leather, too. Alcohol is quite effective at removing permanent marker and ink stains, even on delicate materials like leather.
Now, you have a full-proof plan to remove mold from all your favorite suede and leather goods. When spot cleaning, you don't have to use both options. However, both provide an excellent resource if one doesn't do the trick. Either way, you have a back-up plan and a new strategy for cleaning leather.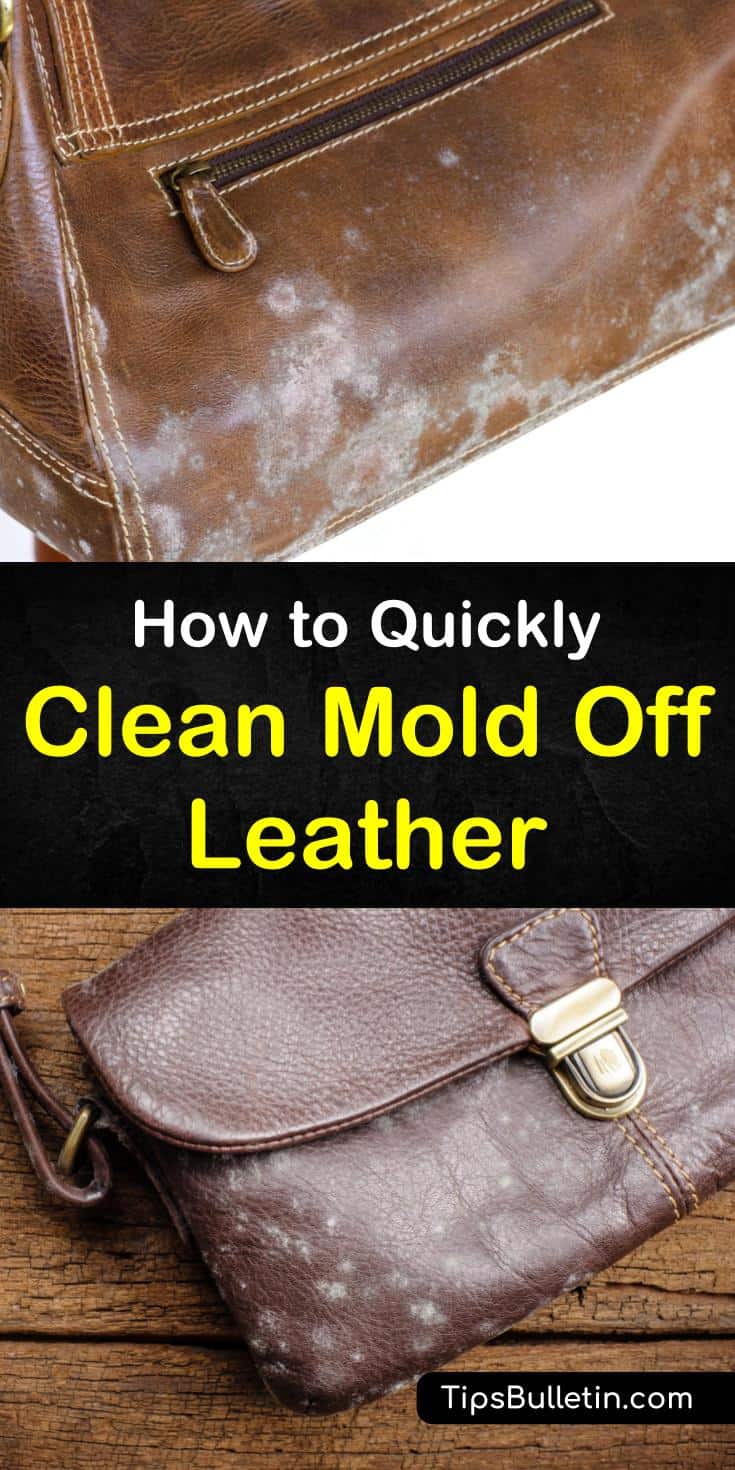 We hope these tips for removing mold from leather provided you with all the answers you need. If you learned something about mold cleaning from us, don't forget to share how to clean mold off leather with everyone you know on Facebook and Pinterest.