Having a mold problem in the house is every homeowner's nightmare. Mold growth on porous surfaces such as drywall, sheetrock, and other building materials in the home is not only unsightly but harmful for your health. Learn how to clean mold off walls correctly to maintain your home and provide a healthier living environment.
Mold stains and infestations are the results of moisture build-up, high humidity, and poor ventilation. It can occur on walls that have suffered water damage, on bathroom walls, in the laundry room, basement, or garage, and any other areas of the home that have high moisture levels.
There are various types of mold that cause discoloration and stains on walls. The cause of black spots on the wall may be from a black mold called Stachybotrys Atra that is highly toxic. This type of mold has a strong, musty odor and causes allergic reactions, respiratory problems, immune system suppression, and more. If you discover that you have a severe black mold infestation, you may need to request mold remediation.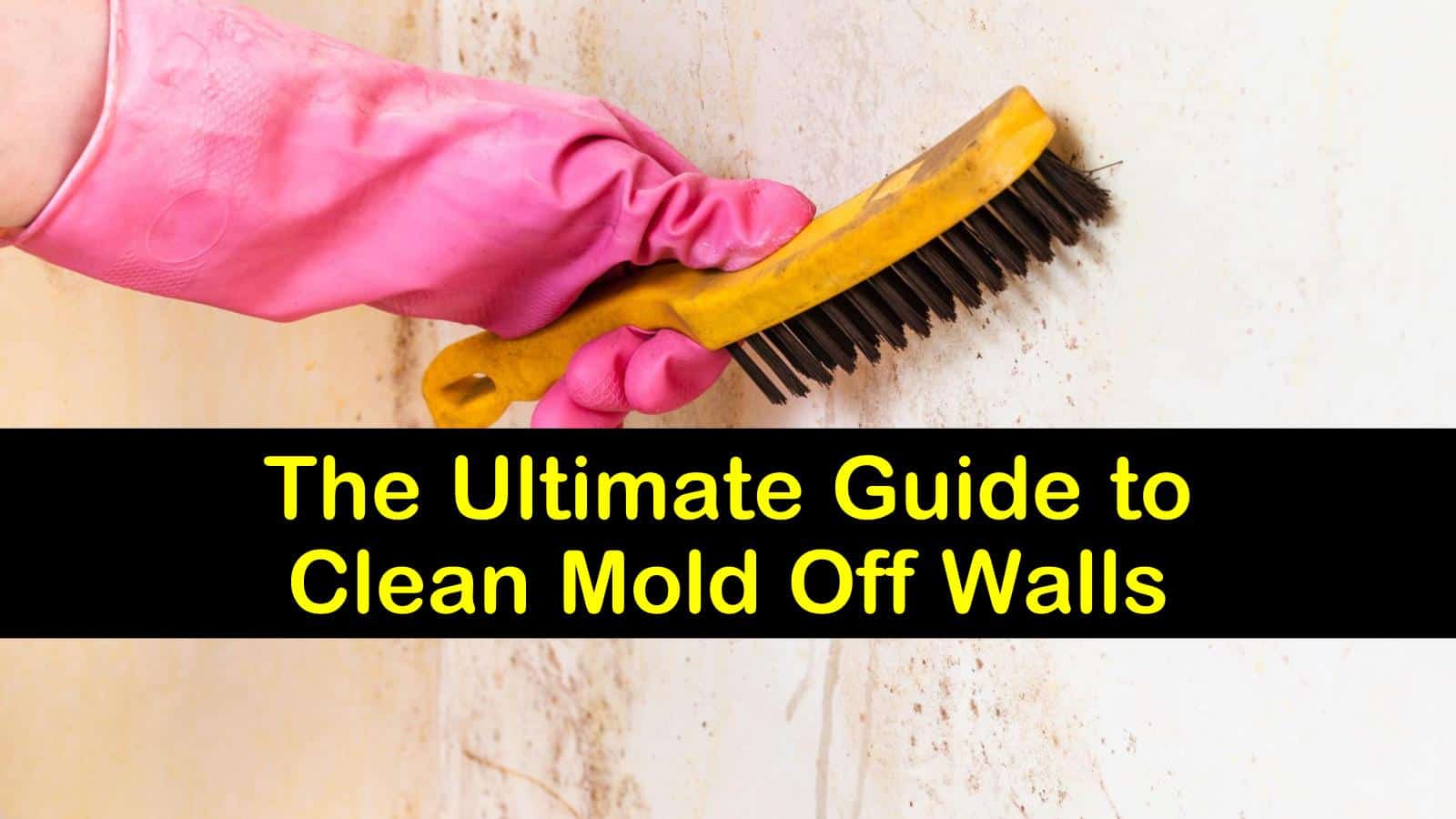 Cleaning Mold Off Walls
Mold and mildew growth are preventable if you lower the humidity in your home and ensure that rooms such as the bathroom have proper ventilation. While you can take future steps to prevent mold from growing, you'll need to take care of that moldy area now to prevent it from spreading.
Read on to learn beneficial ways to remove mold from inside walls and the steps to take to ensure that it does not come back. Removing green and black mold from walls is not a fun way to spend the day.
Unfortunately, it's a job you must do for your well-being and that of your home. Learn how to remove mold from a bathroom wall and basement walls with vinegar, baking soda, Borax, bleach, and other everyday household items.
Is there a difference between black mold vs mildew? Yes, mold and mildew are different but many treatment methods are the same. Check out our recommendations to see which techniques work for your mold or mildew problem.
It's important to note that removing efflorescence from concrete block walls and brick is also a concern. Muriatic acid is the best solution for this problem.
How to Remove Mold from Walls in the Basement
Mold on basement walls can happen when there is too much moisture in the air. To get rid of mold in-house, make a bleach solution of one part bleach and three parts water, and prepare to use a little elbow grease.
Put on gloves and a respirator or dust mask before cleaning the mold. Combine the water and chlorine bleach in a spray bottle and shake well.
Spray the cleaning solution onto the moldy areas on the concrete or cinder block walls. The best way to remove mold from concrete walls is to scrub the mold away in sections using a stiff bristle brush, making sure to rinse the brush after each section. Clean the area with clean water and dry.
This simple solution also takes care of mold smell in basement. When you get rid of the mold there is no lingering odor. If you don't care for the bleach aroma, be sure to air out the area after treatment with open windows or doors and add a circulating fan.
Removing Mold Off Painted Walls
This cleaning solution is ideal for cleaning interior walls without damaging the paint surface, and you can also use it for cleaning vinyl siding.
Combine the soap and water in a bucket. Dip the brush into the soapy water solution and gently scrub the stained mold area of the wall.
Rinse and re-dunk the brush as you move along the sections of the wall. After all of the mold is gone, rinse the wall with clean water and dry thoroughly with a towel.
Remove Mold from Walls with Vinegar
Bathroom wall mold is a common thing if the room does not have venting. Try using vinegar to get mold out of grout and off tile walls.
For cleaning mold with vinegar, fill a bottle with vinegar and label it. Add a few drops of your favorite essential oil to mask the vinegar smell and make the bathroom smell fresh. Citrus oils or lavender are great choices.
Liberally spray the moldy area on the wall and grout. Removing mold from the bathroom ceiling with vinegar is done the same way. Use a scrub brush to remove the mold from the wall and a toothbrush to clean the grout.
For stubborn mold or to clean paint off vinyl siding, try applying some baking soda or Borax to the stain while scrubbing. Clean the spot thoroughly with fresh water and dry with a towel.
Cleaning Mold on Shower Walls
You can get mold out of shower walls by using hydrogen peroxide as a mild bleaching agent. This inexpensive and easy-to-get product is safe and effective at removing mold and mildew.
Fill a bottle with hydrogen peroxide and label it if you plan on using it more than once. Spray the areas of mold and mildew on the shower wall and let the peroxide sit for ten minutes.
Use a scrub brush to brush away the mold particles and rinse the area with clean water. Use a large towel to dry the area.
Use this solution with care as one way to remove mold from drywall. Excess moisture and scrubbing can damage the drywall.
Preventing Mold Growth in Your Home
After using a DIY cleaner for walls, there are several steps you can take to prevent future mold growth.
Mold Prevention
The first step to take in mold prevention is to audit your home to identify the problem areas. Check for condensation on windows, leaks in the basement, or water stains on the ceiling. Once you establish the problem, you can fix it to eliminate a mold infestation.
Make sure that you properly ventilate the areas of your home where moisture is inevitable. These include the bathroom, kitchen, and laundry room. Check to be sure that you do not need to remove mold from carpet, as the spores can live undetected in tightly woven carpeting. Then, check that there is proper venting to release necessary condensation.
Another option is to install a dehumidifier in rooms of the home that have a high humidity level. The EPA recommends a 30 to 60% humidity level. Having a dehumidifier will make it possible for you to control these levels.
Don't ignore mold growing on basement walls or in the bathroom. Mold growth is damaging to the home, while mold spores can negatively impact your health.
Mold removal is a messy and gross process. Still, you can get rid of mold using the right cleaning products and prevent it from coming back by using a dehumidifier and providing plenty of ventilation.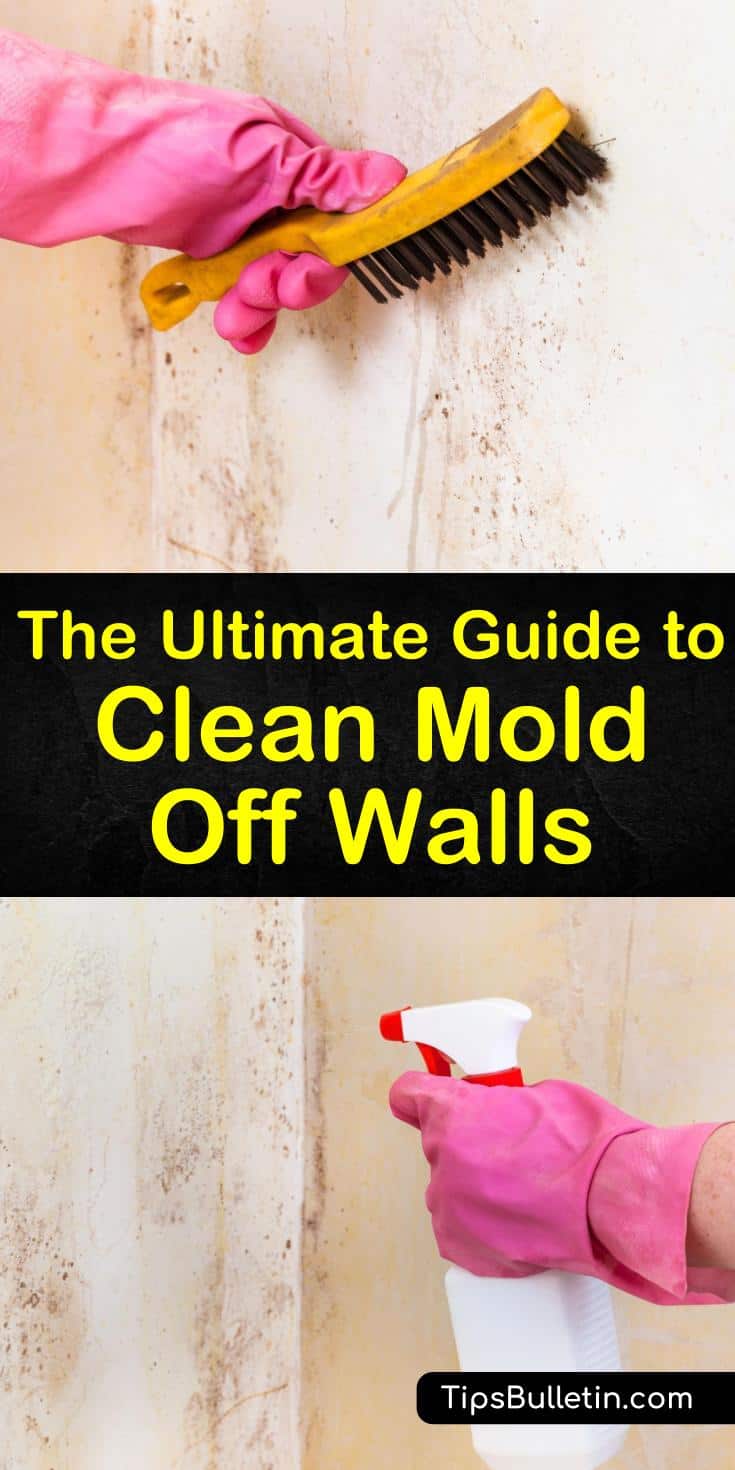 Knowing how to clean mold off walls can make an impact on your home and health, so why not share these mold cleaning tips and methods with your family and friends on Facebook and Pinterest?