Concrete has been one of humanity's primary building materials for thousands of years, dating back to Ancient Rome and earlier. It's a versatile and sturdy substance, but it is porous and can pick up unsightly oil stains in its lifetime. That's why knowing how to clean oil off concrete garage floor areas is crucial if you want to keep your home looking good.
A tried-and-true method of how to clean concrete garage floor surfaces helps you maintain your home's value. This guide looks at methods for removing oil stains from garage floor areas without harming the floor itself.
You'll get cleaning options that use absorbent materials and some cleaners that work by cutting through the grease. As long as there are garages and cars, there will be oil on concrete floors. But with our help, you don't have to live with the stains.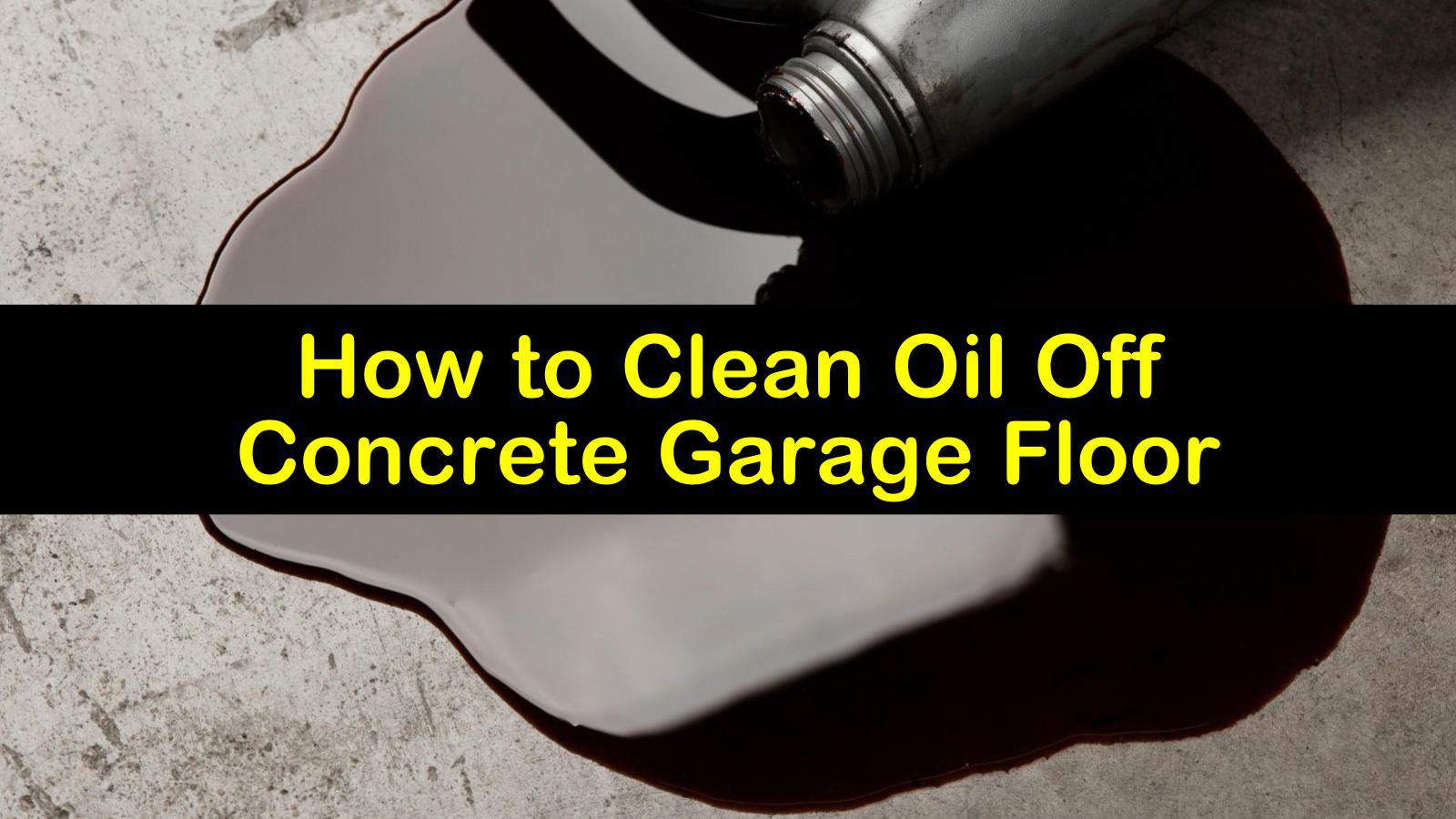 How to Clean Oil Off Concrete Garage Floor
Cleaning oil spills is tough, no matter when you catch the stain. The older the stain gets, though, the more difficult it is to take care of it. To clean oil from driveway and garage floors without having to break out the big guns, we recommend attacking the stain as soon as it appears.
Fresh oil is much easier to clean than dried-on oil, which can be stubborn and tough to remove. This same rule applies when cleaning a cement basement floor, too. Follow our recommendations to get that concrete back to like-new condition.
Cleaning Fresh Oil Stains
This section covers methods used to remove oil stain from concrete when it's fresh. You'll get some tips for using an absorbent to take care of the issue, and we also dive into cleaning solutions that work by breaking down the oil.
We find that using both an absorbent and a degreaser worked best on new stains, and you'll likely find the combined approach to work best, as well.
Hit the Fresh Stain with an Absorbent
A fresh oil spill is a mucky, liquid mess that spreads and soaks into the concrete driveway's pores, making it much more difficult to clean. When you encounter a new oil stain, try to prevent it from doing any more damage, and that means soaking up any excess oil.
Absorbents such as kitty litter or sawdust are ideal for cleaning cement floors of excess liquids before you treat the stain. Using an absorbent should always be your first step in taking care of a fresh oil stain.
To make a DIY degreaser, start by sprinkling the absorbent liberally over the stain. If you use cat litter, make sure you use clay litter and not the newer clumping type, as it doesn't work well. Let the absorbent sit for at least a day and preferably two or more days to soak up as much of the liquid as possible.
Then, sweep up the absorbent and throw it away. Repeat the cleaning until there is no excess oil on the stain.
If the stain is in your garage or carport, simple mop your concrete floor after removing the oil stain for an all-over clean space.
Take Care of the Remaining Oil with a DIY Degreaser
If you already soaked up any extra oil or have a fresh stain that doesn't require the use of an absorbent, use a degreaser to break down and pull out the remaining oil.
Liquid dish soap makes an ideal degreaser, and it eats away at the oil, leaving behind easily cleanable components. Use this method in tandem with an absorbent for the best results.
Cover the oil spot with liquid dish soap, and let it sit for at least an hour. Scrub at the stain with a wire brush or a scrub brush with very stiff bristles to work the soap deep into the concrete.
Add some hot water if needed, and reapply the soap as you work, rinsing as required. When you clean away all of the oil, rinse the area with warm water, and allow the concrete to dry. If any stain remains, repeat the cleaning.
You can also try this method to get spray paint off garage floor if you have accidental overspray from a project. Add vinegar if needed.
How to Clean Concrete Garage Floor
Not all grease stains are considerate enough to be fresh when you discover them. Many oil stains are old and dried into the concrete, and even the best homemade driveway cleaner won't be able to shake them loose.
When you encounter a long-dried stain, clean concrete with stronger cleaners. Commercial products are available but there are still some home remedies you can use that get the job done effectively.
Removing Oil Stains from Garage Floor – Old Stains
This section examines cleaning options you can use when you have old oil spots that won't come out. We show you how to use a poultice to draw out and soak up as much of the stain as possible.
You'll also discover our heavy-duty cleaning approach that uses our homemade power washer detergent so you can tackle even the worst stains without worry.
Apply a Baking Soda Poultice
A poultice works in the same manner as an absorbent, but it contains an extra element to draw the stain from the material. In the case of our DIY baking soda poultice, acetone works as the drawing agent.
It breaks down the oil and pulls it into the baking soda, which happily soaks it up. This cleaner should be your go-to when you come across an old oil spill.
Don your safety gear, including eye protection. Combine the acetone and baking soda to form a paste, and spread it over the stain. Cover the baking soda poultice with a piece of plastic, and tape the edges to the floor.
Wait one day, and then remove the plastic. Let the poultice dry completely, and then use a scrub brush to break it into crumbs. Sweep up the debris. Repeat if needed.
Use a Power Washer
Sometimes, no amount of scrubbing or poultices will remove the oil stain. In those situations, a power washer is your best bet.
Our power washer detergent recipe helps to keep the cost down and knocks out even the worst oil stains. You can rent a power washer for a low price at your local hardware center and take care of any lingering oil stains without a hassle.
Put on your safety gear, and combine the detergent and cleanser in a bucket. Fill the bucket with water and mix the ingredients. Give the stained area a spray down to remove dirt and debris from the concrete surface, and then use a scrub brush to apply the detergent.
Wait for about five minutes to let the cleaner eat at the stain, then give the area a thorough power wash. The stain should lift out and wash away. Give the area a final rinse with a 25-degree nozzle.
If you experience an accidental paint spill on the cement, you can also try this solution to get paint off concrete. Apply a concrete sealer after the floor dries to prevent future stains.
We hope you had a great experience reviewing our concrete cleaning suggestions. Concrete floors are essential elements of our homes, and they keep our driveways and garages sturdy and secure.
Oil stains can mar your concrete floor's good looks, though. Our guide shows you methods for getting oil out of concrete and leaving behind a beautiful and clean surface.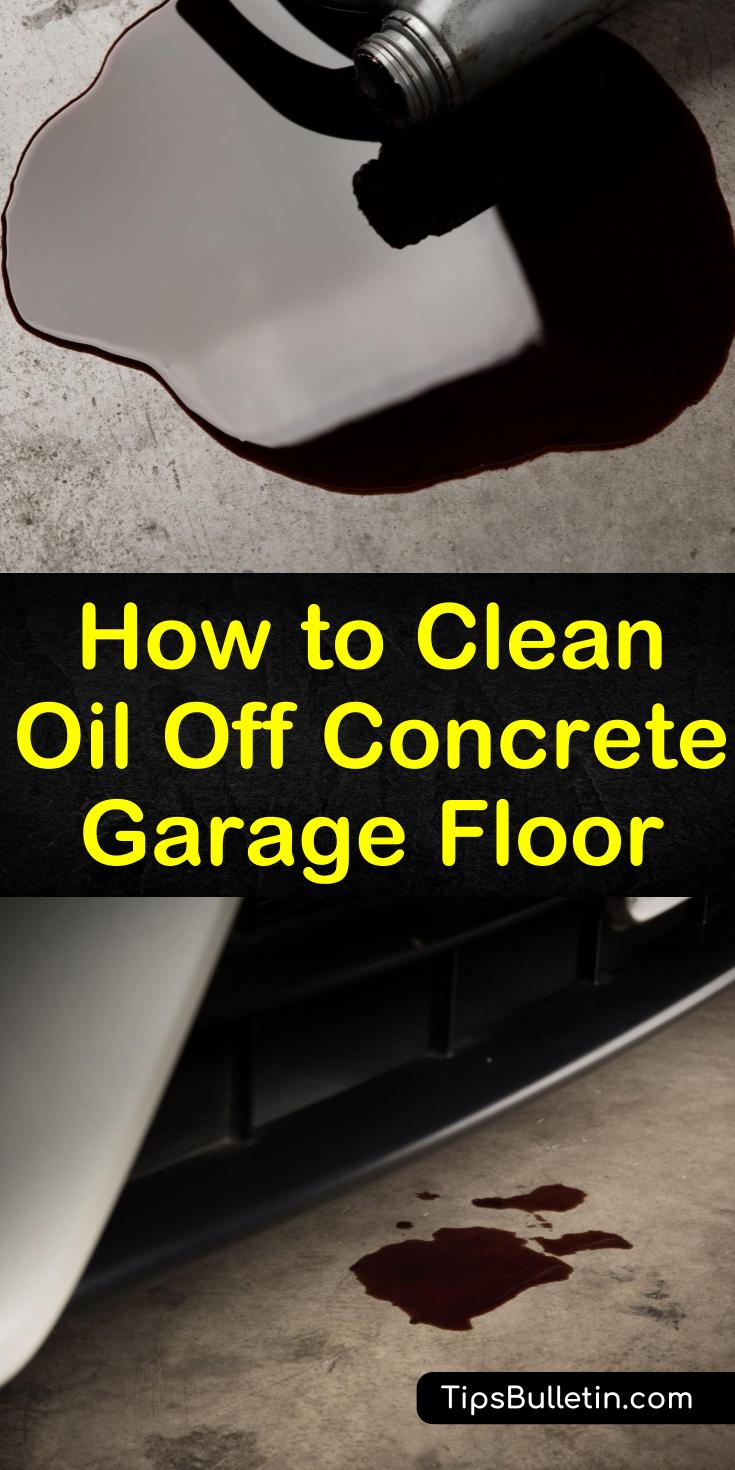 Thanks for exploring our oil removal tips. Help others learn about how to clean oil off concrete garage floor surfaces by sharing this useful article about cleaning concrete on social media outlets like Facebook and Pinterest.