Before the outdoor season is upon us, discover how to clean outdoor cushions correctly. Learning how to clean patio cushions before spring is in full swing ensures a clean and comfortable space to retreat to once warm weather gets here.
It's best to take care of cleaning outdoor furniture cushions before the colder weather arrives, but many of us often forget this important task. If you are like many of us and neglected your outdoor cushions all winter, leaving them sitting outside in the elements, it is essential to clean them before their next use.
Wet, soggy cushions are a breeding ground for mold and mildew, and the longer they remain outside, the higher the risk. Some outdoor cushions offer removable covers, but not all do. We teach you how to clean outdoor cushions correctly using a variety of methods.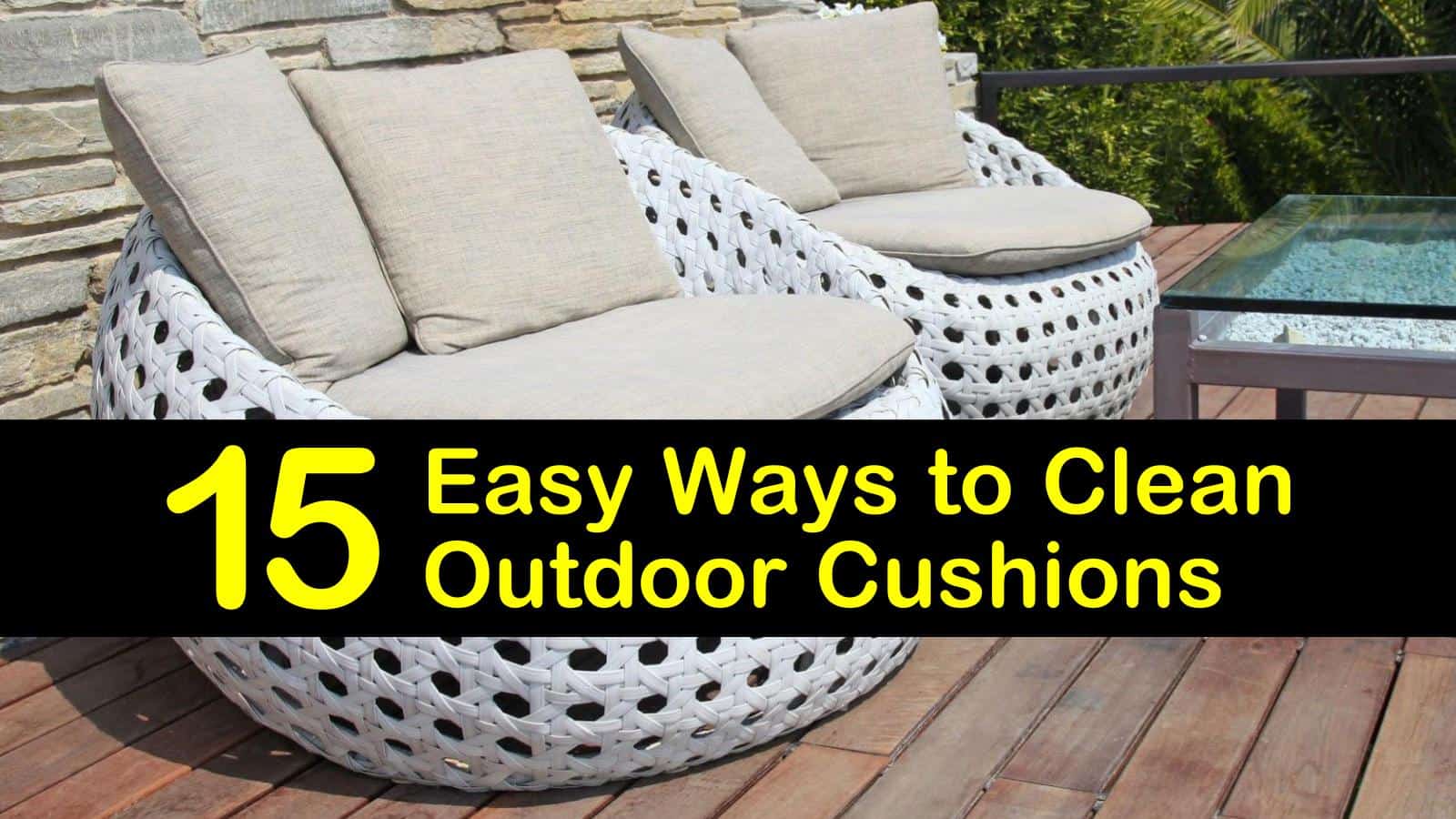 Best Methods for Cleaning Outdoor Furniture Cushions
To begin cleaning outdoor cushions, unzip and remove the outer covers, if possible. To wash outdoor cushion covers toss in the washing machine and follow the washing instructions on the tag.
Clean Patio Cushions by Hand Washing
With covers off, when possible, vacuum the patio cushions to dust rattan furniture. For tufted cushions, use a crevice tool to clean all seams, buttons, and crevices.
Add the dishwashing liquid and Borax to a bucket filled with warm water. Use a sponge to apply a decent amount of the soapy solution to your outdoor cushions. Allow it to soak for 15 minutes.
Rinse the pillows with a garden hose until no more suds appear. Don't use a pressure washer as it may damage the fabric. Before you clean couch pillows, use a clean rag to blot up as much excess water as possible.
For blotting, wrap the towel tightly around the pillow and squeeze. Place the cushion in direct sunlight or a warm room and stand up to allow for the best air circulation. Allow the cushion to dry thoroughly before replacing the cover.
Machine Washing Outdoor Cushions
Not all outdoor cushions are machine washable. Read the cleaning instructions listed on the manufacturer's tag. If no tag is present, check the manufacturer's website for detailed cleaning instructions before proceeding. Always vacuum the covers and cushions before tossing into the washing machine.
Vacuuming removes loose dirt and debris. If there is no time to vacuum cushions, give them a good shake before throwing in the machine. Pre-treat all stains before washing for better chances of removal.
Replace covers on cushions while slightly damp as it allows the cover to stretch back into place easily. If your machine dries the cushions, remove from dryer before completely dry and place them back over their inserts to prevent any misshaping while drying.
Clean Outdoor Cushions with a Pressure Washer
Many manufacturers do not recommend using a pressure washer when washing a patio furniture cushion as it may damage the fabric and rip apart the seams. What we found is using a pressure washer once or twice a year is fine if done carefully, but never use it to regularly clean outdoor furniture.
To power wash your outdoor cushions, use a lower-flow setting on your power washer or pressure nozzle. Stand several feet back from the pillows when spraying and stand even further back when spraying seams, crevices, or buttons.
Set the washed cushions on one side to dry. When the first side is dry, flip over and allow the other side time to dry.
Using a pressure washer with the appropriate deck cleaning products is a great way to wash your deck, however. It's also one of the easiest methods to clean this well-used surface.
Removing Bird Droppings from Patio Pillows
Before applying a pre-treating stain remover to the bird droppings, allow the mess to dry and remove as much as possible. Use a microfiber towel or cloth to gently wipe away as much as you can. This method also works to remove blueberry stains from cotton.
Pour water, Borax, and dish soap into a spray bottle and shake to mix. Spray the solution directly onto the bird dropping and let it sit for a few minutes.
Use a soft bristle scrub brush to work the cleaning solution into the stain and allow it to sit for several minutes. Rinse away all soap residue with clean water and let the pillow air dry.
This simple mixture is also a great way to clean plastic patio furniture to get rid of grime that accumulates from being outside in the elements. Spray on the furniture, scrub with a soft-bristled brush or old rag and rinse clean. Wipe or air dry.
Removing Mold and Mildew Stains from Outdoor Cushions
Before using a stain remover to rid your cushions of mold and mildew, use a nylon brush to scrape away as much of it as possible. You can follow up the brushing with a good vacuuming or shaking if desired.
Mix the Borax and warm water to create a cleaning solution. Using a sponge or brush, apply the solution generously to each cushion with visible mold and mildew. Blot the stained area with a microfiber cloth, rinse with water, and then allow to dry.
Tough stains require you to allow the cleaning solution to soak for up to 30 minutes before you begin blotting. If Borax isn't strong enough to clean patio furniture of mold and mildew stains, try using Oxiclean or make a cleaning mixture with equal parts hydrogen peroxide and water.
One tablespoon of bleach mixed with one pint of water is another homemade cleaning product to tackle mold and mildew stains. Always spot test a small area when using bleach or hydrogen peroxide, as discoloration may occur.
Removing Oily Stains from Outdoor Upholstery
Oil from food, bug spray, sunscreen, and other things often find their way onto your outdoor cushions. If left untreated, these oils attract even more dirt and grime, leaving unsightly marks on your outdoor furniture. For stubborn oil-based stains, rub Fels-Naptha soap directly onto the remaining stain and then rinse.
The best DIY oil stain remover is a dry absorbent powder, such as corn starch or baking soda. Before using the dry powder, blot up as much excess oil as possible with a clean cloth. Sprinkle the powder across the stain and let it sit for 15 minutes.
Use a straight edge to scrape the dust away and reapply powder if needed. Spritz the area with a natural cleaning solution and blot with a towel until stain is gone. Rinse using a damp, microfiber cloth.
Get Rid of Grass Stains on Outdoor Fabrics
Once you know how to get out grass stains, it's easy to take care of the problem when it occurs. To properly remove grass stains from your outdoor fabrics, begin by pre-treating the stain with a heavy-duty liquid detergent. These detergents, such as Tide or Persil, work as the first line of defense due to their stain-removing enzymes.
Use a soft brush to work the detergent into stain. Rinse thoroughly with clean water and then soak the area in a solution of oxygen bleach and warm water for one hour. After soaking, wash the entire cushion, rinse and then allow it to dry.
Treating Tree Sap Stains
Tree sap is something that requires special attention due to its unique makeup. The best way to get tree sap off outdoor furniture is to use an enzyme-based stain remover to treat the waxy/oily part of the stain. To break up the greasy stain, apply the stain remover directly to the stain, and allow it to soak for 15 minutes.
Next, make a paste from powdered laundry detergent and water. Apply the paste directly to the stain with a soft bristle brush, scrubbing the stain gently.
Rinse the area with hot water and then wash according to the manufacturer's direction using the hottest water allowed. To remove any discoloration from the sap, wash with detergent and oxygen bleach.
Tips for Washing Larger Pillows
For larger pillows, sunbrellas, or other large items for your outdoor space, you need to hand wash the items. For best results, choose a warm or hot day with plenty of sun to help aid in drying and to prevent mold and mildew from growing.
In a tub, sink, or large bucket, mix the warm water and soap to create a sudsy solution. Soak the pillows or other fabric for 30 minutes. Use a scrub brush to treat heavily soiled areas.
Drain cleaning solution and rinse with clean water. Lay pillows or different fabric out on a plastic tarp or hang directly from a clothesline to dry.
You don't have to worry about shrinking nylon blend cushions as long as you hand wash them and don't use the dryer. Most stains and everyday grime respond well to this homemade cleaning recipe.
Best Way to Clean Heavily Soiled Cushions
Before winter, give your cushions a thorough cleaning, as it makes it easier to pull them out in spring. Before cleaning any pillows or cushions, look for cleaning instructions provided by the manufacturer as some covers feature fabric fasteners or zippers for easy removal, while others do not.
Mix dishwashing detergent, Borax, and water to create a general cleaning solution. Use a scrub brush to apply the solution to the cushions directly and gently scrub. Leave the cushion alone for 15 minutes, but don't let the pillow completely dry.
If stains are still present, reapply the solution and rub again. Rinse the cushions in cold water to remove all cleaning residue. Use a clean towel to blot up all excess water. Set the cushion on its edge to dry.
If it's too cold to allow the cushions to air dry, use a hairdryer to speed up the process. Do not place pillows in a commercial dryer utilizing any heat setting as it causes the cushions to shrink.
What Happens if My Cushions Fade?
The majority of outdoor cushions are made from fabrics that are resistant to the sun's UV rays. No matter how durable the fabric is, direct exposure to sunlight over a prolonged period leads to fading. Once the material begins to fade, there is nothing you can do to fix it, aside from buying new cushions.
To prevent fading, store your cushions in a storage bag, bring them inside, or place them in the shade when they are not being used. These simple measures increase the color life of your cushions by at least five years.
Can I Reverse Water Damage?
Water damage like fading is not something you can fix on cushions. The best way to prevent water damage from occurring is by making sure you properly dry your pillows each time they get wet.
For patio furniture cushions with covers, unzip them and drain out all the water. Place all pillows on their edge to speed up drying. If it is too cold outside for them to dry correctly, bring them inside, and use a blow dryer. The sooner you dry the cushions, the less risk of mold and mildew forming.
How Often Can I Use Bleach on My Outdoor Cushions?
Only use bleach on your pillows when all other stain removers fail. Over time, chlorine bleach weakens the fibers inside the pillows and covers and causes discoloration on colored fabrics. After using bleach, thoroughly wash your pillows and then reapply a fabric guard product.
Daily Care Keeps Cushions Clean
To keep the detailed cleaning to a minimum, there are few day-to-day things required to keep cushions clean. Use a whisk broom to regularly brush off all your pillows, paying close attention to the crevices.
If your pads are the victim of sudden rainstorms, set them upright in the sun for faster drying time. When liquid or anything else spills on the cushions, clean it up as soon as it happens.
Use a paper towel to soak up liquid or a vacuum or broom to sweep up loose debris. Keep a bottle of cleaning solution on hand to spot-treat stains as they appear. To dry cushions, place them on their edges.
Prevent Future Stains on Outdoor Patio Cushions
Once your patio cushions are dry, spray them with a fabric protector. Scotchgard Water & Sun Shield is one product we highly recommend. The fabric protector repels dirt and stains for several months, making it easier to keep your cushions clean during the months you use them the most.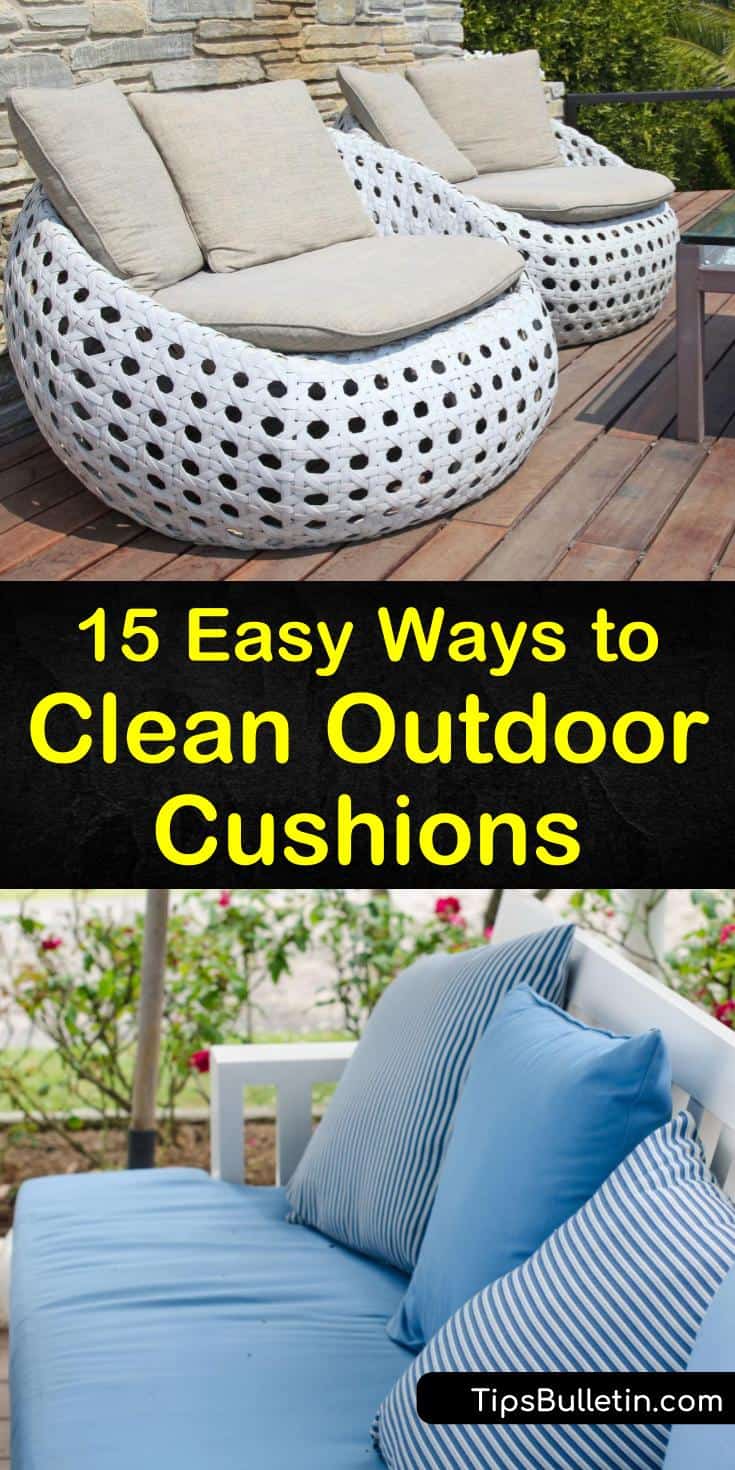 Thank you for reading all about cleaning outdoor furniture cushions. If our cleaning tips on how to clean patio cushions were helpful, please share this cushion cleaning post on Facebook and Pinterest so others can learn how to clean outdoor cushions, too.