One of the worst kitchen chores is oven cleaning. Your oven takes a lot of abuse, and if you are like most of us, it isn't cleaned regularly. By the time you get to clean your oven, the racks are probably coated in a mess of things, including burnt on food, grease, and nasty grime.
The thought of cleaning your oven racks is exhausting and is not at the top of your weekly cleaning list. The truth is, the longer you put off cleaning your oven racks, the more time baked on food and grease has to build up. The more build-up, the harder it will be to clean your oven racks even when using the best homemade oven rack cleaner.
No matter if you have a gas oven, convection oven, electric oven, or self-cleaning oven, you need to learn how to clean your oven racks. How easy oven racks are to clean depends on the technique you use.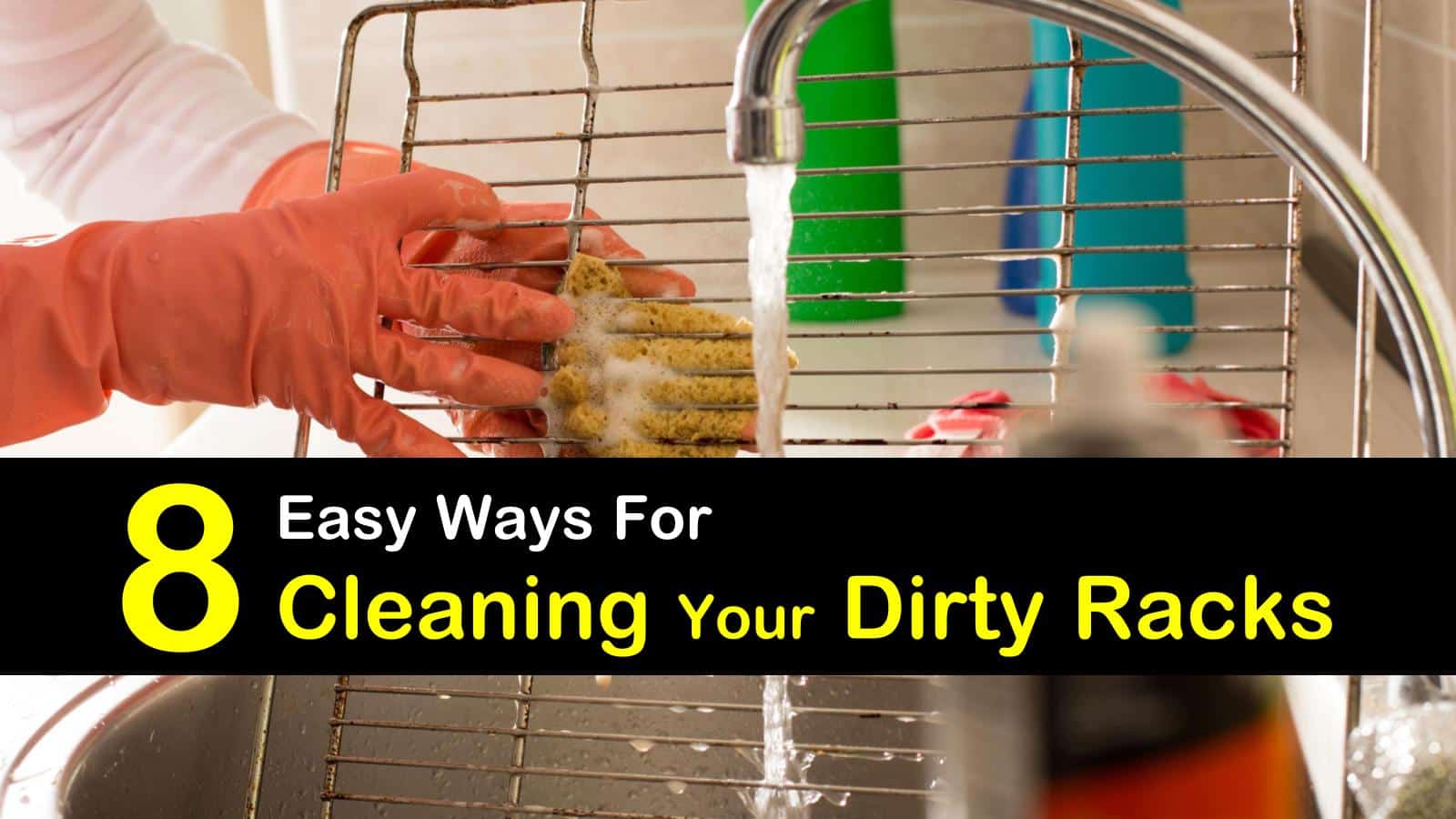 The Best Ways to Clean Dirty Oven Racks
We have tried a handful of cleaning techniques, and homemade oven rack cleaners and the following cleaning methods are the best we have found. Once you learn how to clean oven racks, you might be more inclined to clean them regularly.
Thankfully, oven cleaning isn't a chore that must be tackled daily but there are ways to make the process easier and faster. Look over our easy ways to clean oven and the interior racks for some tips that make this task fly by.
Will the self-cleaning feature clean my oven racks?
Most new ovens have a self-cleaning feature, so it makes sense that many of us wonder if you can use that feature to clean your oven grates. Yes, the self-cleaning cycle will work, but it is not the best way to clean an oven rack.
With oven temperatures reaching close to 1,000°F, the extreme temperatures cannot only damage internal heating components; it can ruin the finish of your stainless steel or chrome racks. Rather than using the self-cleaning feature, it is recommended you use a natural oven cleaner to clean your oven and grates.
How to Clean Oven Racks – Ultimate Guide
If your oven racks are not too dirty, you may only need to use some dish soap and hot water with a nylon scrubbie, just like when you clean a silicone muffin mold.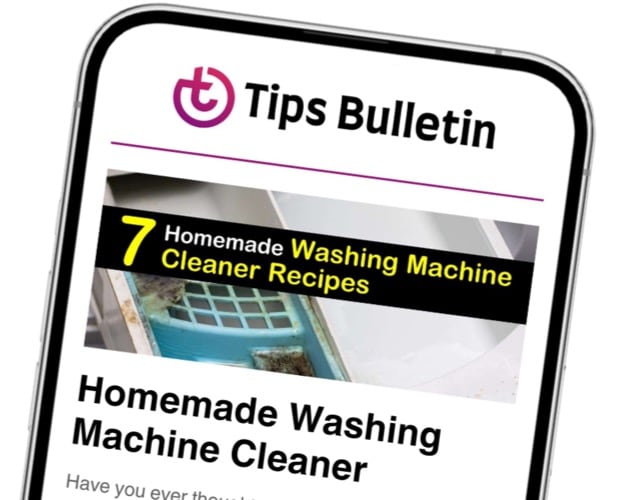 Finally, an email that Transforms Your Home.
Get the latest home and garden tips from our experts, delivered straight to your inbox.
However, most of us wait until the racks are almost beyond help before tackling this unpleasant job so you probably need one of our other more in-depth methods.
Cleaning Oven Racks with Dryer Sheets
Cleaning oven racks with dryer sheets is one of the easiest ways and requires the least amount of effort. Line your bathtub with dryer sheets and place the oven racks directly on top of them. Fill your tub with warm water, so the grates are covered and then add a half-cup of dishwashing liquid.
Soak the racks in the soapy water overnight. Drain the water and use the wet dryer sheets to scrub the grates clean. The antistatic feature of the dryer sheets breaks the bond between the food and the racks, while the softening agents further soften the cooked on food.
Baking Soda & Vinegar
If you need a natural way to clean an oven rack, use baking soda and vinegar inside your bathtub. Place oven racks inside the dry tub. Sprinkle baking soda over the racks and pour vinegar over them.
The baking soda and vinegar will foam; once foaming is done, cover racks with water and allow soaking overnight. In the morning, scrub your oven racks with an old towel until they are clean. Use a toothbrush or scrubber to get any stuck on grime.
If you are having problems cleaning some areas, add kosher salt to the water to create an abrasive cleaner. Once clean, drain the water and rinse the racks before putting them back in your oven.
While you are focusing on cleaning the oven racks, don't neglect the rest of your oven. If you have stubborn stains on the oven window, you can use a baking soda and vinegar solution as a way to clean the oven window glass, too.
Add the ingredients to a spray bottle or combine and put on a rag or sponge to make the window sparkle again. Checking on that pie you are cooking will be easier when you can see it through the glass!
Dishwasher Soap Oven Rack Cleaner
This cleaning method does not involve using your actual dishwasher. You need to use dishwasher powdered detergent, a bathtub, and some elbow grease to clean your racks like new.
Line your bathtub with some old towels to prevent damage or scratches to your tub's surface. Lay the racks on top and fill with enough hot water to cover the racks. Pour in one cup of dishwasher powdered detergent and swirl to mix.
Allow everything to soak for twelve hours or overnight. Drain the water and rinse each rack. Use a sponge and elbow grease to wipe off the grime and cooked on food. For tougher marks use a dish scouring pad, but be careful not to remove the finish.
Ammonia in a Trash Bag Method – The Perfect Homemade Oven Rack Cleaner
Using ammonia and a garbage bag is a pretty easy way to clean your racks but is also dangerous if not done correctly. When using this method, be sure you do it outside, as ammonia fumes are hazardous.
Place the dirty oven racks inside a large garbage bag and add half-quart of ammonia. Tie the bag and put it inside a garbage can to soak overnight. Soaking in ammonia is not necessary, as the fumes circulate to do the cleaning.
Some people have found setting the racks flat inside the trash bags works better. You can try each one and do what works best for you. If laying flat, ensure ammonia doesn't leak out of the bag.
In the morning, use rubber gloves and safety goggles to open the bags, and be careful not to inhale the fumes. Spray off the racks with the water hose and watch everything dissolve. After rinsing and drying the racks, place back inside your oven.
Clean Oven Grates in Plastic Swimming Pool
If you don't want to use your bathtub all night, use a plastic swimming pool to clean your grates. Place them inside the plastic swimming pool just like you would inside your tub.
Add enough hot water to cover them and pour in a ½ cup of dish soap or a ¾ cup of laundry detergent. Allow soaking overnight.
Use a dish towel or scouring pad to remove grease and grime. For more stubborn areas, pour a small amount of salt onto a toothbrush or sponge and continue to scrub.
The salt creates an abrasive cleaner for your stove and oven grates. Rinse grates and return to the oven. You can also try a lemon juice oven cleaner for the tougher baked on stains.
Clean Oven Racks with Your Dishwasher
For a non-scrubbing method to clean your oven racks, look no further than your dishwasher. Place each rack inside your dishwasher either vertically or horizontally.
If you place the racks vertically ensure the spinning arms have enough room to spin without hitting the racks. They can overlap if lying horizontally. For the best results, use the bottom rack and run on the toughest soil cycle.
Commercial Oven Cleaners
Commercial cleaners can also be used to clean oven grates. When using a commercial product, be sure to use them outside as they produce some harsh fumes. Put out some old newspapers or a piece of plastic and place the racks on top.
Wear rubber gloves and spray the racks with the commercial cleaner of your choice. Allow the cleaner to sit for at least ten minutes. Scrub with an old rag and rinse thoroughly with the garden hose before placing back inside your oven.
Using Your Kitchen Sink
When learning how to clean oven racks, most ideas don't include using the kitchen sink because of the limited space.
Place grates inside the sink and put on your rubber gloves. Squirt a small amount of cleaner onto wet steel wool. Wipe down your grates with the pad and cleaner. Coat the rack as you go, so reapply Bar Keepers Friend to your steel wool as needed. Let everything sit for a few minutes.
Now it's time to scrub your oven grates. Clean one rung at a time, as some spots will require more elbow grease than others. Flip over and repeat for each rung. Rinse and dry then place back inside your oven.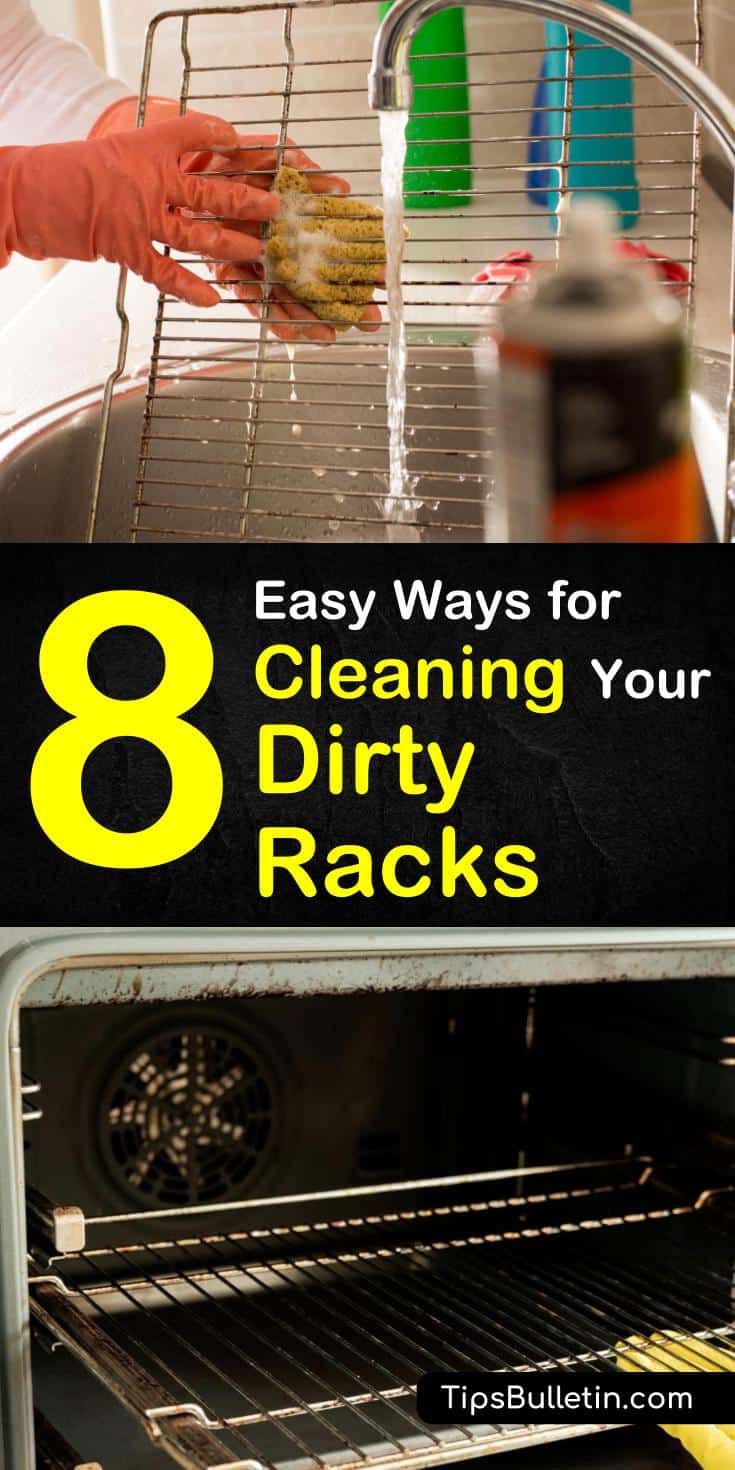 We hope our oven cleaning article was able to help you learn how to clean oven racks. If you found our oven cleaning tips helpful, please take a minute to share our oven rack cleaning hacks with others on Facebook and interest so they can benefit from these useful cleaning tips, too.