Knowing how to paint our household items is an invaluable tool and keeps our homes looking sharp. However, it's easy to wind up with dirty paintbrushes full of dried paint. Knowing how to clean paint brushes will keep your tools in good working order and will ensure that you never wind up not having a paintbrush when you need it.
It's essential to have a cleaning method in your pocket and ready to go when needed for the next painting project. This guide shows you how to clean all kinds of paintbrushes.
We give you step-by-step instructions on cleaning oil paint brushes, and you'll also get a detailed process for how to clean dried acrylic paint on brushes. We take you through all of the cleaning stages for each brush type and give you the tools you need to keep your synthetic and natural bristle brushes working correctly for your next project.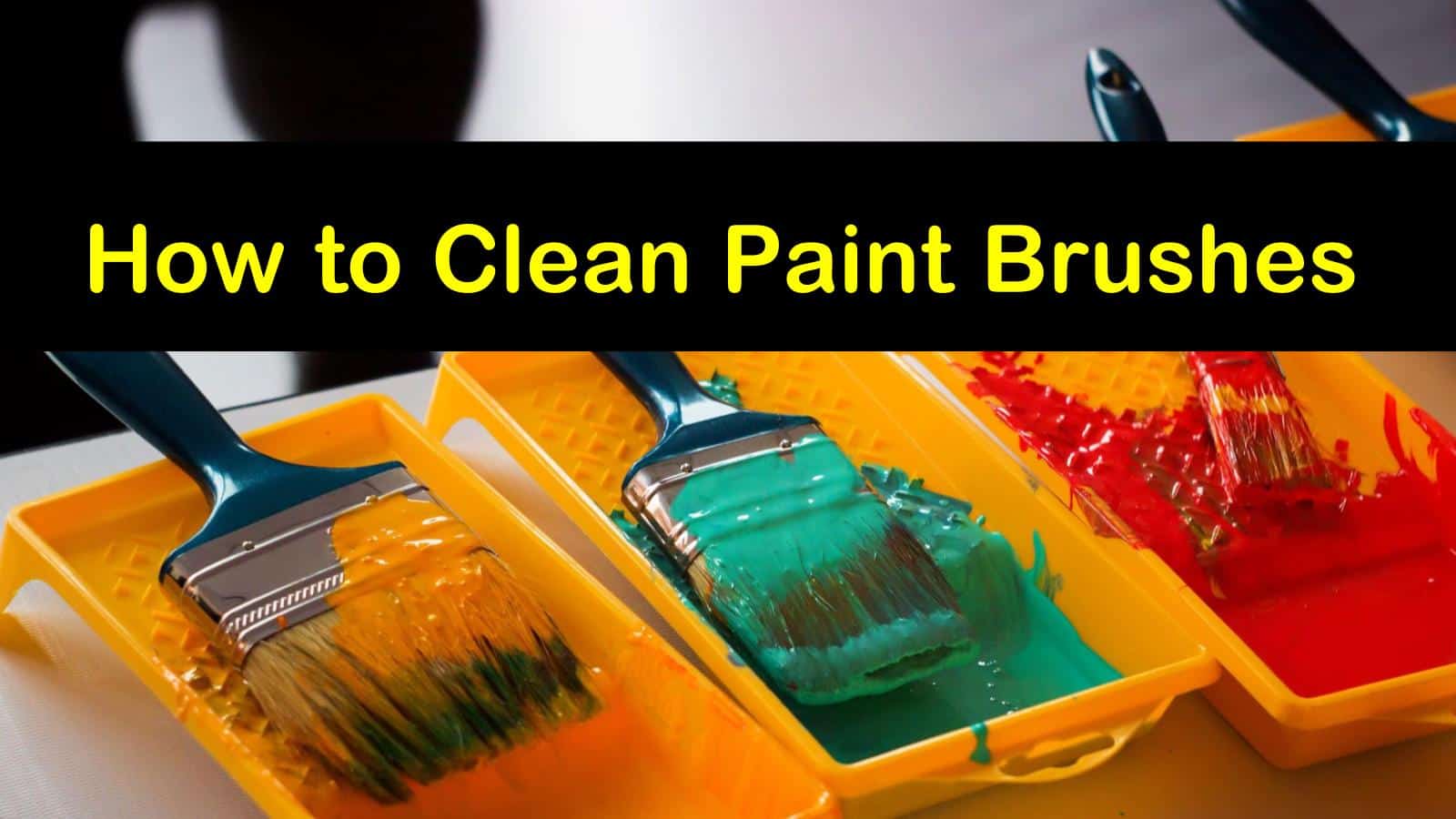 The Best Ways to Clean Paint Brushes
Before you jump in and start working on your paint brushes, you need to take the time to determine what kind of paintbrush you're using. Oil and acrylic paints have different properties and require unique cleaning methods. Acrylic cleaning options won't work on oil brushes and vice versa, so make sure you're using the correct cleaning approach for your brush.
Cleaning Oil Paint Brushes
This section covers cleaning oil paint brushes from start to finish. In this section, you'll get a blow-by-blow account of how to take your oil paint brushes from dirty to pristine. We take you through every step of the best way to clean oil paint off brushes and get you ready to handle any brush cleaning tasks that come your way.
Wipe Your Oil Paint Brushes Clean
When you're looking at how to clean oil paint brushes, you have an advantage over acrylic paint brushes in that you're not on as much of a deadline for cleaning brushes.
You don't want oil paint to dry on the brush, but you can always use a wire brush, a paint comb, and mineral spirits or paint thinner to get the paint pliable on the bristles again.
Nevertheless, the more paint you clean away before you proceed to the next step, the better. After you wipe your brush on the paint can, use a clean cloth or paper towel to remove excess paint off the brush.
Take your time, and be patient to avoid damaging the bristles. Wipe in the direction of the hairs and not against them. Repeat with cond fresh cloth or paper towels as needed until you can't pull any more paint out of the brush.
Use Paint Thinner on the Oil Paint Brush
Oil paint reacts well with thinner and breaks down into components. Those components are much easier to clean off a brush and make thinner the perfect medium to clean oil paint brushes. Use thinner to clean your brushes whenever you use oil paint.
Paint thinner does nothing to acrylic paint, so avoid using it when cleaning acrylic paint brushes. You can use thinner to get paint off clothes in some circumstances, too.
Don all safety gear. Fill a cup with paint thinner, and dip the brush head into the container. Agitate the brush against the bottom of the container to work the thinner into the bristles.
Hold the cloth in your hands, and squeeze out any thinner and paint from the hairs, working up from the base. Fill two more cups with thinner, and move the brush between the cups, squeezing out excess liquid as you go.
Get Your Oil Paint Brush Clean with Dish Soap
Now that you've gotten as much paint out as thinner will allow, it's time to clean up your brush. Liquid dish or hand soap is perfect for getting an oil paint brush ready for drying and reconditioning. Always include a soap cleaning when you clean your oil paint brushes to keep them clean and working at top efficiency.
Don the gloves, and squirt liquid soap into the palm of one hand. Agitate the brush bristles in the soap on your palm and with your fingers, and add a few drops of water as you go. Really work the soap into all the bristles until it lathers up and the soap begins turning the color of the paint.
This homemade brush cleaner works very well to get the paint out from deep within the brush. Keep working the paint and soap until the lather no longer has color from any remaining paint. It may take a few minutes to get out all the soap and paint. Then you can rinse off the brush and get it ready for drying.
Dry Your Oil Paint Brush
You'll need to make sure that you've gotten out all liquids before you move on to drying the brush. A few lingering drops of paint, thinner, or soap can impact the bristle quality and affect the next paint job, so double-check to make sure there isn't any liquid left in the bristles.
Use a cloth to squeeze and milk the brush bristles.If any soap remains, rinse the bristles with water. Do the same with thinner if any paint remains.
Once you're confident that the brushes don't contain paint, thinner, or soap, press the brush bristles against the cloth as it lies on a flat surface such as a table. Then, reshape the clean brushes back to their original configurations.
Recondition Your Oil Paint Brush if Needed
Your work with your oil paint brush will get it clean and ensure that you don't start a new paint session with dirty brushes. But, the harsh treatment might have damaged the bristles and made them coarse. If your brush needs a little TLC to get the bristles smooth and pliable again, use hair conditioner to restore it.
Only use a minuscule amount of conditioner when you use this method to avoid leaving a residue. Don the gloves, and add a drop of conditioner to the palm of one hand. Coat the brush bristles in conditioner. Wipe the brush bristles dry with a paper towel or cloth.
How to Clean Acrylic Paint Brushes
The best way to clean a paint brush changes based on the paint type. Acrylic and latex paint are different than oil-based paint in some fundamental ways. Paint isn't all the same, and latex or acrylic paint require different cleaning methods and approaches.
Knowing how to clean acrylic paint brushes properly can save you hours of effort and frustration. This section gives you some fantastic tips on how to clean acrylic paint brushes.
We show you how to take your dirty acrylic paint brushes and bring them back to showroom condition in only a few steps. Before you know it, your brushes will be lined up on your workshop wall, clean and ready for their next use.
Immediately Wipe the Acrylic Paint Brush Dry
Acrylic and latex paints wash out with a lot of water when wet, but the water runs off of them after they dry. So, you should always try to clean acrylic brushes before the paint dries if at all possible.
To clean a brush with dried acrylic paint on it, use denatured alcohol or fabric softener to loosen up the dried paint again. You still might not be able to clean dried paint out completely, though, so try to wipe the brushes while they're wet.
To clean dried acrylic paint brushes, don a pair of gloves and wipe the bristles on a clean cloth or paper towel. Hold the fabric in your hands as you work, and milk the hairs from the base upward. Keep at it until you can't get any more paint out of the brush.
Clean Your Acrylic Paint Brushes in Cold Water
As we mentioned earlier, acrylic paints are water-soluble when wet. That makes them a breeze to clean if you get to them in time.
After you wipe your bristles using a cloth until you can't get out any more paint, you can turn to plain old water to take your cleaning paint brushes action to the next level. Never underestimate water when you want to know how to clean paint brushes.
Fill the cups with cold water. Don the gloves, and dip the brush head in the water. Swirl the water with the bristles of the brush as you go.
Move the brush gradually from one cup to the next, using clean water as you continue. When the water remains clear, try squeezing out liquid one more time. Then, proceed with your cleaning.
Use Soap and Water on Your Acrylic Paint Brush
Soap and water are as effective on acrylic paint brushes as they are on laundry and your skin. You can take advantage of your faucet water pressure to create a gentle pressure spray to remove any lingering debris or bits of paint, and the soap cleans off the bristles as you go.
Always use soap and water when cleaning acrylic and latex paint brushes. Try soap and water to remove paint from leather, too.
Put on the gloves. Hold the brush under a faucet running water for at least ten seconds. Then, use a brush comb to remove any remaining debris.
Put a drop of soap in your palm and agitate the brush bristles in the soap. As you move the bristles around, add a few drops of water to form a lather. Rinse with lukewarm water, and repeat until the bristles are clean.
Dry Your Acrylic Paint Brush on a Towel
Now that your acrylic paintbrush is paint and soap-free, you need to dry it thoroughly. A damp brush needs some TLC to keep it in good shape. A terry-cloth or paper towel is perfect for removing any excess water and leaving your high-quality brushes ready for their next painting session.
Hold the paper towel or cloth towel in your hand, and squeeze the bristles from the base upward to milk out any remaining water. Don't place the brushes in a plastic bag until they are completely dry. Let the brushes dry while laid out horizontally to avoid denting the bristle shape.
We hope you had a good time investigating our painting tips. Cleaning oil paint brushes and knowing how to clean acrylic paint brushes are essential skills for the modern homemaker. Our guide shows you the best methods for getting your paint brushes clean and ready for use.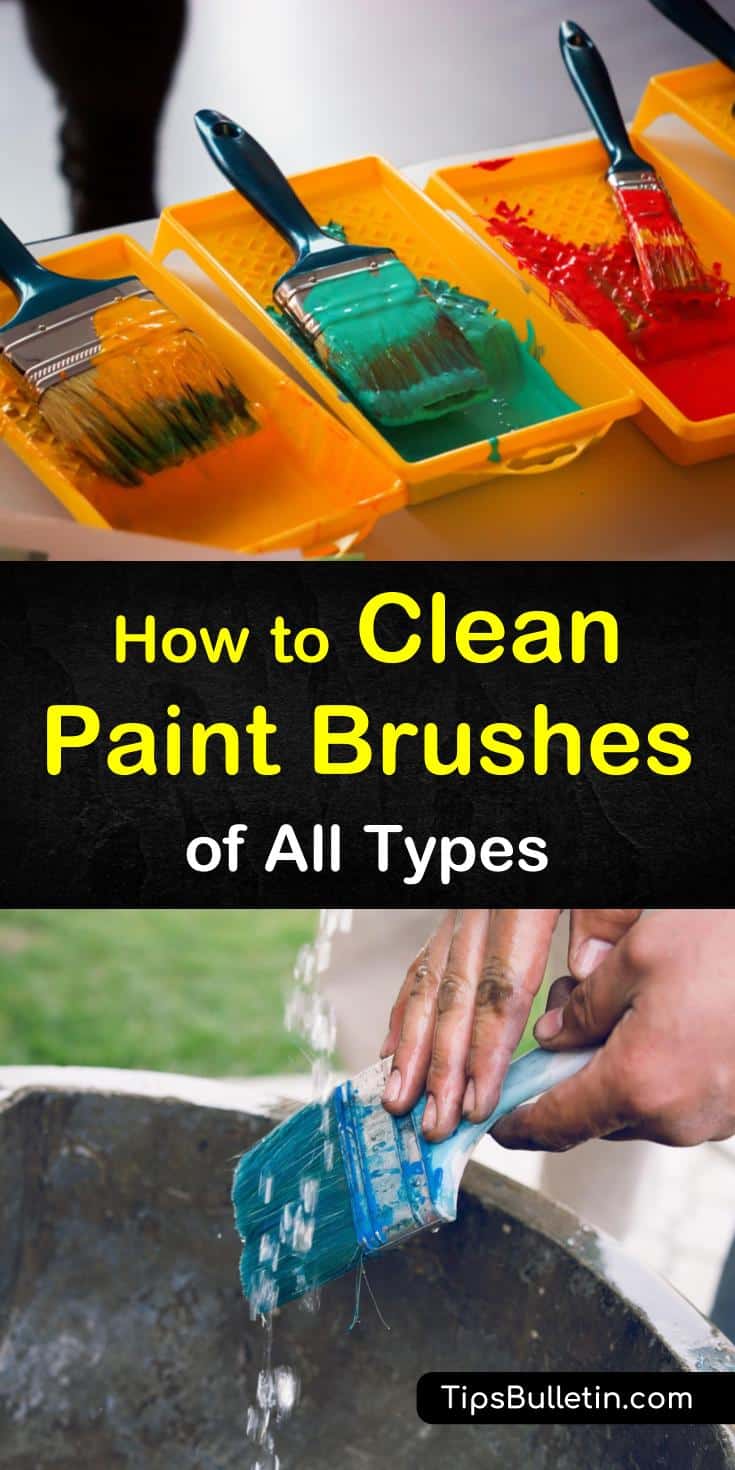 Thanks for reading our brush cleaning guide. If you found these paint brush cleaning tips useful, we'd love it if you'd share our guide on how to clean paint brushes with your family and friends on Pinterest and Facebook.