The kitchen is supposed to be the heart of the home; it's where we gather, laugh, and live. As such, the kitchen sees a lot of action, and it's not always easy to keep up with the mess. Discover how to clean painted cabinets thoroughly and effectively with our kitchen care tips and tricks.
Nothing robs a kitchen of its coziness like dull, grimy cupboards. When we settle in for a kitchen cleaning session, we usually focus on a few main areas, such as the sink, stove, countertops, and floors. We often forget about the cabinets and leave them to accumulate grime and food particles for months before addressing the problem.
As you prepare food, tiny droplets of animal fat and cooking oil start to form on the cabinet's surface, creating a greasy, sticky layer. Dust and dirt then adhere to the grease spatter, creating a grubby, streaky appearance. Fortunately, several solutions are available to make kitchen clean up a snap, and you don't need expensive chemical cleaners.
I
Discover How to Wash My Painted Cabinets
You've come to the right place if you want white cabinets and glossy wood surfaces in your kitchen. Learn some incredible tips to help you get started on the clean kitchen you've always wanted. Our easy-to-follow tutorials and simple ingredients might have you enjoying your chores.
Using Microfiber to Clean My Painted Cabinets
Most people have heard about microfiber, but what is it? How is it helpful for cleaning kitchen cabinets? If you're serious about discovering how to clean steam stains from kitchen cabinets, you need to keep a supply of microfiber cloths on hand.
Microfiber is a synthetic fabric usually made from polyesters like nylon, Nomex, and Kevlar. The fibers are defined by their size, and we use a specific unit of measurement called a denier to indicate how fine the thread is. The average microfiber strand is 1/100 the diameter of a human hair. There are about 200,000 fibers on every square inch of a microfiber cloth.
Manufacturers explored the potential of fine fiber production in Japan during the 1960s. By the 1990s, microfiber had expanded across Europe as an essential part of the textile industry. Microfiber's unique texture makes it the ideal choice for cleaning every surface, especially finely crafted wooden cabinets.
How I Clean Painted Cabinets With Dish Soap
Sometimes the best way to approach a problem is to keep things simple, and you won't find anything more low-fuss than dish soap and warm water. Find out how to wash painted cabinets with dish soap, warm water, and elbow grease.
Get a 1-gallon bucket and fill it with warm water, as warm as possible, without irritating your skin. Add a tablespoon of mild dish soap and gently swirl the water with your hand to mix the soap. Use a damp microfiber cloth to wash the cabinet door in small circles. Don't soak the wood; rinse the cloth often and wring it well.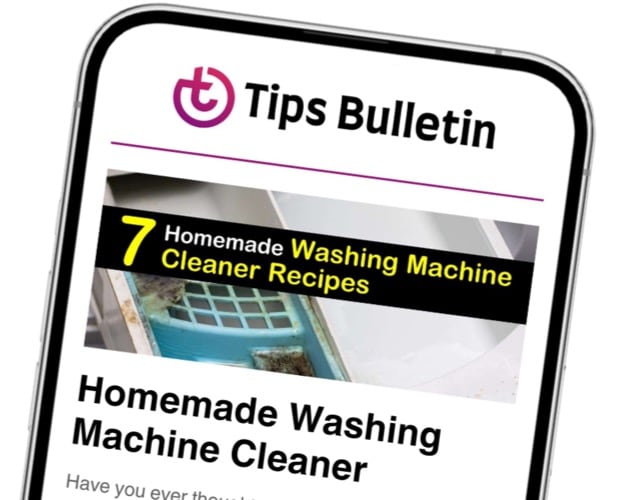 Finally, an email that Transforms Your Home.
Get the latest home and garden tips from our experts, delivered straight to your inbox.
Trying a Toothbrush to Clean My Cabinet Crevices
Now that you know how to wash painted cabinets with dish soap and warm water, follow up with some detailing. Often, painted kitchen cabinets have ornamental grooves or carvings, making things challenging.
Try an old toothbrush or a clean cotton swab to address hard-to-reach areas on cabinets and wood furniture. Use tools with small, soft bristles; avoid using an abrasive cleaner or anything that could scratch the wood cabinets or remove paint from the cabinet surface.
Wipe the surface of the grime first, and then use our diluted dish soap mixture to scrub any remaining residue.
This method can also be used when renovating your kitchen. You can use a toothbrush to clean paint drips off the kitchen cabinets if any paint splatters appear.
I
Make a Vinegar Cleaning Spray for My Cabinets
What's better than completing two chores with one simple cleaning agent? This all-natural vinegar-based cleaning solution is ideal for cleaning painted cabinets and conditioning the wood as you go. You only need a few simple pantry staples to make a natural cabinet cleaner for sparkling wood cabinets around the house.
Get a clean spray bottle, and fill it with hot water, white vinegar, lemon juice, and a half teaspoon of olive oil. A kick of olive oil helps condition the wood as you clean it with vinegar and lemon juice, which are slightly acidic.
Mist the cabinets with the cleaning solution and let the liquid sit for about 60 seconds. Use a clean cloth to wipe the cabinet surface, and spray more if treating a stubborn stain like grease. This method is best for finished wood cabinets. Removing the olive oil makes the recipe adaptable for laminate and painted cabinets.
DIY Degreaser for My Cabinets
Cupboard grime from cooking oil and animal grease is unavoidable, even for the tidiest home cook. Short of wiping your cupboards after every meal, it might seem like there's no way to deal with it effectively. Whip up a batch of this fabulous DIY degreaser recipe.
The first step to having clean white kitchen cabinets is wiping them down with a damp cloth to remove bacteria and surface grime. To degrease the kitchen cabinets with white vinegar, add water and dish soap, and mix the baking soda slowly to prevent clumping.
To clean grease from painted kitchen cabinets, spray the degreaser and let it sit for a few minutes to break down the grease stain. Use a soft sponge to loosen grease without damaging the finish underneath, and wipe away excess moisture with a microfiber cloth. Greasy kitchen cabinets are gone!
Cleaning My Painted Cabinets With Murphy Oil Soap
Explore how to clean painted cabinets with Murphy Oil Soap. If clean kitchen cabinets and thrifty solutions are your goals, look no further than this time-honored wood conditioning soap; white kitchen cabinets are within your reach for just a few dollars.
Murphy Oil Soap is inexpensive and available everywhere; you might even remember your parents and grandparents tidying with it. To use this cleaning agent, mix a quarter cup of Murphy Oil Soap with one gallon of warm water to clean your entire cabinet surface area.
Although Murphy Oil Soap is suitable for wood and laminate cabinets, always do a small test patch to ensure no disturbance to the finish.
Use a Magic Eraser for My Laminate Surfaces
Cleaning painted cabinets or laminate cabinets is a breeze with a Mr. Clean Magic Eraser. These innovative sponges are made of melamine foam, which becomes extra-scrubby when wet.
They're the ideal choice if you need to clean laminate cabinets or floors, painted surfaces, and most wall textures. Mr. Clean recommends not using the Magic Eraser on finished or paneled wood and stainless steel appliances as it may create minor scratches in the finish.
Baking Soda Paste for My Tough Stains
Despite our best efforts, there's sometimes sticky grease residue left after cleaning. Baking soda paste is a fantastic way to deal with challenging, stuck-on grease stains without damaging kitchen cabinet faces. This paste is natural and easy to make, and the recipe scales up to help you clean a large surface area.
Get a bowl and fill it with water and baking soda. Whisk the mixture into a paste with a fork and spread it over the stain once satisfied with the consistency. Let the baking soda paste sit for several minutes and follow up with a damp cloth. Repeat as needed to clean painted cabinets and other surfaces.
How I Clean Hinges and Hardware
Hardware and hinges are essential to your kitchen cabinets and shouldn't be neglected. Avoid getting your hinges wet because they will rust over time. Instead, wipe down non-wood surfaces with a dry microfiber cloth or paper towel.
Never use an abrasive cleaner or scrub brush on stainless steel or brass fixtures, as this scratches the finish. Always go in with a soft cloth and use a natural cleanser like our vinegar spray to polish away any stubborn grime.
Cleaning My Kitchen Cabinet Glass
Some kitchen cabinets have glass inserts that require special attention. Either pick up a commercial glass cleaner for a few dollars or make a DIY glass cleaner with equal parts water and white vinegar.
Spray the glass, and use a dry microfiber cloth or a clean piece of paper towel to get that glass glistening. One final tip when cleaning the cabinets is to save the cabinet glass for last to avoid having to re-clean anything.
I
Get Rid of Cabinet Odors
Occasionally, even after washing painted cabinets thoroughly, there could be a lingering funk that won't go away. Unfortunately, food odors or burned meals tend to stick around. Follow these steps to banish kitchen cupboard stink forever.
Start by airing things out. Open all the cabinet doors and maybe a window. Pull everything out of your cupboards and wipe the insides with our vinegar spray. Get a small bowl or any small vessel and fill it with a cup of baking soda.
Use several bowls, if necessary, and add a few drops of your favorite orange or lemon essential oil if you like; this recipe is highly customizable. Seal the baking soda deodorizer in the cupboard overnight, and enjoy a neutral smell in the morning.
Deep Clean My Kitchen Regularly
Good housekeeping goes beyond washing painted cabinets once a year. Set a cleaning day in the calendar to address the areas that don't get included in daily tidying, such as the cabinet front, hardware, and interior.
Every six months, set aside time to pull everything out of the cabinets and clean them thoroughly. Write a checklist of everything you need to tackle or check the internet for pre-made cleaning lists to get inspiration. The better you plan, the easier kitchen care will be.
We hope you enjoyed our in-depth look at kitchen care. You spend so much time in the kitchen that it becomes essential to manage bacteria and grime buildup in a realistic way for your lifestyle and the demands of your time. Knowing how to clean painted cabinets and finished wood surfaces quickly is an asset.
Natural, homemade cleaning agents are often enough to handle most kitchen-related stains. Try dish soap or a vinegar-based spray before escalating to chemical cleaners.
Keep a bottle of DIY degreaser in the cabinet to do a quick wipe-down once a week. Or, schedule a time to take on the whole kitchen at once. Do what works for you, and don't be afraid to delegate to other household members.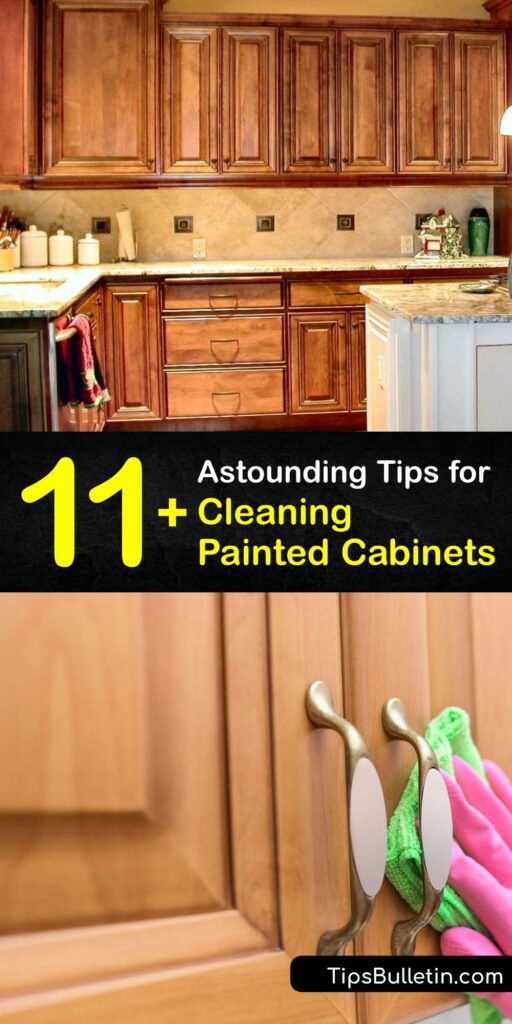 If you liked learning how to clean painted cabinets and kitchen surfaces with simple ingredients, share this article with friends on Pinterest and Facebook who love reliable cleaning tips.