Porcelain tile floors are a durable and beautiful addition to your home. Unfortunately, these tiles can lose their luster over time if not cared for properly. Learn how to clean porcelain tile floors using the right cleaning product and method to help it maintain its shine and beauty.
Porcelain tiles are available in many hues and, for the most part, are stain-resistant. Polished or glazed, textured, and unpolished or unglazed porcelain tiles each have their pros and cons and require different methods of cleaning.
Specific techniques are required when cleaning tile flooring to ensure that the porcelain stands the test of time and prevents dirt and grime from building up in the grout lines. Performing regular weekly light cleaning followed by a monthly deep cleaning will keep your floor looking like new.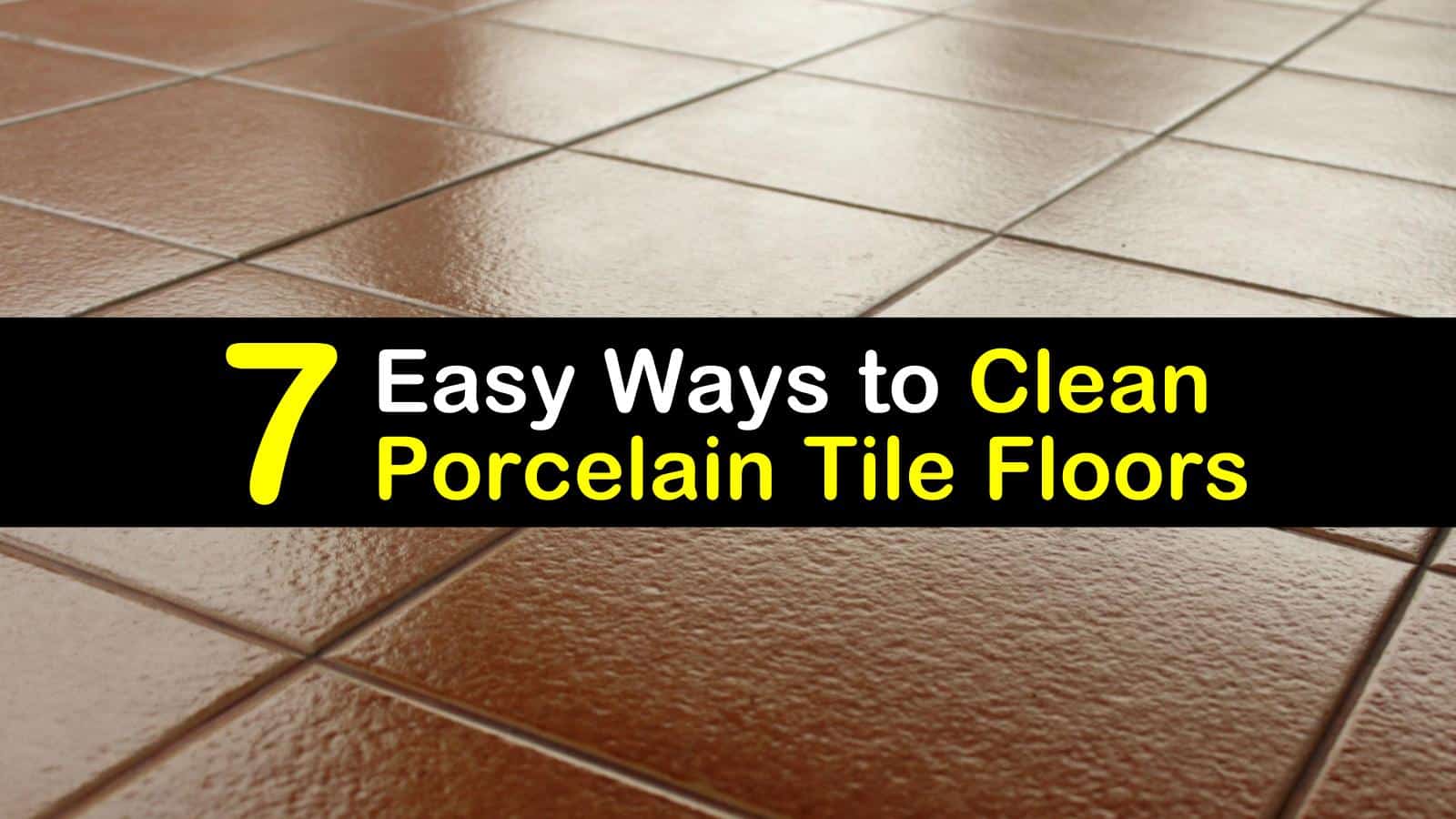 Cleaning Porcelain Tile Floors
While porcelain floor tiles require special care, that doesn't mean that it has to be complicated. Once you know the right cleaning solutions to use on your particular flooring type, cleaning is a breeze. Learn how to dry and wet clean a porcelain tile floor, whether it is polished, unglazed, or textured.
Dry Cleaning Porcelain
Sweeping or vacuuming is essential to remove any sand, dirt, and dust before wet cleaning porcelain tile floors. Floors should be cleaned in this manner weekly to upkeep porcelain tiles.
Clean porcelain tile flooring by using a dust mop or vacuum with the beater bar removed. Start at one corner of the room and begin by cleaning loose dirt out from the wall edges and beneath cabinets or furniture. Sweep or vacuum in sections from one side of the room to the other.
Best Way to Clean Porcelain Tile Floors
Using plain water and a scrub brush rather than a harsh cleanser is the best way to clean porcelain tile floors to remove tough grime.
For this simple yet highly effective porcelain cleaner, fill a bucket with hot water and get the brush wet. Don't scrub a dry porcelain floor with a scrub brush, or you may damage the porcelain or ceramic tile.
Use the scrubber to clean away stains on the floor and in grout lines using circular motions. Make sure you use a soft bristle scrub brush or toothbrush to prevent damaging sealants.
Rinse the floor with water and a microfiber cloth, and dry the area thoroughly with a towel. This should take care of most stains and grime on your porcelain tile flooring.
Cleaning Glazed or Polished Porcelain Tile Floors
While both methods are similar, cleaning porcelain tile floors that are glazed or polished uses a slightly different technique than those that are unglazed. However, you likely already have everything you need and won't have to run to the store for this solution. This is an ideal way to clean your shower tiles, too.
The easiest way to clean tile floors made from polished porcelain is to combine the warm water and white vinegar in a bucket and wet mop the floor using the vinegar solution. Allow the solution to rest on the surface of the tiles for ten minutes to really get into the grime.
Dump out the dirty water and refill the bucket with clean water. Mop the floor again to rinse away the cleaning solution. Use a clean towel to dry the floor to prevent water spots.
Use this recipe for cleaning bathroom tiles and grout in the floor, the shower or tub or even the countertop and sink. It's a multi-purpose remedy for tiles no matter where they are in your home.
Unglazed or Unpolished Porcelain Tile Floors
Clean unglazed or unpolished porcelain tile floors with a little more elbow grease than polished floors. This solution works well to clean tiles and remove stains from grout.
Fill the bucket with hot water and vinegar and mop the floor. Allow the mild cleaning solution to sit for about ten minutes. After mopping, use a soft-bristle scrub brush to remove any stains on the tiles or grout lines.
Empty the bucket and refill with clean water. Rinse the floor with a sponge mop and dry thoroughly with a clean rag.
Clean Textured Porcelain Tile Floors
Textured porcelain tiles take a little more patience to clean due to the uneven surface. Dirt gets trapped easily in the grooves of the tiling and needs extra care when cleaning. This type of flooring may require daily cleaning to maintain it properly.
Begin by sweeping the textured flooring in two different directions to ensure that you remove all of the loose dirt. Combine a mild cleaning agent with hot water in a bucket and use a sponge mop to clean the tile floor. Use a scrub brush to clean away any heavily soiled areas.
Allow the solution to sit for ten minutes. Empty the dirty water from the bucket and refill with fresh water. Rinse the flooring with clear water and dry thoroughly with a towel. While drying, make sure that you wipe away any excess liquid from the textured areas and grout lines of the floor.
Removing Stubborn Stains from a Porcelain Tile Floor
Regular cleaning of your tile floors may not be strong enough to remove a stubborn stain. While you do not want to use anything too strong to clean away stains from porcelain, you can safely use baking soda and water to loosen up and clean stained porcelain surfaces to remove stains from your floor.
Fill a bottle with hot water and spray it onto the surface of the stain. Sprinkle some baking soda onto the area and let it sit for ten minutes.
Use a toothbrush with a soft bristle to scrub the stain away gently, making sure to get into any stained area of the grout. Use a damp cloth to clean away the baking soda and dirt residue and dry thoroughly with a towel.
Not only does this remedy work for your tile floors, but you can also use it for removing stains from porcelain sinks, as well. Kitchen and bathroom sinks are no match for a baking soda treatment.
What to Avoid When Cleaning Porcelain Tile Floors
Porcelain tiles need special attention and care when cleaning, and this is especially true when used in flooring. Not using the right cleaning technique or using the wrong products can cause damage to your tile flooring.
What to Avoid
Avoid using wax cleaners and oil-based detergents and stay away from abrasive materials such as steel wool, which can leave rust stains on your tiles.
Never use harsh cleaning products such as ammonia or bleach to clean tile flooring, as they can cause color discoloration and fading.
When cleaning unglazed porcelain tiles, do not use any cleaners that contain coloring.
Do not use a steam cleaner or wet vacuum on a textured porcelain floor. Because the textured tiles have an uneven surface, these types of floor cleaners leave too much water in the crevices.
Cleaning porcelain tiles is a simple task once you know the right cleaning solutions and methods to use for your floor type. Performing regular cleaning weekly, dealing with spills and stains immediately, and giving your floor a deep clean once a month keeps your tile flooring full of luster and beauty.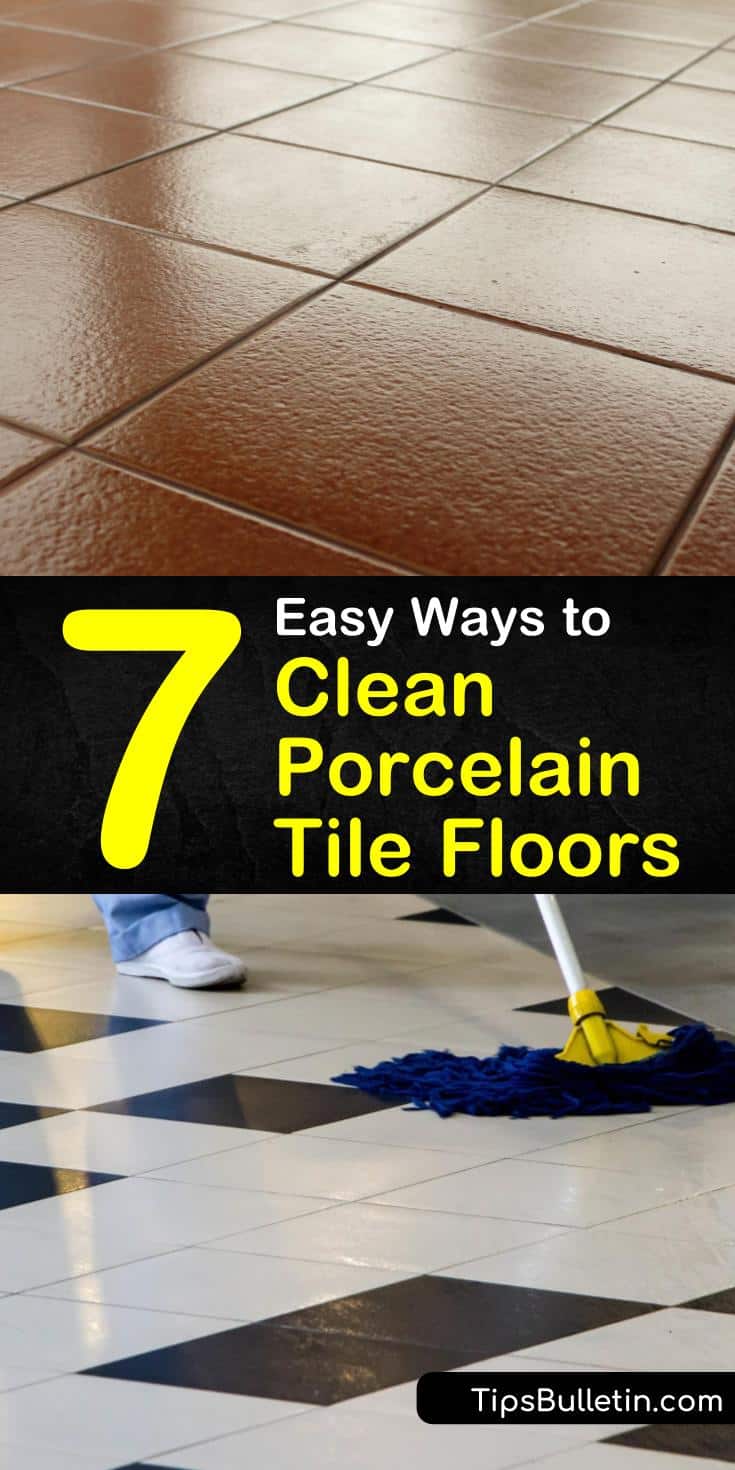 We hope that learning how to clean porcelain tile floors was helpful to you, and we'd love it if you shared our tile floor cleaning tips with your friends and family on Facebook and Pinterest.