Quartz is a stunning material adored for its aesthetic value. Not only does it come in a wide variety of colors, but it is also far more durable and easier to maintain than stone surfaces. Learning how to clean quartz countertops is just as simple as putting those strategies into practice.
In most cases, you only need a few simple ingredients that already call your kitchen home. Among the different ways to clean quartz countertops are basic cleaners like soap and water and mildly acidic formulas blended with lemon juice or vinegar.
One of the essential tips for keeping your quartz looking amazing, though, is to protect it from general wear and tear throughout the lifetime of the material.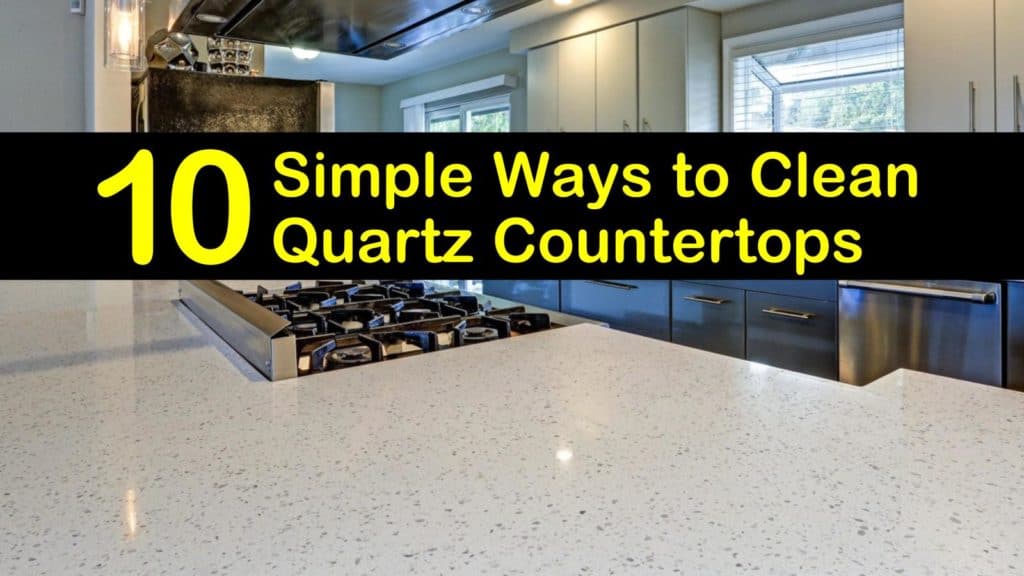 Easy Solutions for Cleaning Quartz Countertops
Unlike quartzite, a natural stone of a similar name, quartz is a human-made component that is significantly stronger and less porous. Even with it being so sturdy, protecting it from harmful substances and implementing a regular maintenance routine is crucial for ensuring the longevity of this material.
The first step to take when cleaning quartz countertops correctly and effectively is to start with the most basic techniques. It's crucial to clear away any loose particles that might get in the way of disinfecting and washing the surface. Make sure to sweep up all crumbs ahead of time, too.
Use Soapy Water for Cleaning Countertops
When it comes to wiping down your quartz countertops, sometimes a basic homemade kitchen counter cleaner is all that's necessary. Doing this doesn't require the use of fancy chemical cleaners and instead consists of two ingredients: dish soap and water.
A regular dishwasher detergent or soap like Dawn works as a degreasing agent to lift away grease and grime from your counter, which is the biggest mess you usually encounter.
To make this simple solution to clean marble counters, quartz ones, or any other type of countertop, start by blending the ingredients in a small bowl, whipping them together until they form a frothy mixture.
Next, dip a soft cloth into the container and wipe down the surface of the counter with the soapy mixture. After you finish scrubbing, dry the area with a clean microfiber cloth.
You can also use soap and water on virtually all surfaces in the kitchen. Take care of cleaning concrete kitchen counters, the stove, sink, tabletops, and more with this basic household solution. This non toxic concrete cleaner eliminates stains and odors and costs only pennies while keeping your kitchen nice and clean.
Scrape Away Caked-On Messes
Sometimes, a degreaser is not the only thing required to clean off your countertop. If you have a caked-on mess or glue-like substance, use a scraper for getting glue residue off stone countertops or any granite surface.
This step becomes tricky because you don't want to harm your countertop, which isn't completely scratch-proof. One way to do this properly is by using a plastic putty knife to clean up a sticky mess.
Scrape the putty knife gently across the surface to slide between the countertop material and the gunk attached to the quartz. Avoid using harsh abrasives like scouring pads to remove the gummy substance.
Best Ways to Clean Quartz Countertops with Vinegar
Another excellent cleaning solution to use is a diluted vinegar combination. Equal parts water and vinegar work the best, as straight vinegar may be too acidic for the engineered stone. It works exceptionally well when removing stubborn food particles and sticky substances, as well as to remove food coloring from a counter.
Using a wet cloth or nonabrasive sponge, run the vinegar solution across the surface. Gently scrub the area with the residual crumbs and food until the area is clear. If you aren't a fan of the vinegar smell, then toss in a few drops of your favorite essential oil to quell the scent.
Note that if you are cleaning granite composite sinks, vinegar is not the best solution as it can damage the material. Soap and water or baking soda work better.
How to Clean Quartz Countertops with Goo Gone
If the gunk you were trying to remove requires a commercial adhesive remover, then Goo Gone is a great store-bought option. Goo Gone is a powerful degreaser that consists of citrus oil and gasoline to remove oily and sticky substances.
It works perfectly on glue, gum, and stickers by soaking up under the adhesive and dislodging it from whatever is attached to it at the time. To use this method, apply a small dot to the area you are trying to clean.
Work the Goo Gone into the area with a soft cloth, then let it sit for approximately ten minutes. Wipe it down with a damp cloth, then dry.
Clean Quartz Countertops with Rubbing Alcohol
One of the best cleaning solutions to use on quartz is rubbing alcohol. Not only does the alcohol disinfect quartz countertops, but it also leaves them shiny and glossy. Adding a little bit of dish soap also helps with removing any sticky residue left behind during cooking.
The best way to administer this type of cleaner is by adding it all to a small spray bottle. Add as much water as you like, but don't dilute the alcohol too much as this makes it ineffective. This solution also removes moderate stains.
Use a Glass Cleaner to Make Counters Shine
Glass cleaner is an excellent way to restore that glossy shine to your countertops with little effort. Using an ammonia-based product like Windex for cleaning quartz countertops is perfectly acceptable.
Not only does it do a fantastic job at providing a brilliant sheen, but it also saves you the time of having to make your own. If you do want to make your own organic glass cleaner, however, then follow this recipe.
This recipe works best as a deep cleaning method when washing with soap and water isn't enough. Don't use this process regularly, as the rubbing alcohol may cause discoloration over time. Mix the supplies into one large spray bottle and add in whatever essential oil is your favorite to make your own unique product.
Clean Kitchen Countertops with Baking Soda
Some of the best cleaning products to use are baking soda and vinegar. Both are natural deodorizers and household cleansers that bring a lot to the table when it comes to blemishes, or in this case, your countertops.
Quartz countertops are generally stain resistant, though they still suffer the effects of marks and smudges on occasion.Vinegar lifts away stains with the aid of baking soda, which is only mildly abrasive and doesn't harm the surface.
Likewise, avoiding highly acidic substances when cleaning quartz is ideal; however, vinegar is mild enough to do the job without damage. Add a small sprinkle of baking soda over the stain, and let it settle for approximately ten minutes before wiping away with a cloth dipped in vinegar.
Eliminate Permanent Marker with Lemon Juice
Another acidic cleaner safe to use on quartz is lemon juice. When combined with other cleaning agents, it works wonders at eliminating the toughest stain of all: permanent marker. It'll even dissolve nail polish, though it's crucial to keep substances like these away from your counters in the first place.
For quartz cleaning that offers excellent results, saturate the permanent marker stain with hairspray. Use a paper towel to blot up as much of the stain as possible using just the hairspray, then rinse with a damp cloth. Afterward, spread a small dab of white toothpaste over what's left of the mark.
Do not use gel toothpaste or anything with bleaching agents, as this may cause more harm than help. Let the toothpaste sit over the stain for approximately ten minutes before rinsing with a damp paper towel.
Your next step is to add a spritz of lemon juice along with a sprinkling of table salt. Your goal is to make a paste from the two and scrub it into the stain with your fingertips.
Leave it there for an hour, then wipe away when finished. Lemon juice on its own is also fantastic for removing calcium deposits caused by water stains.
Avoid Harsh Cleaners on Countertop Surface
We've talked about all the different ways to clean your countertop, but there is also a long list of things that should never touch its surface. Among these restricted items are harsh chemicals and abrasive cleaners.
Anything too caustic like bleach causes discoloration and damages the structure of the quartz. Sticking to milder, gentle cleansers is key to ensuring your countertops live a long, happy life.
Just as important as it is to refrain from using these harmful chemicals, it's equally crucial to keep away from scouring pads or steel wool. These often cause scratches on the surface of the material, which creates deeper problems in the future. Instead, use non-abrasive pads like sponges, paper towels, or soft cloths.
Keep Away Heat and Excess Force
Your quartz surfaces are more scratch resistant than other types of stone. However, that doesn't mean that they won't get damaged if exposed to the wrong tools. In general, do not use sharp objects directly on the countertop. Always use a cutting board to protect your quartz.
Another common injury your countertops suffers from is heat exposure. The heat is potentially damaging to the material, so keeping recently used pots and baking sheets off the counter is vital for maintaining its luster.
Implementing trivets or hot pads into your cooking regimen is a great way to keep hot plates and cookware off the counter while also giving your food the perfect place to cool off.
Added Ways to Clean Quartz Countertops
Just in case you still have a couple more questions about cleaning your quartz, we added a few more words of wisdom to live by right here.
How often must I clean my countertops?
Ideally, clean any stains on your quartz as soon as possible. The longer a stain is left on the counter, the less likely you are to remove it, especially if it is a problematic stain like red juice or permanent marker. Even if you can't clean the stain immediately, say if you didn't notice it at first, clean it up the second you first identify it.
Otherwise, when it comes to routine cleaning, this generally takes place at least once a week. If the counter is particularly messy, clean it promptly after each use, as well. When it comes to deep cleaning, leave this to about once a month.
These simple strategies for cleaning quartz countertops provide you with all the information necessary to keep your kitchen looking fabulous. What's even better than using these easy-to-find ingredients to disinfect and remove stains is that the majority of your options are also natural products.
Having cleaning solutions that are safe to use, especially when it comes to areas of the house where you prepare food, offers you added peace of mind when completing chores.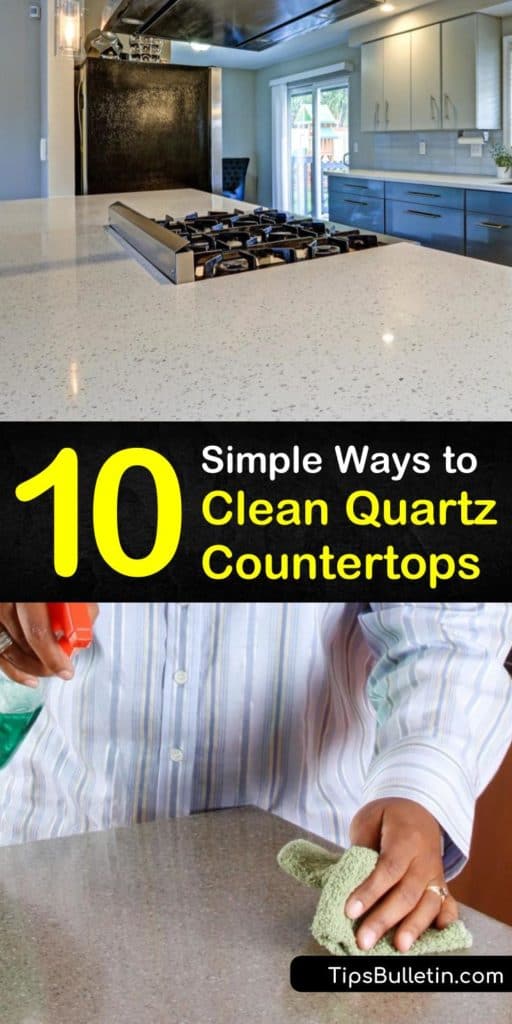 If you loved our quartz cleaning advice as much as we enjoyed putting it together for you, then please remember to share how to clean quartz countertops with everyone you know on Facebook and Pinterest.