Who doesn't love the natural beauty of quartz, with its endless range of colors and patterns? Its vibrant and naturally glossy surface is a favorite among homeowners. We'll show you how to clean quartz using everyday solutions and how to remove grime and stains without damaging its surface.
Quartz is a popular natural stone material made of ground quartz, resin, and pigments. It's common to see quartz in everything from kitchen countertops, sinks, and flooring to cutting boards and countertop trivets. It is less porous than other natural stone materials, making it stain resistant.
Quartz is also scratch resistant, but that doesn't mean it cannot get scratches. Using abrasive cleaners and scouring pads damages the countertop surface over time. Therefore, using the right cleaning solutions and techniques to clean quartz surfaces is an essential step in maintaining its natural beauty.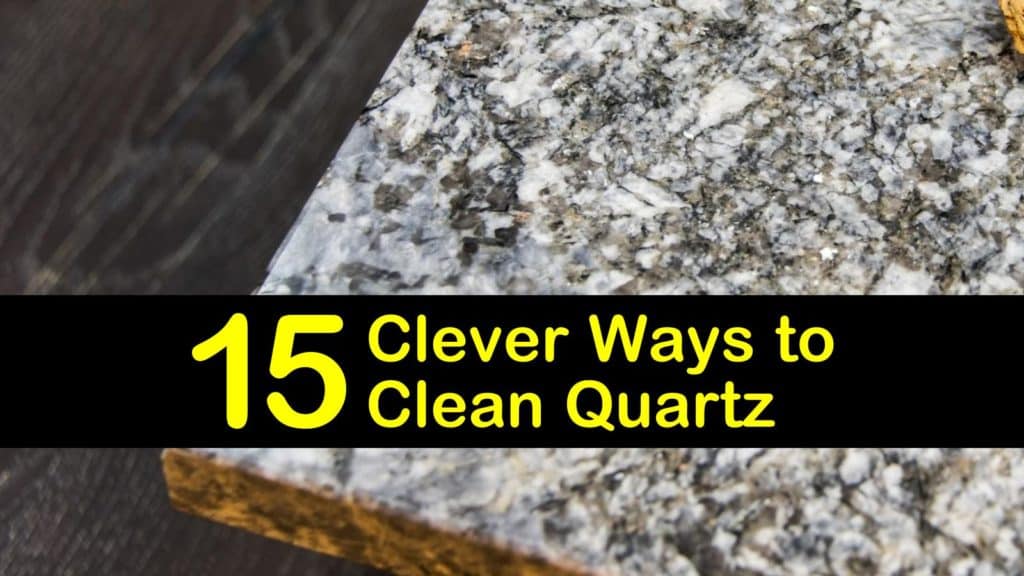 Ways to Clean Quartz
Even though quartz is resistant to staining, there are times when stains happen. We'll show you how to perform daily cleaning and maintenance to keep quartz looking its best. We also have several cleaning solutions to remove stubborn dirt and stains off of all types of quartz surfaces.
How to Clean Quartz
While there are many ways to clean quartz, the first step in maintaining its beauty is determining the type of cleaning solution required. Here is what to do and what not to do when cleaning quartz surfaces.
Cleaning Quartz Do's and Don'ts
Don't throw away the manufacturer's warranty certificate that came with your quartz product. Make sure to review the certificate for cleaning instructions and keep it on hand for the entire duration of coverage. Avoid using everyday household cleaners to clean quartz.
Many of these products contain chemicals that loosen the stone pieces, resin, and polymers used during the manufacturing process. Don't use harsh cleaners such as turpentine, bleach, nail polish remover, oven cleaners, or drain cleaners to clean stains off quartz.
It is unnecessary to seal quartz surfaces. Frequent cleaning using the right cleaner helps the polished factory finish last for decades.
Quartz Cleaning and Maintenance
Mild soap and warm water are ideal for casual cleaning of quartz surfaces. The mild detergent loosens grime while the warm water releases tough dirt. Here is a basic quartz cleaning solution for everyday care.
To make this simple DIY quartz countertop cleaner, fill the kitchen sink with some warm water and add a few squirts of mild dish soap. Agitate the water gently with your hand to create a soapy solution.
Dunk a soft cloth into the water, squeeze out the excess water, and use it to wipe down the dirty surface of the quartz. Use circular motions to loosen and lift grime. Rinse and wring the cloth in clean water and wipe away the dirt and soap residue.
Deep Cleaning Solution for a Quartz Sink
Generally, a quartz sink cleans easily using regular soap and water. Removing soap scum and dirty build-up leftover from regular cleaning requires something a little stronger. For porcelain sinks, try a homemade porcelain cleaner to remove tough stains.
Use the sink spray nozzle or a cup of water to get the sink wet. Sprinkle a fine layer of Bar Keepers Friend over the inside surface of the sink.
Use a soft-bristle brush to scrub the powder into the quartz using circular scrubbing motions. Rinse the sink completely after cleaning and dry the surface area with a soft cloth.
How to Maintain a Quartz Cutting Board
Quartz cutting boards are a beautiful addition to the kitchen. They're almost like having an art piece resting on your kitchen counter. As with any other quartz material, cutting boards require specific solutions for cleaning.
While quartz is highly resistant to staining and almost scratch-proof, it does happen. While preparing food on your cutting board, use firm and steady cutting movements rather than sharp, forceful actions. Avoid cutting citric fruits on your board.
These contain acids that degrade the quartz surface. Do not wash your quartz cutting board in the dishwasher unless it's labeled dishwasher safe. To clean your quartz cutting board, fill your kitchen sink with warm water and add a few squirts of dish soap.
Dawn dish soap is a good choice for degreasing surfaces. Soak the board in the soapy water for a few minutes and then scrub the surface gently with a soft sponge. Rinse and dry the cutting board thoroughly after cleaning.
Using a Plastic Scraper to Deep Clean Quartz Countertops
Dried on gunk and crusty food spills are not uncommon in the kitchen. If soap and water aren't getting the job done, use a plastic putty knife to remove tough dirt from quartz safely.
Wet paper toweling with hot water and place them over the gunky areas. Let the wet towels sit for several minutes to loosen the dirt. Use a plastic scraper or plastic spatula to chip away the hardened mess gently.
Apply small amounts of pressure without scratching into the quartz surface. Use a clean, wet cloth to clean up the bits of food debris.
Cleaning Quartz Countertops with Vinegar
Hard water mineral deposits and food particles tend to create a film on quartz. White vinegar is a natural acidic liquid and degreaser that also breaks up and dissolves dirt and hard water brine. It is also an ingredient in a DIY concrete stain cleaner recipe.
To make a homemade granite cleaner without alcohol or for your quartz surfaces, pour the water and vinegar in a bottle sprayer and label it for future use. If you cannot tolerate the smell of vinegar, consider adding a few drops of lemon juice to enhance the scent.
Spray the vinegar solution over the entire surface of the counter. Wipe the area clean using a soft sponge or cloth for a streak-free shine.
Remove Stains from Quartz Countertops with Baking Soda
If you prefer not using a scraper to lift food gunk from your countertop, try using baking soda. This nonabrasive, natural ingredient is an excellent alternative for cleaning quartz to remove tough stains.
Pour baking soda into a container or small bowl and add enough water to form a pasty substance. Use a soft cloth to dab the paste on the stained area of the counter.
Let the solution sit for several minutes as the baking soda breaks down the gunk. Rinse the cloth with warm water and use it to wipe away the baking soda residue.
Cleaning Quartz Surfaces with Hydrogen Peroxide
Hydrogen peroxide has oxidizing and disinfectant properties, making it an excellent choice for cleaning. This cost-effective and versatile liquid cleans residue off quartz left behind by other cleaners.
Fill a bottle sprayer with equal parts hydrogen peroxide and water. Shake the bottle well to mix and mist the cleaner over the entire surface of the quartz. Use a soft sponge to wipe away the cleaner and dirt residue.
How to Clean a Quartz Countertop with Rubbing Alcohol
Sometimes stains that appear on a countertop are not your typical, everyday stains. To remove stains that seem impossible, such as permanent marker, chewing gum, or glue, try rubbing alcohol.
Apply rubbing alcohol to a cloth and use it to rub the stained area gently. If the rubbing alcohol doesn't do the trick, try the same technique using a small amount of Goo Gone. Clean away all residue by rinsing with clean water.
Using Window Cleaner to Clean Quartz Surfaces
Over time, the surface area of quartz appears murky due to the build-up of residue. Glass cleaner wipes away cloudiness from resin sealant, making it shine like new.
Spray the entire surface of your quartz countertop and use a soft cloth to wipe it clean. Leave the spray on heavily stained areas for a couple of minutes before wiping away. Perform this process once a month to keep the countertop shiny.
Use Vinegar and Baking Soda to Remove Stains from Quartz Surfaces
If you discover heavily soiled areas on your countertop, use a combination of baking soda and white vinegar to break up and dissolve away tough stains.
Sprinkle some baking soda onto the soiled area of the quartz. Pour white vinegar into a bottle spray and spritz the liquid on top of the baking soda.
Let the two ingredients work together, foaming and bubbling, for 20 minutes. Use a soft sponge to wipe away the gunk, rinse the sponge with cold water, and wipe the quartz surface clean.
Cleaning a Quartz Sink with Vinegar
For a quartz sink stained with hard water deposits, use the mild acidic power of white vinegar to dissolve away stains.
Pour the water and white vinegar into a bottle sprayer and spray the stained area of your sink. Allow the vinegar solution to sit for several minutes and then wipe away dirt with a soft sponge. Rinse the sink thoroughly with clean water and dry with a towel.
How to Protect Quartz Countertops from Damage
While establishing a regular cleaning routine is key to keeping your quartz countertop looking like new, there are a few things to watch out for between cleanings to prevent damaging the countertop material.
Protecting Quartz Countertops
Do not set hot items directly onto the surface of your quartz countertop. While it can tolerate temperatures up to 300°F, quick changes in temperature, known as 'thermal shock,' cause damage. Place hot pots and pans on a hot pad, or use trivets.
Wipe up spills immediately. Even though quartz is stain resistant, spills from coffee, tea, and wine permanently stain quartz material.
Your counter is not a cutting board. Avoid using steel wool pads or sharp objects on quartz counters. While quartz is highly durable, it becomes dull and scratched over time if maintained improperly.
Cleaning Quartz Floor Tiles
Cleaning a quartz floor is easy using gentle and straightforward ingredients. Use a mild cleaning solution of water and soap to clean floors regularly and prevent dirt build-up.
Pour warm water into a large bucket and add several squirts of dish soap. Agitate the water to create a soapy solution. Dunk a microfiber mop into the soapy water and wring as much excess liquid out as possible.
Use the damp mop to clean sections of the quartz tiles by starting at the far corner of the room while working your way back. Use a towel to buff each section dry as you go along.
How to Clean Quartz Crystals
If you collect quartz crystals, then you are already aware of how they appear when they first come out of the ground. Here are a few steps to take to bring out the shine and sparkle of crystals.
Use an old toothbrush to dry brush as much of the debris and clay of the quartz as possible. Hold the crystal beneath warm, running water and brush away any remaining bits of dirt. Allow the quartz to dry and then repeat the process until it is clean.
Place the quartz crystal into a small bucket or container and pour enough white vinegar into the bucket to cover it. Let it soak for approximately ten hours.
Remove the quartz, set it into the second bucket, and pour enough washing ammonia over the crystal to cover it. Let it sit in the new solution for another ten hours. Repeat the process until the quartz crystal is clean.
The natural beauty and shine of quartz are breathtaking when it is in its best shape. Cleaning solutions such as dish soap, glass cleaner, and warm water used to maintain quartz prevent discoloration and damage.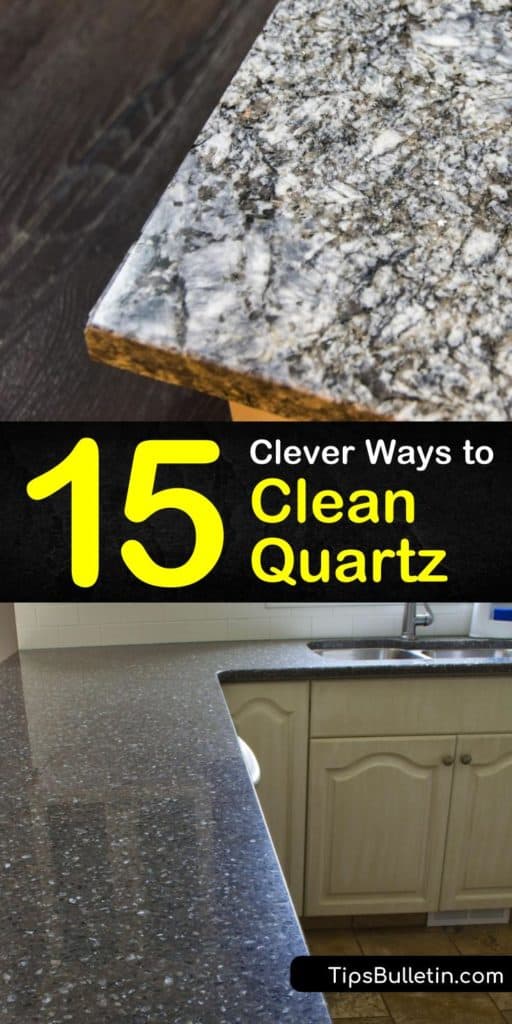 Removing dirt and stains with the right cleaning products ensures that your countertop, sink, floor, or other quartz surface remains as rich and vibrant as day one.
Now that you know how to clean quartz surfaces to maintain their natural beauty and shine, why not share our quartz cleaning tips with your friends and family on Pinterest and Facebook?