After dishing out thousands of dollars on braces, retainers are a mandatory part of caring for your teeth. Wearing these mouthpieces every night means that they become a breeding ground for bacteria and accumulate lots of build-ups. Knowing how to clean retainers properly ensures that you keep your retainer clean and help prolong its use to have straight teeth for the rest of your life.
Similar to how you brush your teeth every night, cleaning a retainer is a daily chore. Many people wear their retainers for most of the day, especially when it is right after their braces are removed.
After your braces come off, the teeth aren't in a concrete environment as they'd generally be because they've spent so much time shifting themselves into a new position.
The more you wear your mouth retainer, the more bacteria and tartar build on the surface. Cleaning plastic retainers is essential to a healthy mouth and practicing proper retainer care.
Types of Retainers
Cleaning a retainer depends on the type of retainer you have. The most common is a removable retainer. A Hawley retainer is made out of acrylic and wire. They are easily adjusted and more durable than other retainers.
Clear plastic retainers are another popular type of removable retainer. Clear aligners are becoming very popular and go by brand names like Invisalign and Essix. The plastic mold slips over your teeth and is more invisible than the Hawley retainer.
The last type of retainer is a bonded retainer. These are not removable. Instead, bonded retainers are permanent fixtures that sit on the backside of your teeth. They are most commonly used if your teeth have a high risk of shifting.
Most people don't get to choose their type of orthodontic retainers. When it is time to mold your mouth for your retainer, your orthodontist examines your mouth, molds, and files to determine which works best for you.
How to Clean Retainers
When learning how to clean retainers, make sure that you start by referring back to the instructions given to you by your orthodontist. The best way to clean a retainer thoroughly is to wash it every single day.
On top of that, retainers require more in-depth cleaning once every two weeks. Regularly cleaning plastic retainers and wearing them full time is the simplest way to avoid future orthodontic treatment.
Cleaning a Retainer Regularly
Cleaning a retainer may seem like a tedious task to do every day but washing it with warm water is enough to clean away at least some of the gross bacteria build-up.
When you wake up and make your way to the bathroom, remove your retainer and begin rinsing it under warm to hot water. After a day full of wearing your retainer, remove it and rinse it once more before going to bed.
A Simple Way to Clean a Retainer
One of the best ways to clean plastic retainers and Hawley retainers is to use toothpaste and a toothbrush, just like when you clean a sports mouth guard after use. Squeeze a small dollop of toothpaste on your brush and wet it under lukewarm water.
Use the toothbrush to start scrubbing every surface of your retainer in small circles. Once all areas of the retainer are washed, rinse it under hot water. Put your retainer on a few paper towels to dry before putting it back in your mouth or the retainer case.
Cleaning Plastic Retainers with Vinegar
White vinegar isn't only used in cooking and house cleaning. This powerful ingredient cleans all sorts of messes due to its high acid content. The acid breaks up debris and tartar better than even the best commercial cleaners.
Don't use vinegar on wire retainers, though, or they might rust. To clean retainers with vinegar, set your removable retainer in a small glass bowl and pour vinegar in the bowl until the retainer is just covered.
Allow the night guard to sit for at least five hours or overnight. Remove your retainer from the vinegar and rinse it under lukewarm water until the smell of vinegar is completely gone. Remember that this method only works to clean clear retainers and makes an excellent DIY night guard cleaner.
How to Clean Retainers with Hydrogen Peroxide
Hydrogen peroxide is an excellent tool for cleaning retainers because it bubbles and lifts away stuck-on grime. Most people already have peroxide stored at home, but it's cheap at most grocery stores or pharmacies.
Place your retainer into a small glass bowl and pour hydrogen peroxide over it until the entire retainer is covered. Let the bowl sit undisturbed for 12 hours before rinsing under cold, running water so that no peroxide remains.
How to Clean Retainers with Baking Soda
The best way to clean plastic retainers is with a little bit of baking soda. Making a homemade retainer cleaner is easy and only requires two ingredients. Try using this recipe as a denture cleaner or to clean a night guard, as well.
Grab a medium-sized bowl and stir the baking soda and water. Dunk your retainer into the cleaning solution and let it sit for at least 12 hours or overnight.
The following morning, dip your toothbrush into the liquid, lift your retainer out of the bowl, and begin scrubbing the retainer to remove leftover debris. Rinse the retainer under warm water and allow it to air dry before you put it in its case.
Use this easy solution as a homemade denture soak, too. Be sure to rinse well.
If you have stubborn plaque or need to remove denture stains or other marks on your retainer, use a toothbrush with a little baking soda and water to rub them away.
Deep Clean Retainers with Bleach
As mentioned before, deep cleaning retainers is recommended at least twice per month. One of the best products for hardy cleaning is bleach. We all know the power of bleach, and it's safe to use on retainers as long as you rinse it thoroughly afterward.
Mix roughly ten-parts hot water with one-part bleach in a glass bowl. Put your retainer in the bleach water for 30 minutes. Squeeze some toothpaste on your toothbrush.
Remove your retainer from the bowl and use your brush to scrub the retainer. Rinse the retainer thoroughly under cold water until you no longer smell bleach.
Denture Cleaning Tablets to Clean Retainers
Utilizing products that are already made for oral health is an invaluable retainer cleaning hack. Drop some denture cleaning tablets into a glass of hot water and put the retainer in the glass.
Let the retainer sit for five to ten minutes before removing it and rinsing it under running water.
Cleaning Retainers with Dish Soap
Dish soap is one of the best cleaning agents to use on retainers, especially those with a built-in degreaser formula. Fill a glass dish with warm water and a few drops of dish soap.
Grab a toothbrush and scrub the retainers with the soapy water. Rinse away the suds from your retainer and let it dry before using it again.
Focus on the Tight Areas
Because retainers are molded to fit your mouth perfectly, there are dozens of tiny nooks and crannies that bacteria hide inside. Although these spots are hard to clean, it isn't impossible.
While cleaning your retainer, use a cotton swab and put it in the smaller areas where your fingers won't fit. Make sure to scrape and twirl the swab to create some friction and lift as much gunk from the crevices as possible.
Using Castile Soap to Clean Retainers
Castile soap isn't the same as dish soap, as it is made from vegetables and contains oils. The oils work the same way as dish soap, without drying out the retainer and making it more prone to damage.
Let your retainer sit in warm, soapy water produced from the Castile soap for a few minutes. Scrub the retainer with your toothbrush and rinse it under running water for a thorough clean.
Cleaning Retainers with Citrus Juice
Lemon and lime juice are excellent alternatives to white vinegar because they are high in acid. They might also leave a fruity taste in your mouth for you to enjoy later. Only use fresh fruit to clean plastic retainers.
Cut a fresh, whole lemon or lime in half and combine equal parts citrus juice with water into a small glass. Let your retainer sit in the solution overnight. Rinse your retainer under hot water the next morning and let it dry on paper towels.
Cleaning Bonded Retainers
Bonded retainers are one of the hardest to clean because you're unable to remove them from your mouth. Regardless, these types of retainers should still get cleaned daily.
To clean fixed retainers, grab a piece of dental floss and floss between your two front, lower teeth. Take a floss threader and maneuver it so it goes under your retainer.
Floss down to your gum line to remove the tartar. Move the floss sideways to clean under the retainer as much as possible. Repeat this process with each tooth that the retainer covers.
Permanent retainers are some of the most challenging to clean. If you struggle to clean it, don't be afraid to reach out to your orthodontist or dentist and ask for advice.
Keep Your Retainer Case Clean
As much as you clean your retainer, it's never going to be genuinely clean unless you clean your case as well. Every time you set a dirty retainer into its case, the retainer transfers bacteria onto the case's surface.
The longer you go without cleaning your case, the less clean your retainer stays, no matter how much you wash it. Washing a retainer case is as simple as washing it the same way you'd wash your dishes in the sink.
Run your sink to dispense very warm water without being so hot that it burns your hands. Squeeze a few drops of regular dish soap into the container.
Use a clean cloth or sponge to scrub every surface of the retainer but make sure to focus on the inside, specifically. Rinse away all the remaining suds under the running water and allow it to air dry before using it again.
Avoid Things that Damage Your Retainer
Before you start experimenting with ways to clean your retainer, there are various things to avoid because they could cause permanent damage.
With every container costing in the hundreds of dollars, damaging your retainer is something you most definitely do not want to do. Never put your retainer into boiling water. The high temperatures may warp the plastic or acrylic and cause irreversible damage.
The same goes for setting your retainer in the dishwasher. Dishwashers use extremely hot water and may melt your plastic retainers.
Avoid putting your retainer in mouthwash or other products that contain alcohol. The alcohol dries the retainer out and causes it to crack and be more prone to future damage.
Consult with Your Orthodontist
If you're willing, the orthodontist can clean your retainer better than a lot of at-home strategies. Dentists and orthodontists use high-quality cleaners that get deep in the hard-to-reach crevices so that it's almost like new when you get it back.
Most people go to their dentist once every six months. Although your retainers require cleaning more regularly, taking them to the dentist is the easiest way to give them a thorough clean, freeing them from all previous grime.
Learning how to clean a retainer isn't a challenging task. There are over a dozen strategies for cleaning a retainer, and finding your favorite doesn't take too long.
Once a week, dedicate your time to choosing which cleaning method to try and spend that week performing only that strategy. When the week is up, make a note of how well it worked, how easy it was, and how it fits into your schedule.
Once you make your way through each cleaner, review your notes and decide which ones you like best. From then on, cleaning your retainer becomes an easy part of your routine.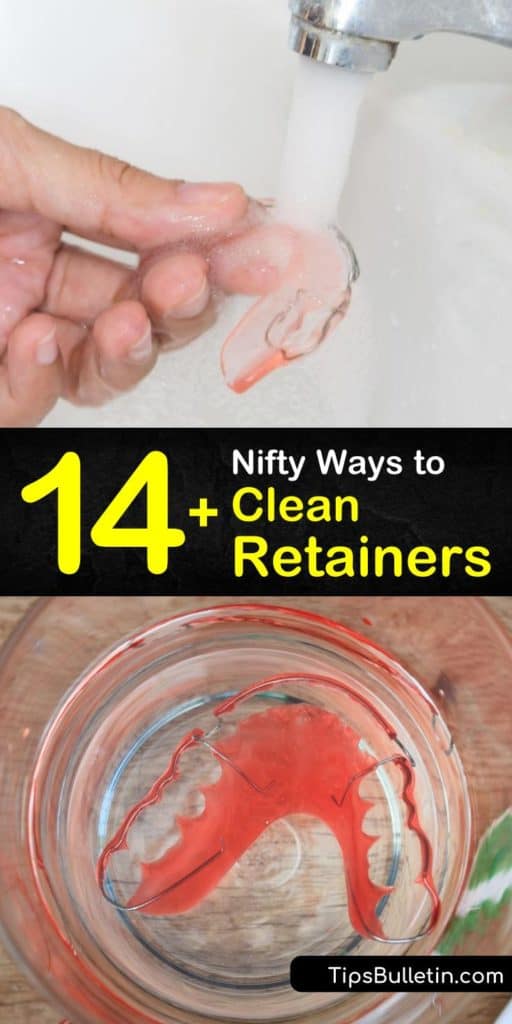 If this article explaining how to clean retainers helped your overall oral health, share this list of ways to clean a retainer on Facebook and Pinterest.