Armed with a platter full of burgers and hot dogs, you open the grill only to stare with dismay at a grate filled with rust and gunk. Well, so much for enjoying a quick grilled dinner. Fortunately, cleaning the grill is simple, and we'll show you how to clean rusty grill grates using simple household ingredients.
Generally, you scrape the grill grates to remove old gunk by applying high heat and a scraper. While this is a useful technique for casual cleaning, it does not work for cleaning a badly rusted grate.
Grilling your food on a rusty surface is ill-advised. The loose rust particles stick to your cooked food and not only hinder the overall taste, but continual ingestion of rust is problematic to your health.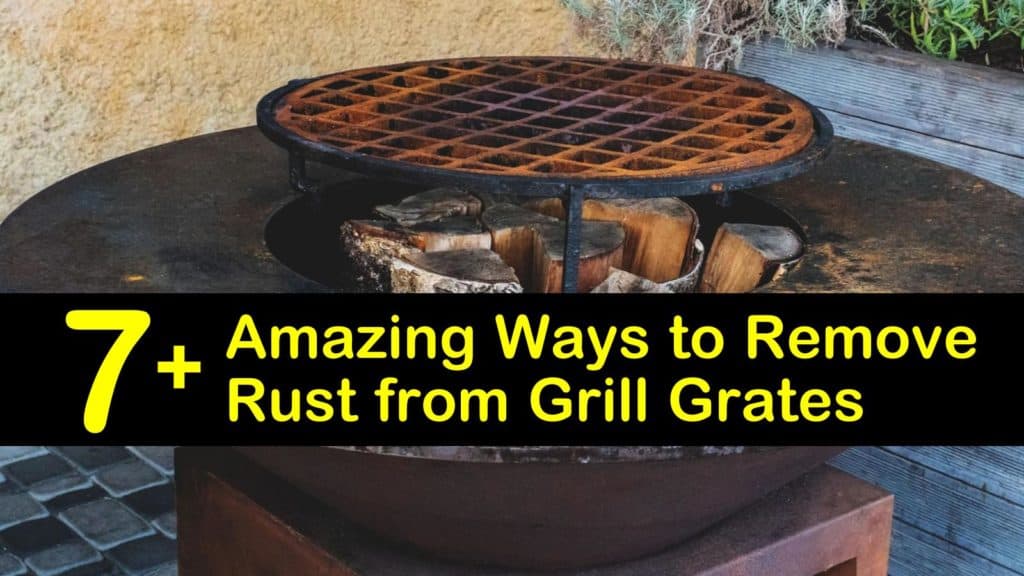 Cleaning Grill Grates to Remove Rust Build Up
While cleaning a grill with a commercial rust remover is always an option, this may not be something you have on hand at any given moment.
Luckily, there are many items you have around your home that you can make a grill cleaner with and get rust off a grill efficiently. Many of these items are not only effective cleaners but cost-efficient as well.
Clean a Rusted BBQ Grill with a Wire Brush
One of the simplest ways to clean a rusted BBQ grill without using harsh cleaners is to use a wire brush and a little bit of vegetable oil. The oil protects the grill from damage while scrubbing away rust.
Remove the grating from the grill and place it on a sturdy flat surface. Pour cooking oil into a bowl and apply the oil to one side of the grill grate with a basting brush. Scrub the grate surface with the bristles of a flat wire brush.
Flip the grating over and repeat it on the backside. Spray the entire surface with a water hose to flush away rust debris and wipe it down with paper towels.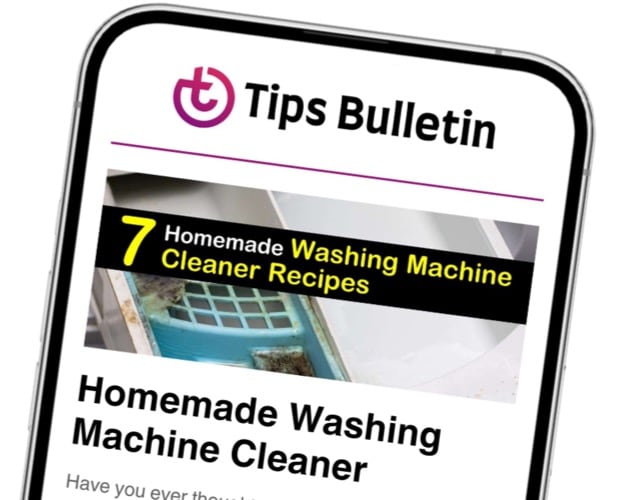 Finally, an email that Transforms Your Home.
Get the latest home and garden tips from our experts, delivered straight to your inbox.
Remove Rust from Grill Grates with Baking Soda
Using baking soda to remove rust from grill grates is not only easy to do but cost-efficient as well. It's one of the best household products to remove rust from many surfaces, including the grill. It is a mild abrasive that not only scrubs away the rust but absorbs grease and grime.
Fill a large bin or bucket with hot water and add the dish detergent and baking soda. Remove the grate from the grill and scrub away any loose debris with a grill brush before placing the grate into the soapy solution.
Allow it to soak for one hour and scrub away the loosened rust using the brush. Remove the grate and spray away residue with a garden hose before replacing it on the grill.
How to Clean Rusty Grill Grates using White Vinegar
One of the best benefits of cleaning with vinegar is its ability to dissolve grease and loosen rust with its natural properties. Adding salt to the cleaning solution provides extra abrasion to improve the cleaning action.
Pour the vinegar and salt into a bowl and stir to dissolve the salt. Place a large, heavy duty garbage bag on the ground and place the grill grate inside the bag. To get the rust off a grill, pour the vinegar mixture over the surface of the grating and tie the bag shut.
Allow it to sit overnight while the cleaner works on loosening the rust. Remove the grate from the bag and wipe away the softened bits of rust material. Rinse it thoroughly with cold water and dry it completely before replacing it in the grill.
Cleaning a Rusty Grate with Lemon Juice
The best way to clean BBQ grill grates is to use natural ingredients such as lemon juice. The juice of a lemon is a mild acidic and dissolves rust from metal surfaces with ease. The addition of dish soap improves the cleaning process by softening the metal surface for easy cleaning.
Squeeze the juice from one lemon into a bowl, add a couple of drops of dish soap, and mix the ingredients. Use a basting brush to apply the solution to the rusted surface and place plastic wrap over the grate. Allow the grill to sit for about 24 hours.
Remove the plastic wrap and use a grate brush to scrub away the loose rust and grime. Rinse the surface thoroughly with a water hose and dry with paper towels before replacing the grate.
Remove Rust and Clean Cast Iron Grill Grates with Sandpaper
Sandpaper is an excellent tool for removing stubborn rust from cast iron grates. However, it tends to scratch the metal surface, so caution is required. If you do not have any sandpaper, steel wool is an excellent substitute for scrubbing away grime.
To clean cast iron grill grates, first, remove the grate from the grill and prop it against a sturdy surface. Wrap medium grit sandpaper around each rung of the cast iron grate and carefully rub the metal using an up and down action.
Don't use too much pressure. After tackling all parts of the grate with steel wool or sandpaper, spray the grating with cold water and dry with paper towels before setting it back into the grill to remove debris.
Cleaning a Stainless Steel Grill
A baking soda paste is an excellent choice to clean stainless steel grill grates. This mixture is strong enough to loosen rust yet mild enough to prevent damage to the stainless steel surface.
Remove the grating from the grill and lay it on a flat surface. Combine the water and baking soda in a bowl and stir until it reaches a paste-like consistency. Use a sponge or cloth to apply the paste to the rusty areas of the grate and allow it to rest for approximately 20 minutes.
Use a grill brush to scrub away the loosened rust and spray the grate thoroughly with clean water. Make sure to dry the metal with a clean towel before replacing it in the grill to prevent further rusting.
This cleaning solution will also work as a great porcelain grill grate cleaner. The baking soda and sponge are gentle enough to cut through grease without damaging the porcelain grill.
Using a Commercial Rust Remover to Clean Grill Grates
If you prefer using a commercial rust remover rather than a homemade solution, there are a variety of cleaners on the market. We find that the easiest and most readily available product is oven cleaner and is useful for cleaning grates on a gas grill or charcoal grill.
As one of the best ways to clean a charcoal grill grate, remove the grate from the grill and spray oven cleaner liberally on both sides, making sure that you are in a well-ventilated area – outdoors is preferable.
Place the grate in a large trash bag, seal it shut and place it in a warm area of the yard away from children and pets. After the BBQ grill grate sits for two days, remove it from the bag and spray it down with a hose.
Use a sponge wet with hot water and a dab of dish soap to wipe the metal surface clean of leftover gunk. Rinse the grate one more time and dry it thoroughly before replacing it.
Ways to Prevent Grill Rust
Discovering rust on your grill is not only annoying but means that you have a lot of work to do before grilling your favorite food. Here is how to keep a grill from rusting by following a few routine steps.
After you clean rusty grill grates, there are a few easy things to do to prevent rusting in the future. While marinating grilled food is a great way to add flavor, these excess liquids lead to rusting.
When adding a marinade or sauce, apply it to your food before placing it on the grill to prevent clogging and rusting. Clean your grill with a brush before and after each use to ensure food particles, gunk, and liquids do not linger on the metal surface.
When possible, use aluminum foil to protect the BBQ grates from food spills. Each time you clean your grill, apply vegetable oil to the grate surface with paper towels to prevent food from sticking.
Always make sure to close the grill lid securely when not in use to protect the inside from rain and moisture. If possible, store your grill inside a garage or shed.
Removing the build-up of rust from your grill grates is easy using a few simple ingredients and a bit of elbow grease. Preventing rust from building up on your grill is nearly effortless by following a few preventative steps. The only thing left to worry about the next time you fire up your grill is what's for dinner.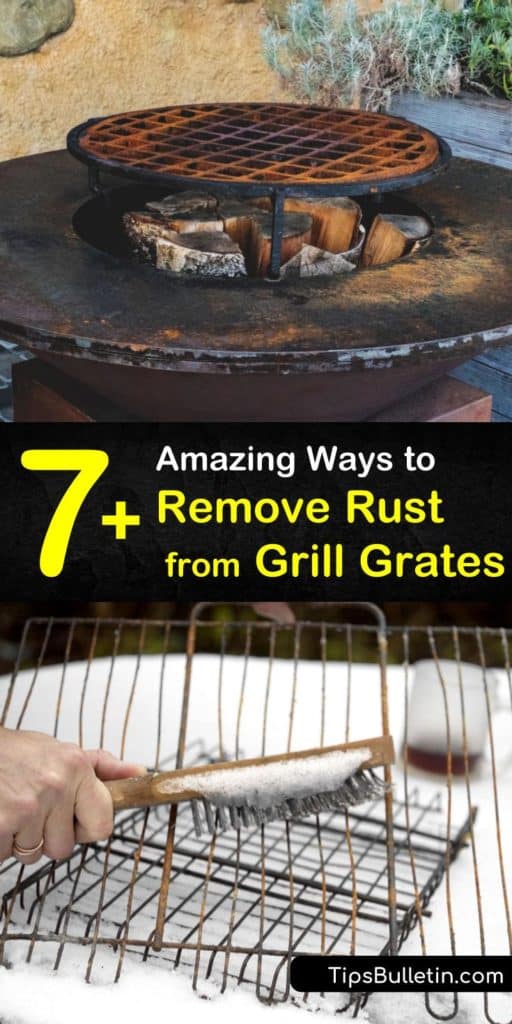 We hope that you enjoyed learning how to clean rusty grill grates using everyday household items and that you'll share our grill cleaning tips and recipes with your family and friends on Facebook and Pinterest.