One of the trickiest areas to clean in the bathroom is the shower doors. No matter how often you clean them or what you clean them with, it seems like you are continually cleaning soap scum from glass shower doors.
If you are in a never-ending battle to remove soap scum from glass what you need is to learn the best way to clean glass shower doors. One of the questions we are asked when people are learning how to clean shower doors is once they are clean, how do you keep them looking neat.
A homemade shower glass cleaner is the best way to clean treated glass shower doors. Once the doors are clean, there are several different products you can use to keep the soap scum and hard water stains from coming back.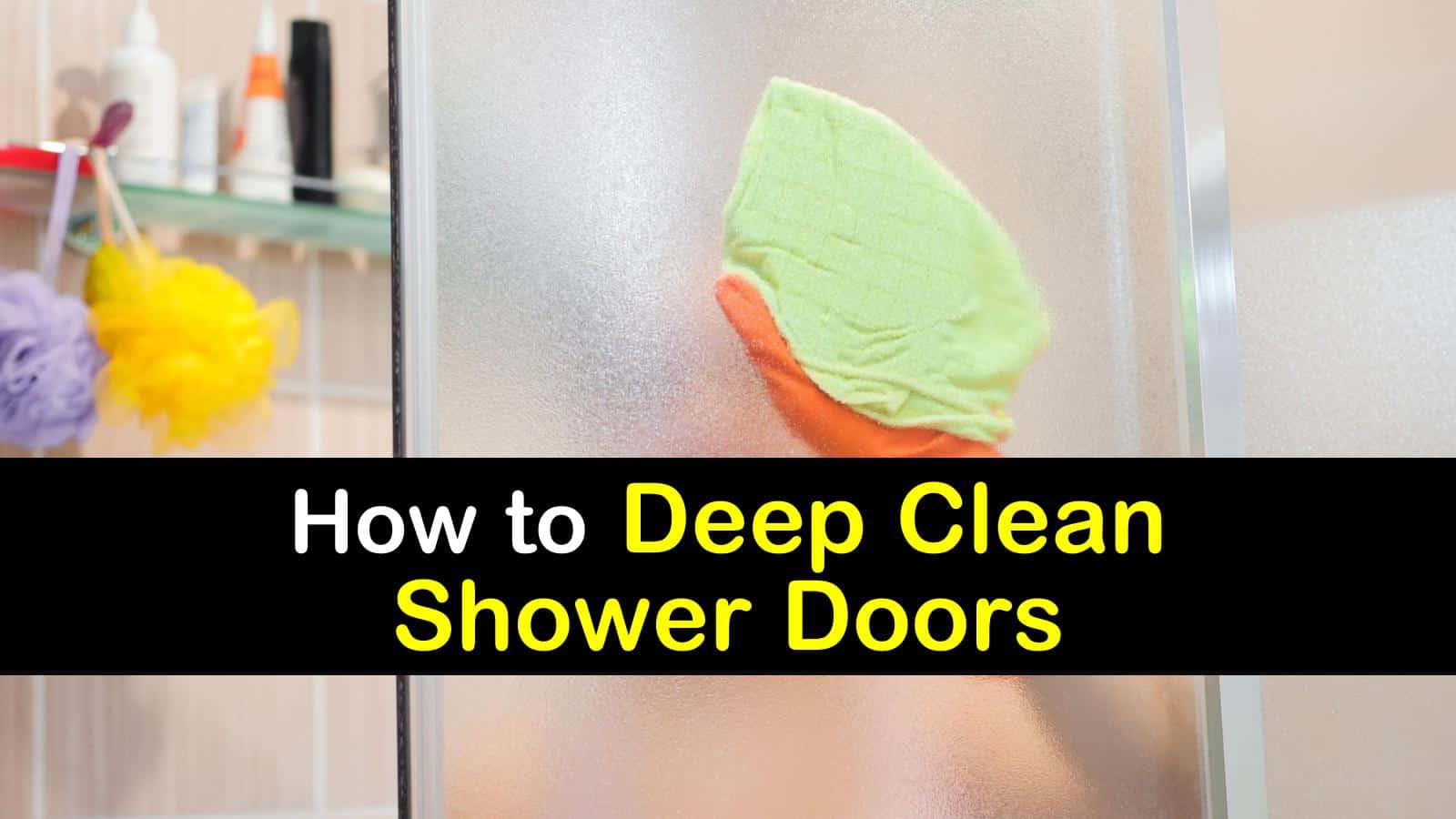 When is the best time to clean your shower doors?
Most people think cleaning shower doors only needs to be done weekly, but the best time for cleaning glass shower doors, as well as your entire shower, is right after every shower. Cleaning the shower surround, as well as the doors, is best done directly after a shower because the hot water loosens dirt and grime.
Cleaning the doors and surround is simple. Use a Magic Eraser or similar foam cleaning pad to wipe your shower walls and doors quickly.
Quick Tips to Deep Clean Shower Doors
Follow our recipes and DIY tips for how to clean glass shower doors the easy way. You probably have many of the ingredients already and can take care of this cleaning task immediately, if you choose.
Homemade Shower Door Cleaner
Cleaning soap scum from glass shower doors and cleaning anodized aluminum shower doors requires using the right cleaning products along with some patience and elbow grease.
To remove hard water stains from glass shower doors, slowly add just enough vinegar to the baking soda to make a paste. The mixture will begin to fizz; wait for it to stop.
Use a sponge to spread the paste across the shower doors. Allow the cleaner to sit for 15 minutes, as this greatly assists in removing hard water deposits.
Scrub shower glass cleaner away with a window scrubber and some water to clean glass without streaking. Use paper towels and a squeegee to dry shower doors. Now that you know the best way to remove soap scum from a shower door, as well as mineral deposits, spray Rain-X on your glass doors and wipe with a microfiber cloth.
Use weekly to keep the haze away and to remove soap scum from glass. In addition to taking care of the shower glass, this solution is an excellent shower tile cleaner and one of the best ways to clean a mirror without streaks, as well. Take care of cleaning the entire shower and your mirrors with a single cleaner!
DIY Shower Glass Cleaner
Sometimes you want to clean the glass doors with minimal scrubbing, but will this work to get rid of soap scum film? If you use the right cleaner, it will serve as an excellent DIY soap scum remover for glass shower doors.
Combine Dawn and vinegar in a spray bottle. Spray liberally on shower glass or for cleaning acrylic glass and let stand for up to two minutes. Rinse with hot water and wipe with a paper towel. Reapply if needed for stubborn soap scum.
Clean Shower Glass Corners
The corners of any shower doors are the hardest to clean and keep clean, as everything runs down and builds up in there. Mold sometimes accumulates without your even realizing it.
To clean mold from shower doors and cleaning the corners and edges requires making a paste with lemon juice and baking soda. Apply the paste with gloved fingers or an old rag and scrub the paste with an old toothbrush. Rinse clean and wipe dry.
Glass Film Remover
Mineral buildup leaves your glass doors looking gross. Using the right cleaner gets the film off with minimal fuss.
Spray doors with vinegar and let stand for several minutes. While allowing the vinegar to soak, create a paste using equal parts baking soda and salt with a small amount of water.
Use a sponge to apply cleaning paste to vinegar drenched doors. Scrub gently to remove film and rinse with clean water.
If you want to prevent the film from coming back, try creating a barrier with lemon oil furniture polish. Using a soft rag, apply lemon oil to glass doors, and let stand for two minutes.
Rub off excess polish with a soft cloth. Always use a shower squeegee to wipe off excess water after each shower.
Clean Shower Curtains and Liners
Sure you can toss your shower curtain and liner if mold or mildew is a problem or you can make them look brand new again by simply cleaning them. To clean your shower liner, toss it in your washing machine.
Use a gentle cycle with laundry detergent or a ½ cup of vinegar. Dry for twenty minutes on low heat and hang up immediately.
Clean your shower curtain using one gallon of hot water mixed with a ½ cup of bleach. Drench a sponge in the cleaning solution, squeeze out the excess, and wipe down the shower curtain. Rinse the shower curtain using hot water from your showerhead.
How to Clean Bathroom Fixtures
Part of deep cleaning your shower involves cleaning your fixtures, which includes the showerhead. Make sure you clean showerhead with vinegar to remove internal buildup. Place showerhead inside a plastic bag and add enough vinegar to submerge it.
To remove limescale from a shower head, seal the plastic bag around the showerhead and allow it to soak overnight. Cleaning your fixtures depends on what they are made of, too.
For brass fixtures, use equal parts lemon juice and baking soda to form a paste. Scrub them with an old toothbrush dipped in the cleaning paste. Allow to dry and buff brass fixtures with a soft, clean cloth.
Cleaning mineral deposits off other types of fixtures can be done with vinegar, paper towels, warm water, and some liquid soap. Soak paper towels in vinegar and wrap securely around the faucet and handles. Allow sitting overnight.
The next day, fill the sink with warm water and a small amount of liquid soap. Remove the paper towels and use an old toothbrush to scrub the faucet and handles to remove any remaining deposits.
If you have noticed an unpleasant smell coming from the shower, you may have a backup in the drain. For the simplest remedy, clean the shower drain with boiling water. If that doesn't release the clog, check out the excellent DIY recipes in our link to get rid of both the odor and the blockage.
Clean Your Shower with a Daily Shower Spray
To keep your shower looking cleaner longer, use a daily shower spray in between deep cleanings. Making your bathroom cleaner with ingredients around the house not only makes the best fiberglass shower cleaner, but it also eliminates the need for harsh chemicals.
Combine everything inside a spray bottle and shake to mix. Spray the shower, including the walls, fixtures, and doors with the cleaner. Open shower door and leave open to air out after spraying. If using on glass doors, do not spray until the doors have been squeegeed.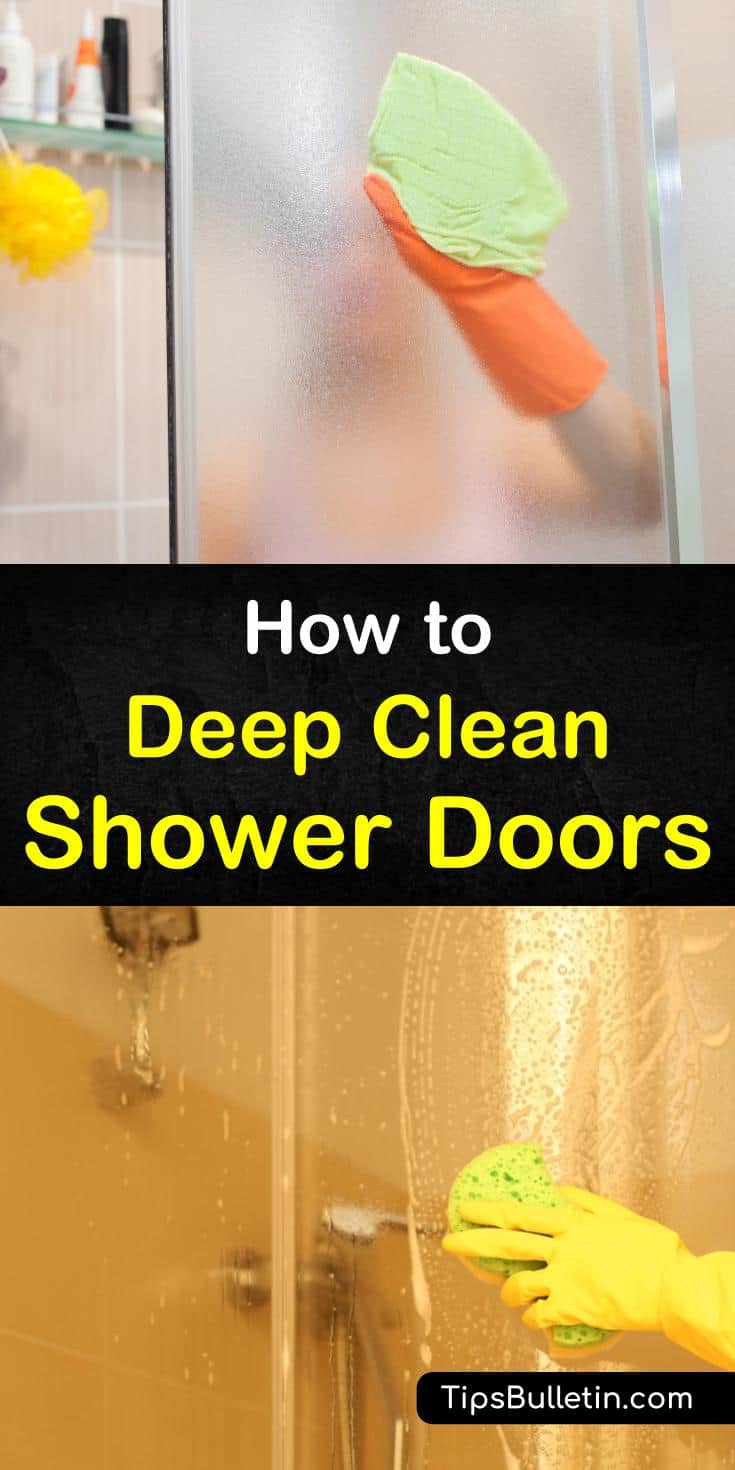 Thank you for reading these tips on how to clean shower doors. If you found any of these bathroom cleaning tips and ideas useful, please take a minute to share the best way to clean glass shower doors with others on Facebook and Pinterest.