Silver jewelry adds style and class to our lives. You can wear silver for both casual and formal occasions, and there's sure to be a silver piece for all budgets. Silver can get tarnished and dirty, though, and if you don't know how to clean silver jewelry, trying to restore your pieces can be frustrating and time-consuming.
That's why it's crucial to have a tried-and-true silver jewelry cleaner method on hand for all occasions. This article demonstrates how to make your silver jewellery shine again. We give you seven great recipes for silver jewelry cleaner to make sure that your earrings and silver necklaces stay beautiful.
You'll get some fantastic recipes for daily silver cleaners and a few unique heavy-duty methods you can use to tackle tough jobs. Find easy ways to polish tarnished jewelry with simple at-home methods. Before long, your jewelry will gleam once again.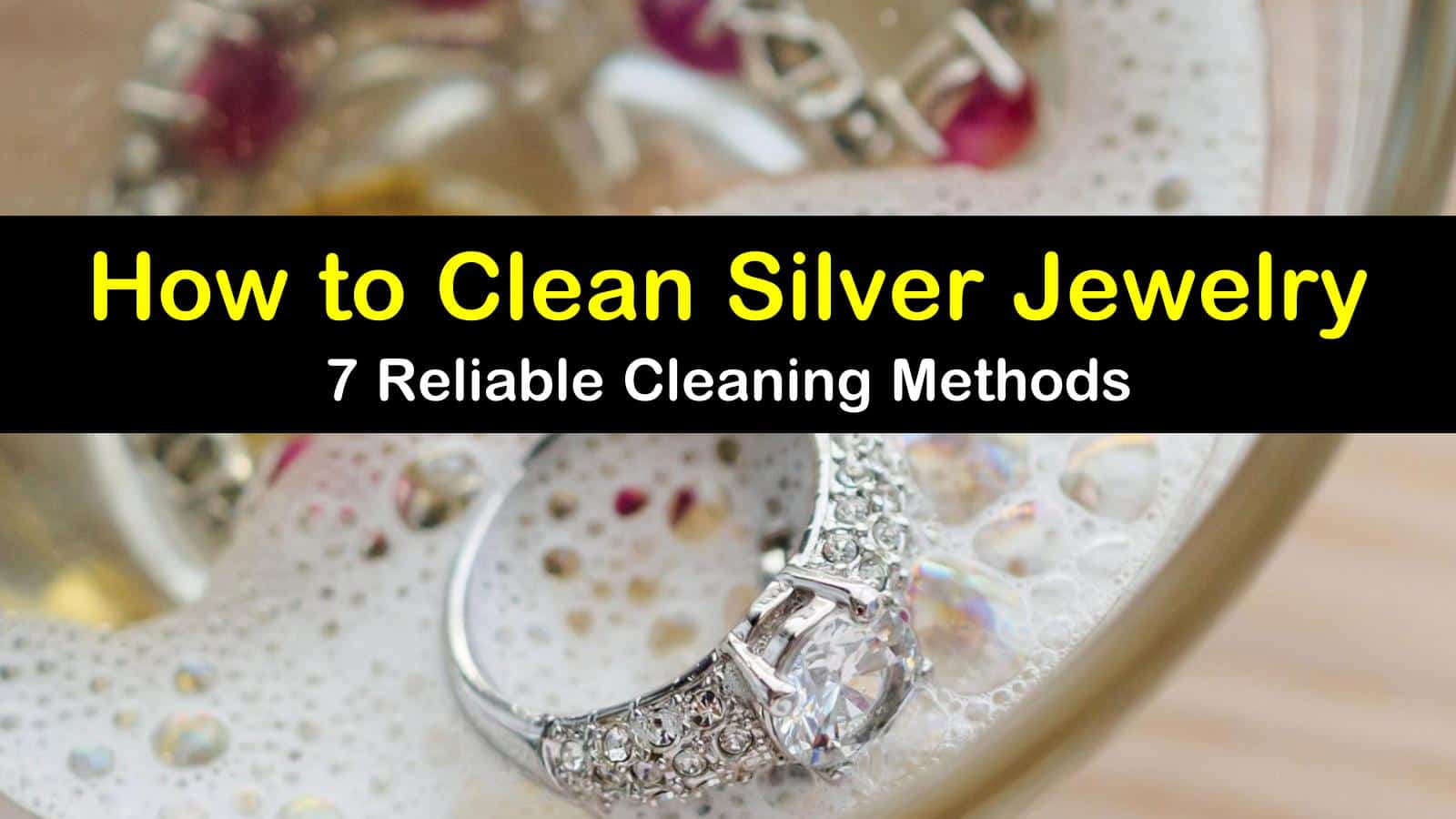 Learn the Best Ways to Clean Silver Jewelry
Before cleaning your silver, you need to know if it is real silver or silver plate. There are different methods to clean silver plated jewelry or other items than real silver. Sterling silver will usually have a tiny stamp somewhere on the item that identifies it as being silver rather than just plated with silver.
Daily Silver Jewelry Cleaner
You're going to encounter different levels of tarnish and grime on your silver jewelry depending on the piece and what it's encountered. It's a good idea to use the weakest cleaning solution that can get the job done when you're cleaning silver jewelry at home to make sure that you don't damage your silver pieces.
To ensure you have the right home remedy to clean silver jewelry, you need to have a wide range of daily cleaning options. This section looks at several DIY silver cleaners that you can use regularly and not harm your jewelry.
We show you how to clean and polish silver using everyday household items, including ketchup and dish soap. You'll get some dynamite tips on how to clean silver jewelry at home without reaching for abrasives or harmful chemicals.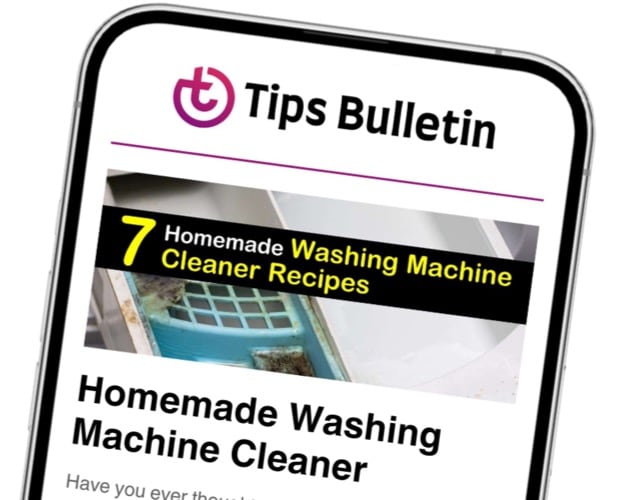 Finally, an email that Transforms Your Home.
Get the latest home and garden tips from our experts, delivered straight to your inbox.
Clean Your Jewelry with Dish Soap
Dish soap works on a lot more than your dishes and silverware. The same properties that make dish soap so effective at cleaning your eating and cooking surfaces make it perfect for cleaning other areas, too. You can use dish soap to wash clothes or get rid of wasps, and it makes a fantastic homemade silver jewelry cleaner, also. Use dish soap for daily jewelry cleanings.
Don the gloves, and combine the water and soap in the bucket. Let the silver pieces soak in the warm soapy water for a minute or two, and gently scrub them with the toothbrush. Rinse all the jewelry under warm water, and dry them with a clean cloth. This method works great for cleaning pewter jewelry or a tarnished silver bracelet.
Get Your Silver Jewelry Clean with Vinegar
Vinegar is one of the great unsung heroes in your pantry. Thanks to the acetic acid it contains, vinegar is the go-to product to preserve vegetables. You can also use vinegar to clean coins and degrease refrigerator coils, and it does a bang-up job as a home made silver polish.
Vinegar halts the tarnishing process, as well. Because vinegar contains acid, make sure not to let your jewelry soak for hours to avoid causing pits and other wear in the metal.
To clean silver with vinegar, pour the vinegar into the bowl, and soak the jewelry in the vinegar for five minutes or so. You can swish it around to ensure that the vinegar penetrates all small crevices.
Scrub gently at the tarnish and grime with the brush until it lifts away, being sure to get all sides of the piece. Rinse under warm water and dry the jewelry with a clean cloth.
Get Your Silver Jewelry Looking Like New with Ketchup
You might be surprised to learn how useful ketchup can be when you need to clean metal jewelry. Ketchup contains both vinegar, whose cleaning properties we've already covered, and tomatoes, which have cleaning power of their own. Combining the two cleaning products will do a number on your silver and sterling silver pieces.
Place the jewelry in a bowl to keep your workspace tidy. Squeeze ketchup onto the piece of jewelry, and scrub it with a brush until the grime and tarnishing lift off. Rinse the piece thoroughly under warm water to remove any residue, and dry it with a clean cloth.
How to Make Silver Jewellery Shine
Heavy Duty Cleaners
Sometimes, daily treatment isn't enough to get your jewelry back to mint condition. When your standard cleaning options can't chase away the dirt and tarnish, you need to reach for the more robust cleaners.
Having a reliable heavy-duty silver cleaning method will give you peace of mind and ensure that you can handle any tarnished jewelry that comes your way. This section looks at how to make silver jewellery shine using high-powered cleaning solutions.
You'll learn how to tackle the worst stains with standard home products such as toothpaste, cola, and lemon juice. And, we show you how to make a fantastic silver jewelry cleaner from aluminum foil and baking soda that can restore a gleam to any silver bracelets or necklaces.
Scrub Away Your Silver Tarnish with Toothpaste
Like vinegar and ketchup, toothpaste has a long history as a cleaning product. Thanks to toothpaste's combination of chemical and abrasive cleaners, you can use it to clean tile and grout stains, remove discolorations from brass, and get rid of dirt and tarnish from silver jewelry.
Test this option on a hard-to-see spot first to avoid scratching your jewelry. Apply the toothpaste to the jewelry using the toothbrush, and scrub the silver pieces. Take care around any gemstone embedded in the jewelry to avoid scratching it.
Rinse the silver in warm water a few times to check your progress. When you've removed all of the grime and tarnish, rinse the silver thoroughly and dry it with a clean cloth.
Use Cola to Clean Your Silver Jewelry
Humble cola is one of the better cleaners you'll find. Thanks to high levels of carbonic acid, soda eats away at grime, tarnish, and other contaminants.
You can clean car battery terminals with cola, and you better believe it'll clean up your pure silver and sterling silver jewelry. Never let your jewelry soak in cola unsupervised, however, to avoid damaging the silver.
Pour the cola into a bowl, and let the pieces soak for about five minutes. Scrub the jewelry until the stains and tarnish lift away, making sure to get in any crevices. Then, rinse the silver pieces in warm water, and dry them with a clean cloth.
Get Your Jewelry Clean with Salt and Lemon Juice
Like vinegar and cola, lemon juice contains acid to give it a cleaning boost. When you combine lemon juice with the abrasive scrubbing action that salt provides, you get a top-notch silver cleaner that can take on any problematic stain or discoloration.
Lemon juice prevents tarnish from forming, too. Test this cleaning method on an inconspicuous spot before using it on the entire piece.
Mix the salt and lemon juice in a bowl, and let the silver jewelry pieces soak in the mixture for about five minutes. Rub with the silver polishing cloth until the discolorations lift off the jewelry. Rinse the pieces under warm water, and dry them with a clean cloth.
Restore Your Silver Pieces with Foil and Baking Soda
If you have a silver jewelry piece that has lost its luster, you don't have to send it to the back of the jewelry box. You can use foil and baking soda to bring discolored silver back to a showroom shine.
When you expose aluminum foil to heat and a baking soda solution, you cause a chemical reaction and convert silver sulfide to silver; this electroplates your jewelry with a new shiny coating. It'll look brand new as if it just came from a jeweler. Do not use this method with gold jewelry.
Pour the cup of water into the pan, and bring it to a boil. Line the bowl with the foil, making sure to keep the shiny side facing up. Pour your boiling water into the bowl, and stir in the tbsp of baking soda.
Add the jewelry, and let it sit in the hot water mixture for two to five minutes. Remove the pieces using tongs, and rinse them under cold water — buff with the cloth to bring out a jewelry store shine in your pieces.
We hope you had a great time exploring this article on how to clean silver jewelry. Silver jewelry is lovely and adds grace and style to a wardrobe, but it can be challenging to keep clean and shiny. Our guide shows you the best ways to clean silver jewelry at home so you can have beautiful accessories for every occasion.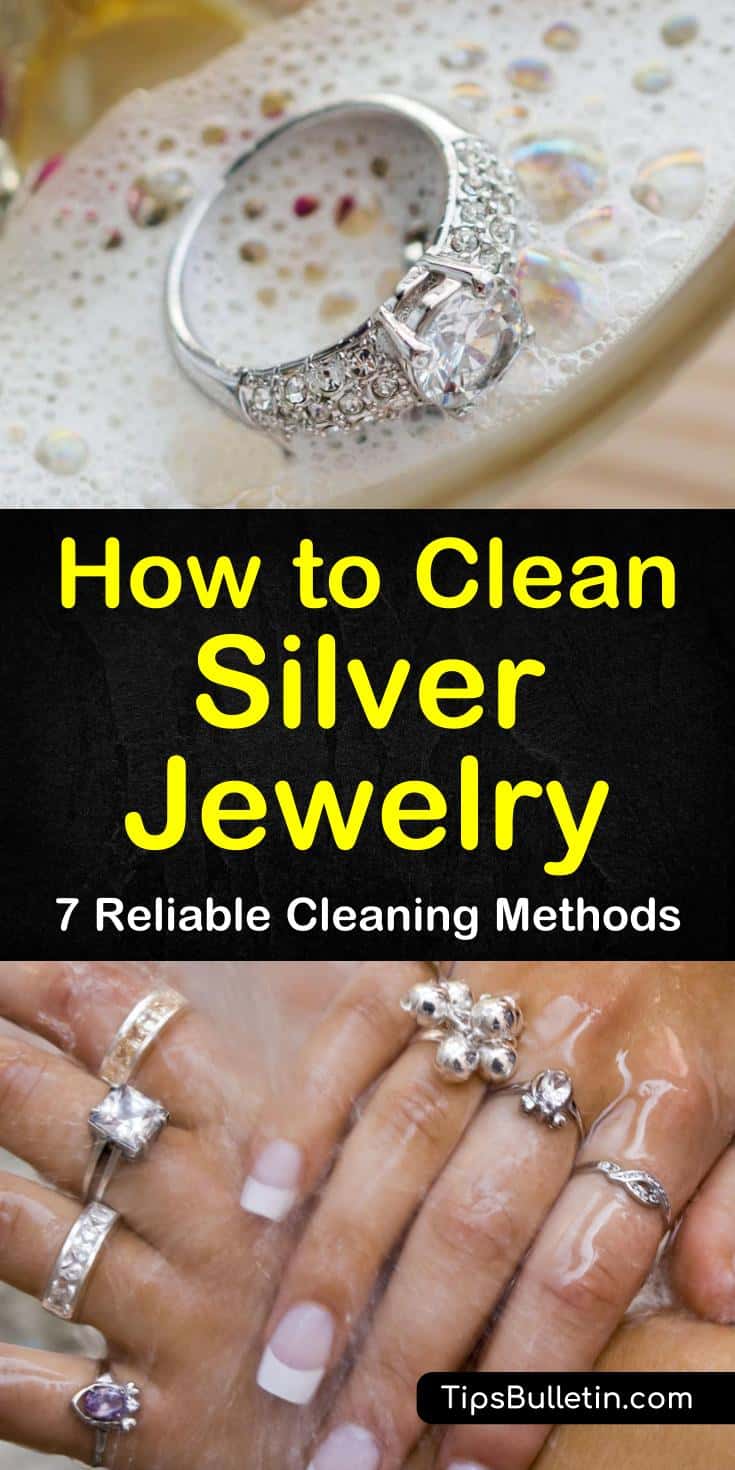 Thank you for checking out our silver jewelry cleaning guide. Did you find our article on cleaning silver jewelry helpful? If so, please help us out by sharing our tips on how to make silver jewellery shine with your friends and family on Pinterest and Facebook.