Silver plated items like jewelry, plates, and silverware provide all of the same allure of solid silver at a fraction of the cost. While the surface of silver pieces may be the same as their plated counterparts, cleaning the two items often require alternative methods.
How to clean silver plate on flatware and jewelry requires a softer touch and less-abrasive cleaners to preserve the quality of your plate.When cleaning silver plated items, keeping in mind the dos and don'ts of cleaning solutions will hugely impact the state of your family heirlooms and silverware.
If you want to protect the silver plating on your 40-year-old tea set, then you don't want to use a toothpaste scrub or pure vinegar cleaner. A natural silver polish for plated items is easy to create and requires simple ingredients for most recipes. Follow these simple tips below to point you in the right direction.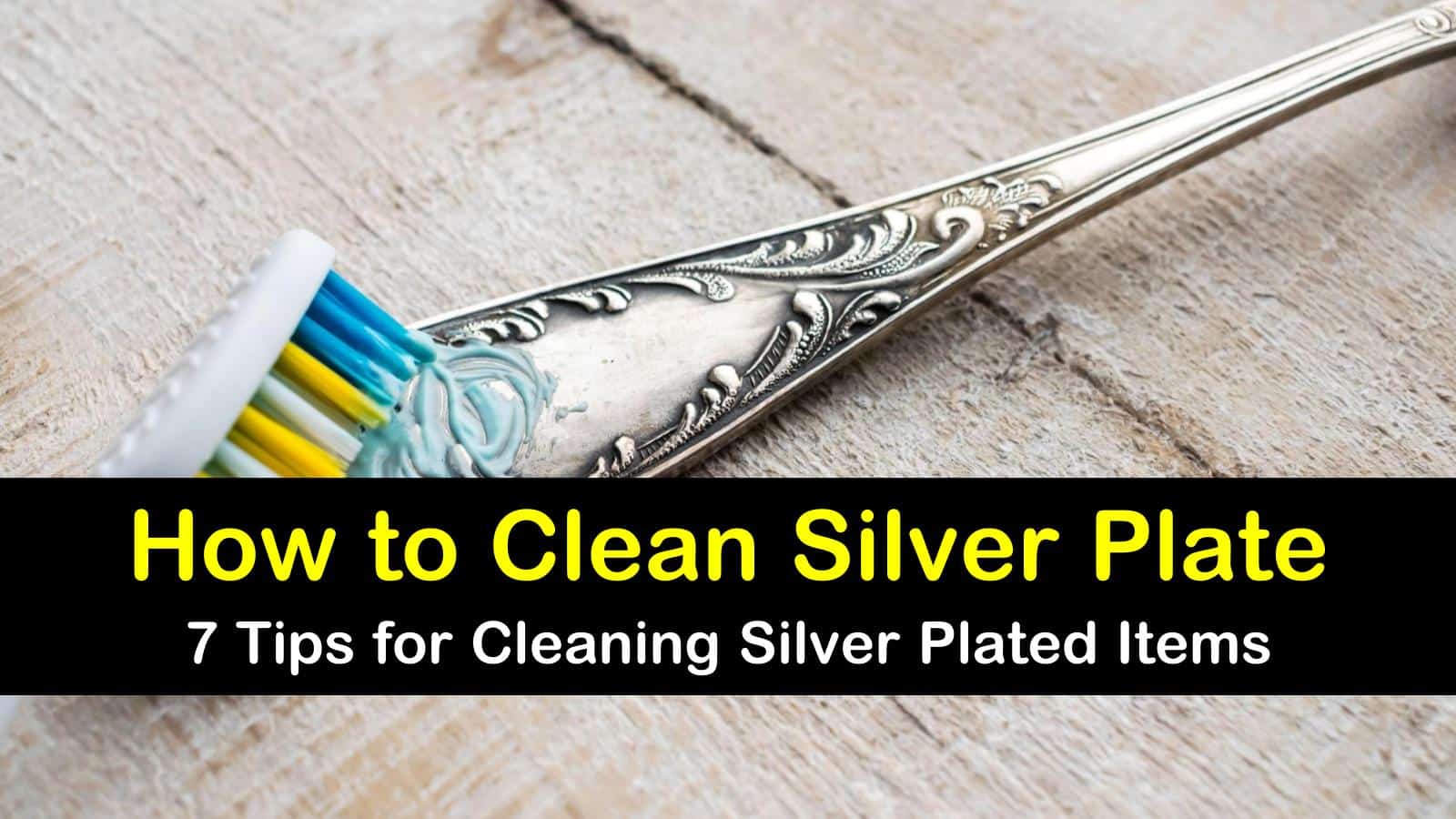 What is the difference between cleaning silver plated items and pure silver?
Only a thin layer of silver separates the base material of silver plate from the outside elements, so it is imperative to retain silver plating for as long as possible. Many of the cleaning methods that are acceptable and preferable to use to clean sterling silver items will damage the silver on plated items, causing the material to rust and tarnish much faster.
The plating will erode and expose the metal beneath to harsh chemicals and everyday wear and tear much more quickly. Avoiding a highly acidic silver cleaner like white vinegar or lemon juice, unless diluted with other cleaners, not only spares the silver plating but the base metals peeking out from beneath the plate.
Ensuring the silver plate does not flake off due to scratching or scraping the metals is the number one priority. There are several cleaning methods appropriate for silver plate to get it shining again.
Safe Solutions for Cleaning Silver Plated Items
Because silver plating may eventually chip away with repeated exposure to abrasives and harsh chemicals, you want to ease it into the cleaning process with a mild cleaner.
The Safest Method for Cleaning Silver Plated Items
This process involves using warm water and dish soap to clean jewelry at home safely. When using this method to clean silver plated jewelry, soak the item in a bowl of warm water then rub a few drops of liquid dish soap along the chains and pendants using your fingertips.
Always thoroughly rinse with clean water, and dry jewelry on paper towels before storing. This method is also how to clean pewter without polishing.
Avoid Using the Dishwasher and Concentrated Detergents
Especially when it comes to cleaning plated silverware or flatware, the natural compulsion would be to toss these items in the dishwasher and send them on the quickest cleaning cycle. However, the high hot water levels and strong dishwasher detergent can speed up the tarnishing process on a silver plate. Handwashing your silverware is ideal for maintaining the fragile exterior without causing it to chip or flake.
Clean Silver Plated Jewelry Using a Baking Soda Paste
Baking soda is one cleaning solution that effortlessly cleans both solid silver and plated silver. To use this cleaner, add equal parts warm water and baking soda to create a paste. This mixture is then smeared over the surface of your jewelry item and left to seep into the metal for one hour.
After the hour is up, use a soft toothbrush to scrub between the crevices and crannies of the jewelry. This method is especially useful for jewelry items with braided chains or intricate pendants. Rinse with clean water and dry using a soft cloth.
Reverse Tarnished Silver with an Aluminum Foil Reaction
If the third option does not restore the original luster of your jewelry or silver plated items, then a reversal of silver sulfide, or tarnishing, may be in order. Using aluminum foil, you can create a chemical reaction to reverse the tarnishing process to restore silver sulfide to plain sterling silver. You will need the following ingredients for one of the best DIY homemade jewelry cleaners.
To clean a silver dollar or other silver-plated items, line the glass bowl with a sheet of aluminum foil with the shiny side facing up. Add the baking soda along with the salt to the dish. Place your silver jewelry on top of the foil. Slowly add enough hot water to cover the top of the silver items.
Cover the bowl and leave it to soak for about five minutes. Use a pair of tongs to turn the jewelry piece over to ensure all sides of the jewelry have touched the foil. Then leave the item in the mixture for an additional five minutes. Remove, rinse, and dry.
How to Clean Silver Plate with a Silver Polish
Polished silver items retain a protective coating that keeps them shiny and safer longer. While over polishing some plated items can have the opposite effect, buffing your flatware with mild silver polish will preserve the plating. After cleaning your silverware, dry and add a small amount of polish with a polishing cloth.
Buff the area until the polish has completely blended into the silverware for a streak-free shine. Do not leave any excess moisture on the surface when you polish silver, as this can cause water spots.
Avoid Acidic Foods and Cleaners on Plating
The best way to preserve your plated silverware and flatware is to not only avoid using acidic cleaners like lemon juice and vinegar but also to limit the number of acidic foods on your plate. This includes using these plates and utensils for dishes that contain tomato sauce. If using these silver items with acidic foods can't be avoided, clean them as quickly as possible afterward.
Store Silver Plated Items Properly
Another way to prevent scratching and corrosion on your flatware is to store it properly. Place tissue paper or linens in between each plate, rather than stacking the silver on top of each other.
This step limits the amount of friction caused by the two plates rubbing against each other and eliminates the potential for rust due to the plating flaking off. You can also store flatware and silverware in airtight containers to reduce the impact of oxidation.
Whether you are cleaning silver plated coins, silverware, or jewelry, these easy solutions and tips do not require much elbow grease. The idea is to work smarter, not harder, using methods that will easily clean and protect your silver plated items without making more work for your down the road.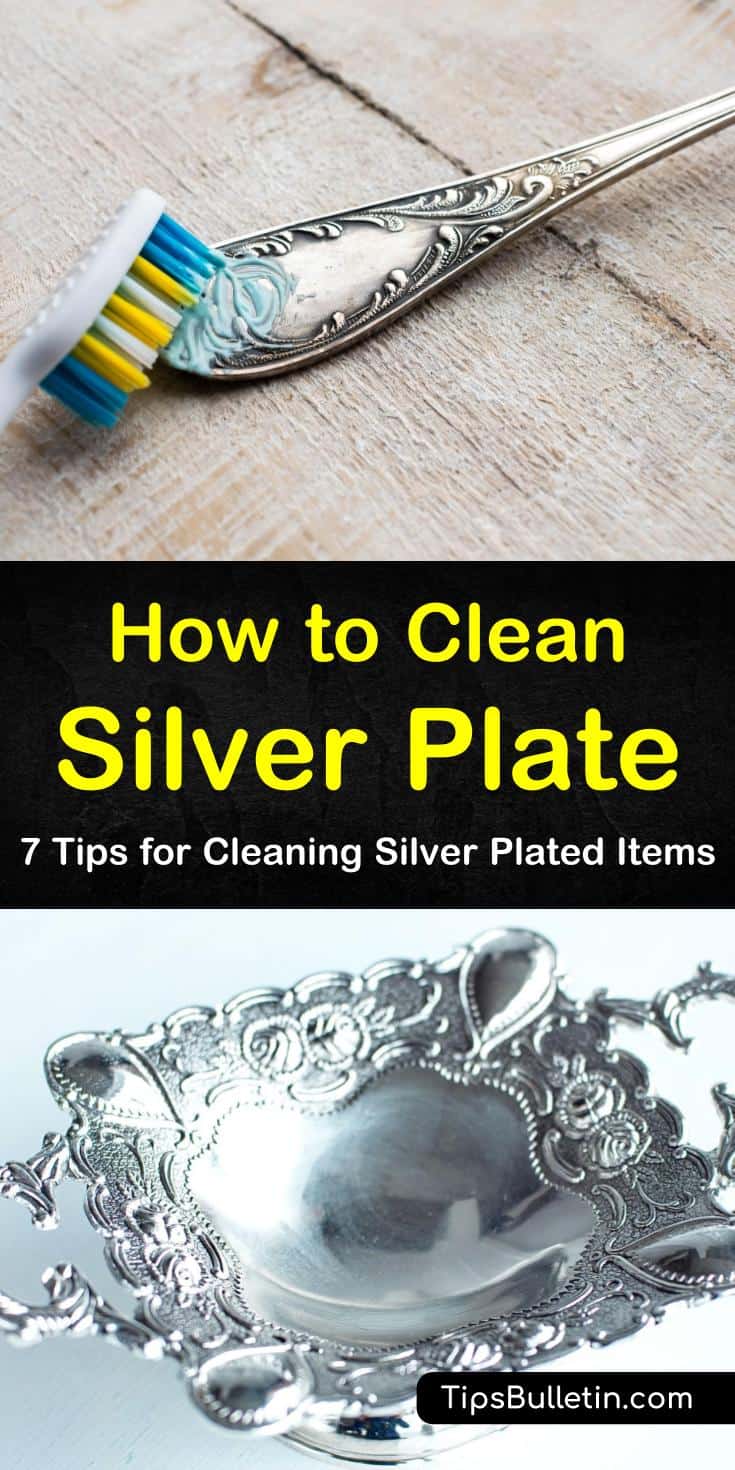 If you have enjoyed these plated silver cleaning ideas, don't forget to share how to clean silver plate on Facebook and Pinterest for all your friends and family.