Foot odor can happen to anyone from time to time, and everyone can benefit from knowing how to clean smelly shoes. Unfortunately, it's not always easy to get shoes smelling good again after they have picked up a bad odor.
Stepping in a puddle or getting stuck in the rain will almost certainly result in foul-smelling shoes. Teenage boys have terrible smelling shoes practically unanimously. If you are involved in sports or any activity that takes place in hot and humid environments, you are likely to face this problem, as well.
If embarrassing foot odor is something affecting you or someone you know, and you need to know how to clean smelly shoes, we are here to help. We know some people seem to be prone to smelly feet and stinky shoes, but there are ways to combat the problem.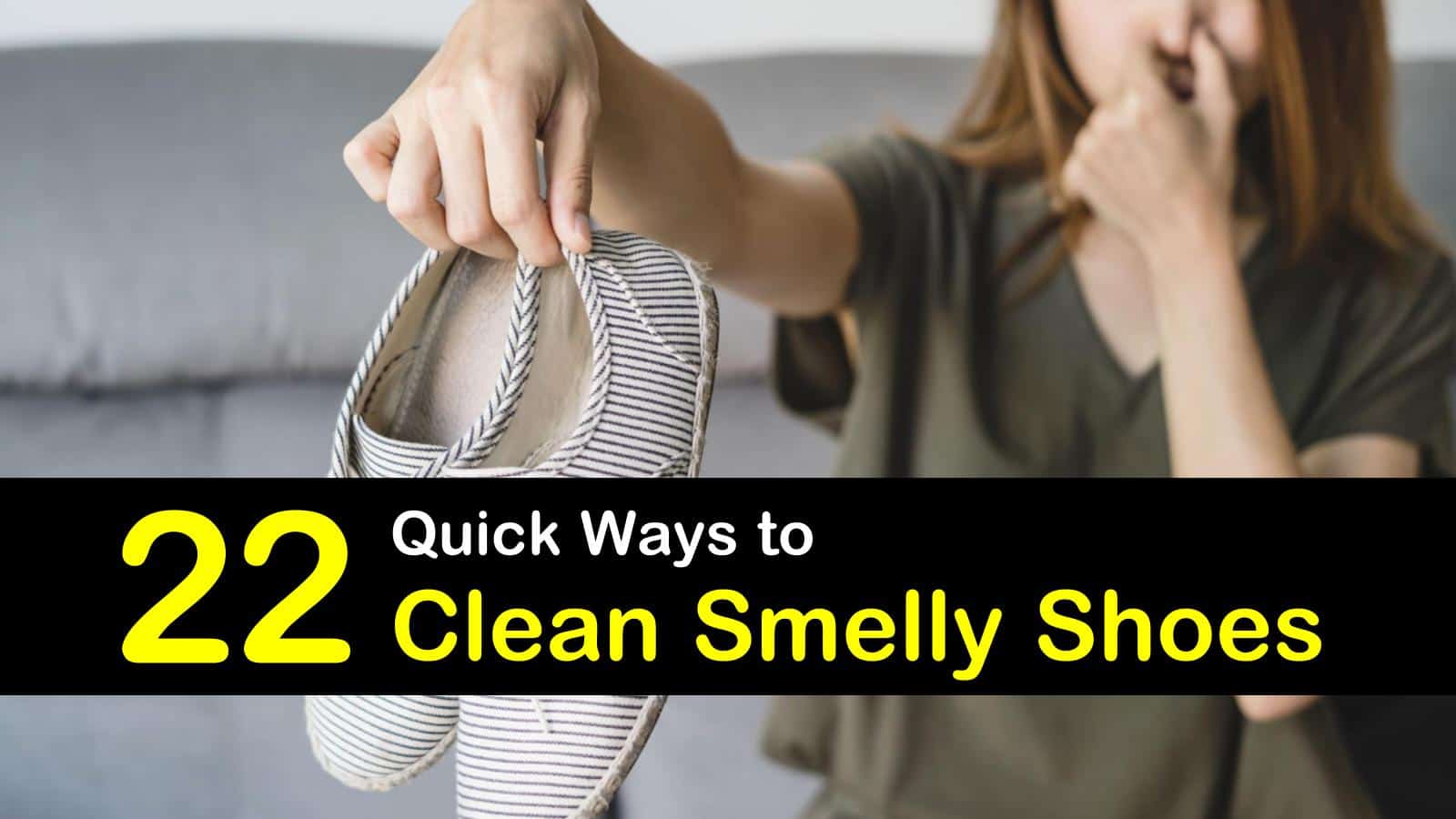 Quick Ways to Clean Smelly Shoes
We are going to let you in on some quick ways to clean smelly shoes and remove the foot odor once and for all. Visit a friend's house and leave your shoes at the door in confidence.
After cleaning your shoes, especially if you washed them in the washing machine, you may find that they are a little tight when you put them back on. Luckily, there are simple and effective ways to stretch canvas shoes so that they are comfortable on your feet once again, as well as being nice and odor-free.
What You Need to Deal With Stinky Shoes
Most of the things we are going to need can be found around the house or purchased at the dollar store. These tips are meant to show you how to clean stinky shoes and be something you can do regularly to help eliminate the problem permanently. Here are a few things you might want to pick up to get started. The rest of the things you can get as you need them.
Let's dive right in and begin to look at a few of the home remedies we can use when deodorizing our smelly shoes.
Start With the Foot
The best place to start for how to remove shoe odor is with the foot. The foot is often the cause of the smell so we must look at what's causing the foot to be stinky before you try to get odor out of shoes no matter what the type.
Exfoliation
If your feet are heavily callused, these calluses can absorb odor-causing bacteria and transmit them to your pairs of shoes, and in some cases, into the carpet. Topical deodorizers may not work very well because the bacteria are embedded.
In this case, you need to regularly exfoliate the foot with a callus remover foot file or a pumice stone to remove the dead skin and eliminate the bacteria. When finished, be sure to clean the foot very thoroughly, especially between the toes.
Cleaning Running Shoes
In many cases, the reason behind bad odor is a sweaty foot. If the foot is sweating, you can try to find a shoe that allows more air to pass through and cool the foot — a lightweight cloth shoe as opposed to a heavy leather boot, for instance. A running shoe is a perfect example because it is lightweight, breathable, and washable.
Deodorant
Deodorant can be your best friend. If you have incredibly sweaty feet, use a deodorant with antiperspirant to keep the sweat levels to a minimum. If you feel that your feet don't sweat that badly, an ordinary deodorant should do the trick just fine.
Several brands make spray deodorant that you can use as a foot spray to get good coverage over the entire foot and inside the shoe. Deodorant will not only help prevent sweating, but it will also kill the odor-causing bacteria. It is also likely to transfer to the shoe where it can continue deodorizing.
Foot Powder for Bad Smells
Foot powder can be helpful to absorb the bad odor. There are several types of foot powders available, and some of them feature extra deodorizers that can help remove a foul odor. Baking soda makes a great foot powder and can absorb odors from the foot.
Wear Socks
Often, people forgo socks without realizing that it can cause your feet to sweat more. Socks also do an excellent job of absorbing sweat and moisture instead of leaving it behind in your shoe where bacteria can breed and create a foul smell.
Socks cushion your feet and reduce callus build-up. When washing socks, flip them inside out, so dead skin cells wash away easily.
Black Tea Soak for Feet
Brew a robust black tea using several tea bags. Pour the tea in a bucket and soak your feet for 30 minutes.
Do this for at least one week while a tannic acid skin barrier builds to protect the skin. Tannic acid protects the skin from inflammation and may also create an environment that is not suitable for bacteria to grow and produce a shoe odor.
Salt Water Soak
Soaking your feet in Epsom salts will help pull moisture out of your skin to provide a harsh environment for bacteria. It will also soften the skin, especially calluses, and make exfoliation easier.
Soaking With White Vinegar
Soak your feet in a ba filled with one part white vinegar and two parts water for 30 minutes. White vinegar will kill fungus and molds that can cause foot odor, and it will help soften and remove dead skin.
You can also put white vinegar in a spray bottle and create a DIY shoe deodorizer spray. Use to spray the inside of the shoes regularly to fight odor.
Aluminum Acetate Soak
Aluminum acetate is more of a when-all-else-fails tip because it is a dangerous chemical. Although it does remove foot odor, dry out your feet, and create a harsh environment for bacteria, it can also cause dryness, itching, and inflammation to your skin.
Finish With the Shoe
This section is devoted to a homemade way to deodorize sneakers and other types of footwear.
How to Clean Smell Shoes With Baking Soda
Baking soda is a fantastic deodorizer. To get the smell out of boots or shoes, spread a thick layer of baking soda inside your smelly shoes and leave overnight. Vacuum the baking soda and odor out the next day.
Once you have succeeded in removing the odor, put a small amount of baking soda in your shoes each night and tap them out in the morning to keep new odors from getting started. Spreading baking soda over your socks will help them fight odors as they absorb sweat when you wear them.
If you are out of baking soda, use cornstarch or potato starch instead. The difference between cornstarch and potato starch is not applicable in this situation. Note that baking soda does work best and is preferred over these starches.
If odors have spread to the carpet, baking soda is an ideal way to get smell out of carpet. Just sprinkle it over the carpet, leave it for a couple of hours, and vacuum.
Alternate Your Shoes
If you wear your shoes for a large part of the day, many days a week, they will undoubtedly become smelly. It may be possible to freshen them by merely allowing them to air dry.
Purchase a second, or even a third pair of shoes and alternate them. Of course, children outgrow shoes quickly, but this tip can benefit an adult.
Get Rid of the Smell in Shoes With Sunlight
Many times the cause of the bad odor can be a mold, mildew, and fungus very similar to the ones that cause athlete's foot. To get rid of smell in shoes caused by mold, place them in a sunny spot in the house.
If you can, place the shoes outside on a hot sunny day with the insides of the shoes exposed, as this will speed up the process and help eliminate shoe odor.
Remove Odor From Shoes in the Freezer
If your shoes stink, place them in a plastic bag and put them in the freezer overnight to remove the shoe odor. The cold temperatures will kill odor-causing bacteria and freshen your shoes. This solution works particularly well to get the smell out of slippers.
How to Clean Stinky Shoes With Essential Oil
Essential oils emit a powerful fragrance and are a great way to mask an unpleasant odor. It's one of the surprisingly effective ways to get the smell out of running shoes. Many essential oils, like tea tree oil, also contain antibacterial properties that can help destroy odor.
Mix the essential oil and water in a spray bottle. To get the smell out of boots or your favorite shoes, spray the mixture into the inside of the shoe and let sit. Continue to spritz the shoes regularly to keep odor at bay. You can also place a few drops on a cotton ball or two and stuff them in your shoe overnight for a similar effect.
Take care when using essential oils n pets. Many oils, including tea tree oil, can cause severe health problems for dogs and cats.
How to Clean Smelly Shoes in a Washing Machine
Many types of shoes, especially sneakers and running shoes, as well as house slippers, are machine washable and it is the best way to wash Vans. The washing machine is a great way of washing Toms shoes, too, and any other canvas or nylon-type shoes you may have.
To get rid of stains and foot odor and get gasoline smell out of shoes, use gloves and a scrub brush to scrub liquid laundry detergent into the insides of the shoes or on marks you need to remove.
To clean your favorite pair of shoes in the washing machine, be sure to remove the laces and put the shoes and laces separately in a wash bag or a pillowcase. Use regular laundry soap or make your own homemade sneaker cleaner with Dawn and vinegar.
Place the shoes and wash bag or pillowcase in the washing machine with several towels.The towels will pad the walls of the machine and prevent the shoes from banging loudly against the sides during the washing and rinsing cycles.
Use fabric softener or add a cup of vinegar during the rinse cycle to further reduce foul odors. Wash the shoes using a delicate cycle and cold water.
Note that it is not a good idea to put Uggs in the washing machine. The best way for how to clean Uggs and get rid of odor is to treat them with one of the non-invasive methods we have mentioned, like adding baking soda to the interior or leaving them in the sun for a few hours. You don't want to damage your expensive shoes by immersing them in a liquid.
Never put any type of shoes in the dryer because the heat can damage and even shrink them. Do not wash leather or suede shoes.
Deodorize Shoes With Rubbing Alcohol
Using rubbing alcohol is another way to deodorize shoes, as it is a surprisingly effective shoe deodorizer and disinfectant. Fill a spray bottle with rubbing alcohol and spray the inside of the shoes to kill bacteria. Let the shoes dry and the foul odor should be gone. Spritz shoes often to keep any bad odor from returning.
How to Fix Smelly Shoes With Shoe Insoles
There are plenty of shoe insoles available for purchase that are designed to fight foot odor. These often contain chemicals like baking soda to fight the odor, and they work reasonably well. Insoles are very easy to use and only require trimming to the right size and inserting into the shoe.
The downside to insoles is that they can be expensive and will only be useful for a short time. You will need to replace them often depending on how much your feet sweat.
How to Clean Stinky Shoes Using Cat Litter
Cat litter does a fantastic job of absorbing moisture, a key component in foot odor. To harness the power of kitty litter, put a small amount of a silica-based brand of litter into two socks and stuff one sock in each shoe. Let sit overnight to absorb the moisture and destroy the odor.
How to Fix Smelly Shoes With Cedar Wood
Cedarwood is a very powerful shoe deodorizer. Cedar contains essential oils that have antibacterial properties to kill off odor-causing bacteria. Cedar essential oils also have antifungal properties that can prevent athlete's foot and other fungus related conditions.
Fill your shoes with cedar wood chips to get moisture-absorbing properties like the other ideas mentioned. You can also use cedar wood insoles to get these properties in a more permanent form. This strategy works great as one of the ways to clean stinky soccer cleats or other shoes with a distinctly unpleasant odor.
How to Clean Smelly Shoes Using Denture Tablets
Denture tablets are rapidly gaining popularity as a fantastic all-purpose cleaner, and they are perfect for removing bad odors from shoes.
Fill a tub or sink with hot water and soak your smelly shoes overnight with a few tablets in each one. Once they have soaked, run them through the washing machine, and the odor should be gone.
Denture tablets contain powerful antibacterial ingredients that destroy odors and the tablets' effervescing action penetrates deeply into the material to kill germs beneath the surface.
Dryer Sheets Eliminate Smells
Dryer sheets are powerful odor eliminators that can help make your shoes smell fresh. Place one in each shoe overnight and enjoy much better smelling shoes.
A downside to dryer sheets is that they may contain potentially harmful chemicals that can worsen asthma. Many people have skin that is sensitive to the fragrances and cannot use them.
Steam Clean Your Shoes
When learning how to fix smelly shoes, steam cleaning is often overlooked. Steam cleaners are not very expensive and work great at removing foul odor. These handheld machines trade harmful chemicals for heat and can kill 99% of odor-causing germs. This machine is safe for the environment and can be used to clean many things around the home.
How These Tips Work to Eliminate the Unpleasant Odor
Bacteria, mold, mildew, and fungus make your shoes smell. Fortunately, all of these things require moisture and darkness to spread, and most will also shy away from alkaline or acidic environments.
The tips and tricks we present in this article all try all to do one of three things to work as a shoe deodorizer.
They kill or remove the bacteria, mold, mildew, or fungus using antibacterials, antifungals, acids, bases, scrubbing, and scraping.
They dry out the foot and the shoe using items that soak up moisture or prevent it from occurring in the first place. Things like socks, powders, and antiperspirants work to create a dry environment void of bacteria and fungus.
They use a combination of both for maximum odor-fighting properties.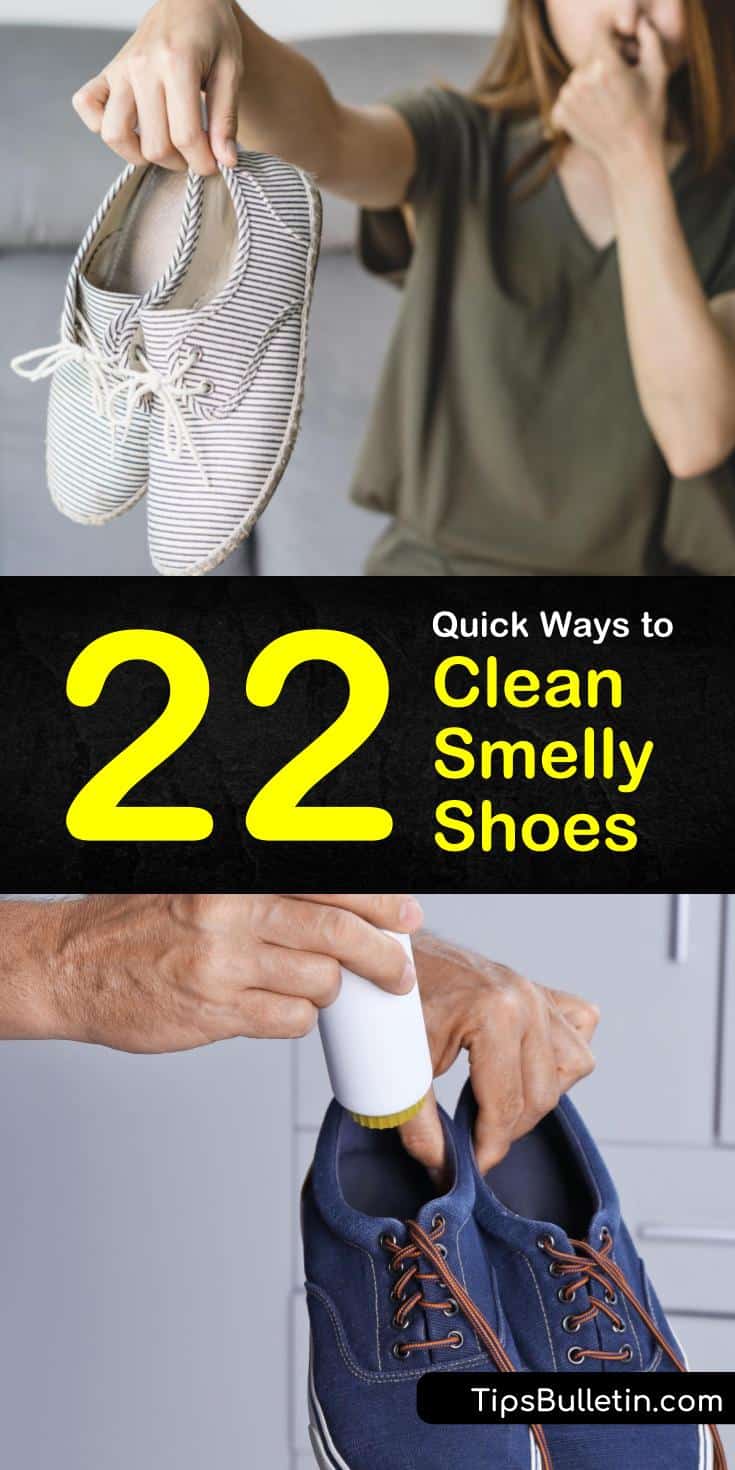 We hope that you have enjoyed our 22 quick ways to clean smelly shoes. If you have learned how to clean smelly shoes and solved your foot odor problem, please share this article on Pinterest and Facebook.