Athletic shoes are made to deflect sweat and moisture efficiently, but they require regular maintenance to keep the stink away. Learn how to clean smelly soccer cleats quickly and effectively while also picking up some great tips on preventative deodorizing. Sports don't have to stink – we'll show you how.
Soccer cleats, or football boots, have changed a lot over a few hundred years; one thing that hasn't changed is odor-causing bacteria. Every time your feet sweat inside a clean cleat, they leave behind natural body oils that attract bacteria which give off that characteristic "sweaty foot" odor that so many athletic shoes are prone to.
Although we can't control the natural process of perspiration, there are many effective DIY methods to employ when fighting foot odor. We've put together some of the best step-by-step tips for how to clean stinky soccer cleats, football boots, and leather athletic shoes. Test them all and discover which remedies work best for you.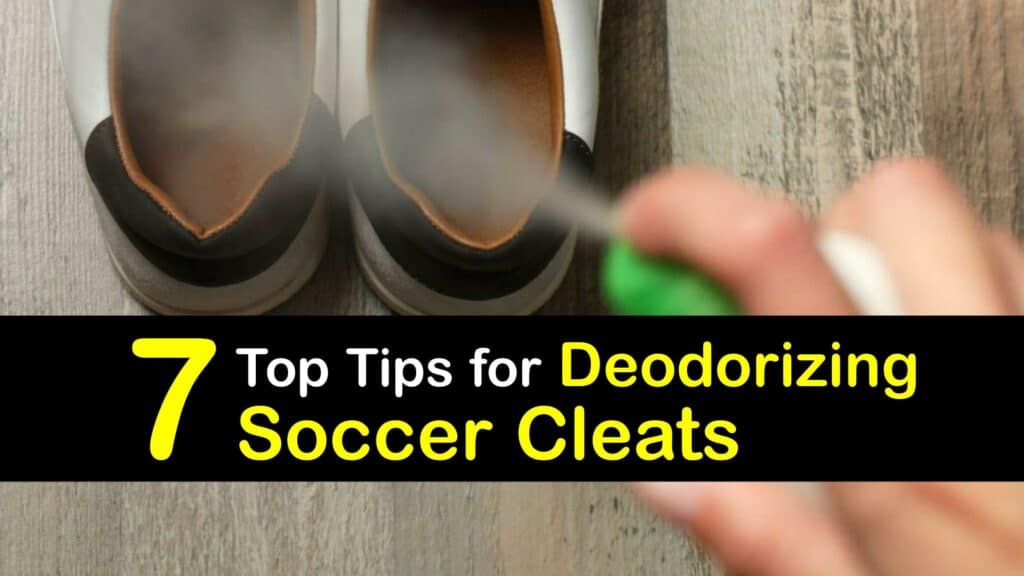 Discover How to Clean Stinky Soccer Cleats
Don't let stinky sports shoes take over your life. Discover how to clean smelly soccer cleats, how to deodorize cleats, and some terrific preventative shoe care techniques for the future.
How to Clean Smelly Soccer Cleats With Mild Detergent
Every odor-fighting routine starts with a deep cleanse, which means knowing how to clean smelly soccer cleats from the inside out is essential.
Some athletic shoes are more challenging to clean than others. For example, due to their construction, Nike football boots may cling to smells more than some synthetic boots; there are even reports of Nike football boots giving a cat pee odor due to the materials used in construction. The good news is that they're washable.
Before cleaning, knock the mud off those shin guards and stinky shoes. Before you deep clean muddy cleats, remove the laces and insoles to soak while scrubbing the surface dirt and grime from your equipment. Use warm water; cold water won't clean effectively, and very hot water damages the materials and adhesives over time.
Choose a mild detergent or liquid laundry detergent, get your soft bristled brush, and scrub the cleat in small circles. Grass stains and scuff marks might take some extra elbow grease. Allow the cleats, laces, and insoles to dry separately overnight before use.
If your cleats are made of rubber, you can put cleats in the dryer, but air drying is often best. Never put metal cleats in the dryer, as they can harm the drum.
Try a Dryer Sheet for Smelly Cleats
You don't need a lot of shoe expertise or knowledge about how to deodorize cleats when you have a few dryer sheets. For a quick fix, pop a fresh dryer sheet into your leather boots, stinky cleats, and even your gym bag and smell the difference right away.
Dryer sheets don't destroy the bacteria causing the odor; however, they mask the smell pretty effectively until you have time to do a deep clean. It's possible to use dryer sheets as a long-term solution to smelly shoes, though the cost adds up over time. Stick around for details about making a DIY, cost-effective shoe deodorizer instead.
Make a Shoe Sachet With a Coffee Filter
Do you want to learn how to make a DIY shoe deodorizer with a simple coffee filter and some baking soda? Homemade shoe sachets are a quick and convenient way to keep up with stinky cleats because they cost mere cents to assemble and provide protection from shoe odor.
Open a clean coffee filter, and spoon about a half cup of baking soda into the center. Gather the coffee filter edges and fasten them with an elastic band for a tidy shoe sachet.
Place the shoe sachets in leather shoes, athletic shoes, or any other area you need baking soda's moisture-absorbing power to remove shoe odor. Refresh the sachets weekly, and don't be afraid to customize them with scented powders like lavender and mint.
Bleach and a Paper Towel
There are many gadgets on the market and tips on the internet for how to clean stinky soccer cleats; sometimes, a spritz of bleach, a paper towel, and a newspaper is more than adequate for the job.
This home remedy is straightforward; spray bleach on a paper towel, wrap the paper towel in newspaper and place it in the shoe for 24 hours. Bleach makes an effective ally against smelly odor by killing the bacteria causing the smell.
Repeat this deodorizing process a couple of times a week to keep leather cleats and other athletic shoes smelling clean and sanitary.
How to Deodorize Cleats With White Vinegar Spray
Say goodbye to unpleasant odor by learning how to clean smelly soccer cleats with distilled white vinegar. An effective deodorizing spray is an important part of any odor-fighting routine. Vinegar is a well-known natural antibacterial and antifungal ingredient that works against a stubborn sports shoe smell.
Fill any clean spray bottle with water, and add the white vinegar and the baking soda; it might foam a little, and that's perfectly normal. Once mixed, spray the insides of your shoes regularly and thoroughly, and stuff your athletic shoes with newspaper to absorb extra moisture.
The scent of vinegar is strong, but it dissipates after drying. No smelly soccer cleat is safe after spraying this effective DIY shoe deodorizer.
Put Your Smelly Shoes in the Freezer
Your feet aren't inherently smelly, and neither is your sweat, but natural body oils are delicious to microscopic bacteria. When we leave moist, sweaty athletic shoes untreated after a day of heavy wear, it's like putting up a buffet sign for greedy bacteria.
One of the simplest and most effective ways to deodorize stinky soccer cleats is to put them in the freezer for 24 hours. Bacteria cannot survive in the inhospitable temperatures of the freezer, and once they die, the smell goes with them. Try it; you'll be surprised by how well this works.
DIY Athletic Shoe Deodorizer With Essential Oil
Discover how to deodorize cleats by creating your own customizable shoe deodorizer with inexpensive household ingredients. Essential oils like cedarwood and tea tree oil carry helpful antibacterial and antifungal components to make a wide variety of deodorizers and personal care products.
Whisk the baking soda, cornstarch, and tea tree oil to make a light powder. Add more essential oil if you like, but take care not to make the consistency too wet. Once you're satisfied with the texture and smell, pour the deodorizer powder into a convenient container like a spice container or anything that allows easy-sprinkling.
After washing your athletic shoes thoroughly, use this deodorizer as part of an odor-fighting routine to keep the bad smell from bacteria away for good.
We hope you liked learning how to clean smelly soccer cleats. While it may not be the most glamorous of the household chores, shoe care is essential, and a little know-how enhances your skills in a big way. Prevention is vital regarding effective odor-fighting strategies for athletic shoes and leather cleats.
Wear dry socks and change them often if your feet are prone to excessive perspiration. Use a deodorizer at the end of the day to suck up sweat and wash your shoes monthly to get stubborn bacteria hiding under the insoles. Proper shoe care and preventative maintenance are easy, and now you have the right tools for the job.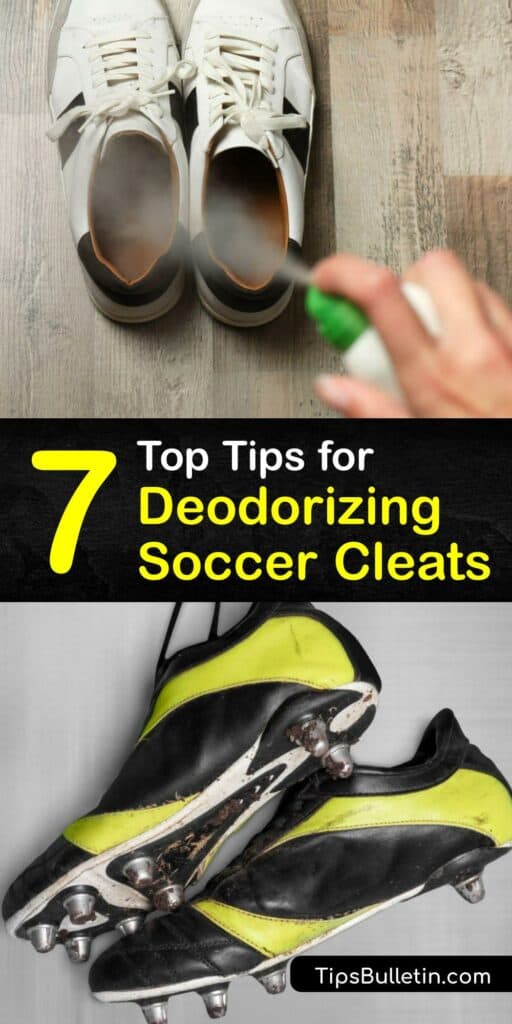 If you loved discovering how to clean smelly soccer cleats, share this article with a friend on Pinterest or Facebook who struggles with smelly soccer cleats and needs a little know-how.