Cleaning your Ugg® slippers is both simple and cost-effective.
Steps to Clean Ugg® Slippers
Sprinkle baking soda inside dry slippers to absorb odors overnight.
Use a mix of water and vinegar to wipe and clean the slippers.
Place them in a freezer to kill odor-causing bacteria.
Deodorize with baby powder or cornstarch for a fresh scent.
Wash the liners in a washing machine using a delicate cycle.
To deodorize your Ugg® slippers with baking soda, ensure they are dry, sprinkle baking soda inside, and leave them overnight. The following day, shake out the baking soda. This method is quick and uses a common household item.
For a deep clean, create a solution of equal parts water and white vinegar. Dampen a cloth with the mixture, and then wipe the interior of the slippers. Following this with a rinse from a water-dampened cloth will remove any remaining residue. Air dry the slippers afterward.
If you're combating persistent odors, placing your slippers into a plastic bag and then into the freezer overnight will kill odor-causing bacteria effectively.
For a scent boost, shaking baby powder or cornstarch inside the slippers can leave them smelling fresh. Let it sit for a few hours or overnight before shaking out the excess.
If the slippers need a thorough wash, remove the liners and place them in a mesh bag in the washing machine. Select a gentle cycle with cold water and a delicate laundry detergent. After washing, air dry the liners for at least 24 hours before reinserting them into the slippers.
There is nothing quite like slipping your feet into a pair of warm slippers on a cold winter day. Unfortunately, daily wear causes them to accumulate moisture from sweaty feet, leaving the material with a foul odor. Learn how to clean smelly Ugg® slippers to remove stains, everyday dirt, and foot odor.
These unisex sheepskin slippers originated in Australia, and Ugg® boots and slippers are now famous worldwide. They come in many styles and colors and are made of everything from sheepskin and suede to fleece and other materials. The slippers have a rubber sole, which means you can wear them outside. This also means they tend to get dirtier than ordinary slippers.
Because of their comfort, most people don't often wear socks with Ugg® slippers. However, sweat builds up on the soft interior or sheepskin lining, leading to odor-causing bacteria and an unpleasant smell. Since no one wants to wear smelling slippers, it's essential to regularly clean Uggs® to keep them fresh.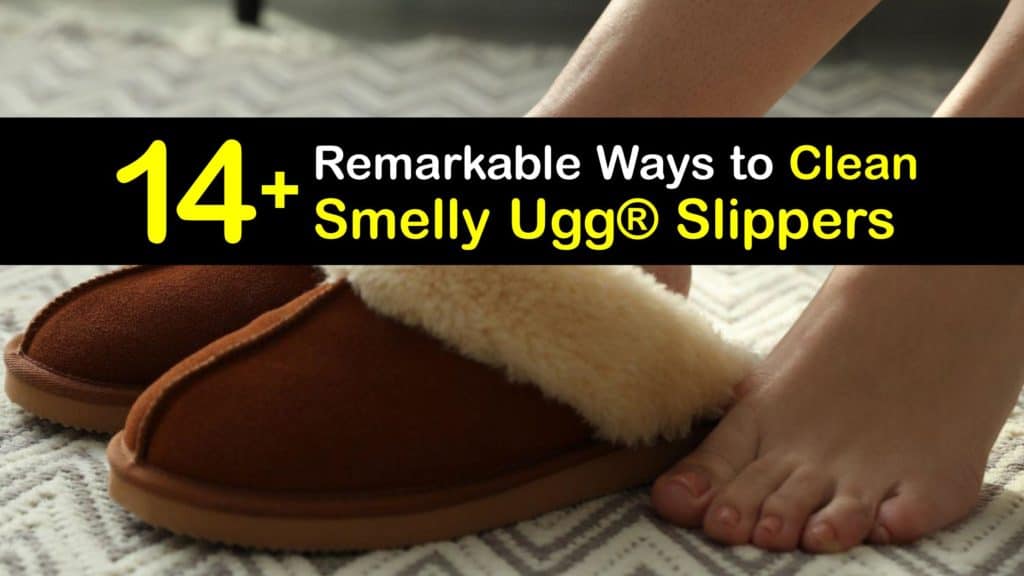 Ways to Clean and Deodorize Ugg® Slippers and Boots
There is nothing more uncomfortable than slipping your feet into smelly shoes. Discover how to remove foul odors and get your Ugg® footwear looking new again using basic and advanced cleaning solutions. Explore various tips to help you keep your footwear smelling fresh.
How to Deodorize Ugg® Slippers with Baking Soda
If you do not have a box of baking soda in your kitchen, now is an excellent time to stock up. It is an all-purpose powder that does everything from helping cakes rise to absorbing odors. Here is how to deodorize Ugg® slippers with baking soda.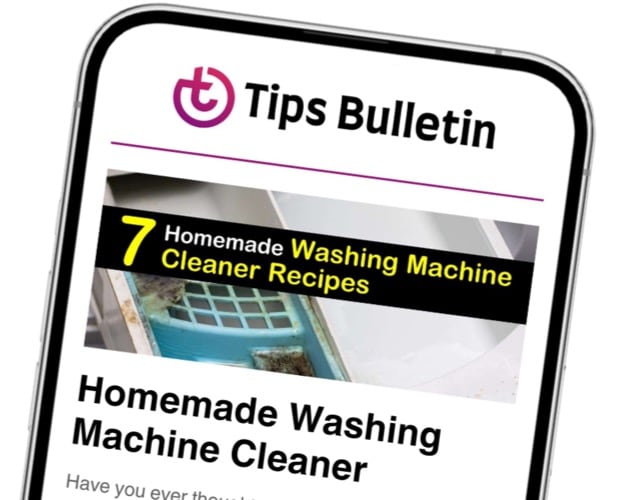 Finally, an email that Transforms Your Home.
Get the latest home and garden tips from our experts, delivered straight to your inbox.
First, make sure your slippers are completely dry. Pour some baking soda inside each slipper and shake to disperse the powder. Let them sit overnight and shake all of the odor-absorbed powder into the trash.
This same principle applies as the way to get smell out of mattress. Strip the sheets from the mattress and liberally apply baking soda to the surface. Let it sit for several hours and vacuum.
How to Get the Smell Out of Slippers with Cornstarch
Cornstarch is an excellent alternative if you don't have any baking soda. This powder absorbs moisture and helps remove the bad odor out of a sheepskin boot or slipper. Here is how to get the smell out of slippers with a little bit of cornstarch.
If your slippers are damp, let them dry thoroughly before deodorizing them. Shake enough cornstarch into the slippers to cover the insoles and let them sit for several hours or overnight. Once the cornstarch absorbs the smells, shake out the excess powder and wear them as usual.
How to Clean Smelly Ugg® Slippers in the Washing Machine
If your slippers or boot liners are extra dirty and stinky, the best way to get them clean is to wash them. Learn how to clean smelly Ugg® boots and remove dirt and stains by cleaning the liner in a washing machine.
Remove the linings from your slippers or boots, place them into a mesh washing bag, and put them into the washing machine.
Add a small amount of your favorite laundry detergent and use the delicate, no-spin cycle with cold water to wash them. Once the slippers are clean, remove them from the washer and let them air dry for at least 24-hours before wearing them.
Deodorizing Ugg® Slippers with Baby Powder
Baby powder is not just for babies – it's one of the easiest home remedies to get rid of smelly shoes. This scented powder soaks up moisture for quick odor removal, and it leaves the slipper smelling fresh. Here is how to deodorize Ugg® slippers with a few shakes of baby powder.
Open a bottle of baby powder and shake it into each slipper. Try to get the powder on all areas inside the slippers to absorb as much bad smell as possible. Let them rest overnight, and then shake the excess powder into the garbage can.
How to Hand Clean Ugg® Slippers
If you don't feel comfortable cleaning your Ugg® footwear in the washer, the next best way to get them clean is to wash them by hand. Here is how to get the smell out of slippers and remove a tough stain by hand-cleaning them with a mild detergent.
Get the cloth damp with water and squirt a small drop of liquid dish soap on the fabric. Use a colorless, odor-free soap for optimal results, and scrub the inside of your slippers with the cloth.
Rinse the soap out of the rag with clean water, squeeze out the excess water, and wipe down the slippers to clean away soap residue. Use a dry cloth or towel to blot the insides and let the footwear air dry before wearing them.
Removing Water Stains from Ugg® Boots
Water tends to leave unsightly stains on slippers and boots, especially if they are suede. Fortunately, these types of stains are relatively simple to remove, and all you need is a little water and patience to get your footwear clean.
Dampen a clean cloth with water and wash the water stain by starting from the inside of the spot and working your way outward to remove water marks and lines.
Continue cleaning the entire boot or slipper to ensure no water stains remain. Stuff the footwear with paper towels to absorb moisture and let them air dry completely. Finish by brushing them in one direction with a suede brush.
Here is How to Get Salt Stains Off Ugg® Boots
If you live in a cold region, you know that salt stains are inevitable on winter boots. Find out how to clean your Ugg® boot to remove these stubborn stains and keep them looking new.
Mix equal portions of warm water and vinegar in a container and dab the corner of a clean cloth into the liquid. Gently rub the salt stain with the damp cloth until the spot is gone.
Rinse the rag under clean water, squeeze out as much water as possible, and wipe down the entire boot. When you're done, set your boots on a shoe rack and let them air dry.
Hand-Cleaning the Lining of Ugg® Slippers and Boots
Many boots and slippers have a removable liner and are the easiest to clean. Here is how to deodorize the liners of your footwear by hand to get gas smell out of shoes and remove any foul foot odors.
Remove the liners of your boots and set them on a towel. To make a natural shoe odor eliminator spray, fill a bottle with warm water and add a drop or two of liquid soap. Shake the container gently, and spray the solution over the outside of the liners.
Use a cloth to clean the material, and repeat the steps with the insides. Let them dry completely before inserting them back into the boots. If the liners of your slippers or boots are heavily soiled, compressed, or stinky, consider replacing them with new ones.
Using Fabric Softener to Freshen Ugg® Slippers
One of our favorite hacks for eliminating bad odors is to use fabric softener dryer sheets since they do all of the work for you. The sheets are great at absorbing sweat, and they leave the slipper or boot with a fresh scent.
Keep a box of dryer sheets handy wherever you store your Ugg® slippers or boots. Each time you take off your footwear, slip a dryer sheet inside each shoe to absorb odors and give them a fresh scent. Remember to remove the sheet and dispose of it when putting on your slippers.
Deodorizing Ugg® Slippers with Charcoal
While we don't often consider charcoal an odor-absorber, it's actually very efficient at eliminating smells. Charcoal reduces the foul odor rather than masking it, and many products are reusable.
There is a variety of charcoal deodorizing bags on the market, and the ones you choose depends on preference. Follow the instructions for your brand and place a bag inside each slipper whenever you're not using them. The charcoal absorbs moisture while eliminating foul odors.
Using Deodorizing Balls to Get Odors Out of Ugg® Slippers
If you don't have the patience to use a home remedy to get rid of slipper odors, try deodorizing shoe balls. These handy gadgets neutralize bacteria and foul shoe smells, and they're easy to use.
Deodorizing balls fit in all sizes of slippers and boots, and they work by killing odor-causing bacteria. Follow the directions to activate the deodorizer ball and drop one in each shoe whenever you're not wearing them to absorb bad smells.
How to Use Your Freezer to Deodorize Ugg® Linings
Believe it or not, your freezer is something you have in your home that kills odor causing bacteria in your slippers. The best thing about it is you don't need a cleaning solution to get the job done.
Place your slippers into a large plastic bag, seal the bag shut, and set them in your freezer. Freeze them overnight for the greatest results as the cold temperatures kill bacteria, germs, and foul odors. Remove the slippers from the freezer and bring them back to room temperature before wearing them.
Cleaning Ugg® Slippers and Boots with Rubbing Alcohol
There are many uses for rubbing alcohol. It removes stubborn stains and adhesives, and it also kills bacteria while eliminating odors. Here is how to use this multi-purpose liquid to deodorize your Ugg® footwear.
Set your slippers on a flat surface and use your hands to open the insides for easy access. Open a bottle of rubbing alcohol and press a ball of cotton over the top.
Tip the container over to dampen the cotton and use it to wipe down the inside of each slipper. Use new, damp cotton balls as needed until the interiors are clean. Avoid getting the slippers too wet while cleaning and set them on a shoe rack to air dry.
Using White Vinegar to Clean Stinky Ugg® Slippers
While there are many cleaning products on the market, an alternative way to clean sheepskin or suede slippers is to use a mixture of white vinegar and water. This method is less costly than commercial cleaners, and vinegar is a natural disinfectant.
Mix a cup of water with a quarter cup of white vinegar and dab part of the cloth into the liquid to get it damp but not soaked. Insert the fabric inside each slipper and wipe down the sides and bottom to remove dirt and bacteria. Dampen another cloth with clean water and repeat the steps to remove residue.
To use vinegar to make a natural odor absorber for room, add water, vinegar, and a few drops of your favorite essential oil (try lavender) to a spray bottle and spritz the area.
Ways to Prevent Foul Odor in Ugg® Slippers and Boots
There are more exciting things to do with your spare time than cleaning slippers and boots, so prevention is the simplest way to ensure your footwear stays clean and fresh-smelling.
While Ugg® slippers feel comfortable on bare feet, wearing a sock helps absorb sweat that causes the slipper to stink. If you have extra sweaty feet, consider applying foot powder before wearing your slippers.
When you're not wearing your slippers or boots, store them on a shoe rack in a well-ventilated room to help keep them fresh. Another great way to prevent bacteria from making your footwear smelly is to use a shoe tree.
Always make sure to clean your Ugg® footwear with a damp cloth instead of a wet one and let them air dry since the clothes dryer may damage the material. If your boots or slippers get wet, stuff them with newspaper to absorb moisture.
There is nothing more unpleasant than getting stinky feet after wearing your favorite pair of Ugg® slippers. Luckily, there are quick and convenient ways to remove a bad odor from your soft and comfy footwear and prevent the smell from returning.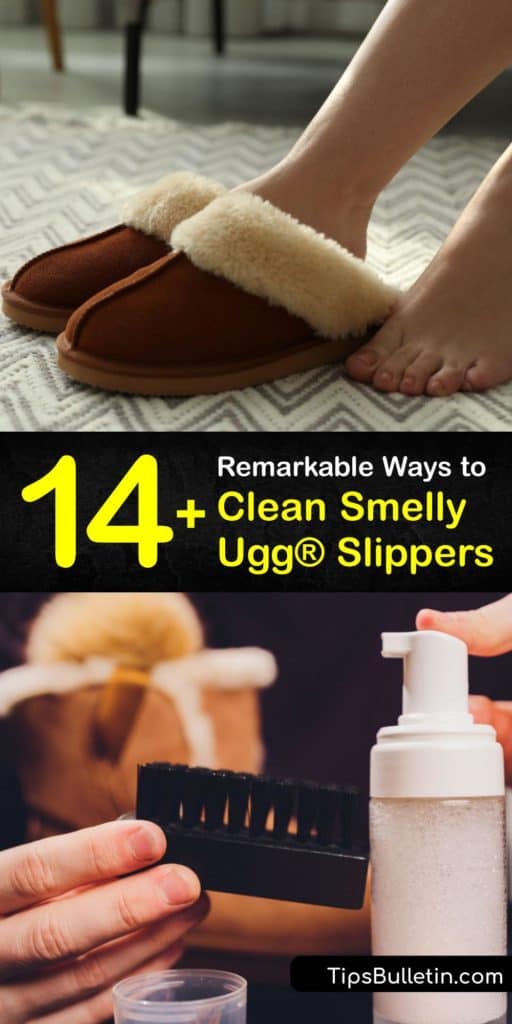 We hope that knowing how to clean smelly Ugg® slippers keeps your footwear looking good and smelling fresh, and we'd love it if you'd share our Ugg® slipper cleaning methods with your friends and family on Pinterest and Facebook.