Nicotine and smoke stains are some of the toughest to eliminate. When faced with an entire house worth of walls and ceilings, it can certainly feel overwhelming. It leaves you wondering what methods work and what might save you time and money. Discover how to clean smoke off the ceiling and walls without breaking the bank or your back.
Cigarette smoke is stubborn because it causes millions of microscopic smoke particles to cling to your drywall, fabric, and furniture. Over time, smoking in the house creates a yellow film that covers everything. You have to take immediate action; no one wants to install new drywall.
Unfortunately, no amount of fancy candles or expensive aerosol spray will save you. The smoke smell is always there, lingering. You can't even paint over it with conventional latex paint because the yellow staining bleeds right through. However, we have several practical tips to help you clean smoke damage from a painted wall and textured or painted ceilings.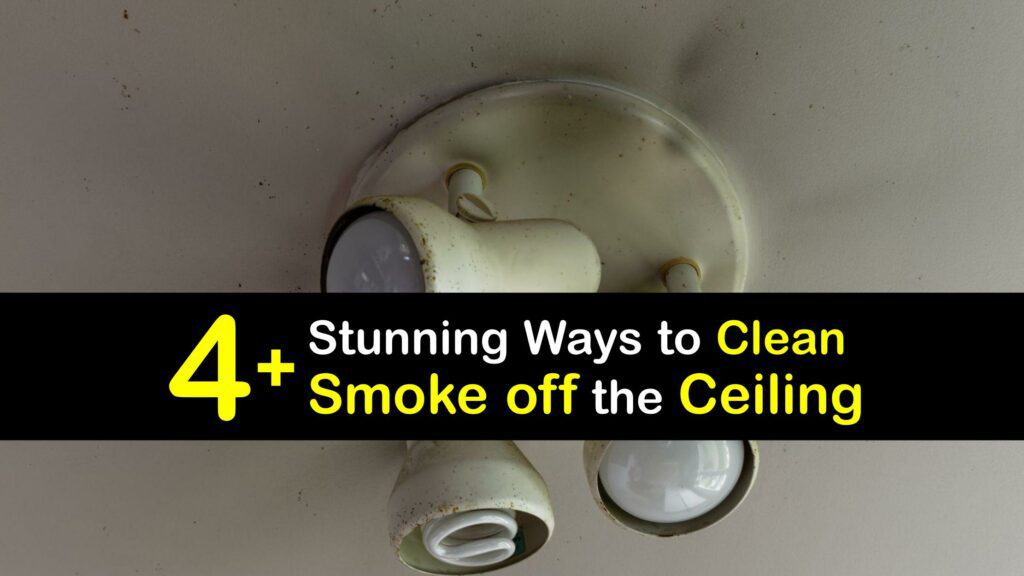 How to Get a Smoke Stain off the Ceiling
Cigarette smoke stains are no joke; in fact, smoke and fire damage are considered exponentially worse than water damage in terms of restoration efforts required. Fortunately, we have some simple solutions to your smoke-related concerns. Learn effective ways of getting rid of cigarette smoke smell in the house fast with easy to follow tutorials.
How to Clean Smoke off the Ceiling
Citrus-based degreasers are an excellent eco-friendly way to break down greasy smoke residue and stubborn stains. Citrus fruit peels are loaded with a powerful natural solvent called d-limonene, making cleaning smoke stains from the ceiling much more manageable.
If you need to remove smoke stains from the ceiling or get a smoke smell out of car vents, citrus and baking soda make a fantastic team. This DIY degreaser is easy to make at home and scales to make as much as you require; mix it in a bucket or a spray bottle.
Start with two cups of clean water, and add the baking soda, Castile soap, and orange essential oil. Give everything a vigorous stir to ensure everything is thoroughly blended. Lay down a drop cloth or sheet before you start, and put on your gloves. Be sure to do a small spot test on any painted wall before scouring the entire ceiling.
Make a Vinegar Cleaning Solution for Smoke
Everyone needs a good vinegar cleaning solution at their disposal; stains are unpredictable, and it's best to be prepared. Distilled white vinegar works miracles on all kinds of household stains and odors. Use it for cleaning ghosting on the ceiling or for ink stains. Discover how to clean smoke off the ceiling with our easy-to-make vinegar-based spray.
Vinegar, at its simplest, is a solution of 5% acetic acid and water. It seems like a small concentration, but vinegar packs a punch against that nicotine stain or grimy residue. Use vinegar to clean nicotine off walls and ceilings. This vinegar spray is an excellent follow-up to our citrus degreaser. It should make a dent in smoke odor and residue.
Combine warm water, vinegar, baking soda, and dish soap, and put the mixture into a clean spray bottle. Use a few good sprays and a clean sponge to get smoke off the ceiling, scrubbing in small circles and rinsing the sponge with a bucket of clean water; you'll have those ceilings sparkling in no time.
Cleaning Smoke Stains off the Ceiling With a Soot Sponge
Soot stains and smoke residue from an active fireplace are common problems. So common there's now a specialized sponge to help clean soot residue. The Soot Sponge, or dry cleaning sponge, is made of non-toxic vulcanized rubber and is safe for ceilings, floors, and walls.
If you're curious about how to get a smoke stain off the ceiling with a simple sponge, you're not alone. Cleaning fireplace soot off painted walls seems like something that requires a bucket and sponge. However, the Soot Sponge works best when dry.
To get black smoke stains off your ceiling, consider using special cleaning tools. A Magic Eraser removes soot from walls and ceilings when smoke has left a yellow or brown stain.
Unlike the famous Magic Eraser, which you use wet, the Soot Sponge is for dry-on-dry use only. This unique and convenient sponge is reusable and ideal for use around the fireplace and surrounding walls. It's one of the easiest ways to clean soot off the ceiling. Unfortunately, smoke removal is usually a multi-step process, and following up with additional disinfecting steps might be necessary.
Turn to Trisodium Phosphate for Smoke Marks
Trisodium phosphate is a heavy-duty cleaner that will remove cigarette smoke from walls, ceilings, and floors. Long appreciated by professional painters, TSP is an inexpensive all-purpose way to clean smoke damage without calling restoration professionals.
Find out how to get a smoke stain off the ceiling with trisodium phosphate. This cleaner helps with any stubborn stain or lingering smoke smell that vinegar or citrus didn't destroy. Put your protective gloves on and mix a tablespoon of TSP into a gallon of hot water.
Once you safely dilute the trisodium phosphate, it's time to get scrubbing. Set up a small stepladder in your workspace and ensure the area is free of tripping hazards. Set your water bucket nearby and scrub the ceiling in sections until complete.
Try an Ozone Generator for Lingering Odors
Once you finish cleaning smoke stains off the ceiling and walls, there shouldn't be any residual odor. However, consider an ozone generator if you're facing an unwanted cigarette smoke smell throughout the house. While an ozone generator won't clean smoke damage from a ceiling, it definitely helps with removing smokey smells from the house if you have lingering odor from a heavily smoked-in house.
Ozone is called trioxygen in science speak because it's composed of three molecules. One of the molecules attaches itself to airborne contaminants like mold spores, bacteria, and smoke particles. The molecule destroys the pollutant, leaving a neutral smell. Borrow a machine before rushing out to buy your own unless you feel it's a beneficial investment.
We hope you can benefit from our tips and tricks for smoke stain management. With just a few simple steps, your walls and ceilings can sparkle again. When taking on smoke-stained surfaces, always start with a reliable degreaser, such as a citrus-based mixture, to loosen smoke scum and allow easier cleaning.
Follow up with our vinegar and baking soda spray to get any remaining smoke stains, or skip right to a heavy-duty cleaner like trisodium phosphate for stubborn stains. Safety is always first when learning how to clean smoke off the ceiling; avoid working on the ladder alone, and always have a spotter around to lend a helping hand.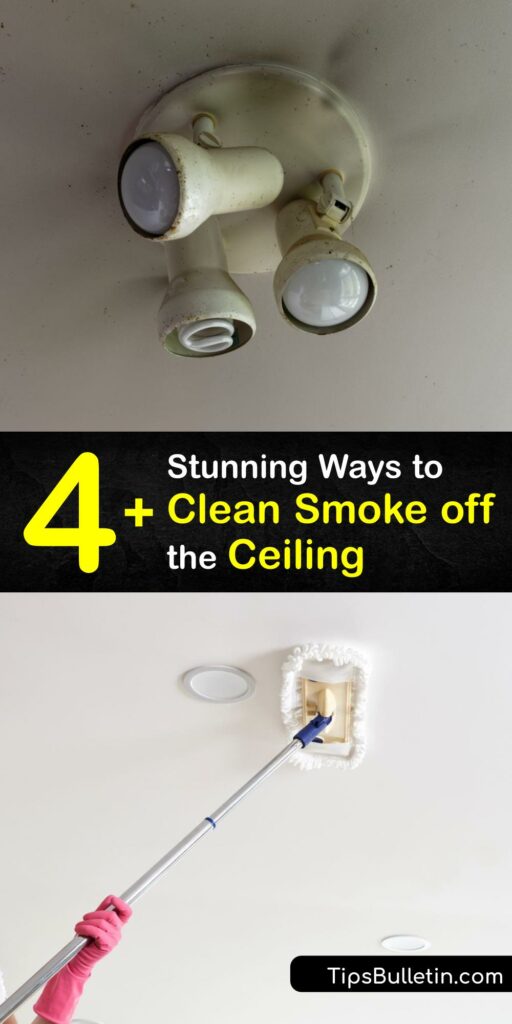 If you enjoyed our DIY tips on how to clean smoke off the ceiling, share this article with friends on Pinterest and Facebook who struggle with smoke smell and soot residue.