Removing soot from the wall can be a tricky task, mainly because it leaves behind a sticky residue. Removing soot the wrong way may leave you with a bigger mess than when you started. Learn how to clean soot off walls correctly in a few simple steps.
Sooty walls are the aftermath of a fireplace, candles, cigarettes, or a small fire in the kitchen. This black residue is the result of incomplete combustion of carbon-based materials. Blowing out candles instead of snuffing them out, dirty venting systems, and accidental grease fires are common causes of soot residue.
Soot cleaning is a necessity, especially during home improvement. If not cleaned properly, tiny soot particles can be inhaled into the lungs and cause breathing problems as well as aggravate asthma and respiratory illnesses. The soot cleaning process entails specific steps, cleaning tools, and safety precautions.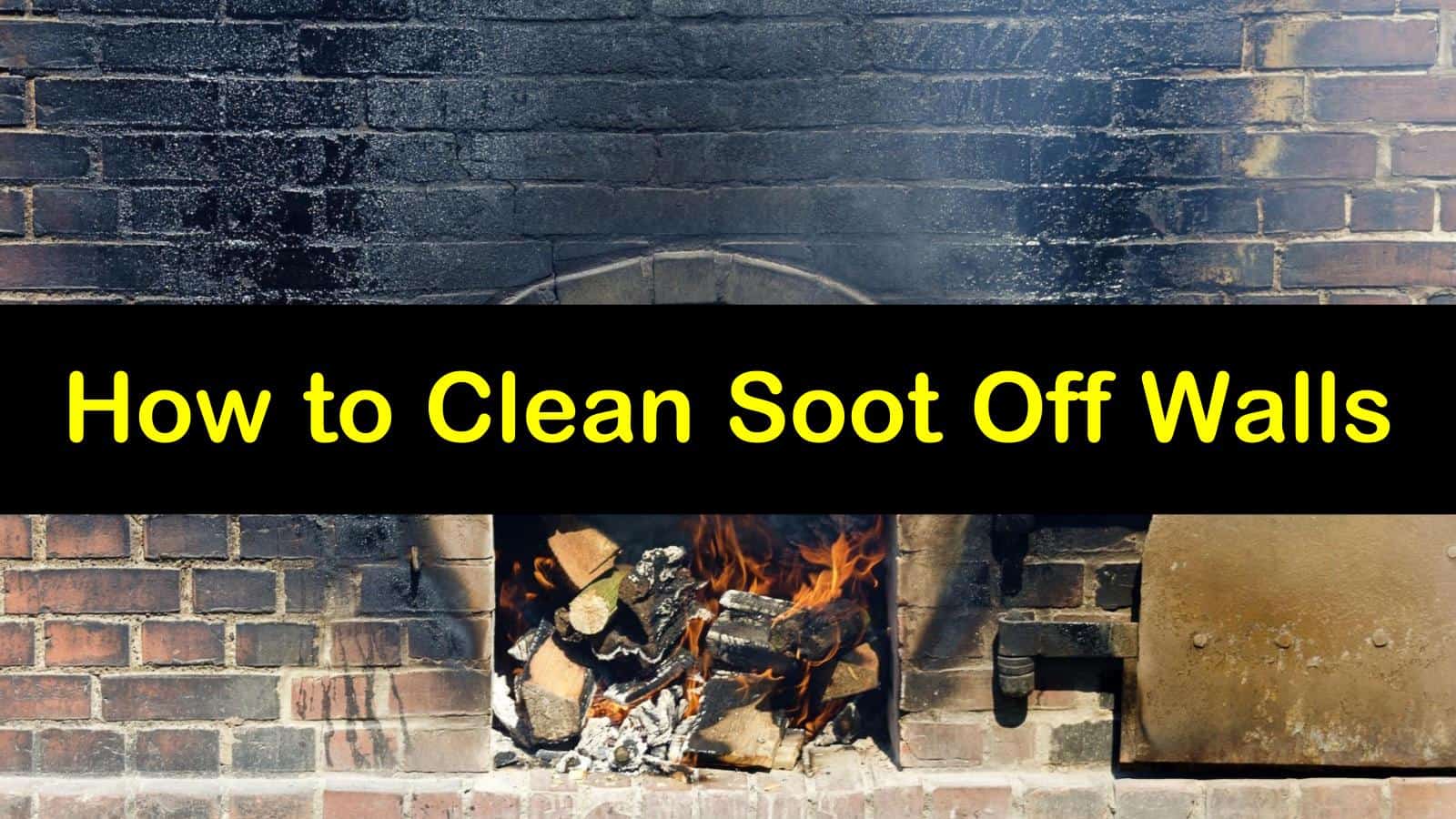 Cleaning Soot Off Walls
It's relatively easy to remove soot from hard surfaces such as a wall if you know the right techniques. There may be times, however, when you need to discuss soot removal procedures with a restoration company if you have suffered severe fire damage.
Several methods work effectively at cleaning soot off painted walls or drywall. While a Magic Eraser may work at cleaning small areas, it is not efficient for cleaning larger ones.
Our cleaning solutions show you how to remove black soot from walls from minor smoke damage without having to contact restoration services. Follow the best cleaner for nicotine on walls and use these techniques to clean soot off the upholstery.
Preparing for Soot Removal
Soot particles can collect on dust or cobwebs on the wall. Wiping dusty soot with a sponge or brushing up against it causes smearing and leaves you with a soot stain.
Therefore, there are a few measures you must take before beginning the soot cleaning process, as well as safety measures to follow.
Before performing any soot removal process, whether you need to remove tobacco stains from the ceiling or candle soot on the wall, make sure that there is proper ventilation in the room. Open windows within the vicinity, turn on fans in the room, and open all the vents. We also recommend wearing protective gear such as safety glasses, gloves, and a mask.
Begin by emptying the room where you will be working. Remove any furniture, rugs, drapery, plants, etc. Place a drop cloth on the floor to protect the flooring.
Vacuum the walls first to determine if further cleaning is necessary. Use a vacuum upholstery attachment to suck away dusty soot from the walls. Do not press the attachment directly to the wall to prevent smearing. You can also use a vacuum to deep clean baseboards to remove soot and dust.
How to Remove Black Soot from Walls
The best way to clean walls covered with soot is by using a degreaser and a special sponge. An ordinary sponge does not work effectively to remove soot stains from the wall.
A dry cleaning sponge, soot sponge, or chemical sponge is the best tool to use for soot removal because they contain galvanized rubber and absorb residue, and are available at hardware stores. To remove soot from floors, we recommend using a cleaner for wood floors.
Begin by pressing the dry cleaning or chemical sponge onto the upper left portion of the soot stain and wipe down firmly in a vertical motion. Move to the next area and repeat. Overlap each part with the dry sponge by an inch for every downward stroke.
Flip the sponge over as it becomes dirty, making sure to use all four sides. Use a pair of scissors to remove sooty portions of the sponge as you clean. Do not rinse the sponge clean with water.
After the visible soot is gone, use a regular sponge and degreaser for cleaning dirt off walls. You can use a commercial degreasing cleaner or any other kitchen degreasing solution to get rid of lingering sooty areas.
Cleaning Away Residual Soot from Walls
If the soot stain is faint, or there is leftover residue from cleaning the stain with a soot sponge, use a degreasing agent to finish the job. Here is how to remove black soot from walls using a few different methods.
To use the best DIY wall cleaner, place a drop cloth on the floor in the area where you are working to prevent water damage that may result from using this cleaning combination. Mix either the soap or trisodium phosphate with half a gallon of water in a bucket.
Dunk the sponge into the cleaning solution or soapy water and wring out excess liquid. Wipe away the soot residue with the sponge, making sure to rinse and wring the sponge as needed during the cleaning process. Do not use a scrubber to clean the wall to prevent damaging the paint.
Dump the cleaning solution out of the bucket and refill it with clean, warm water. Use clean water and the sponge to wipe away the cleaner residue. Use a clean towel to dry the wall surface.
Avoid Soot Build-Up on Walls
While a home filled with soot may work at getting rid of mice in walls, it is not a healthy environment for you to live. Here are a few things that you can do to prevent the accumulation of soot on the walls.
Reducing Soot Deposits
Performing an annual inspection of the ventilation system in your home is the first step. We also recommend yearly cleaning of the system as well as having your fireplace chimney inspected and cleaned by a chimney sweep service. If you enjoy candles in your home, we advocate using soy and beeswax candles, which burn cleaner than paraffin wax.
Keep the candle wicks trimmed to a quarter-inch, and extinguish them with the candle lid rather than blowing them out. Keep the walls dust-free with regular vacuuming to prevent the collection of soot. For small areas, use a natural dusting spray.
Removing soot from the wall or fireplace mantel is relatively easy if you use the right cleaning process. Understanding the cautionary measures you need to take while cleaning away excess soot and the tools required to remove it effectively not only provide you with clean walls but ensure the healthy well being of everyone in your home.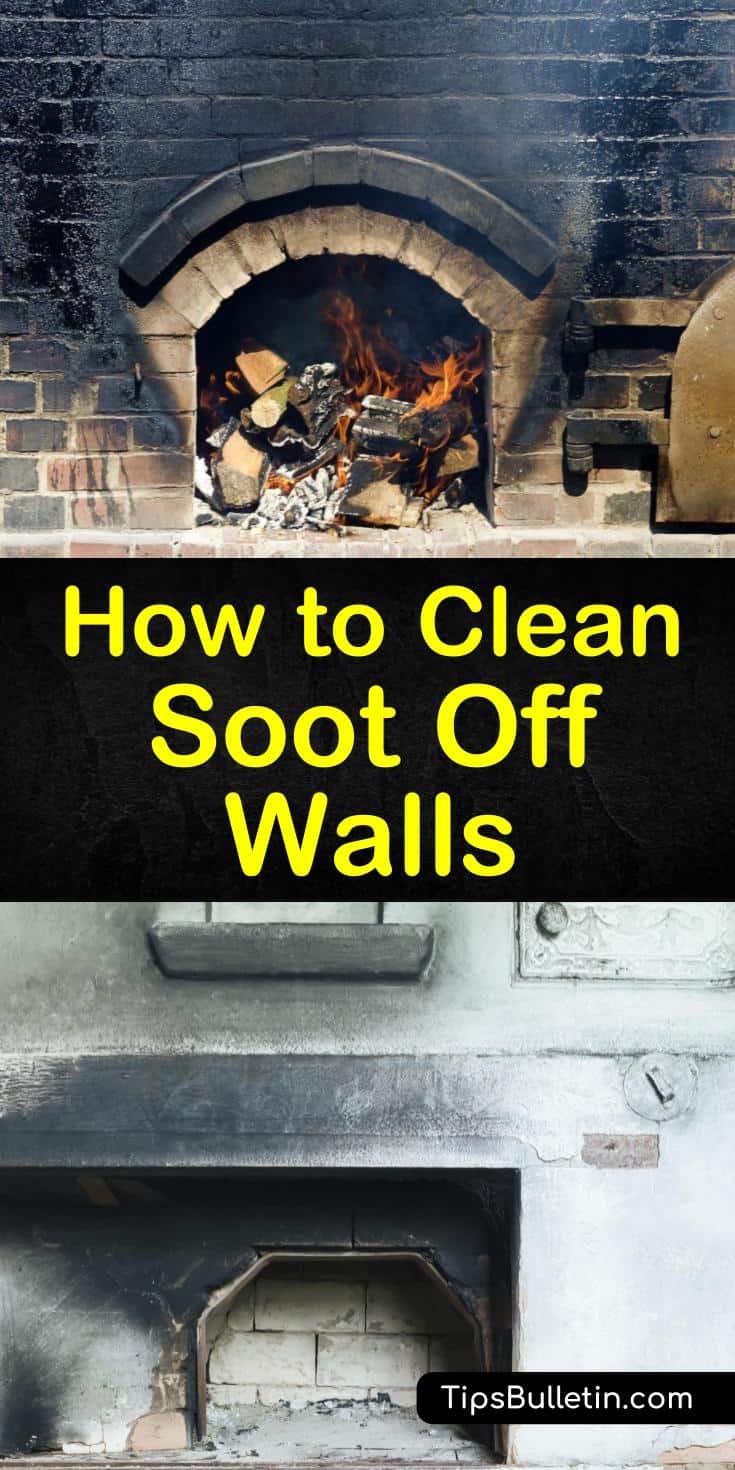 Now that you know how to clean soot off walls, no matter how big or small, why not share these soot cleaning methods and tips with your friends and family on Pinterest and Facebook?