On its own, stainless steel is an impressive metal that sparkles and shines with mesmerizing beauty. Add this magnificent glimmer to a set of stainless steel jewelry and the effect is twice as stunning. Because stainless steel jewelry looks great with almost any outfit, the wear and tear it suffers is equally significant.
Understanding how to clean stainless steel jewelry is a piece of cake, however, and often includes simple supplies like baking soda and toothpicks. Deep cleaning is inevitable when it comes to stainless steel jewelry care. Survive one rainy day or forget to remove your jewelry before going to the gym, and you've quickly welcomed a host of dirt and grime onto your stainless steel pieces.
With a little elbow grease and natural, non-toxic ingredients, save yourself the expense of professional cleaning. Follow these simple cleaning tips and DIY homemade stainless steel jewelry cleaner recipes for fantastic results.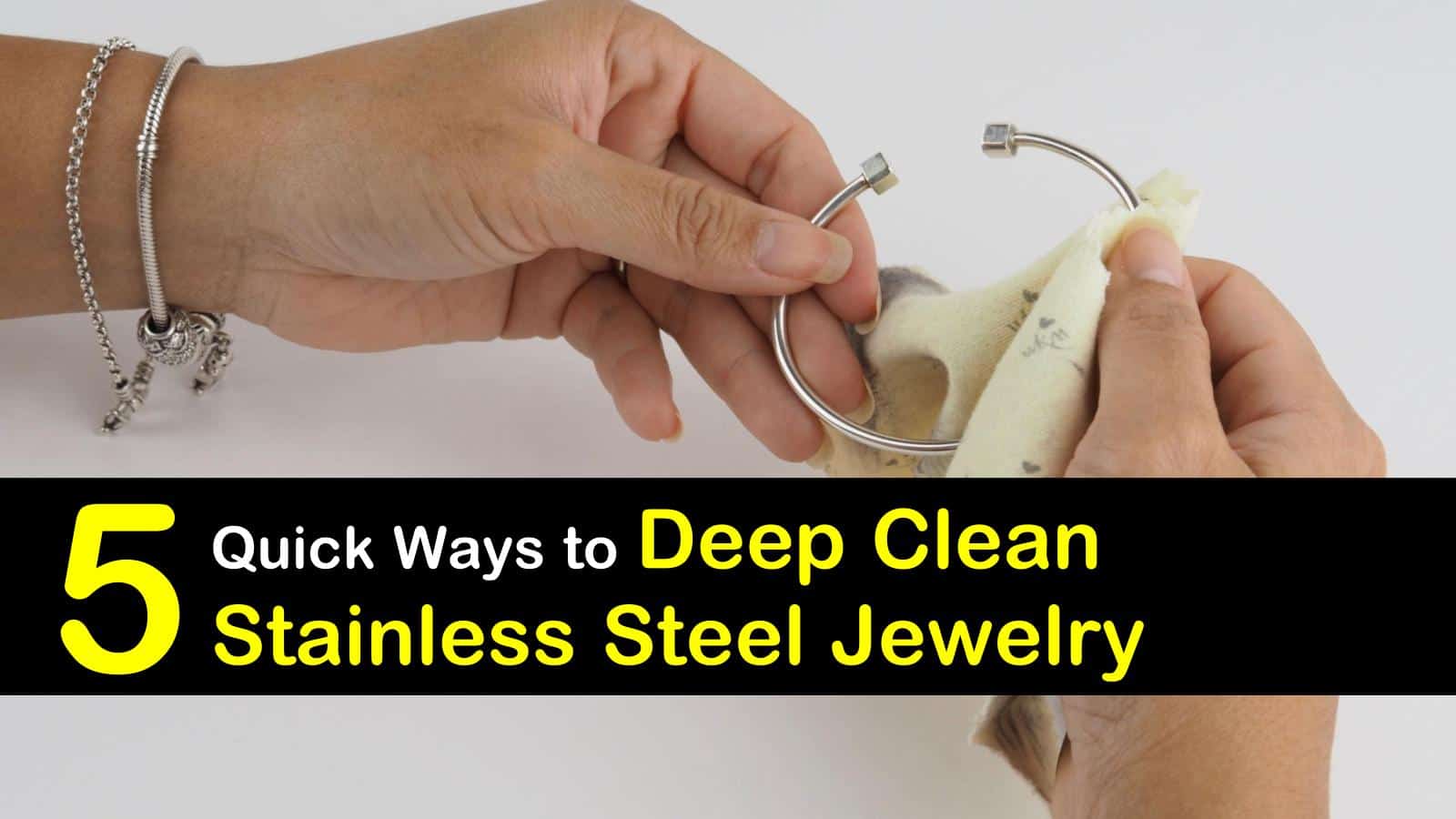 Clean Stainless Steel Jewelry the Easy Way
Not only will our household remedies clean your stainless steel jewelry, but you can also use some of these recipes to clean stainless steel appliances like your dishwasher and stainless steel refrigerator doors and other surfaces. Obviously, you can't soak them in a cleaning solution, but you can apply the mixture to a cloth and wipe these larger stainless surfaces to get them shining again.
There's no need to buy costly cleaners when you can make simple DIY solutions yourself for a fraction of the cost. And, there are no smelly fumes to worry about either.
Use a Mild Cleaner Like Dish Soap and Warm Water
A simple-to-make homemade stainless steel jewelry cleaner comes from adding a few small drops of mild dish soap into a large bowl of warm water. Dish soap is a great way to combat grease, which is the most frequent kind of grime to appear on your stainless steel jewelry. Get started cleaning jewelry at home with these simple ingredients.
Fill both bowls with warm water and add approximately three drops of dish soap to one of the containers. The second bowl will be used to rinse off the soapy water from your stainless steel jewelry. Using a microfiber cloth or lint-free cloth is imperative to prevent scratching the metal.
Dip a corner of the fabric into the soapy water and gently begin cleaning your jewelry. For best results, scrub along the grain of the stainless steel. Rinse off the stainless steel in the second bowl of clean water and complete the cleaning process by polishing your jewelry with a polishing cloth.
How to Polish Stainless Steel Jewelry Using Baking Soda
In general, baking soda is an excellent all-purpose cleaning solution. It removes most stains and mildew smells, making it as effective as a jewelry cleaner.
Its abrasive qualities actively remove moisture to polish steel without being too harsh on the surface of the jewelry. Other metals like silver and pewter will tarnish without proper care. Creating a paste works wonders when using a soft toothbrush to clear away dirt and grime.
Combine the ingredients of this homemade stainless steel polish until it forms a thick paste. Dunk the ends of a soft bristle toothbrush into the mixture and gently rub it over the jewelry, working the paste in between the deep crevices and crannies of the jewelry piece.
The bristles on the toothbrush should remove most of the gunk from between the little nooks, but a toothpick is also a helpful tool when it comes to digging out loose particles. Rinse the jewelry clean with warm water, then dry using a soft towel.
While baking soda is a spectacular cleaning solution, it does not always restore the sparkling luster of a brilliant shine. If your stainless steel rusts, add a drop or two of olive oil to a dry cloth to buff out the rusty corrosion. This creates a simple jewelry polish with a remarkable gleam.
How to Clean Stainless Steel Jewelry with an Ultrasonic Cleaner
Using an ultrasonic jewelry cleaner is a great way to clean stainless steel rings. With challenging to reach nooks and crannies, rings require a deep cleaning that is almost impossible to provide. Ultrasonic cleaners typically clean plain jewelry pieces, devoid of gemstone settings, due to the intense jostling the jewelry undergoes when cleaning.
Diamond settings, on the other hand, are considered safe to use when they are firmly secured and do not have artificial coloring. Because diamonds are so tricky to clean, ultrasonic cleaners are an excellent way to clean those stainless steel rings with diamond settings.
The cleaning process generates waves and bubbles around the jewelry while it is in the cleaner. These bubbles reach deep within the crevices of your stainless steel jewelry and provide a lovely shine. It isn't necessary to add a high-priced cleaning solution to your ultrasonic cleaner.
Clean water and a few drops of dishwashing soap will do the trick. The amount of time needed to clean your jewelry pieces varies from seconds to several minutes. Ultrasonic cleaners are safe to use on metals like gold, platinum, and silver.
The durability and strength of stainless steel make it a likely candidate for these cleaning machines, as well. Do not use these for jewelry pieces with loose settings and gemstones.
Use Toothpaste as an Effective Stainless Steel Cleaner
A fantastic solution for how to polish stainless steel jewelry is to use toothpaste. When cleaning stainless steel jewelry, plain white toothpaste is your only option.
Toothpaste that contains whitening agents or additives to prevent tartar control is too harsh and scratches jewelry surfaces. A gel toothpaste is not abrasive enough to adequately polish the metal. This jewelry cleaner is also a great way to remove tarnish on silver jewelry and can be used as a DIY aluminum polish.
Only a small amount of toothpaste is necessary when cleaning your stainless steel necklaces or when cleaning stainless steel earrings. Rub the toothpaste onto the jewelry using a damp, clean cloth.
Avoid brushing up against any gemstones in your fashion jewelry, as this might cause them to loosen from their settings. Rinse away excess toothpaste with warm water and quickly dry the stainless steel pieces to avoid water damage.
Create Your Own Homemade Stainless Steel Jewelry Cleaner with Vinegar
White vinegar cleans all types of metals found in jewelry, including gold, sterling silver, and stainless steel. Not only does it leave a brilliant shine, but you can also disinfect with vinegar to clean any naturally-occurring bacteria deposits left behind in your jewelry.
Vinegar works in one of two ways. Like some jewelry cleaners, you can mix the ingredients in a small bowl and let the jewelry sit for a few minutes before rinsing and removing the remaining dirt. Otherwise, you can combine the solution in a spray bottle and spray it onto a soft cloth.
Once the fabric is damp, gently scrub at any dull, lackluster areas, or any sticky residues on your stainless steel jewelry. This will disinfect your jewelry in no time and also provides it with a lovely sparkle.
Who needs to go to a jeweler to get your jewelry cleaned? You have these easy-to-make, DIY solutions at your fingertips and in your kitchen. Commercial cleaners are also available at the store, but these homemade solutions will save you a trip to the store and a costly price tag.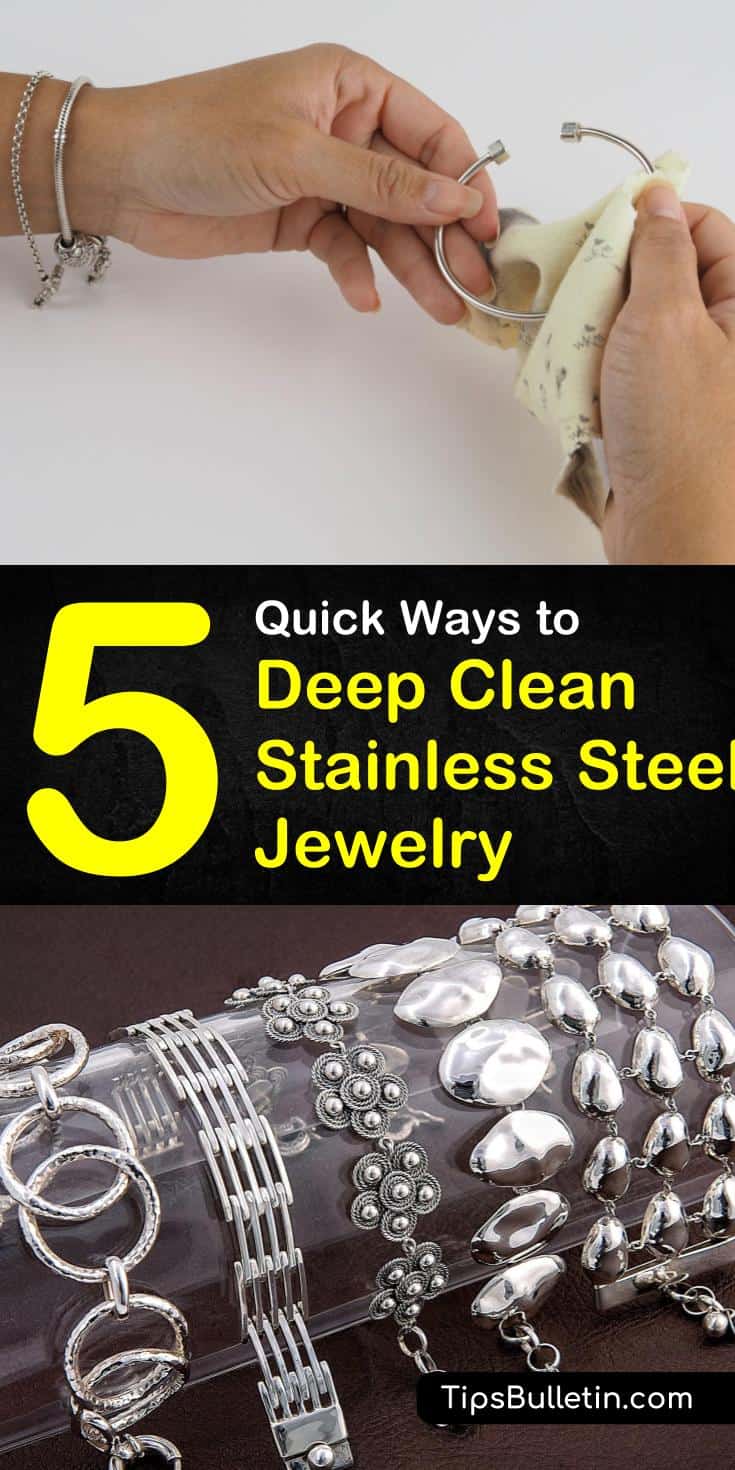 We hope this article on cleaning stainless steel jewelry proved a useful asset in your cleaning arsenal. Inform friends and family of how easy it is to make their stainless steel shine too. Remember to share these recipes for how to clean stainless steel jewelry on Facebook and Twitter.