Your stainless steel cookware provides you with a non-stick surface to heat foods that is easy to use and also retains your meal's flavors. This same durable material makes maintenance a breeze, especially if you know the best techniques to use. So how to clean stainless steel pans the right way? Luckily, this isn't just a single-solution answer.
There are many strategies you can use that are easy to follow and don't require complicated recipes or special equipment. Similar to other sturdy, long-lasting pots and pans like cast iron, stainless steel withstands the test of time but is significantly lower-maintenance than most of its cookware counterparts.
This doesn't mean that there aren't wrong ways to clean stainless steel. Nor does it mean that your stainless steel pans are indestructible. Knowing how to clean a burnt stainless steel pan, especially one with stuck-on foods, makes all the difference when it comes to salvaging your pan's surface.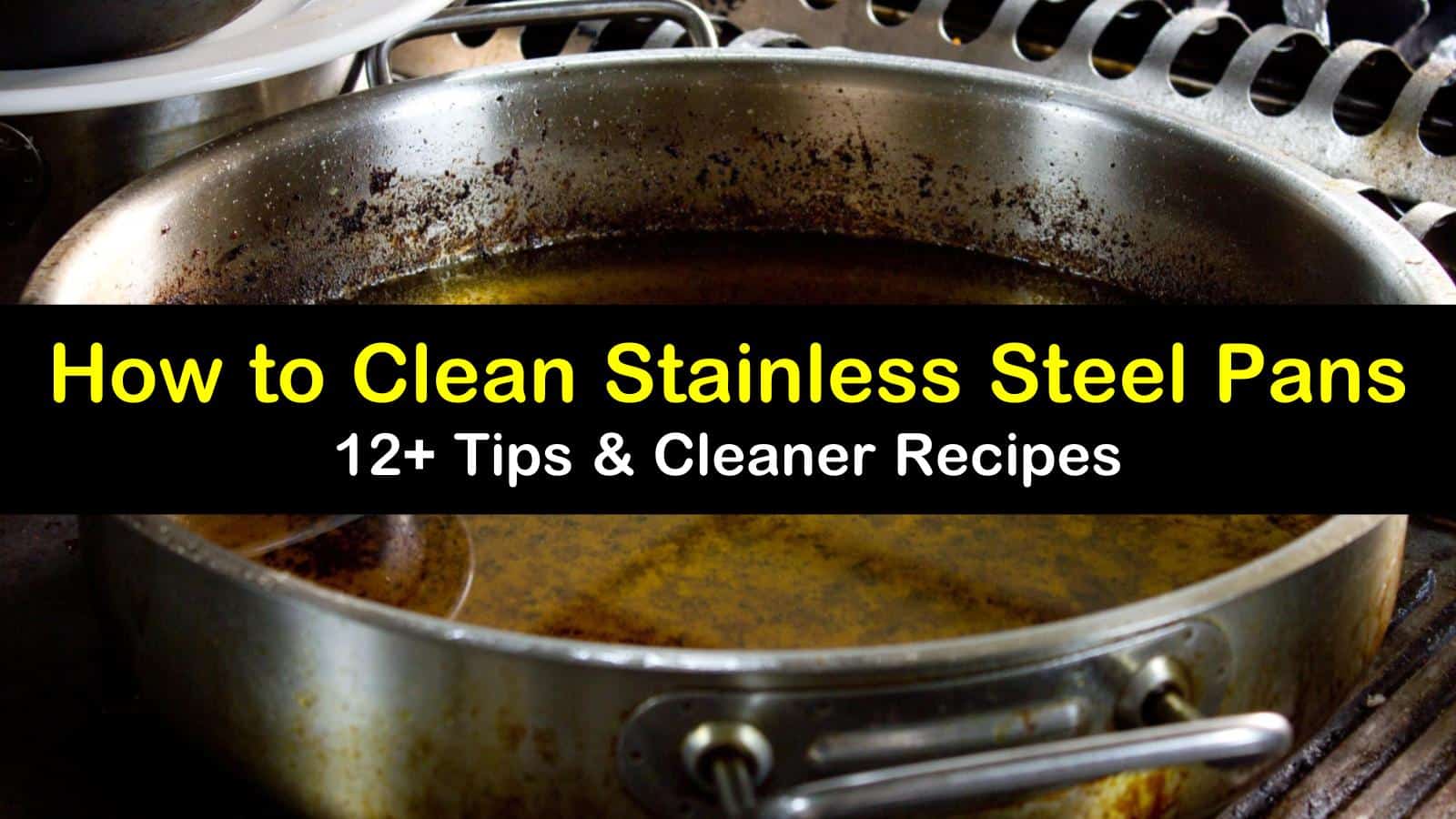 If you are looking for the very best way to clean stainless steel pans, then try any of these fantastic cleaning tips to get you started.
Cleaning Stainless Steel Pots & Pans
If you want clean stainless steel cookware, sometimes the only thing you need is a little bit of water and a clean cloth. Never use cold water, though.
While this may work in ideal situations, there are always those cooking mishaps that water alone is not enough to handle. In those cases, it is still essential to have some of these necessary cleaning supplies handy.
If you need to use a scrubber, ensure that it is soft and won't damage your pan's surface. The same goes for spatulas or anything else you might use to scrape away bits of food. Never use a metal spatula on your pan, only plastic, since metal will scratch the stainless steel and cause further damage.
1. Add Heat to Remove Burnt Food Particles
When it comes to removing those stuck-on foods from the surface of the pan, using heat works just as well as most cleaners. Adding a little bit of heat, whether to the soap you're using or just plain boiling water, loosens up the foods stuck to your pan, making it easier for you to scrub them off.
Before adding any other cleaning products, start with enough water to cover the bottom of the pan. There's no need to overfill your burnt pan as the steam from boiling will work its magic on the sides, as well.
Bring the water in your pan to a boil using the high heat setting on your stovetop, then let it stay like that for approximately five minutes. Afterward, use a soft scrubber or plastic spatula to work away any remaining pieces.
2. Clean Pots and Pans with Soapy Water
If water and heat aren't loosening up those tough foods and stains, another solution is adding some dish soap to the mix. Because water is generally enough to clean these non-stick pans, it isn't necessary to add too much soap. Just a drop or two will be more than enough to blast through those greasy stains.
Scrub the surface of the pan with soapy water, then rinse it thoroughly. Repeat as necessary, and ensure you dry the pan with a paper towel or clean cloth when finished.
3. Use Vinegar on Stains Caused by Heat
Overheating is another common issue that causes stains found on stainless steel. These stains often appear as warped marks on the pan, which are easily removed using cleaning solutions like vinegar.
When using an acidic ingredient like white vinegar to deep clean stainless steel, dilute it first. Doing this will prevent the vinegar from damaging the stainless steel, while also removing those unsightly spots like tarnished steel areas.
Begin cleaning heat stains on your stainless steel by adding equal parts water and distilled white vinegar to the pan. Bring this to a boil, then add in the dish soap and essential oils. Lemon essential oils, like dish soap, are powerful degreasers that easily pry loose those greasy foods from your pan.
Let the solution boil for approximately two minutes, then rinse and wipe away any remaining cleaner. If necessary, use a soft scrubbing pad or cloth to remove any stuck-on pieces.
4. Baking Soda: The Best Way to Clean Stainless Steel Pans
If you want to clean stainless steel appliances with baking soda, there are multiple ways to use this fantastic cleaner, as well. Baking soda acts as a gentle abrasive cleaner to quickly eliminate stuck-on particles.
Using a part baking soda, part vinegar solution works wonders, especially when adding the baking soda to the end of a recipe like the one listed above. Otherwise, you can start by adding just a little spritz of vinegar to the bottom of the pan.
Sprinkle in some baking soda, then scrub using a damp sponge. With just a little bit of elbow grease, tough-to-remove stains loosen up in no time. Rinse the pan with hot water, then repeat as necessary.
5. Try Some Lemon Juice for a Sparkling Clean
Cleaning with citric acid is an excellent way to breakdown stains caused by foods. Using an ingredient like lemon juice utilizes this powerful citric cleanser and leaves you with clean a stainless steel skillet or pan. Because it works so well at removing greasy messes, you can even use any leftover juice to clear away splashes of grime and gunk from your stovetop.
For this recipe, squeeze the juice out of two lemons directly into the pan or into a small bowl. Add the water, then bring to a boil in the pot. Let the mixture boil for approximately two minutes before removing from heat. Scrub as necessary, then rinse and dry thoroughly.
6. Use Salt and Lime as a Citrus Alternative
Just as lemon juice is an excellent cleaning option, salt and lime are the perfect tag team for removing gunk and grime from your stainless steel pots and pans. The best way to use this method is by cutting your lime in half, then squeeze the juice into the pan. Bring this to a boil, then sprinkle the salt over the top.
Allow the mixture to soak into the hot pan for five minutes, or until the pan has reached room temperature. After enough time has passed, add a little more salt and use the lime half as a makeshift scrubbing brush. Rinse off the solution and loosened particles, then dry when finished.
7. Try a Commercial Cleaner like Bar Keepers Friend
Another excellent way to clean stainless steel pans is by using a store-bought cleaner like Bar Keepers Friend. This commercial cleaner is excellent for making all of your stainless steel items sparkle and shine, including appliances, sinks, and, of course, your pots and pans.
The best way to use this solution is by wetting the surface of your pan first, then sprinkle some of the Bar Keepers Friend over the top. This product also comes in a soft cleaner, which you can also apply directly to the surface.
Use a scrubber to work the detergent into the pan. Loosen food particles, then rinse the cleanser from the pan's surface. Buff the pan dry using a soft cloth for a beautiful, shiny polish.
8. How to Clean Stainless Steel Pans with Flour
If your tastes lean more toward a powerful natural cleaner, especially for your All-Clad cookware, one option is a flour paste. This cleaning scrub uses its mild abrasive qualities, like baking soda, to work away tough stains caused by grease and food. Using a soft scrubber, such as an old toothbrush, adds to this excellent scrubbing power without hurting the non-stick surface.
To use this recipe, combine the two ingredients in a separate dish. Apply the paste to the burn marks or stains using the toothbrush, then gently begin scrubbing. Remember to rub along the grain of the stainless steel. Rinse when finished, then dry.
9. Use Cream of Tartar for a Shiny Polish
If you don't have any baking soda or flour lying around, one fantastic alternative is cream of tartar. This ingredient also works as a gentle abrasive cleaner to scrape away grease and foods without damaging the surface of your stainless steel pan. To use this home remedy for cleaning stainless steel, you need the following ingredients.
The ingredients should form a runny paste when combined, which acts as an effective scrub. You can also substitute the 1/8 teaspoon of lemon juice for vinegar. In either case, store any remaining product in a squeeze bottle in the fridge for later use.
10. Fix Discoloration with Tomato Sauce
Discoloration caused by stains, heat, or burn marks is another common problem you might run into with your stainless steel pans. The easiest way to reduce this horrible affront to your cookware's appearance is by adding tomato sauce.
If you don't have sauce, you can also use crushed tomatoes. Start by adding just enough to line the surface of the pan. Turn the heat on, then let the tomatoes simmer for about ten minutes.
If you'd rather not heat them on the stove, then just let them sit overnight. Scrub with a soft brush, then rinse and dry.
11. How to Clean a Burnt Stainless Steel Pan with Soda
Another excellent way to eliminate burnt oil stains from stainless steel pans is to use a little bit of club soda. The carbonation in the soda assists with lifting away the stubborn oily residue, making it easier for you to scrub your pan clean.
To use this method, cover the burn marks at the bottom of the pan with a splash of soda. Bring the fizzy drink in the pan to a boil and let it simmer for a couple of minutes.
Once the soda has had time to soak into the food or oil, scrape it away with a spatula or a soft scrubbing brush. Repeat as necessary and dry before putting the pan away.
12. What to Avoid When Cleaning Stainless Steel
If you're still having trouble getting those challenging stains off, it may be tempting to try more abrasive cleaner techniques. With both corrosion and rust-resistant qualities, does stainless steel rust or oxidizewhen applying more stringent cleaning techniques?
Using harsh chemicals and scrubbers may seem like the best way to remove stubborn stains or food particles from your stainless steel. However, these items may contribute to a condition known as pitting.
As you might imagine, pitting is when little holes, or pits, show up all over your stainless steel, slowly eroding away the material. Just some of the many items you should avoid when cleaning stainless steel are listed here.
Beyond the effects of chemicals, even scouring pads or steel wool will damage the surface of your stainless steel pots and pans. These items leave behind scratches, which may eventually lead to rusting later. Another surprising tool to avoid when cleaning your stainless steel pans is the dishwasher.
Dishwashing your stainless steel cookware may not have adverse effects instantly, but it will wear down the pan's surface over time. Doing this now and then is fine, but it's best to avoid it altogether whenever possible.
13. Dry, Dry, and Dry Again
Drying your stainless steel pan is almost as important as cleaning it. One of the cardinal rules is to clean your cookware immediately after every use to avoid foods sticking to the surface and ruining the pan. This same tip applies to drying off your pans after each cleaning.
Ensuring that your cookware dries thoroughly before putting it away reduces damage caused by water spots. It also allows you to give your pan that one final buff and polish before storing it.
No matter what your stainless steel cookware is up against, you now have several options to choose from when it comes to maintaining that sparkling clean surface on your pots and pans. Whether you need to know the best way to resolve discolored pots or how to clean a burnt stainless steel pan, these tips provide you with everything you need to know.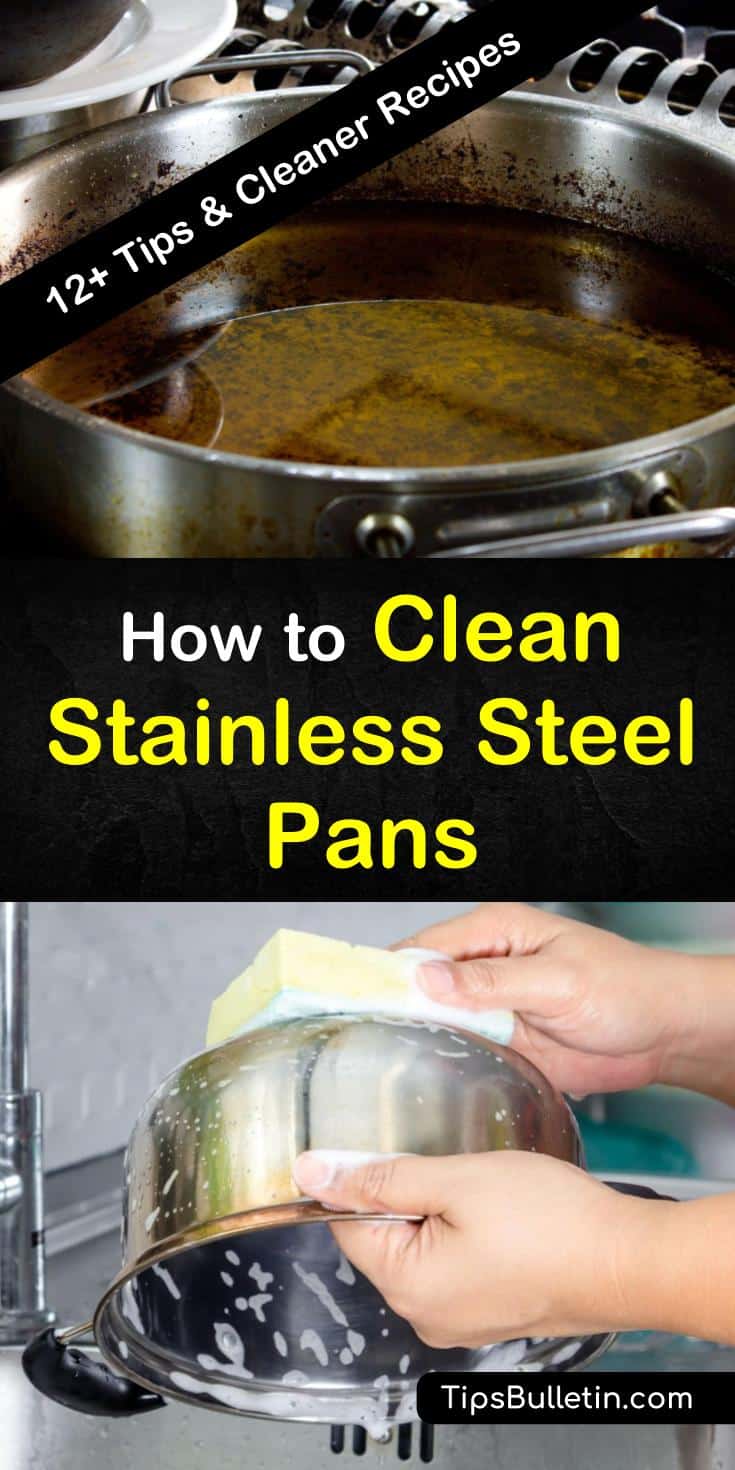 If you enjoyed our stainless steel cookware cleaning tips, then please don't forget to share how to clean stainless steel pans with all your favorite cooks on Facebook and Pinterest.