Stainless steel pots are a boon to modern homemakers. They can take high heat without damage, and they last for years if you treat them right. Knowing how to clean stainless steel pots is essential if you want your cookware to hold up for the long haul, though.
A reliable method for cleaning stainless steel pots extends your cookware's lifespans and will save you time and money over the years. This guide delves into how to clean a burnt stainless steel pot and gives you effective cleaning methods for all sorts of situations.
We provide top-notch cleaning products for daily use, and you'll also get some fantastic techniques that you can use the next time you encounter a pot that requires a heavy-duty cleaning solution. With our guidance, you'll be able to cook out of the same containers for years to come.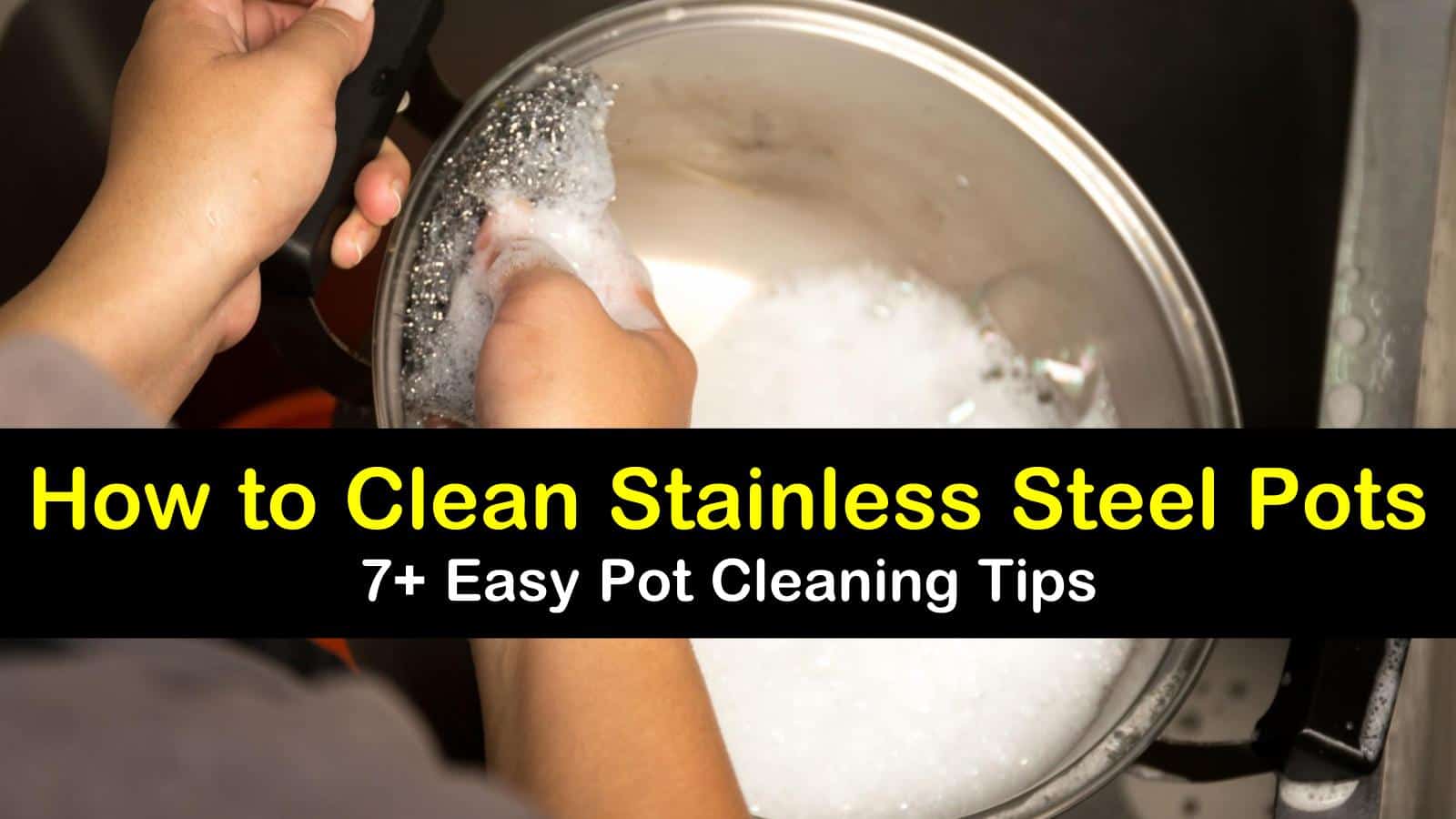 Cleaning Stainless Steel Pots
If you've spent time in the kitchen, you've likely seen stainless steel cookware take a terrible beating. So, does stainless steel corrode? It can if you don't keep it clean. You've got to give your stainless steel cookware a thorough cleaning every time you use it if you want to enjoy it for an extended period.
Daily Cleaning Options
In this section, we show you low-impact methods of keeping your cookware clean. Employ these cleaning methods whenever you cook with stainless steel.
The cleaning options in this section are also perfect for those wondering how to clean a stainless steel sink, too. With regular attention and some elbow grease, your cookware can last throughout your lifetime.
Season Your Cookware
Some stainless steel pans and pots such as All-Clad have non-stick layers that work wonderfully as long as you take care of them. Season any stainless steel pots that have non-stick layers every half a year just as you would cast iron. Will stainless steel tarnish without seasoning? No, probably not, but it does help to maintain the finish and smooth cooking surface.
And, you might have to do it more often than that if you use your non-stick pans regularly. A good seasoning to a hot pan adds a layer that resists staining and burning.
To season your stainless steel pots and pans, pour enough oil into the surface of the pans to coat the bottom of the pan. Place the containers over medium-high heat. Cook until the oil begins to smoke.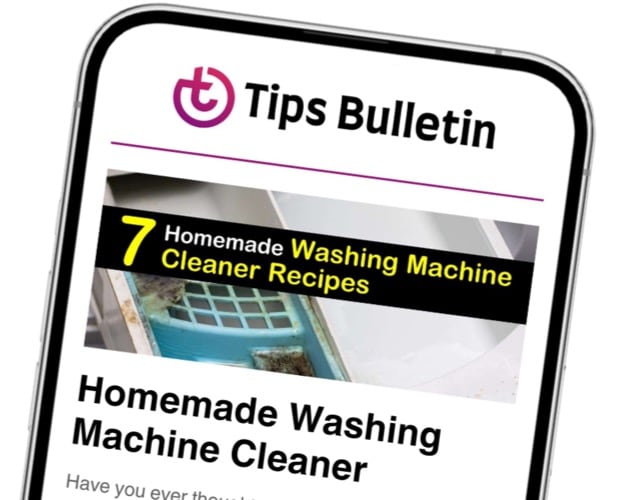 Finally, an email that Transforms Your Home.
Get the latest home and garden tips from our experts, delivered straight to your inbox.
Turn off the heat before the oil starts overheating, and wait until the oil cools to room temperature. Pour the oil into a storage container and wipe the interior of the pots or pans with a paper towel to clean away excess oil.
Rinse the Pots with Hot Water
Most of the time, stainless cookware is easy to clean and doesn't require a lot of effort on your part, especially if you're working with seasoned pots and pans. In those sorts of situations, there's no need to reach for tough cleansers. A simple rinse under hot water is enough to get your pots clean in most cases.
If the pots require a bit more attention, fill them with hot water and boil them on the stovetop for a minute or so to clean off any stuck-on material.
Never use an abrasive scrubber such as Scotch-Brite scouring pads or steel wool, though, as these scrubbing pads will scratch the metal and create vulnerable spots where corrosion can set in. Hand dry the pots to prevent water spots from forming.
Clean Your Pots with Dish Soap
Liquid dish soaps such as Dawn or other favorite brands are the best to clean a pan with baked on grease or to deal with daily staining on your pans and pots. These soaps don't have harsh chemicals that can damage your pots' surfaces, and they're gentle enough for everyday use to get your cookware looking like new again. If hot water by itself isn't enough, add some dish soap.
Add hot water and dish soap to any pot for cleaning aluminum pots and pans or any other cookware that requires some extra attention. Soak the pot for a little while to let the soapy water work into any stains if needed, but don't let it sit overnight, as you can cause pitting in the metal.
Use a soft cloth to clean off stains and any debris with a gentle scrubbing motion. Rinse in hot water and hand dry.
Use the Dishwasher and Dry by Hand
Your dishwasher can pose a risk to some types of cookware, but stainless steel can generally tolerate anything a dishwasher throws at it. When you need to get your cookware clean and don't have the time to clean them by hand, you can always opt to throw them through a dishwasher cycle.
Your dishwasher will get the job done and keep your pots clean and shiny. Don't add dishwashing detergent to the dishwasher when you wash stainless steel, as the water by itself should be enough to get the cookware clean.
Also, don't add items that might come loose in the dishwasher to avoid scratching the pots. Turn off the "heat dry" cycle on your dishwasher when washing stainless steel — dry everything by hand to prevent water spot formation.
How to Clean a Burnt Stainless Steel Pot
When you set out to determine how to clean stainless steel pots, not every pot you use will clean up right away with nothing more than dish soap and hot water. You're bound to run across cookware with burnt food, calcium buildup, and other issues that affect its performance and reduce its lifespan.
You'll need some more robust methods when you encounter these sorts of challenges when cleaning stainless steel pots. And, you have to choose one that doesn't use bleach, ammonia, or another cleaner that can damage the stainless steel.
Cleaning Stainless Steel Pots – Heavy-Duty Cleaners
This section covers how to clean a burnt stainless steel pot using hardcore cleaning solutions. Use these cleaners to cut through burnt-on food and scorch marks. They'll make your pots and pans look like you just brought them home from the store.
We also show you how to make a vinegar cleaning product that doubles as a top-notch stainless steel jewelry cleaner. You'll get our most effective recipes, and your cookware will thank you.
Remove Calcium Buildup with Vinegar
If you live in a home that has hard water, you've got a particular issue with which to contend. Calcium and other minerals in the water stick to stainless steel when heated.
Over time, this results in a chalky white buildup on your pots. Fortunately, you can resolve this issue without too much heartache. A vinegar bath is all your pots need to shed that calcium layer and shine once again.
You can always substitute lemon juice for the vinegar if you prefer. To clean a stainless steel pan and get rid of nasty debris, fill the pot with a cup of vinegar and two cups of water. Add as much liquid as you need to fill the pot, but maintain the same ratio of two parts water to one part vinegar.
Let the mixture sit for an hour or more to give time for the vinegar to work. Rinse the pot with hot water and wipe clean with a sponge or cloth. Hand dry the cookware.
Tackle Tough Stains with Baking Soda
Baking soda is a high-performance cleaner and is the savior of many a stained pot or pan. Use baking soda to get your stainless steel clean when you encounter a severe patch of burnt food.
The baking soda has a very mild abrasive effect on the steel, which allows it to cut through burnt spots without damaging the underlying surface like other abrasive cleaners. It polishes as it cleans, too.
Clean off any burnt areas by pushing under them with a spatula. Sprinkle baking soda on discolorations, and add enough water to create a paste.
Use a soft sponge to gently rub the paste onto stains. Wait ten minutes, and rinse the pot with hot water. Repeat until all stains lift away. Hand dry the cookware.
Remove Scorch Marks with Table Salt
Salt might not spring to mind when you consider how to deal with burnt and scorched spots on stainless steel, but it should. Salt eats away at charred places and leaves the steel behind.
The next time you face off against a pot that you can't get clean, give good old salt a try. You'll be delighted with the results.
Fill the steel pot with water, and heat it. Wait to add the salt until the water boils. Stir your solution until the salt dissolves, and then turn off the heat.
Wait a few hours. Empty the pot, fill it with hot water, and gently scrub the spot with a sponge. The burn marks should wipe away. Repeat until the container is completely clean.
Bring Your Pots Back to New with Bar Keepers Friend
Most folks who have spent time in the kitchen are familiar with the miracles that Bar Keepers Friend can work on metal. This commercial product is our go-to cleaner for the toughest and most stubborn stains on our cookware. Use Bar Keepers Friend to bring out a showroom shine in your pots and pans.
Stick to the manufacturer's instructions when using Bar Keepers Friend or any commercial product, as this allows you to reach out to customer support if needed. Always wear gloves when you clean with this product. Make sure to rinse and hand dry the pots and pans after you clean with Bar Keepers Friend.
We hope you had a bang-up time checking out our stainless steel cleaning tips. Stainless steel cookware is a miracle and allows us to cook with relatively little mess, but they can still stain.
Our guide shows you the top ways to keep your steel cookware clean and looking as good as the day you took it out of the box.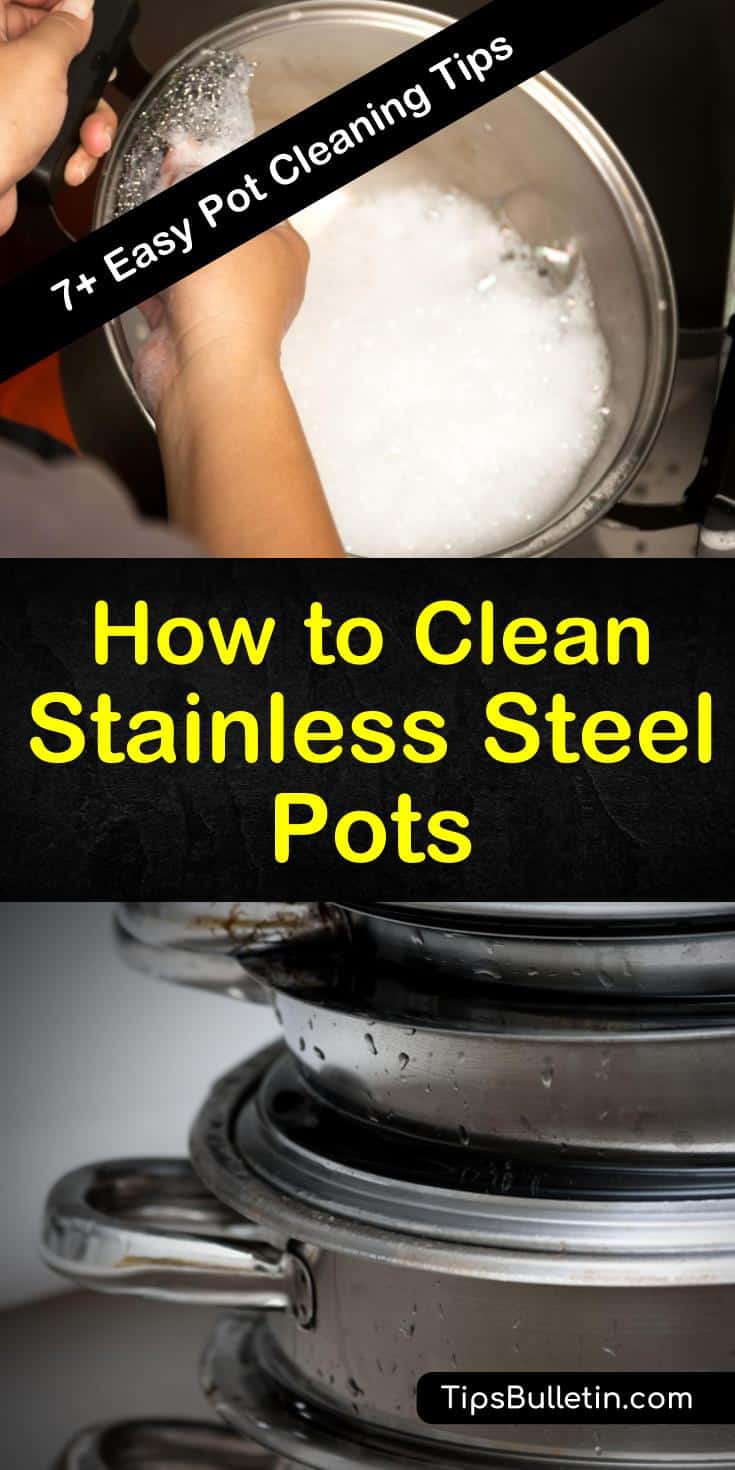 Thanks for reviewing our cookware cleaning advice. Help others learn about how to clean stainless steel pots by sharing this in-depth article on pot cleaning on social media outlets like Pinterest and Facebook.