Silver jewelry, brass, stainless steel, and other metal pieces are stunning when they are new and shiny with their original color and luster. Over time these metal items get tarnished and become unsightly. Learn how to clean tarnished metal surfaces to restore your favorite pieces to their original finish.
Metals are subject to environmental conditions as they age, leading to surface discoloration. This dark color on your favorite metal pieces is the result of tarnish. Fortunately, tarnish only affects the outer layer of the metal and is easy to clean using simple ingredients. Patina, the brown or green film that forms on the metal surface from oxidation, is easy to remove.
However, polishing the metal with the wrong types of cleaning products or doing so too frequently damages the metal's surface. It's important to know which cleaning products are safe and the most effective at getting the job done.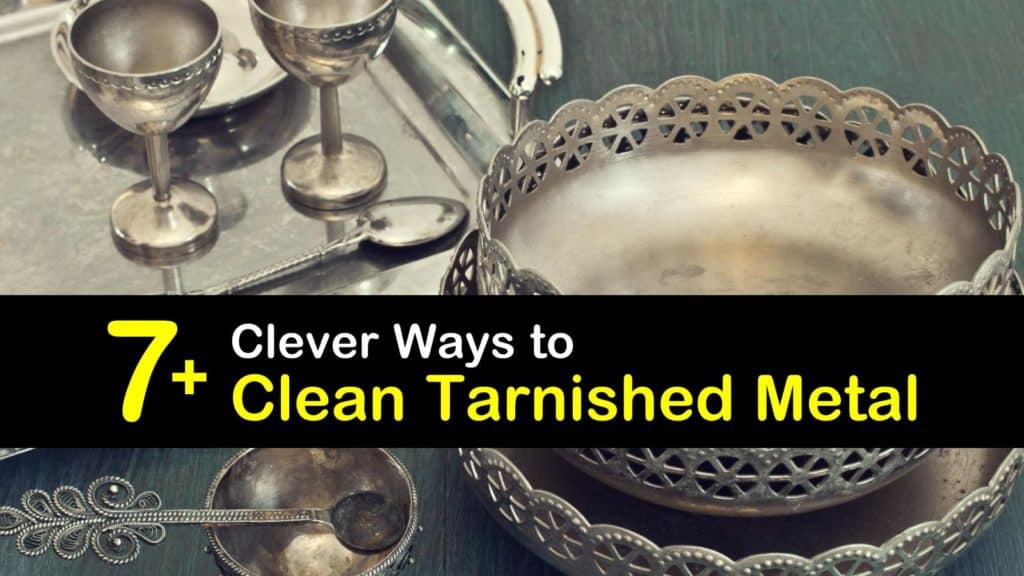 Cleaning Tarnished Metals at Home
While different types of metal require specific cleaning solutions, many basic cleaners work to remove tarnish from most types of metal. We'll show you how to clean these surfaces using both fundamental and extensive cleaning techniques.
Basic Ways to Clean Tarnished Metal
It's essential to clean your metal item with a basic cleaner before attempting to remove stubborn tarnish, whether you are trying to remove tarnish from aluminum or silver.
One of the simplest ways to clean tarnished metal is with soapy water, which is also the best way to clean fake jewelry. If your metal items are slightly blackened and dirty, start by using this simple cleaning solution.
Fill a large plastic bin or container with warm or hot water and add a couple of squirts of dish soap. Agitate the water with a spoon or your hands to create a soapy solution.
Place the metal items into the soapy water to submerge them and soak them for 15 minutes. Avoid immersing them for too long to prevent damaging the metal surface.
Use a soft sponge to wipe each piece clean and rinse them thoroughly with clean water. Dry each piece with a soft cloth.
Cleaning Tarnished Metal with White Vinegar
While white vinegar is the best way to tarnish brass, it is also an excellent solution for cleaning tarnished metal surfaces such as stainless steel, pewter, copper, and bronze.
Pour the warm water and vinegar into a large plastic bucket or tub and stir to mix. Dunk a toothbrush into the liquid and brush the solution on the tarnished areas of the metal. You can also clean jewelry with vinegar in the same way.
The soft, flexible brush bristle mixed with the acidity of the vinegar loosens and removes grime and tarnish. Continue scrubbing the toothbrush on the surface using a circular motion, and apply more liquid as needed.
Rinse under warm water and dry it thoroughly with a soft, dry cloth. Inspect the piece for remaining tarnish and repeat the cleaning process if necessary. Metals like pewter will rust, so keep this metal cleaner on hand to polish any tarnished jewelry.
How to Clean Tarnished Metal with a Homemade Paste
This combination of white vinegar, salt, and flour makes an ideal paste for cleaning heavily tarnished items. Vinegar is also a good solution for creating a homemade stainless steel tarnish remover.
Make a thick paste by adding the vinegar, flour, and salt into a small plastic bowl. Rub the paste on the tarnished piece or to clean stainless steel rings and allow it to sit for ten minutes.
Rinse the dried vinegar paste and tarnish off the item by holding it under clean, running water, and dry it with a soft microfiber towel.
Cleaning Tarnished Metal with Lemon and Salt
If you do not have any distilled vinegar in the home, try using a lemon and salt tarnish cleaner. The juice of lemons is high in citric acid and acts as an acidic to cut through tarnish safely, while the salt is the mild abrasive to remove grime gently.
Roll a whole lemon on the counter for about 30 seconds and then slice it in half. The rubbing action breaks up the membranes of the lemon, making it juicier.
Place the other half of the lemon into a plastic bag and store it in the fridge for later use. Sprinkle salt onto the cut side of the lemon and rub it onto the tarnished metal in the same manner you use a scouring pad.
Squeeze the lemon periodically to release more juice. Rinse the metal item under clean water and dry it with a soft, clean cloth.
Removing Tarnish from Metal with Baking Soda
Baking soda and lemon juice are natural ingredients that work great at removing tarnish from metal surfaces such as silver while leaving a polished finish and are also rust remover ingredients.
Use your hand to roll a lemon across a hard surface to loosen up the juice, and cut it in half. Sprinkle the baking soda over one half of the lemon and place the other half in a plastic bag in the fridge to use later.
Use the lemon half in the same manner that you use a scouring pad and rub it on the tarnished area of the metal. Go over the surface a few times to ensure that the tarnish is gone.
Hold the piece under running water and use your fingers to clean all of the baking soda from the metal crevices, and pat it dry with paper towels.
How to Remove Tarnish off Silverware
We all use silverware daily, and a tarnished fork or spoon is not very appealing while trying to enjoy a meal. Here is how to clean silver plated silverware and sterling silver to remove tarnish in minutes.
Line the bottom of a baking sheet that is large enough to accommodate all of your tarnished silver. Place the silverware on the foil and sprinkle the baking soda evenly over the top of the pieces. Pour about two quarts of water into a pot and bring it to a boil.
Pour the boiling water over the silverware to cover it. The tarnishing disappears as the water cools. Remove the silverware pieces and dry them with a soft cloth.
Using Common Household Items to Clean Tarnished Metal
White vinegar, aluminum foil, and baking soda are some of the most obvious solutions for cleaning tarnish off metal, but what if you do not have these items in the home? Here are a couple of everyday items that are great substitutes for removing tarnish.
Apply a dab of toothpaste to the tarnished area of the metal. Try and use a toothpaste that contains baking soda for the best results. Use an old toothbrush to rub the metal using circular motions and make sure to get into the nooks and crannies.
Rinse the item thoroughly with clean water and inspect it for remaining tarnish. Repeat if necessary and dry the metal with a soft cloth.
If you prefer using ketchup to clean the metal, apply a layer of the sauce to the metal surface, and allow it to rest for a minimum of 30 minutes. The acetic acid in the ketchup breaks up the tarnish for easy removal.
Use a soft-bristled toothbrush to scrub the metal surface using a gentle circular motion. Hold the metal piece beneath running water until it runs clear and dry it with a soft cloth.
Using Commercial Metal Cleaners to Remove Tarnish
If you don't have the patience or time to clean your metal items with a homemade solution or metal polish, store-bought metal cleaning products are a safe and easy alternative for restoring metal surfaces.
Choose a cleaner designed to clean brass, copper, or other metal types and follow the label's instructions. Begin by cleaning the item with warm water and dishwasher detergent to remove dust and debris. If the piece is not too dirty, wipe it clean with a damp cloth.
Use a soft cloth to apply the cleaner and rub the metal with the grain to remove tarnish. Rinse the piece under running water and buff it dry with a microfiber cloth.
Time has a way of discoloring metal surfaces, and the brown/green patina leaves something to be desired. While it's easy to clean those metal pieces using a commercial cleaner, several home remedies remove tarnish with ease, and many of them are surprising.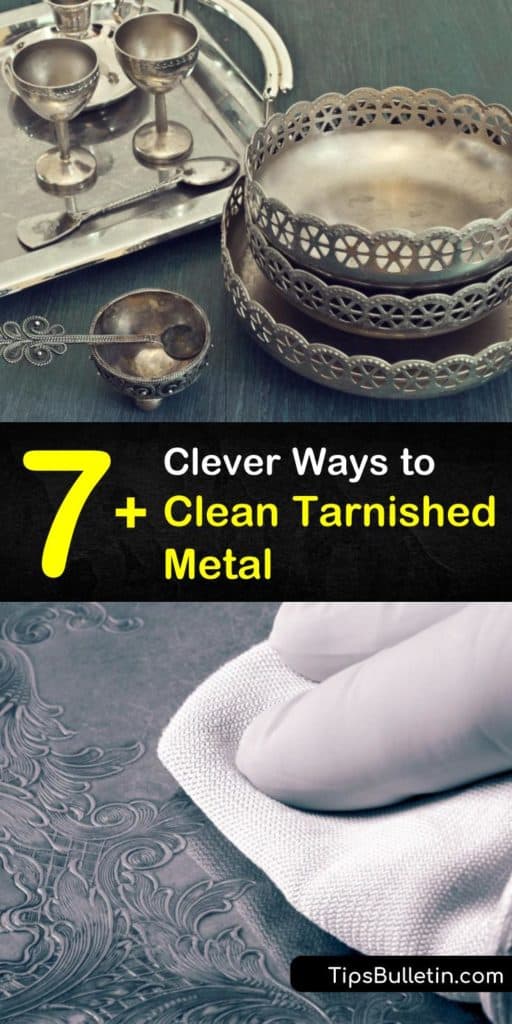 Now that you know how to clean tarnished metal to restore your favorite metal items to their original luster and shine, why not share our tarnished metal cleaning solutions with your family and friends on Facebook and Pinterest?