Although tennis shoes were originally designed and intended to be worn solely during tennis matches, the term is practically interchangeable for any sneaker. Whether you wear tennis shoes to play tennis or run everyday errands, it's essential to know how to clean tennis shoes.
No matter what type of material your tennis shoes are, they collect dirt and stains the more often you wear them. Some shoe materials, like white suede, may show stains faster than other shoes, but regular cleaning is key to keeping your shoes looking new longer.
Aside from the durability of your footwear, the appearance of your shoes is important. The longer you keep your shoes looking nice, the longer you can wear them. Unless you only plan on storing your shoes in the closet, it's impossible to prevent them from ever getting dirty, so it's crucial to know how to clean your favorite pair of tennis shoes when needed.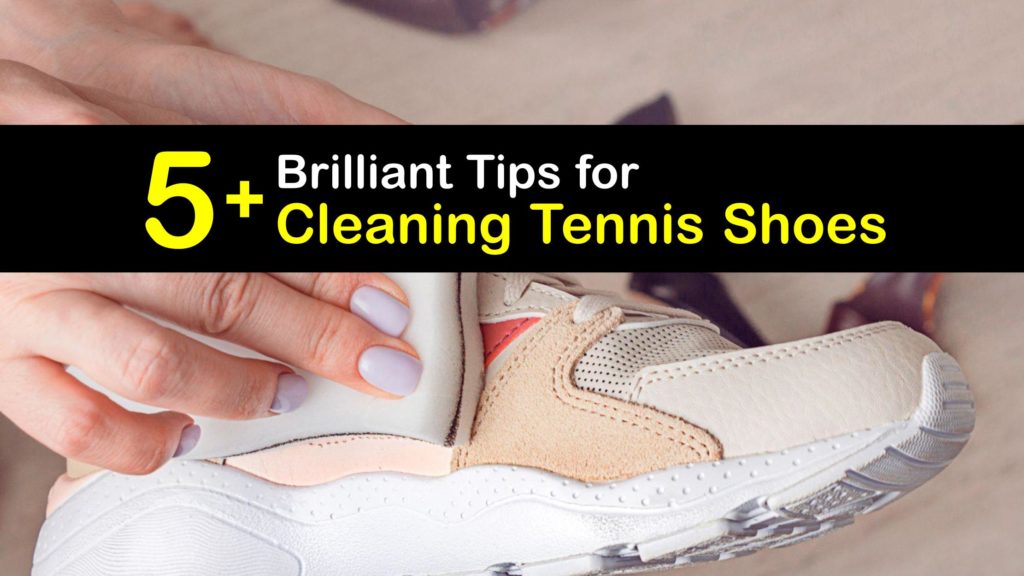 Cleaning Tennis Shoes at Home
Because we wear tennis shoes often, they are easy to scuff and get dirty. When your favorite shoes become dirty with mud and grass stains, knowing how to remove dirt safely is necessary for restoring the original look of your shoes.
While it is often the fastest way to dry tennis shoes, the dryer can damage some shoe fabrics. Use caution if you opt to use the dryer after cleaning your tennis shoes.
Using Baking Soda to Clean Sneakers
Baking soda is more than just powder used to keep your refrigerator smelling fresh; it is a powerful cleaning agent that causes dirt and build-up to dissolve while cleaning. To use baking soda as a cleaner, create a paste made with water to remove dirt and grime from your favorite basketball court shoes.
Mix baking soda and water to create a spreadable paste to clean your dirty sneakers. Use a toothbrush to spread and work the baking soda paste into the stains areas of your shoes. Wipe away the excess paste with a soft cloth while cleaning your shoes. Repeat if needed, or allow your shoes to dry before wearing them.
Note: Baking soda may cause the colors to fade in your canvas sneakers. Test in a small area before cleaning the colored or dark portions of canvas shoes with baking soda.
What is the Best Way to Clean Tennis Shoes?
When your favorite running shoes get dirty, it may seem like the best idea is to toss them in the washing machine. While machine washing is effective, in the long run, it damages shoes. Try hand-cleaning tennis shoes with laundry soap to clean your athletic shoes without sacrificing quality.
Before you start cleaning, use a brush to clean loose dirt from your shoes and remove your shoelaces and insoles. Stir detergent with water in a bowl and place your shoe laces inside to soak. Clean your insoles with an old toothbrush.
Apply the soapy water to your shoes with a microfiber cloth before using the shoe brush to scrub away dirt. Once your shoes are clean, rinse them, use a paper towel to absorb excess water, and leave them out to dry.
Cleaning Shoes with a Magic Eraser
If your leather shoes become dirty or scuffed from regular wear, using a Magic Eraser could be the ideal way to make your shoes look good again. Magic Erasers use melamine foam to create their unique rough and porous texture. This is what makes Magic Erasers so effective at cleaning build-up and dirt.
To clean leather sneakers, wet your Magic Eraser and wring out any excess moisture so it is damp but not sopping wet. Rub away any stains or scuff marks on the surfaces of your shoes. Once clean, allow your shoes to thoroughly dry before using a leather conditioner.
Note: Due to the texture of the Magic Eraser, it's best used on white leather sneakers and shoes with white soles.
How to Clean Tennis Shoes with White Vinegar
Cleaning suede sneakers is tricky because of how delicate suede is as a shoe material. The production of suede shoes comes from animal hides; however, unlike leather, suede sneakers have a softer feel and hold stains easily, especially white shoes made with suede.
To safely clean suede shoes, use white vinegar to break down any stains or dirt without damaging the feel of your suede shoes.
Use a clean pencil eraser to gently scrub scuffs and stains on the surface of your suede shoes. Dip a clean cloth into white vinegar and rub it against the stains on your shoes.
Don't apply too much pressure to avoid causing the stain or vinegar to spread across your shoe; too much moisture is bad for suede. Once clean, leave your shoes to dry and use a suede brush to restore the texture of the suede.
Clean Tennis Shoes with Dish Soap
Dish soap formulas allow them to cut through grease and build-up on dishes, but the soap is also effective for cleaning tennis shoes. Mix a bit of soap with water to quickly clean stubborn stains from your tennis shoes. Because dish soap is something most households have, this is likely the best way to clean tennis shoes.
Combine liquid soap with water and use a cloth or an old toothbrush to work the soapy mixture into the stained areas of your shoes. If you're cleaning white sneakers with dish soap, it may be easier to tell when the stain lifts. Rinse off residual soap and let them dry.
Can you Clean Shoes with Toothpaste?
Yes, you can clean shoes with toothpaste. Using toothpaste to clean cloth tennis shoes may be one of the easiest cleaning methods. The whitening agents in toothpaste and abrasive additives like baking soda make toothpaste an ideal tool for cleaning white mesh shoes.
To clean white shoes, use a non-gel toothpaste and apply it to the dirty sections of your shoes with an old toothbrush or cloth. The best way to clean white mesh shoes is to work the paste into the shoes and leave it to sit for at least ten minutes. Rinse your shoes or use a damp cloth. Repeat as needed until your shoes are clean again.
Safely Cleaning Tennis Shoes in the Washer
For a hands-off method for cleaning shoes or if have multiple pairs of tennis shoes to clean, learning to clean tennis shoes in the washing machine helps maintain the appearance of your footwear.
Before placing your shoes in the washing machine, use a brush to remove loose dirt. Take out the insoles and laces before putting your shoes in the washer. Laces tangle easily around moving parts in the washer, and insoles become saturated and difficult to dry.
Pre-treat your shoes with a stain remover to help remove stubborn stains from grass or mud. To clean white tennis shoes, it's a good idea to place your tennis shoes in a mesh bag to prevent them from hitting the sides of your washer. To further lessen any impacts on your washer drum, toss a couple of towels into the wash.
Once your shoes are clean, remove them from the mesh bags and let them air dry. Stuff the shoes with newspaper to soak up moisture and help them retain shape. You can stretch tennis shoes by adding some extra paper inside while they dry or use a shoe tree to make them just a bit bigger and more comfortable.
Knowing how to clean tennis shoes is important for maintaining the life of your shoes. Letting your shoes remain dirty makes getting stains out harder and improper cleaning could damage your shoes beyond repair.
If our shoe-cleaning guide helped you learn how to clean tennis shoes, please share our tips on Facebook and Pinterest to help your friends discover the best way to clean tennis shoes.