Tile floors protect our homes from wear and make our rooms look gorgeous. Unfortunately, it's easy to let your tile floors get dirty and stained, and it isn't always easy to get them back to showroom condition. Having a suitable method handy for how to clean tile floors will prepare you for these moments.
When you have tile floor cleaning options on hand and ready to go, you can keep your home looking great no matter the cleaning challenge you face. This guide shows you the best way to clean tile floors for any circumstances. In this guide, we give you the information you need to maintain all types of tiles.
You'll find cleaning tips for stone, vinyl, slate, and ceramic tiles, and we give you recipes and approaches for all areas of the house, including kitchens, bathrooms, and garages. After you read our guide, you'll be ready to tackle the most challenging tile cleaning jobs with confidence.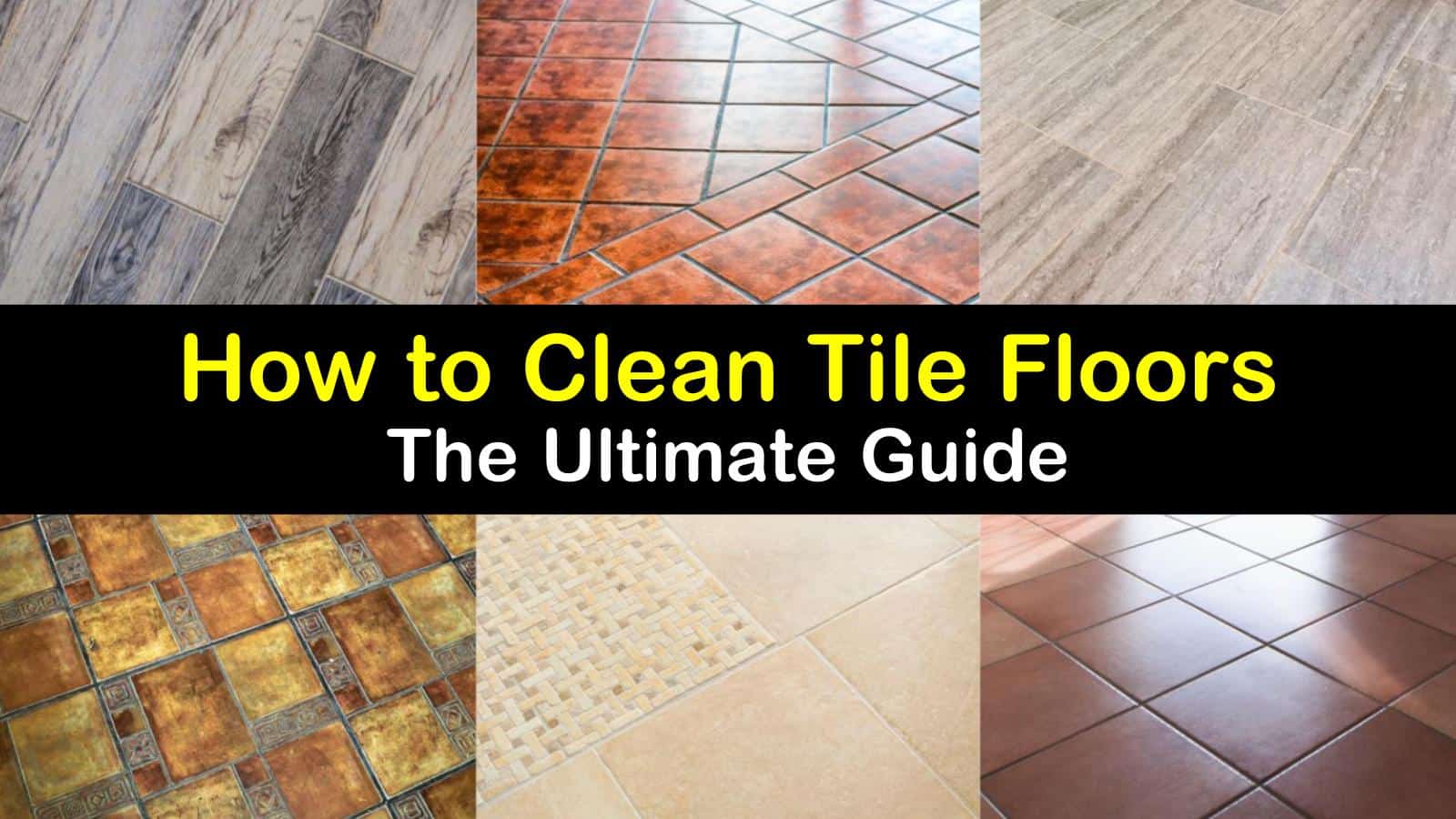 The Best Ways to Clean Tile Flooring
Vinyl tile is standard in our homes, and you've likely got a patch of it in your garage, kitchen, or bathroom. Because vinyl, including linoleum, is easy to wipe down and is nonreactive, it's the perfect tile for high traffic areas of your home.
High traffic means lots of dirt, though, and you need to be able to clean it away when it appears. Knowing how to clean tile floors made of vinyl is essential for today's homemaker.
Cleaning Vinyl Tile
This section looks at different ways to get vinyl tile clean and looking its best. We show you how to use a lubricant to remove scuffs from vinyl, the best way to clean tile floors using household cleaning products, and a fantastic cleaning option that uses vinegar. You'll be ready to take on any vinyl tile cleaning job you encounter.
Get Your Vinyl Looking Great with Vinegar
Vinegar might be the most useful household agent you have in your pantry. Vinegar contains acetic acid, and this ingredient allows the vinegar to work wonders on all sorts of grime and build up. It's a powerful all-purpose cleaner.
Use a vinegar-based cleaner to clean away any organic spill or stain. Give it a try the next time your bathroom or kitchen tile starts looking dingy.
Put on the gloves and combine the water and vinegar in a bucket. Mop the floor with the solution, and let it sit for about five minutes. Mop the area again with clean water.
Repeat as needed until the vinyl tile looks like new. This cleaning method won't harm the vinyl, so use it whenever you need to get a spot on the floor clean.
Clean Away Scuffs with WD-40
Because vinyl floors are often in the garage, bathroom, and kitchen, they get a lot of abuse and sometimes start showing scuffs and other marks. These spots can dull your floor's finish and make your vinyl tiles look old and dirty.
It's essential to clean away scuffs on your vinyl floors when you find them to extend the life of your tile floor. WD-40 can smooth out those scuffs and restore shine to your vinyl.
Spray WD-40 onto a clean cloth. Don the gloves and rub the fabric on the scrapes. The WD-40 should clean away any dirt and remove the scuff. Repeat until the scuff is gone. Rinse the tiles with clean water to remove any excess WD-40.
Knock Out Tile Dirt with Baking Soda
Baking soda is dynamite on dirt and is just what you need to clean bathroom or shower tiles and get them back to showroom condition. Baking soda is both a mild abrasive and an absorbent and will soak up and clean away all but the worst stains. Use a baking soda cleaning solution to get your vinyl floors looking fantastic.
Combine the liquid ingredients in a spray bottle and spray stains on the tile. Scrub at the tile with a toothbrush until the stains lift away. Rinse the tile with clean water and dry with a clean cloth to clean away any lingering water spots.
Get Your Kitchen Vinyl Looking Great with Glass Cleaner
Kitchen tiles see extra-heavy foot traffic and lots of spills, so you need to have a cleaning option ready to go at all times. Glass cleaner is the perfect option for vinyl floors and will clean away most stains without harming the tile. Use glass cleaner to tackle spills you run across in your kitchen.
Slip on the gloves. Wipe away standing liquid or debris before you begin and spray down the stained area. Let the cleaner sit for a few minutes.
If the spill is fresh, you might be able to wipe it away at this point. If you're working on a dried-on stain, use a nylon scrubber to loosen it. Then, wipe the stain away with a cloth.
Hit Your Garage or Bathroom Tiles with Commercial Vinyl Cleaner
If you've been trying to find the best way to clean tile floors made of vinyl or other hard plastic but haven't had luck with our DIY recipes, give a commercial vinyl cleaner a shot. Professionally developed vinyl cleaners contain chemicals that cut through dirt or grease like butter.
They're sure to get your floors back to beautiful again. When you work with commercial products, always follow the manufacturer's instructions to the letter to allow you to reach out to the company if you need support.
Make sure to wear all appropriate safety gear, including gloves and respirator, when using commercial cleaners. Use just enough detergent to take care of the stain.
The Best Way to Clean Tile Floors
Slate is a natural stone material that makes for fantastic tiles for all kinds of rooms, including patios and living rooms. Slate makes for a hard and attractive tile that resists all types of damage, including scuffs and chips.
It's a favorite flooring choice for rooms that don't require vinyl's give and natural springiness. If you need a floor that will last for years and put up with constant heavy use, consider putting down slate tiles.
Cleaning Slate Tile
This section looks at different slate tile floor cleaning methods. We show you how to clean up messes off of slate surfaces quickly and effectively without harming the tiles.
You'll discover how to use alcohol, peroxide, and ordinary dish soap to clean slate tile floors and make your tiles shine all year long. Before long, your slate floors' warm glow will amaze your guests.
Clean Stains from Slate Tiles in Your Living Room with Mineral Oil
Slate surfaces are tricky to clean and maintain because of the slate's porous nature. A slate tile floor is at risk of damage if you hit it with some go-to DIY cleaners such as vinegar or lemon juice. These acidic products will harm your slate tiles.
Mineral oil is an excellent substitute for your everyday household cleaners, though. It'll get your tiles looking their best and won't cause stains or damage of their own.
Put on the gloves. Before you begin cleaning, brush the surface thoroughly with feather dusters or a dust mop to remove any loose debris.
Wet a cloth with mineral oil, and rub it on any stains you encounter in the slate tile. Continue until the stain lifts away. Use a second dry cloth to wipe any excess mineral oil off the tile.
Get Your Slate Tile Back to New with Liquid Dish Soap
Along with vinegar, liquid dish soap is one of the most potent cleaners in your home arsenal. The same grease-cutting action that gets your dishes clean enough to eat off is perfect for cutting through grime and oil on slate tiles.
Use a liquid dish soap formula for cleaning tile without a fuss. You'll be amazed at what a little soap can accomplish when you want to know how to clean tile floors.
Don the gloves and mix the ingredients in a bucket. Use a dry rag mop or chamois mop first to dust away any debris. Then, wet the mop in the cleaning solution and mop the floors. When you've cleaned away any stains, mop again with clean water to rinse the tiles and remove any lingering soap scum or dull spots.
Get Stains Out of Slate with Rubbing Alcohol
You wouldn't want to pour undiluted isopropyl alcohol, also called rubbing alcohol, on your slate tiles. However, when you add a little rubbing alcohol to water, you create a cleaner that will remove all sorts of stains from slate tiles. Use this cleaning solution to tackle tough stains on your slate tiles in hallways and living areas.
Combine the alcohol and water in a bucket. Wet a mop, and mop at any stains on your slate tiles until they lift away. When the area is clean, use a bucket of fresh water to rinse the tile. Repeat as needed.
Make Your Kitchen Slate Floors Shine with Peroxide
Hydrogen peroxide is another tried-and-true household cleaning solution. Peroxide's effervescent nature makes it ideal for cleaning all kinds of grime and dirt, and it'll do a number on your slate tiles.
Use peroxide on kitchen or bathroom tiles that require regular low-impact cleaning. It may be the best way to clean tile floors made of slate without resorting to commercial cleaners.
To make this simple but effective slate cleaner, don the gloves and fill a bucket with water and peroxide. Wet your mop, and mop the tiles to clean away any stains. Repeat until all the stains are gone. Fill a bucket with fresh water and rinse the slate tiles to clean away any lingering residue.
Reapply Sealer Regularly
If you want your slate tiles to continue looking their best for years to come, make sure to protect them adequately against potential stains and damage. There are plenty of excellent commercial tile sealers that you can use to ensure that your tiles stay like new.
Make sure to apply a coat of sealer to your tiles every year or so to keep them in good condition. Always wear adequate safety gear, including a respirator and gloves, when you work with a commercial sealer.
Turn on fans and open all windows. Follow the manufacturer's instructions for optimal results. A regular coat of sealer will keep out the worst of the grease and dirt.
Ceramic Tile Floor Cleaning
We're all familiar with ceramic tiles and know how useful they are in bathrooms and kitchens. Ceramic tiles, including porcelain tile floors, are hard and nonabsorbent, which makes them ideal surfaces for rooms that get a lot of liquid spills. When properly maintained, ceramic tiles will last for years without fading or staining.
Knowing how to clean tile floors made of ceramic will help you keep your home looking fantastic. This section looks at ceramic tile floor cleaning options that work quickly and effectively.
These recipes to clean ceramic tile will make your bathrooms, kitchens, and other areas with ceramic tile floors shine. Your ceramic tiles need to be clean enough to trust them with your family's health and safety. Only the best cleaning solutions will do.
Give the Floor a Daily Sweeping and Vacuuming
You don't need to reach for high-powered liquid cleaners to get your ceramics looking amazing. Your broom or vacuum is all you need to keep your floor clean in most circumstances. Before you start pouring caustic cleansers on your tile floors, take the time to clean away loose dirt.
All the grime and debris you sweep away can turn into stains if left unchecked, so regular cleaning is essential for clean tile floors. Make sure to remove the beater attachment from the vacuum to avoid scratching the tiles.
Slip on the gloves. Use a broom to sweep any loose debris into a dustpan and vacuum the floor, making sure to use a crevice tool on borders and grout lines. Make this task part of your daily routine to keep your floors in top condition.
Hit the Ceramic with Lemon Juice
Like vinegar, lemon juice contains enough acid to make it an ideal cleaner for many tasks. Lemon juice eats away at organic stains and breaks them down to make them easier to clean away.
Best of all, lemon juice leaves behind a fresh scent that makes any room smell fantastic. Give this cleaning option a try when you have food spills on ceramic surfaces.
Don the gloves and mix the ingredients in a bucket. Wet a mop, and mop at the stained or soiled areas on your tile floor. Continue until you lift all stains away. Repeat as needed.
When the floor is clean, give it a final rinse with clean water. This method might be the best way to clean tile floors made of ceramic and also makes an excellent DIY disinfectant spray.
Use Vinegar on Your Kitchen and Bathroom Ceramic Floors
There are so many distilled vinegar uses, that it is hard to name them all. The same power that makes vinegar such a useful tool on vinyl makes it ideal for ceramic floors, too. Use vinegar to cut through all kinds of stubborn stains on porcelain tiles, and it's especially good at eating through dried-on liquids such as mustard and ketchup.
Use vinegar when you need a powerful cleaner that is safe to use around pets and children. It's also quite cost-effective; you can get a gallon jug to keep on hand for just a few dollars and it will last a while.
Add all the liquid ingredients to a spray bottle. Slip on the gloves and spray down any stains on the tiles. Let the mixture sit on the tile for a few minutes, then scrub at the stains with a nylon scrubber.
Repeat until all stains lift away. Give the floor a final rinse with clean water. This cleaning solution is an excellent option for kitchen tile floor cleaning in particular.
Clean Your Ceramic Tile with Baking Soda and Vinegar
Two favorite home remedies in a single cleaner add up to a powerful cleaning agent that can knock out most stains on ceramic tiles and other surfaces throughout your home. Vinegar and baking soda are both on the home cleaning all-star team, and when you combine them, you create a heavy duty homemade tile cleaner that is more than the sum of its parts.
Vinegar and baking soda combine in a chemical reaction and produce fizz and effervescence, and you can harness that energy to clean your tiles. Try this cleaner when you need to know how to clean tile floors in a hurry and get them sparkling clean.
Fill the bottle with vinegar, don the gloves, and sprinkle baking powder on stains. Spray the spots thoroughly with vinegar. Let the cleaning mixture sit on the tiles for a few minutes.
Scrub stubborn stains with an old toothbrush until you loosen the debris. Repeat until all the stains are gone, and rinse the tiles with clean water. Try this tile floor cleaning method on vinyl tiling, too.
Use a Steam Mop on Your Kitchen and Bathroom Ceramics
Steam mops are lovely additions to your cleaning toolkit. When you use a steam mop, you deep clean not only the tiles but the grout, as well. It is the best way to clean tile floors without resorting to chemical cleaners, and it's safe for your family and pets.
A steam mop is a fantastic cleaner for stone and slate, as well, but you might need to apply a sealer to your floors after you use it. Never use a steam mop on laminate floors, hardwood floors, or any other plastic or wood surfaces.
Put on all safety gear, including safety glasses, before you begin cleaning. Check the manufacturer's instructions to ensure that you follow them accordingly.
Before you use a steam mop on the entire floor, test it out on a small out-of-the-way section first. A steam mop is a great option when you need to know how to clean tile grout, too.
Cleaning Stone Tile Floors
You might not live in a home with vinyl, ceramic, or slate tile flooring, of course. Many homes across the world use natural stone as a flooring surface and enjoy the protection they get from stone tile. You'll find stone tiles on patios, porches, living rooms, and other rooms in the house.
Getting stone floors clean can be tricky and requires some upkeep, but we're here to make sure that you know how to clean tile floors made of stone. This section examines the best way to clean tile floors of stone, including cleaning marble tile floors and other natural materials.
Treat these tiles well so they'll reward you with a lifetime of faithful service. Stone tiles can last for centuries if you take care of them and give them the maintenance they need, and we're here to show you how to do that.
Use Plain Old Water
We tend to think of water as an ingredient to cleaners rather than as a cleaner in its own right, but water can tackle all kinds of stains. You can use water to get your stone tiles looking beautiful. And, when you use nothing but water to clean your tiles, you won't endanger your family by exposing them to potentially harmful chemicals.
Boil a pot of water and fill a bucket with the water. Don all gear, wet the mop, and use it to mop the floor. Continue mopping, wringing out the mop, and replacing the water when it gets dirty until the tiles are clean.
Repeat as needed. You can use this method of tile floor cleaning every day, if necessary.
Clean Away Stains on Stone with Acetone
Acetone, also called nail polish remover, is one of the more common household products. Acetone works by breaking down a chemical compound into components.
This characteristic makes acetone ideal for dealing with all kinds of stains that seem set in and unmoveable. Try acetone when you need to know how to clean tile floors of paint and other chemical stains.
Slip on the gloves. Wet a cotton ball in acetone, and use the cotton ball to blot at the stain. When the cotton ball begins to pick up the stain, switch to a new cotton ball and continue.
After the stain is gone, rinse the flooring with clean water. Test this option on a hard-to-see spot before you start working on the whole floor.
Get Out Tough Liquids from Stone with Ammonia and Peroxide
Stone tiles are great, but their porous nature can present a problem when you spill liquids on them. Coffee and urine are just two of the many liquids that can be difficult to get out of stone, and you'll need to tackle them using unique methods.
Ammonia and peroxide are just what you need to take care of these stubborn stains. Use this cleaning option alongside a homemade granite polish for maximum effectiveness.
Don all safety gear, turn on all fans, and open windows. Combine the ammonia and peroxide in a small bowl, and wet a cloth with the solution.
Rub at any stains with the fabric, and rewet it as needed. Continue until you clean the stain off the tile. Rinse the area with fresh water after you finish cleaning.
Get Your Stone Tiles Beautiful with Castile Soap
Castile soap is a powerful cleaning agent made from vegetable oils and no animal fats. It's an effective cleaning agent for all kinds of surfaces, including stone tiles.
Use a Castile soap cleaning solution to get your stone floors clean of dirt, grime, and grease. This option is the best way to clean tile floors without resorting to harsh chemicals. Use this cleaner on stone countertops, too.
Combine the soap shavings, essential oil, and water in a bucket. Wet the mop thoroughly, and mop the floor. Pay extra attention to stained or soiled spots on the tiles, and replace the dirty water from time to time. When you've cleaned the floor, rinse the tiles with clean water to complete the task.
Make a Poultice with Talc or Baking Soda
When you encounter a particularly stubborn stain on stone tile, you need to break out the big guns. A poultice made from talc or baking soda pulls the stain out of the flooring over time.
When a poultice works correctly, you won't need to do any scrubbing; all you need to do is apply, let dry, and clean away when complete. Use this method for extra-tough stone tile floor cleaning jobs.
For oil-based stains, use baking soda and water. For water-based stains, use talc and acetone. Combine the powder and liquid, and use a cloth to spread it on any stains. Leave at least a ¼-inch-thick layer of paste on the stain. Cover the poultice with plastic wrap.
Allow the paste to dry and wait at least two days. Remove the plastic wrap, crumble away the dried paste, and wipe the floor clean of debris. Repeat as needed.
How to Clean Tile Floors
Getting the tiles themselves clean and looking sharp is only part of the battle. Tile grout can get discolored and stained with patches of mold and mildew, which can pose a danger to your family. To get your floors clean and healthy, you need to not only know how to clean tile floors but how to clean the grout around the tile.
Cleaning Mold from Grout
This section covers grout cleaning methods that you can use in conjunction with our tile cleaning recipes. A steam mop will clean your grout in many cases, but you'll still need to turn to a cleaning recipe from time to time.
We show you how to get your grout gleaming again and give you some fantastic cleaner recipes. With our help, your black mold and mildew woes will vanish, and your floors will be clean and attractive.
Use a Magic Eraser on Grout
The Mr. Clean Magic Eraser is a new but vital addition to the homemaker's cleaning kit. The Magic Eraser and other abrasive sponges work by scrubbing and lifting stains out of surfaces, which makes it perfect for working on grout and mold. You can use a Magic Eraser to take care of all kinds of grimy grout. It's safe and easy to use.
Always wear gloves when using a Magic Eraser, and make sure to give the tile floor and grout a good cleaning before you work with the Eraser. Follow the manufacturer's directions to the letter to make sure that you can contact the company for support if the need arises.
After you finish working with the Magic Eraser, sweep the tiles again to pick up any debris and residue. It's an excellent go-to cleaner when you need to know how to clean tile grout.
Use Bleach on White Grout
Most grout is colored white. This quality allows any mildew or black mold to be instantly noticeable when it appears. White grout is easy to clean, fortunately.
All you need to get white grout clean is bleach, water, and elbow grease. With this grout cleaner for floors or walls, all you need is a few minutes with a bleach solution, and your white grout will be back to brand new. Never use bleach on colored grout.
Don the gloves, and combine the bleach and water in a bucket. Wet an old toothbrush or soft nylon brush and scrub at grout stains until you clean them away. Repeat until all mold and stains are gone. Test this option on a hard-to-see spot before you use it to clean all of the grout.
Clean Colored Grout with Vinegar
If your tile floor has colored grout, use a cleaner other than bleach to remove mold. Bleach can discolor dyed surfaces and materials and may do more harm than good when used on colored grout.
Luckily, vinegar is here to save the day and get your grout spotless again. If you are cleaning grout on a stone or slate floor, be careful not to apply the cleaner to the tile itself, as the acid can damage the stone.
Combine the water and vinegar in a bowl, and slip on the gloves. Wet an old toothbrush in the mixture and scrub at the grout until all stains lift away.
Repeat as required until the grout is clean and looking healthy again. The vinegar will continue to repel mold, so you can leave it on the clean grout when you finish your work.
We hope you enjoyed checking out our grout and tile cleaning tips on the best way to clean tile floors. Tile floors are essential components of our homes, but constant traffic and spills can make them dirty in a hurry.
Our guide shows you how to clean tile floors and gives you recipes for all tile surfaces and locations. You'll be ready for any tile cleaning job you encounter.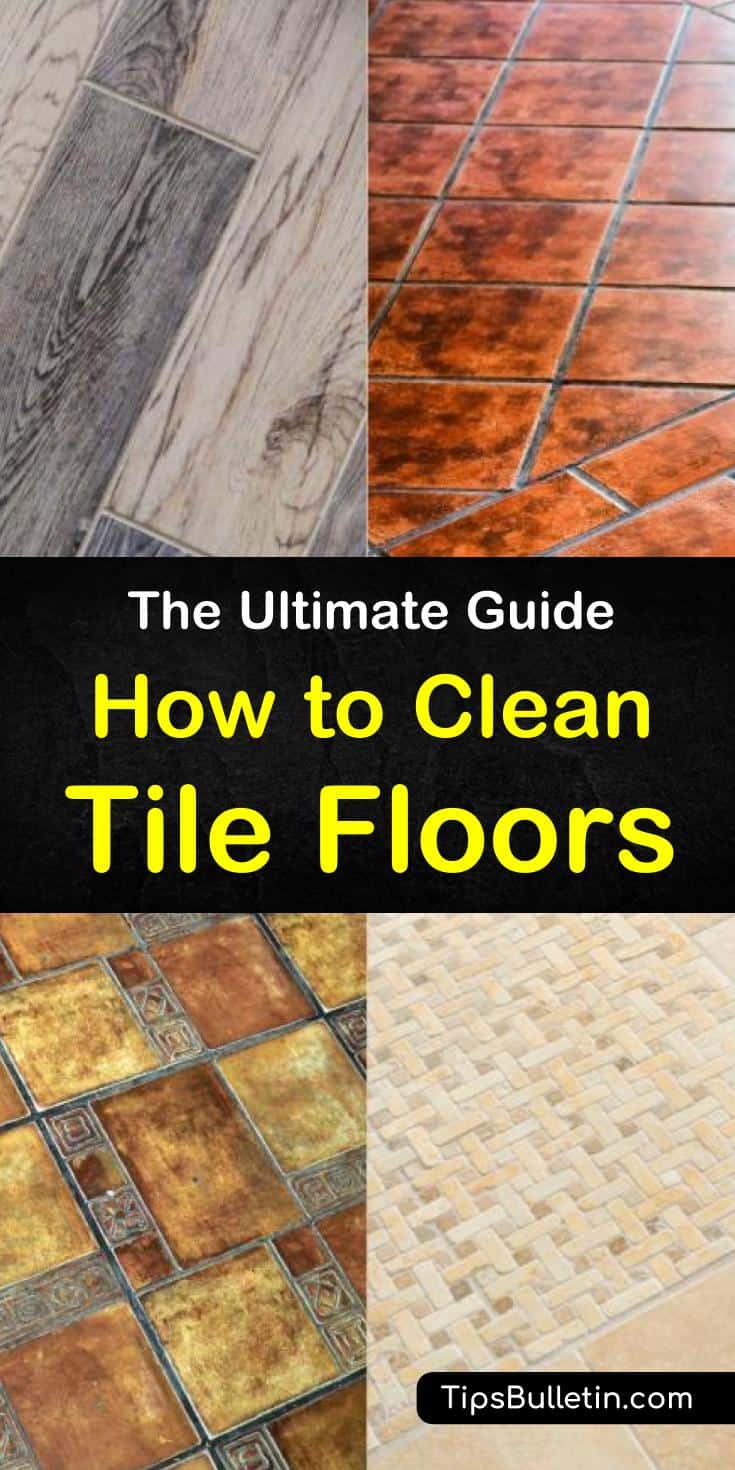 Thanks for reading our tile floor cleaning guide. If you found our suggestions on how to clean tile floors helpful, we'd appreciate it if you'd share our tile cleaning tips with your family and friends on Pinterest and Facebook.