We all want to find a DIY toilet tank cleaner that removes hard water deposits and rust stains without posing a chemical hazard. Many commercial cleaning products contain caustic chemicals such as bleach, which may be unsafe for septic tanks and pose a danger to small children. That's why it's essential to know how to clean a toilet tank using natural, safe products.
For your family's safety, it is best to use natural cleaning solutions whenever possible. You can make great cleaners from everyday household items, including natural toilet tank cleaner options you can use to clean the inside of the toilet tank.
In this article, we show you how to clean a toilet tank with eight tips and recipes to remove the mineral deposits left from hard water that can cause build-up on the overflow tube, other toilet components, and the toilet tank itself.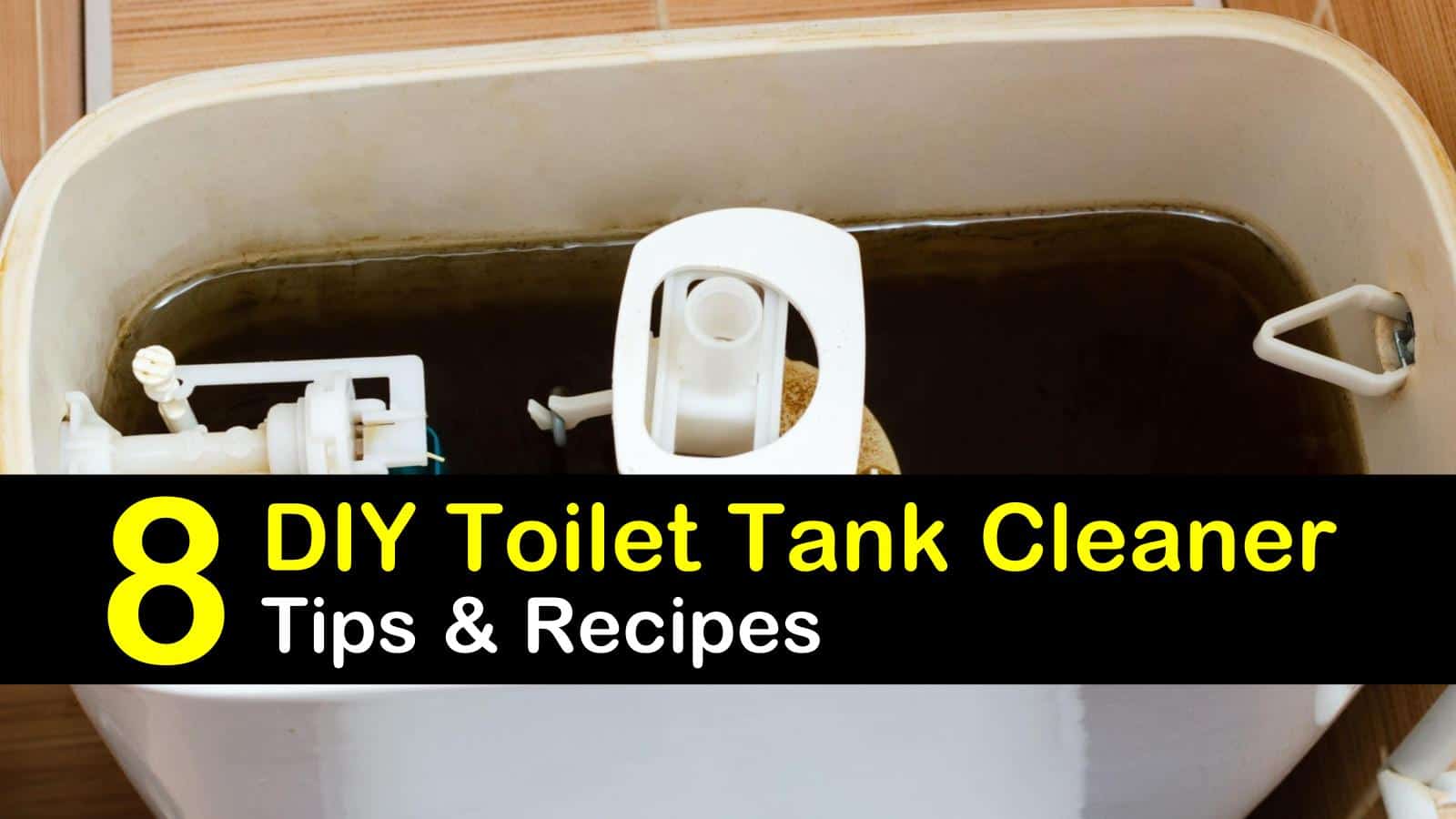 Toilet Tank Cleaning
By following our tips, you can protect your septic system and quickly and safely make your bathroom gleam.
Start Small with a Toilet Brush
When you tackle rust stains and mineral deposits, there's no need to jump straight to the big guns. If the stains are fresh and seem easy to remove, give the humble toilet brush a shot. We use it all the time for toilet cleaning, and it works just as well on the tank.
Start by draining the tank. Keep the brush wet; have a bucket of warm water handy. Scrub all areas inside the toilet tank, including the bottom of the tank and all toilet components.
When you have loosened the rust and hard water build-up, rinse the area with water. Repeat until the stains are gone. The toilet brush makes a useful scrubbing tool; its long handle allows you to reach the tank's far corners, and its bristles reach under tight spaces.
Use Pumice as a Toilet Tank Cleaner
This cleaning solution only works on toilet tanks made from vitreous china. Pumice can damage toilet tanks made from other materials, so be sure to check your toilet tank's composition before trying this option.
Drain the tank. As with the toilet brush option, have a bucket of warm water on hand for rinsing. Apply moderate pressure, and scrub from the top of the tank to the bottom. Periodically rinse the area with warm water.
Test the pumice stone on an inconspicuous area of the tank before beginning. If you see scratches, stop and try a different cleaning product.
Learn How to Clean a Toilet Tank with Hydrogen Peroxide
We already know that peroxide can be used for a variety of home remedies, including as a sore throat cure and as a tooth whitener. So, it isn't surprising to find that hydrogen peroxide also makes an excellent toilet tank cleaner.
Drain the tank, and allow it to dry. Use a toilet brush to apply the peroxide to the inside of the tank wherever needed. Allow the peroxide to sit on the stains for thirty minutes. Scrub the loosened stains with the toilet brush, and rinse the area with warm water.
Re-apply the peroxide if needed. The peroxide not only cleans off stains but disinfects, too. Germs won't stand a chance if you hit them with peroxide, and it leaves the tank clean and beautiful.
Use Pure Vinegar as a Toilet Cleaner
Vinegar is one of the better natural cleaners around. It contains a mild acid that eats away at hard water deposits, mold, and rust stains, so it makes a superior bathroom cleaner. If simple scrubbing doesn't work, give vinegar a try.
Drain the tank, and allow it to dry. Fill the tank with vinegar up to the overflow tube, and let it sit for at least twelve hours. Then drain the vinegar. Use the toilet brush to scrub the tank, and rinse it with warm water to remove debris.
Because vinegar is such a mild corrosive agent, allow the full twelve hours to pass before draining the tank. Do not flush the toilet while the vinegar is doing its work. It's never been easier to remove toilet sewer smells!
Clean Your Toilet Tank with Liquid Detergent
Liquid dish soap is a versatile agent that can be employed to clean dishes, clothes, cars, and countertops. You can also use it as a non toxic toilet bowl cleaner, and it does an excellent job on toilet tanks.
Do not drain the tank for this method. Stir the detergent into the water, and give the entire inside of the tank a good scrub with the toilet brush. Allow the soap to soak for at least three hours; leaving it overnight is better.
When the stains and deposits are loose, flush the soapy water away, give a final scrub, and flush again. Take care not to use too much soap to avoid suds overflow during the flush. You might need to flush several times to remove all soap from the tank.
Try Cleaning a Toilet Tank with Vinegar and Baking Soda
If you've tried the more straightforward options and still have build-up and stains, it's time to kick things up a bit. Baking soda or bicarbonate of soda reacts with vinegar, and the result is an energetic cleaning product. Here's how to clean your toilet tank with a vinegar and baking soda toilet tank cleaner.
Mix the tea tree oil and vinegar in a spray bottle. Spray the mixture on any areas that need cleaning. Let the mixture soak for a few minutes, and then sprinkle baking soda on all sprayed surfaces. Clean the stains with a toilet brush, and rinse with warm water. Repeat if needed.
Cleaning a toilet tank with vinegar and baking soda is a safe and effective method. The tea tree oil in this recipe is a beautiful addition, too. It removes toilet smells and leaves a fresh scent behind.
Knock the Stains out with Borax, Vinegar, and Essential Oils
If cleaning a toilet tank with vinegar and baking soda didn't remove the stains, try replacing the baking soda with Borax. This recipe produces a powerful cleaner that has a good shot at eliminating any stains the previous methods couldn't handle. Borax is a tough, natural cleaning agent and is available at most home improvement stores.
Mix all ingredients in a bowl or spray bottle until the Borax dissolves. Apply the mixture to any area you wish to clean, and allow it to sit for at least four hours. Overnight is best. Scour the inside of the tank with a toilet brush, and rinse with warm water.
The beautiful thing about this recipe is that you can experiment with the essential oils. Find a ratio of lemon oil to lavender oil or another essential oil mix that smells best to you.
Clean the Tank with Homemade Tank Tablets
Commercial tank tablets corrode rubber and plastic toilet components. If you want a cleaning tablet that cleans the tank without damaging the toilet, try this homemade tank tablets recipe. Do not drain the tank for this solution
Mix baking soda and citric acid in a plastic or ceramic container. Stir in the essential oil until it is thoroughly mixed. Slowly stir in the dish soap until combined. The finished product should clump in your hand when squeezed; if you don't get clumps, add enough dish soap to hold the product together.
Place a tablespoon of the mixture into a silicone mold; an ice cube tray works well and will produce lots of tablets. The tablets should dry for a few days before use. Store the dried tablets in a sealed jar or another dry container.
When you need to clean your tank, drop a tablet into the tank water, and allow it to dissolve over fifteen minutes or so. If any stains remain, scrub them with a toilet brush.
How Often Should I Have to Clean My Tank?
Your cleaning frequency very much depends on your water type. If you have soft water, you might go a long time without needing to clean the tank. Hard water, on the other hand, interferes with your toilet's operation if you let it go too long.
If you have hard water, make regular checks to ensure that you don't get too much build-up in the tank. If applied regularly, you can use many of the milder cleaning products listed here as preventative measures to keep significant mineral deposits from forming.
We hope you enjoyed learning about these homemade remedies and got some helpful information on how to clean your toilet tank. Dealing with mineral deposits and rust stains can be a miserable experience. It's hard work, and it can expose us to dangerous cleaning agents. But it doesn't have to be.
The recipes in this article will leave you with a clean tank, but even better, it will leave you with peace of mind and the knowledge that you're using safe, natural methods that won't harm you or your family.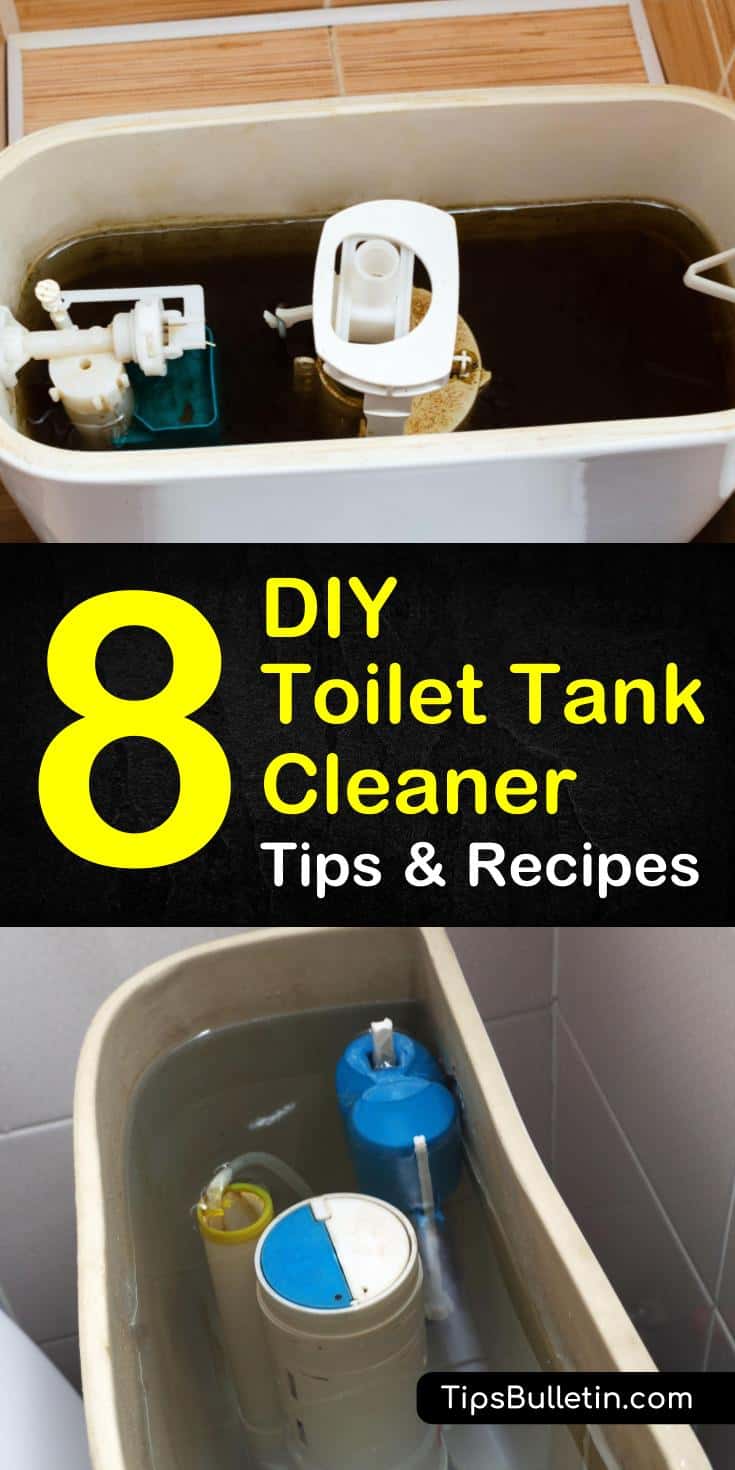 Thank you for reading, and if you found these toilet tank cleaning tips helpful, please share our cleaning recipes with your friends on Pinterest and Facebook.