We often throw dirty things into the washing machine and take them out clean, without thinking about how the appliance itself requires regular cleaning. We expect the machine to do its job. However, learning how to clean top loading washing machine periodically keeps your top loader looking and smelling its best.
If your clothes come out of the laundry room immediately smelling like they sat there for a week, clean your washer. Mold and bacteria grow in damp, dark areas, and no amount of clothes freshener masks mildew or mold odor issues – only a clean machine produces clean results.
Even if your washer doesn't seem dirty, routine cleaning is still vital. The dirt you wash from your linens builds up in the machine. The accumulation of grime and hard water deposits cause damage over time, resulting in expensive repairs and reducing the lifespan of your washer at a faster rate.
Washers don't wash themselves. Use our cleaning tips for a top loading washer. You may never face moldy odor problems in your laundry room again.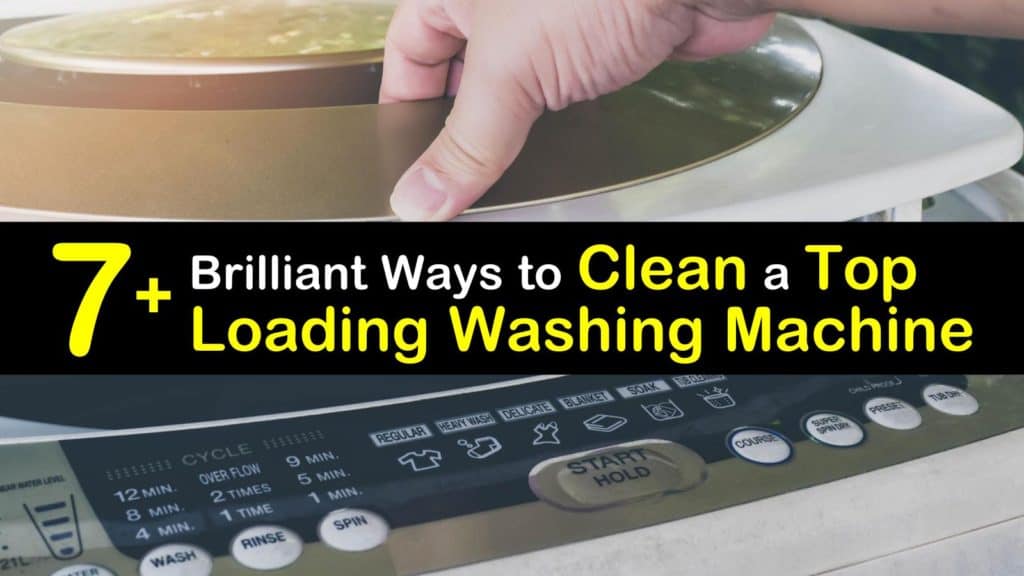 Cleaning a Top Loading Washer
Learning how to clean top loading washing machine comes with many techniques to use, no matter what type of machine. There are two options when cleaning a top loader: use a natural way to clean washing machine or buy chemical cleaners from the store that are for the cleaning task at hand and full of toxins.
Deep Cleaning a Top Loading Washing Machine with Vinegar
Vinegar is a natural household cleaner that disinfects, deodorizes, and degreases your washer. It's a much safer alternative to chlorine bleach or store-bought cleaners.
To get rid of mold in your top loading washing machine or eliminate unpleasant smells, set your top loader to the hot water setting on the largest load size or longest wash time. As the tub fills with water, open the lid and add the vinegar.
Close the lid and run the machine as usual. Open the top after a few minutes, allowing the mixture to soak in the tub for at least an hour.
While you wait, scrub the machine. Soak removable pieces like fabric softener dispensers in a mixture of vinegar and warm water in the sink. Use a toothbrush to clean tiny nooks, crannies, and other hard-to-reach places.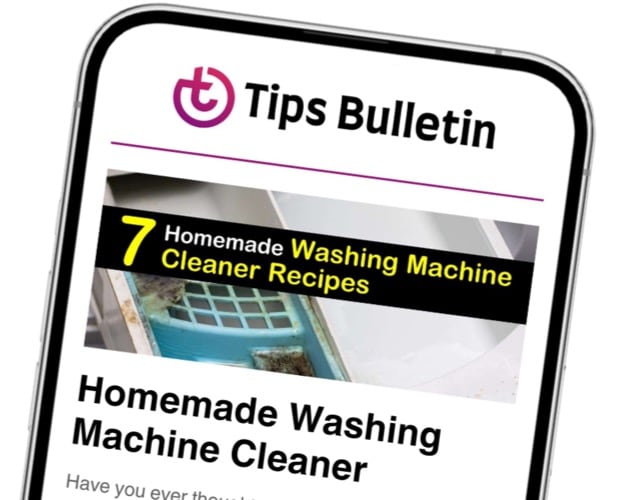 Finally, an email that Transforms Your Home.
Get the latest home and garden tips from our experts, delivered straight to your inbox.
After an hour, close the lid to run the machine cycle. Don't forget to clean under the lid, the front sides of the machine, and the dials using the solution. Run a rinse cycle with hot water.
Using Vinegar to Clean a Top Loader
Alternatively, add three to four cups of distilled white vinegar directly into the washing barrel or detergent tray before starting the cycle. Pour the vinegar directly into the wash drum and run a wash cycle with hot or warm water.
This method is perfect for getting rid of mildew, mold, and mineral deposits before they cause problems. Always allow the mixture to sit before rinsing for the best results.
How to Clean a Top Load Washing Machine with Bleach
Although bleach comes with harsher impacts on the environment than natural cleaning options, it's a quick way to clean a top load washer. Bleach kills bacteria and sanitizes on contact. However, never use it on stainless steel, or it may erode.
Set the machine to a normal washing cycle using hot water. As the washer tub fills up, include the bleach. Follow the same scrubbing instructions for cleaning a top loader with vinegar. Make sure to rinse bleach from your machine thoroughly before use.
Use caution. Wear rubber gloves while handling undiluted bleach, as the intense concentration is known to damage jewelry, clothing, skin, and anything else it touches.
Cleaning your machine with too much bleach may also lead to septic issues for people if the system relies on bacteria to break down solids. Septic failures or backups are common.
Using Bleach for Regular Cleaning
Like vinegar, adding two cups of bleach into your top loading machine's liquid detergent tray or pouring it into the wash drum produces a quick sparkle. However, place chlorine bleach into the bleach dispenser if your top-loading machine has one.
Run the machine on a conventional cleaning cycle with the hottest water available. Make sure to thoroughly rinse with hot water, and always wear gloves.
Cleaning a Top Loading Machine with Hydrogen Peroxide
If you prefer not to use bleach but are looking for a more powerful clean than vinegar alone, try hydrogen peroxide. It's perfect for tough household cleaning because it kills bacteria, viruses, and mold.
Place two cups of hydrogen peroxide in your top loader's liquid detergent tray or wash drum. Set it on a hot wash cycle, allowing it to run for a few minutes.
Scrub and allow the mixture to sit in the tub for a while. Rinse with hot water to wash away stains and rinse a final time with cold water to remove any lasting gunk.
Rinsing a Top Loader with Baking Soda
After cleaning a top-loading machine with vinegar, follow up with a wash cycle using baking soda. The baking soda neutralizes vinegar, cleaning any soap scum residue that may remain from scrubbing the machine. It's also excellent for eliminating odors.
Right before your final rinse, run your clean washing machine with a cup of baking soda and hot water. Allow the machine to drain. Finally, wipe the inside of the tub a final time.
Using Baking Soda to Clean a Top Loading Machine
If your washing machine smells bad, instead of rinsing your top loader with baking soda, try using it to clean. Baking soda tackles strong odors and stains, breaks down grime, and cleans washing machines well.
Fill your machine with hot water on a normal wash cycle. Add ½ cup of baking soda inside and close the lid, allowing the machine to run as usual for a couple of minutes.
Stop the cycle, letting the solution sit for an hour. Scrub the basin, then rinse the machine by running another cycle with hot water.
Cleaning a Top Loader's Built-in Dispensers and Filter
If your machine has built-in dispensers for bleach and fabric softener, remember to clean them as well. Remove the dispenser and soak it in hot water and vinegar, using a toothbrush to scrub before rinsing. Or, dip your scrubber or cloth in your cleaning solution to wipe down the dispensers.
The filter top loader is easy to remove with a screwdriver. To clean the filter, which is near the agitator in most top load machines, remove it and pick off the lint. Remove grime with cold water or throw the filter in the dishwasher, scrubbing as needed.
Remember to wipe down the outside and sides of the machine using a damp cloth, including the dials and door handle. Scrub the rubber gasket seal as much as possible.
How to Clean Top Loading Washing Machine vs. Front Loaders
There are variations in the steps you take to clean your machine, depending on the type.
Unlike front-loading machines, a top loading washing machine has a vertical basket and an agitator that both require cleaning. Front-loading options have a horizontal basket and paddles to help move the basket and remove dirt from your clothes rather than an agitator.
For this reason, cleaning a front load washer may require different cleaning tips. The two machines require distinct water and detergent amounts. Scrubbing the agitator in top-loading machines may take more time, too.
Front loaders need monthly deep cleaning because gunk tends to accumulate in the gaskets. Some people don't wait that long for the grime to build up. Weekly or bi-weekly cleaning is ideal if your washer gets daily or heavy use.
Brilliant Ways to Clean Top Load HE Washer
Cleaning a top loading washer may also depend on if it's high-efficiency or not. A high-efficiency or HE washer has different cleaning requirements. There may be better ways to clean top load HE washer not included in our list.
Top load HE washers have a rotating drum that's more similar to a front loader than a top-load washer. People enjoy them because they perform better than most top-loaders with agitators.
They also use half the amount of water as a top-loading machine, which is why you can even make your own HE laundry detergent for the best results. Always use half the amount of cleaning solution when cleaning an HE washer, especially if you add the solution to your detergent dispenser.
Did you know to clean your machine before now? Do you regularly clean your dryers too? Your washing machine isn't the only dirty appliance that requires routine maintenance.
For a super clean, use these methods to sanitize dryer next. Otherwise, they may lock in strong odors over time. Your clean clothes come out of the laundry smelling stinky again.
We love to hear your experiences. If you enjoyed learning how to clean top loading washing machine properly, please feel free to share these washer cleaning tips on Pinterest and Facebook.