Is figuring out how to clean treated glass shower doors without degrading them stressing you out? Taking the jump from regular to coated shower glass is a transition. Though it comes with a host of advantages, there's somewhat of a learning curve when cleaning treated glass shower doors.
The protected shower glass is terrific, as the water-repellent coating means you're less likely to deal with mold or hard water marks on your glass. You'll have to clean it fewer times per month to keep your shower looking great.
The primary concern with coated glass is finding a cleaning procedure that won't scratch or wear the coating. Lots of cleaning hacks rely on abrasive cleaners to get the job done. These are effective and appropriate for use on regular glass, yet they damage treated glass by wearing off the coating.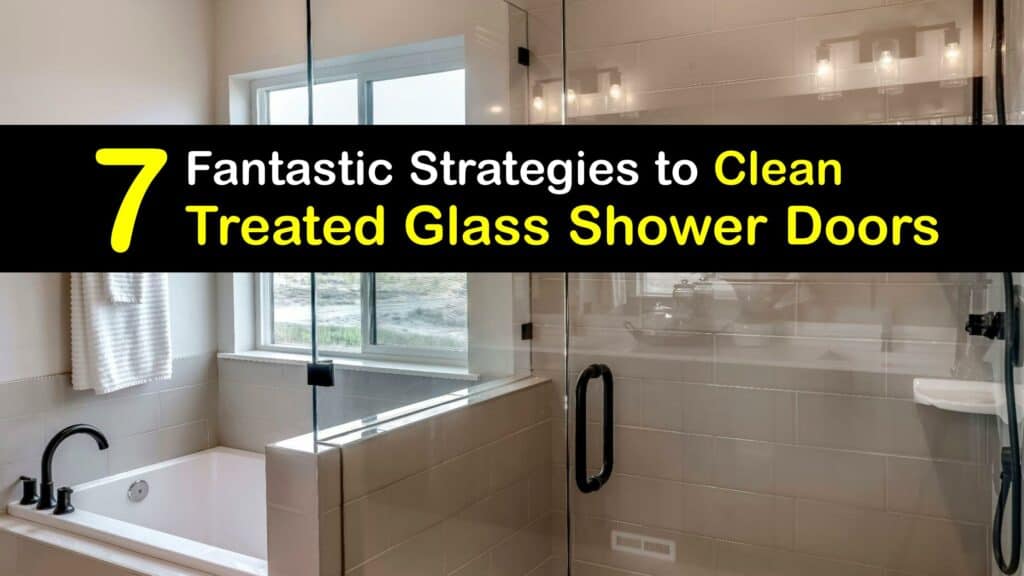 How to Wash Treated Glass Shower Doors
Use our straightforward guide on how to get water marks off glass and shower doors to properly maintain your shower cubicle without worrying about deterioration.
Everyone with coated glass should know how to clean treated glass shower doors. Keeping your shower glass clean ensures it looks sleek and stylish and prolongs the life of the protective coating and the glass itself.
Don't waste money on expensive chemical cleaners that might degrade the glass coating. Discover tips for cleaning a sliding glass door track and treated glass shower doors using white vinegar, dish soap, lemon juice, homemade spray, and baking soda.
What Is Treated Shower Glass?
Treated shower glass coating is an investment and well worth the cost. If you opted for a protective coating on your shower door, it's vital to understand what that means and how to care for it properly.
A shower glass coating may keep your beautiful shower looking new longer and reduce the time you spend cleaning the shower door. Hydrophobic shower glass coatings repel water and preserve your glass from water spots, corrosion, and calcium buildup.
This invisible layer fills the pores of the glass, keeping junk out while allowing water to slide off easily. Less cleaning means less time washing away filth or mold and more time relaxing in the shower. If you have hard water, a shower glass coating helps discourage buildup and keeps your shower door clean.
How to Clean Treated Glass Shower Doors With Vinegar
Distilled white vinegar is well known for cleaning the most challenging stains, making it the perfect choice for a stubborn hard water stain or streaky glass. Since white vinegar contains acetic acid, it's essential to dilute it with water before cleaning with it when coated glass shower door cleaning.
Though the acetic acid obliterates grease and scum on the glass, it may also degrade the shower glass coating if not watered to appropriate levels.
Pour the water and vinegar into the spray bottle and shake. Spray the coated glass door. Immediately, use a microfiber cloth to wipe the glass and rinse the door with a damp cloth to remove all traces of vinegar.
Vinegar is a powerful cleaner for glass. Use it for cleaning inside double-pane patio doors and even for your exterior home windows to remove any pollen or dirt.
Cleaning Treated Glass Shower Doors Using Dish Soap
Dish soap is a mild detergent, making it ideal for washing treated glass shower doors without destroying the protective coat. Aside from cleaning plates and cutlery, dish soap's degreasing abilities make it a wise choice for cleaning glass.
Mix three tablespoons of liquid dish soap into two cups of warm distilled water to make a basic cleaning solution. Use a soft cloth to apply the cleaner to your shower glass, scrubbing away the dirt. Rinse the shower doors and leave them to dry. Dish soap is also safe for frosted glass shower door washing, as it won't remove the frosting spray.
Lemon Juice Will Clean Glass Shower Doors
One advantage of washing your shower glass with lemon juice is the delightful lemon aroma. Lemon juice, like white vinegar, has acidic characteristics, so it is an excellent cleanser for removing soap scum and water spots. Natural lemon juice is loaded with citric acid, which makes short work of cutting through gunk and mineral deposits.
Juice three lemons into a spray bottle, add one cup of distilled water, and mix thoroughly. Spray the lemon juice combination on your shower glass, curtain, and other dirty surfaces.
Allow the lemon juice to rest on the glass for up to five minutes to cut through the filth without damaging the coating. Remove the scum and excess cleaner with a damp microfiber cloth, and let the glass dry.
DIY Glass Shower Door Cleaner
If your glass shower enclosure has heavy hard water stains or a lot of dirt and grime buildup, mix a batch of this potent glass cleaner spray. This recipe combines several ingredients to make a heavy-duty remedy safe for a shower door with protective coat.
To blend, gently swirl the bottle. Spray the cleaner mixture on any unclean bathroom surfaces. Allow the solution to stay on the shower glass for five to ten minutes before rinsing with warm water and drying with a microfiber cloth or newspaper to avoid smears.
Add a teaspoon of Borax to the blended cleaner to make the best cleaner for a fiberglass shower stall for even better results on the most tenacious soap scum and hard water stains.
Trust Baking Soda to Clean Soap Scum
For heavy staining, it's helpful to spot clean before making a more broad cleaning pass. Baking soda is a famous stain remover. Whip up some treated glass-safe cleaning paste by mixing equal parts baking soda and warm water.
Use a soft cloth to apply the paste only to problem areas, such as calcium deposits, and not the glass around them. Let the paste sit for five minutes to soften the crud, then wipe it away with a damp cloth. After spot cleaning with baking soda, use another method to clean the entire glass surface.
Precautions for Cleaning Glass Shower Doors
While treated doors are easy to care for, avoiding abrasive cleaning techniques is vital. Scratching, scraping, or using salt scrubs are all liable to remove the protective coating—only clean shower doors with a soft cloth. A microfiber cloth is ideal since it won't drop lint.
Even a paper towel tends to leave tiny paper fragments on the glass, giving you a messy finish. Avoid hacks with razor blades, plastic scrapers, or coarse salt to extend the life of coated shower glass.
Do you understand how to wash treated glass shower doors after reading this information? A bathroom remodel is a big project. There's nothing worse than accidentally ruining your newly treated shower glass by cleaning it incorrectly.
Explore simple ideas for how to care for glass with a protective coating so you're ready to extend the life of your shower cubicle and keep it looking flawless.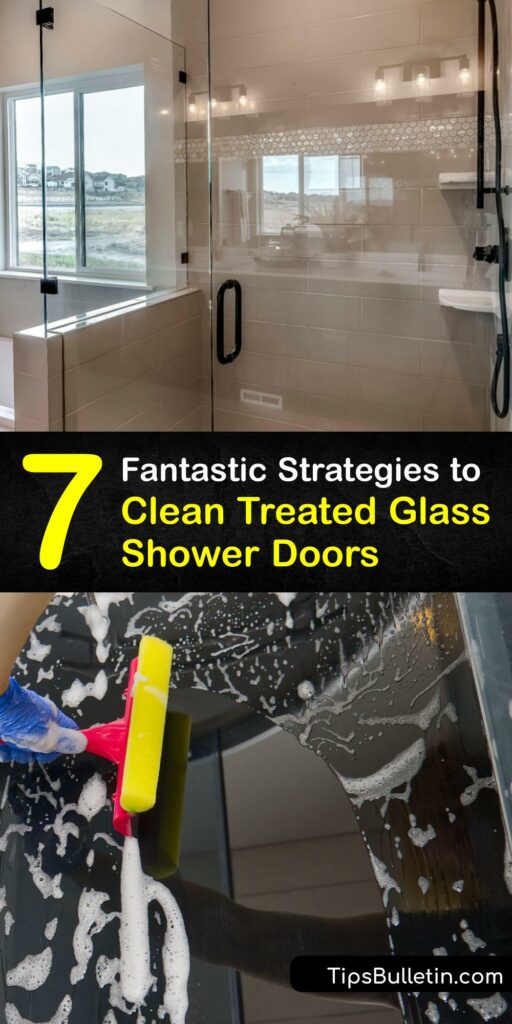 If you loved this detailed article on how to clean treated glass shower doors, please share it with your friends and family who are cleaning treated glass shower doors on Pinterest and Facebook.