UggsⓇ footwear is known for being cozy, comfy, and casual. UggsⓇ are the quintessential boots of the fashion-forward and the ultra-relaxed alike; they're also tricky to maintain without the proper tips. Discover how to clean UggsⓇ slippers and boots while preserving the delicate sheepskin finish. No stain is safe with this how-to guide.
The word "uggs" is a catchall term for Australian-style sheepskin shoes and slippers. The true origin of UggsⓇ boots is likely rooted in rural Australian culture from the early 1900s. These rugged sheepskin boots were adopted by Australian surfers and then popularized worldwide from the 1970s onward. The trademarked UggsⓇ brand we know today has been expanded to include a diverse range of sheepskin footwear and fashion.
Fleece and sheepskin are terrific insulators and are popular materials for clothing, gloves, boots, rugs, and furniture. The sheepskin material is tanned with the fleece on, as opposed to leather, which makes a unique pelt. This rich, supple fabric requires care and attention, but it will last for years if treated right.
Learn All About Cleaning UggsⓇ Slippers
If you're curious about how to clean UggⓇ slippers safely and effectively, this article is for you. Professional shoe care experts say you can't just throw your UggsⓇ in the washing machine because it stretches and damages the fabric. Having some incredible stain-fighting tips at your disposal is essential, whether you clean your UggⓇ boots at home or have dirty slippers – we've got the best solutions for you here.
How to Clean Rubber Soles
Your first step in learning how to clean UggⓇ slippers is a thorough scrub of the rubber soles. Clean, refreshed UggsⓇ start from the bottom up, and there's no point starting on the sheepskin without proper attention and care paid to the rubber parts. After all, the rubber soles make contact with places we'd never go in bare feet. Wash slippers with rubber soles by starting at the sole.
A quick brush and wipe is an effective strategy for light wear, loose dirt, and chalk. For washing slippers, use the stiff-bristled brush and go over the soles, first brushing away debris and picking out any rocks.
For boots, stuff your hand down inside the boot to help keep the shape, and then brush the excess dirt and rocks out of the grooves in the rubber soles. Wet a soft microfiber cloth with clean water, wipe any extra mud and let your UggsⓇ air dry.
Cleaning Dirt and Scuffs Off UggsⓇ
Hand-cleaning your footwear is essential for preserving the longevity of your sheepskin boot or slipper. Scuffs and the occasional dirt stain are part of life, no matter how careful we are.
Thankfully, spot-treating scuffs and cleaning UggsⓇ slippers is easy with the right tools. Simple items like a 10-dollar suede brush and eraser save you time and heartache when trying to refresh your expensive UggsⓇ.
These tools won't harm the fabric finish and are recommended by shoe industry professionals worldwide. It is possible to use a very soft toothbrush on sheepskin, which is used in much the same way.
Gently brush your sheepskin UggsⓇ with short, gentle strokes. Buff out any lingering scuff marks with the suede eraser. Repeat the brushing process and gently spot-treat any defects until your UggsⓇ slippers are soft, supple, and sparkling again.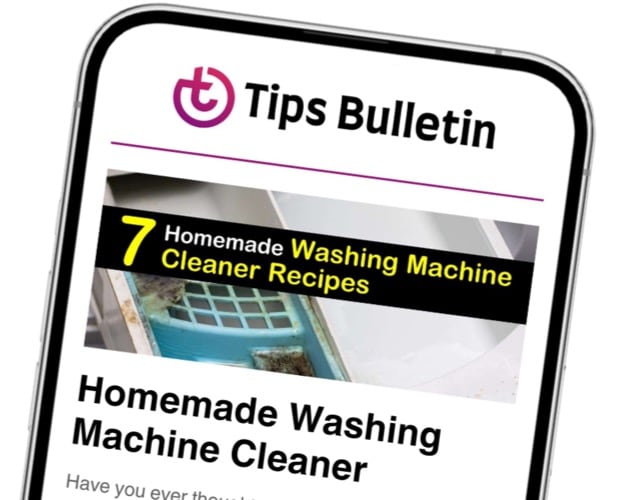 Finally, an email that Transforms Your Home.
Get the latest home and garden tips from our experts, delivered straight to your inbox.
What About Water Stains?
Haven't you always wondered how to clean UggsⓇ slippers when wet from water spillage or a rainy day? It might seem counterintuitive, but once the slipper is wet, you'll need to wet the whole thing evenly with a damp sponge to save the finish.
The key is not to let the water stain dry without evenly treating the entire surface of your sheepskin slippers first. Ensuring even water distribution prevents water spots from staining any particular area and helps the finish dry evenly.
Once you've dealt with the water stains by moistening the entire shoe, stuff your UggsⓇ slippers with paper towels and let them air-dry overnight. Gently brush the finish to ensure an even texture, and your UggsⓇ are ready for wear.
Cleaning Salt Stains
Salt stains come from road salt used during the winter. Salt and other compounds are used in the sheepskin tanning process, and it's not unusual for a salt stain to appear on the fabric after a rainfall. These unsightly white marks are easy to take care of with a bit of vinegar and a gentle hand.
To employ your simple homemade suede shoe cleaner, mix a tablespoon of distilled white vinegar in a cup of water, dip a soft cloth into the vinegar mixture and dab the salt stain gently. Rubbing too hard and with too much force damages the sheepskin.
The acetic acid in the white vinegar breaks down the salt very effectively, even with gentle strokes. Once the salt lifts, wet your UggsⓇ with a damp sponge and air-dry.
Use a Suede Cleaner on UggsⓇ
Professional suede cleaning products aren't just for suede shoes; they do double-duty for your dirty UggsⓇ . It's never a bad idea to have a pre-mixed suede cleaning product on hand, especially if you're a suede slipper lover. UggsⓇ even makes their own specially designed brand of suede cleaner, just for extra peace of mind.
If you cannot locate the UggsⓇ suede cleaner, many other helpful products are explicitly designed for sheepskin, suede, and nubuck fabrics. Always follow the manufacturer's instructions for safe suede cleaner use and consistent results.
DIY Suede Cleaning Solution
Cleaning UggsⓇ slippers with visible surface stains is easy when you have your own homemade suede cleaner. This simple but effective mixture breaks down many of the everyday stains we face, like mud and grime. It's easy to make and more cost-effective than professional products.
Get a clean spray bottle, mix your water and vinegar, and give the spray bottle a shake. This spray works great for all-over coverage and makes a fantastic spot treatment.
The vinegar is like a mild detergent and dissolves unsightly marks without damaging the sheepskin. Remember to blot the stains away gently with a clean cloth, wet the UggsⓇ all over for even water coverage, and air-dry. Cleaning your shoes is similar to cleaning a suede jacket or a purse. Brush the nap when the material is dry.
How to Wash Slippers with Oil Stains
There's nothing worse than an oily stain on your delicate sheepskin slippers. A grease stain is downright disheartening, whether it's food grease, cooking oils, or chemical-based. We've got the best tip for how to clean UggsⓇ slippers with oil stains, and all you need is a bit of cornstarch or baby powder.
Once you notice the oil stain, the last thing you want to do is smush it into the sheepskin by pressing it down with a paper towel. Instead, use naturally absorbent powders to suck the grease up, making it easy to brush away.
Sprinkle a spoonful of baby powder or cooking corn starch on the stain and leave it for at least 24 hours. Gently brush the powder away with a suede brush or soft toothbrush, and repeat if the oil stain is still wet.
Cleaning Smelly UggsⓇ

House Shoes

The soft fleece inner lining that gives UggsⓇ their characteristic coziness is prone to collecting bacteria. Unfortunately, it's not advised to soak your UggsⓇ slippers or boots with water to clean the lining, which might leave you wondering how to clean smelly UggsⓇ slippers. Don't worry; cleaning stinky UggsⓇ slippers isn't hard. All you need are some clever tricks of the trade to clean stinky UggⓇ slippers, shoes, or boots at home.

Baking soda and clean socks are your best friend regarding odor management. The easiest way to avoid smelly UggsⓇ is by wearing socks. Additionally, treating your UggsⓇ regularly with a natural odor absorber like baking soda, baby powder, or a store-bought version is crucial.

Try spreading a bit of baking soda inside your shoe to absorb moisture and create an inhospitable environment for bacteria. It's even possible to pop your UggsⓇ in the freezer overnight to kill lingering bacteria if you can't get rid of them with baking soda.
Make DIY Deodorizers
If you're not keen to sprinkle powders directly into the lining of your UggsⓇ , there are other tips for how to clean smelly UggsⓇ slippers. It's super-easy to make your own DIY deodorizer sachets with a coffee filter, a tablespoon of baking soda, and an elastic band.
Pour a big tablespoon of baking soda into the center of a coffee filter, gather the edges, and close the sachet with an elastic band or a piece of string.
Pop the sachets into your UggsⓇ slippers after every use. Refresh the baking soda weekly or as required, depending on your odor-fighting concerns. It's also possible to add a couple drops of your favorite essential oil to pump up the odor-fighting power of your DIY sachets. We recommend cedarwood for its absorbent and antimicrobial properties.
Treat UggsⓇ

with a DIY Antifungal Spray

Preventative deodorizing is important with sheepskin and fleece fabrics. If you need more aggressive odor protection tips for how to clean smelly UggsⓇ slippers, try this DIY antifungal spray. Many household ingredients carry antibacterial and antifungal properties, making it easy to blast bacteria and keep your sheepskin shoes smelling fresh.

Apple cider vinegar demonstrates antifungal abilities and is ideal as inexpensive bacterial control. Mix the water and vinegar and spray a light mist into the lining of your UggsⓇ . The vinegar smell evaporates, and it takes odor-causing bacteria with it. Apply the spray after every wear, and use it in cooperation with odor-fighting sachets for reliable coverage.
Caring for UggsⓇ Boots
We've talked a bit about how to clean UggsⓇ slippers at home, but are there special rules for UggsⓇ boots? The most important thing is to help your UggsⓇ boots keep their natural shape while cleaning them and while they air-dry.
Always stuff your UggsⓇ boots with rolled-up towels or paper towels before wetting them for cleaning. Don't forget to cover the shaft of the boot as well, as even saturation and air-drying are paramount. Keep a soft brush on hand to deal with mud, and consider a suede brush if you have multiple pairs of UggsⓇ.
Something for Biological Stains
The odd drop of blood, sweat, or other biological stains on UggsⓇ slippers isn't unheard of, and it's not the end of the line for your favorite sheepskin footwear. Treating the stain as soon as possible is essential to prevent anything from setting into the sheepskin.
Cleaning UggsⓇ slippers with biological stains requires a few cotton balls, some hydrogen peroxide, and little elbow grease. Dab hydrogen peroxide on a clean cotton ball and gently press it against the stain, lifting the stain away without forcing it into the fabric.
Continue to refresh clean cotton balls with hydrogen peroxide until the stain disappears. Wet the slipper with a damp sponge to ensure even water distribution, and then allow it to air-dry for at least 24 hours.
What to Avoid Using on UggsⓇ
Picking up tips for how to clean UggsⓇ slippers at home is excellent, but it's also essential to have a few notes on what not to use. Avoid acetone-based products like nail polish remover. Don't use chlorine bleach, which causes the leather to stiffen and discolor.
Don't condition the fabric with coconut oil or anything other than an approved suede conditioner. Sheepskin is somewhat unpredictable, and it's always best to use new cleaning products in an inconspicuous area first to determine the risk of damage or staining.
Use a Waterproof Spray for UggsⓇ
A good waterproofing spray is one of the most important weapons in your sheepskin-care arsenal. Professionals recommend waterproofing your sheepskin UggsⓇ monthly, or at the least, seasonally. Professional sprays are relatively affordable and last for quite a few applications.
Waterproof protection saves your suede, sheepskin, and leather from the elements and unexpected spills. We can't predict the future, and it's best to prepare for everything regarding expensive footwear.
Call the Shoe-Care Professionals
Occasionally, we cannot lift certain stains at home, and there's no shame in asking for help. Try your local shoe repair for intense grime you cannot remove at home. Shoe-care experts often have terrific advice and professional cleaning products designed for delicate fabrics like suede, sheepskin, and nubuck.
It's usually possible to repair and restore heavily worn or stained footwear at a reasonable cost, much less than purchasing a new pair of UggsⓇ . Consider turning to professionals for shoe-care problems you can't solve alone.
We hope you liked discovering how to clean UggsⓇ slippers and boots and feel ready to refresh any sad sheepskin footwear you have in the closet. It's easy to care for sheepskin with the proper tips.
Remember to be gentle; start with light brushing to remove the dirt. Use a suede brush and eraser to treat stubborn scuff marks, and don't forget to deodorize with baking soda or professional antifungal treatments.
Fight water stains with an equal application of water. Bust stubborn salt stains with a DIY vinegar cleaning solution. Always stuff your UggsⓇ slippers and boots with paper towels to help them keep their shape when wet, and never put your UggsⓇ in the dryer; always allow time to air dry.
Keep your UggsⓇ in tip-top shape with consistent care, and they'll last you until they go out of style. Sparking suede and incredibly clean UggsⓇ are at your fingertips.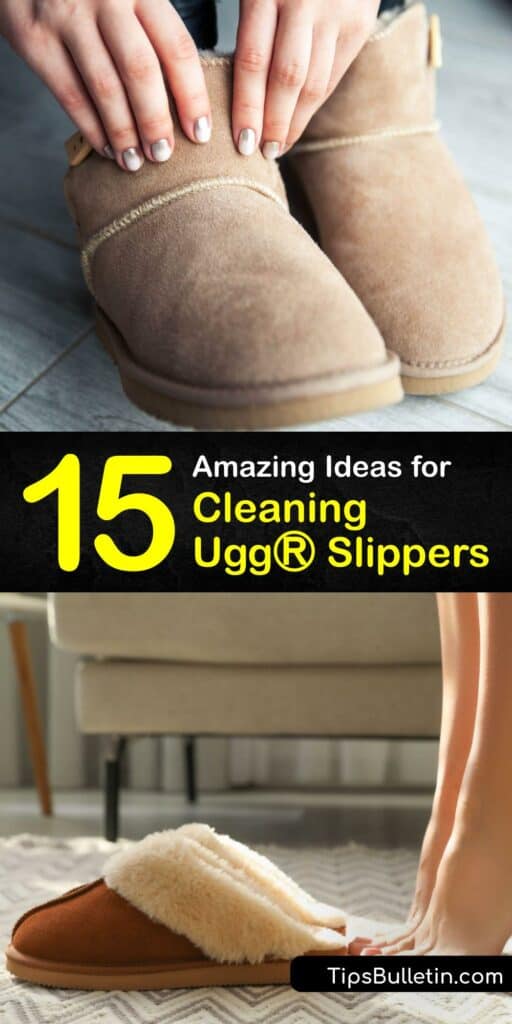 If you loved learning how to clean UggsⓇ slippers and boots, share this article with a friend on Pinterest or Facebook who loves UggsⓇ and helpful cleaning tips.