Drywalling is often a messy process that is a part of a home improvement project. Even though drywalling is something most homeowners deal with at one point or another, cleaning up the drywall dust does not have to add a lot of time to your project. Learning how to clean up drywall dust is easy when you utilize the correct techniques and tools.
Cleaning drywall dust does not require expensive or hard-to-find materials. Instead, items like drop cloths, duct tape, and even water clean drywall dust after sanding.
This article shows you how to clean drywall dust off furniture, flooring, and the crevices in your room. With the DIY methods we describe, you can clean up any amount of dust quickly and safely.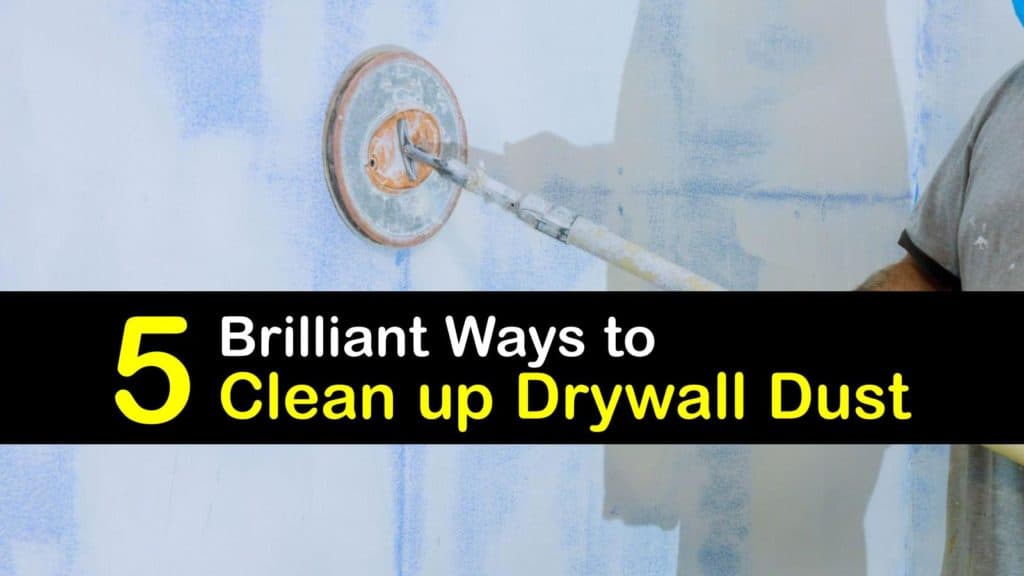 Prepping for Drywall Dust Removal
The reason you have to clean up drywall dust shortly after sanding down the walls and ceilings is to prevent excess dust particles from getting into your ductwork and spreading throughout the entire house.
Dust is no one's friend. Regular furniture dusting and taking steps with a DIY dust repellent spray are weekly processes that are part of your home cleaning routine and a way to prevent dust in the first place. Homemade furniture polish ingredients are just as effective as those from the store. Drywall dust is not the same.
As you remodel a house or room, there will always be some amount of drywall dust that makes its way onto the floor. There are a few ways to ensure your safety as you are cleaning drywall dust. The process is different from removing nicotine stains from drywalls and ceilings.
Always wear a dust mask while sanding drywall compound so the particles do not get into your lungs. Like sawdust, it is unhealthy to inhale an excessive amount of drywall dust.
A dust mask and safety goggles are the most dependable ways to avoid fine dust particles entering your lungs and eyes. A mask and goggles are also important when cleaning mold off a drywall ceiling. Ensure you don't get dust or mold in your eyes or mouth during treatment with the proper PPE.
Containing as Much Drywall Dust as Possible
The best way to clean drywall dust and pick up as little as possible is to correctly prepare for dust removal.
When you take the extra minutes to prep before you sand drywall, cleaning up the dust goes by quicker. Start by moving all your furniture out of the room so there are no bulky items in the way.
Cover all of your light fixtures with plastic sheeting pieces, securing the edges with duct tape to ensure no dust falls on the light fixtures.
Using more plastic sheetings, cover up your vents, baseboards, floor, HVAC systems, and closet doors.
Use a generous amount of painters' tape to secure each plastic piece, which keeps the room dust free. Cleaning drywall dust and dust from sheetrock is faster when you take steps to prepare.
How to Clean up Drywall Dust with Water
After sanding down a popcorn ceiling and other pieces of drywall, dust will cover your plastic sheeting. One of the best home remedies to get rid of dust from a drywall project is water. Water absorbs the dust particles and makes them too heavy to float through the air and will remove drywall dust.
Before you start to clean up the drywall dust, always put on eye and mouth protection so the particles do not irritate your eyes or mouth. Fill your spray bottle with water and mist the entire room so it acts like a sweeping compound.
Make sure you only get the surface damp. Wipe down the walls with a damp cloth. Use a regular vacuum and your broom to collect the dust and discard it in a canister.
This is the best way to clean walls before painting to ensure that you get a smooth surface afterward.
Clean Drywall Dust off Furniture with a Vacuum
The best kind of vacuum to use to clean drywall dust off the flooring, plastic sheeting, and furniture pieces is a shop vac. A shop vacuum is a wet/dry vacuum that sucks up almost anything.
Another advantage of using a shop vac to clean drywall dust off furniture is that it is lightweight and has an extended nozzle.
Vacuuming with a device that has a HEPA filter is ideal to get dust out of the air as you vacuum.
A HEPA filter catches dirt, dust, and grout that you cannot see with the human eye and does not distribute these allergens back into the air. Understanding how to clean up drywall dust is easier with a HEPA filtered vacuum cleaner.
Cleaning Drywall Dust with a Box Fan
Instead of exerting too much effort, utilizing a box fan is an excellent way to make drywall dust removal less stressful and time-consuming. Sweep as much of the drywall dust as you can into a large pile using a standard broom and dustpan.
Discard the drywall dust in a garbage can and leave the room unattended for about 15 minutes so the dust particles in the air settle to the ground.
Open a window and place a box fan in the window pointing it outside of the house. Turn the fan on its low or medium setting.
With a broom, vigorously sweep dust down toward the window. If you have multiple box fans, open as many windows as possible and set them up the same way.
Common Mistakes to Avoid While Drywalling
There are some common mistakes that DIY home improvement connoisseurs make when sanding and cleaning up drywall. All of these mistakes are avoidable when you are aware of them.
As you learn how to clean up drywall dust, make sure you know what not to do as well. When installing joint compound or drywall mud, DIYers often over-sand the material.
Use a damp sponge and rub the coarse side against the drywall in a circular motion until the edges are smooth. Always wear face protection while cleaning drywall dust.
Many people overlook the importance of covering their faces and eyes. When drywall dust enters your eyes or lungs, it may cause itchiness, blurred vision, continuous coughing, and difficulty breathing.
To clean drywall dust off furniture, you need to have the right tools. Devices like a shop vac make dust removal go smoother. The ideal vacuum to use while removing dust is one with a HEPA filter.
Using water to weigh down the dust particles in the room is another efficient way to clean up the mess the sanding drywall causes.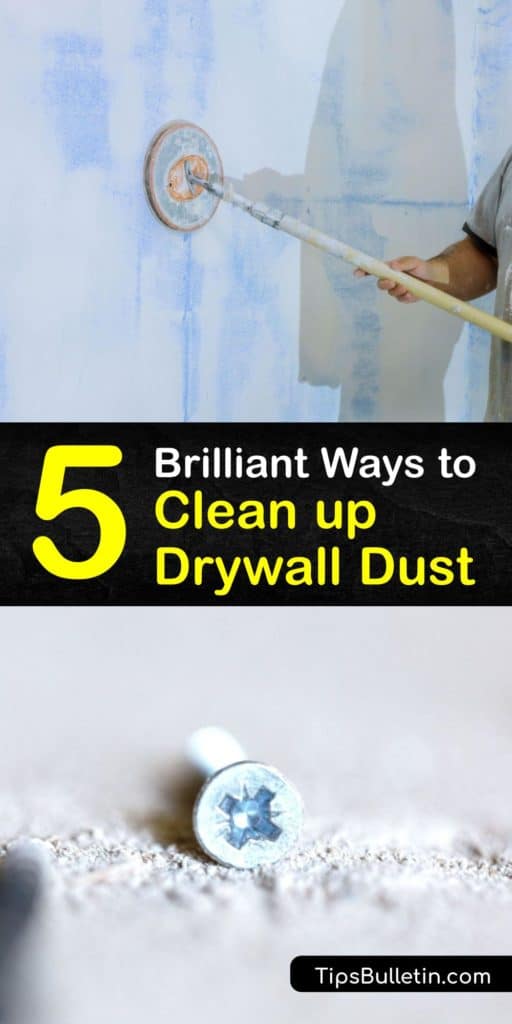 If you learned how to clean up drywall dust, share this article about cleaning drywall dust with your friends and followers on either Pinterest or Facebook.