No matter how we may try to prevent it, accidents of the potty training variety tend to happen, especially in households with young children and pets. Knowing how to clean urine from a couch is especially important since we can't remove the sheets or an added protective layer from our furniture the same way we would a mattress.
Whether your concern lies with pee smell or pet stains, we have plenty of information that shows you how to clean cat pee from couch cushions before staining or mildew smells develop. The most important part is locating the affected area on the couch and finding it as quickly as possible.
Don't stress over the mess. While it isn't the most pleasant experience to go through, there are numerous resources available to assist you with the urine removal process. Removing pet urine smell from a sofa requires minimal equipment and relies mainly on natural ingredients to get the job done.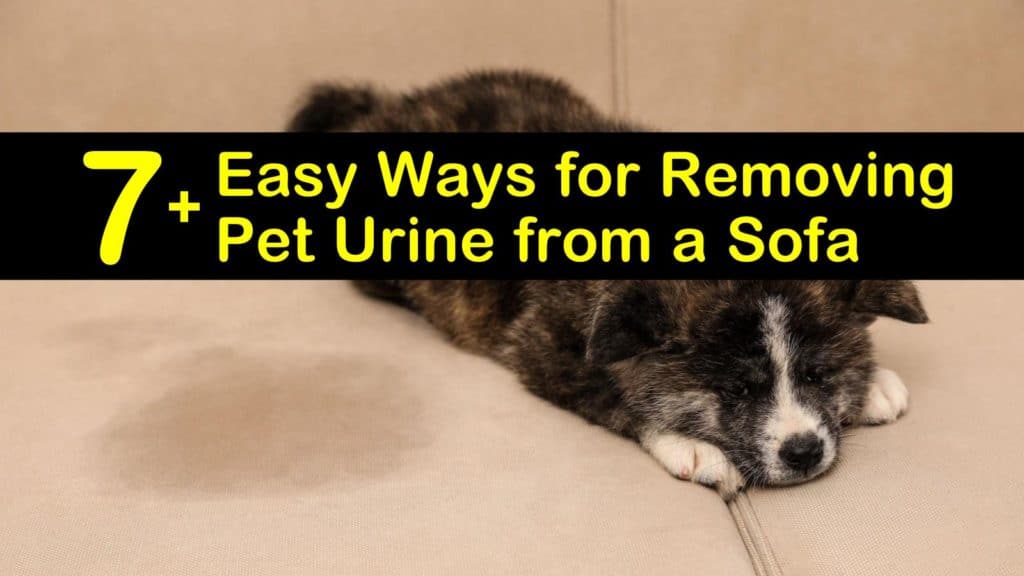 Cleaning Urine from a Couch
Cleaning urine from the couch as quickly as possible is especially important in regards to removing the entire mess. After a while, the urine soaks further into the sofa, potentially damaging your couch cushion.
It also leaves behind traces of uric acid, which marks your furry friend's territory with their personal pet odor. This smell makes them want to return to the scene of the crime as often as possible, so clean pee off as soon as you can to prevent future accidents.
Locate the Source of the Smell
One of the very first issues you may run into when it comes to cleaning urine from couches is finding the area that needs cleaning. Because we don't always catch our pets in the act, we can't pinpoint the source to remove cat spray smell, even if we smell it. The easiest way to locate the dog or cat pee on a couch is by using a black light.
Start by turning all the lights off in the room to make spotting the pee stains even easier. Run the UV or black light over the couch cushions slowly, until you come across the stain. Cat pee glows either a yellow or green color, so spotting it shouldn't be too difficult. Once you know the source of the urine smell, neutralize it with a cleaning solution.
Check the Cleaning Label on the Sofa
One critical thing to do before you start cleaning your sofa is to check the manufacturer's label to ensure you use the right kind of cleaner. If your couch has a "W" label, then using a water-based cleaner is the only course of action. If your sofa has an "S" label, then use a solvent like rubbing alcohol.
Using a water solution on couches with an "S" label, and vice versa with the "W" labels, damages the fabric and increases the potential for shrinking. If your furniture has an "X" label, you are allowed to do even less based on the manufacturer's recommendations.
If your sofa has an "X" label, it's vacuum only, which means a professional needs to treat the stain. Avoid using whitening agents like bleach across all types of fabric, as these also wear down the fibers on the upholstery.
How to Clean Cat Pee from Couch with "S" Label
If your couch has an "S" label, then using a solvent with vinegar and alcohol is the ideal homemade sofa cleaner. Before cleaning with rubbing alcohol, always test a small inconspicuous area of the couch first to ensure there's no bleaching during cleaning.
Both the rubbing alcohol and vinegar neutralize the urine smell, while your favorite essential oil replaces the foul odor with a pleasant new one.
Add the ingredients to a spray bottle and shake well. Using paper towels, absorb as much of the urine from the couch as possible by blotting the area.
Once you've soaked up all the urine, spray the area with the cleaning products. Remove dog urine smell from your mattress the same way. Scrub the stain with a microfiber cleaning cloth, and repeat until the stain lifts away.
The odor of the alcohol, vinegar, and essential oils also help to act as a dog pee repellent to keep other accidents from occurring in the same place in the future.
How to Clean Urine from a Couch with "W" Label
If your couch has a "W" label, using a water-based solution with vinegar is the best way to get dog pee smell out of a couch. The fantastic thing about vinegar is that it acts as a disinfectant, too. Not only does it clean and get rid of stains, but it also removes germs and odor-causing bacteria.
To clean urine with the solution, use equal parts water and vinegar by mixing them in a bowl or spray bottle. When cleaning with a spray bottle, avoid over saturating the area so as not to deposit excess moisture within the couch cushions.
The same applies when using a damp cloth to scrub the stain. The key is to clean the couch cushions without leaving too much moisture behind.
Removing Pet Urine Smell from a Sofa
While a homemade cleaner works just fine, one of the best ways to clean urine stains is by using a natural enzymatic cleaner. Enzyme cleaners break down the proteins in organic stains caused by dog, cat, or human urine, as well as sweat and vomit.
Because it does not merely cover up the stain but breaks down its construction, it is one of the most effective methods for entirely eradicating a wet spot caused by urine, whether you are getting cat pee out of carpet or your living room sofa.
There are recipes for you to make your own (like the one below) or you can opt for commercial enzyme cleaners that are available in most grocery and pet stores. There are many to choose from, like Nature's Miracle, so finding the right one for you won't be a problem.
When using this type of cleaner, sop up all the urine before cleaning. Spray the area and allow the enzyme cleaner to soak into the couch cushion for approximately 15 minutes before scrubbing. Rinse with warm water and dry.
Steam Clean Human Urine
Another way to remove dog and cat urine from your couch is by using a carpet cleaning tool like a carpet or steam cleaner. The best carpet cleaner for pet urine also uses an enzyme solution for both stain removal and odor eliminating.
This recipe works as a great homemade cat urine cleaner; however, it requires approximately three months before it is ready to use. However, it is a useful addition to your carpet cleaner.
Start by adding your preferred type of sugar and citrus peels into a large bottle with a cap. Mix and match the peels as long as you use citrus peels to do the job. Pour in the water and place the cap on the bottle.
You may need a funnel to do this correctly. Shake the container until the contents are adequately blended. Next, unscrew the lid and allow for just enough air to seep out of the bottle.
Place the container in a safe location, such as a pantry or basement, where the enzyme cleaner can develop without disruption. After three months, use your new enzyme cleaner.
How to Remove Urine from Suede
Cleaning your suede or microfiber couch is another questionable task. The fabric on these types of couches is nothing like the regular cotton fabric of most sofas.
As a result, use extra care when cleaning urine stains from these types of materials. The recipe below acts not only as a cleaning solution, but it is also an excellent conditioner for suede sofas.
When cleaning suede with vinegar, as with most cleaning routines, avoid saturating the area. Do not spray the oily solution directly on the couch, and instead apply the formula using a damp cloth. Scrub the area gently, then let the fabric air dry when finished.
Remove Urine Smell with Baking Soda
One final, critical point about cleaning pee off of couches deals with removing the urine odor. One of the best deodorizers to use across the board is baking soda, whether you need to get rid of cat urine odor in the air or your sofa and loveseat.
Baking soda absorbs odors along with other cleaners like hydrogen peroxide. Together, they make a tremendous odor-fighting team as well as acting as an effective couch disinfectant.
This same formula works well for removing urine stains from mattresses and other fabrics. For an extra fresh clean, apply additional baking soda over the area after cleaning and let it absorb the remaining moisture overnight. Use your vacuum cleaner to collect the remaining powder the following morning.
We hope you've enjoyed learning everything you need to know about removing pet urine smell from a sofa.
While this task may seem overwhelming at first, these helpful tips and recipes make your task that much more comfortable with just a little extra know-how. Don't let those horrible smells and stains get you down. Lift them up and away with ease!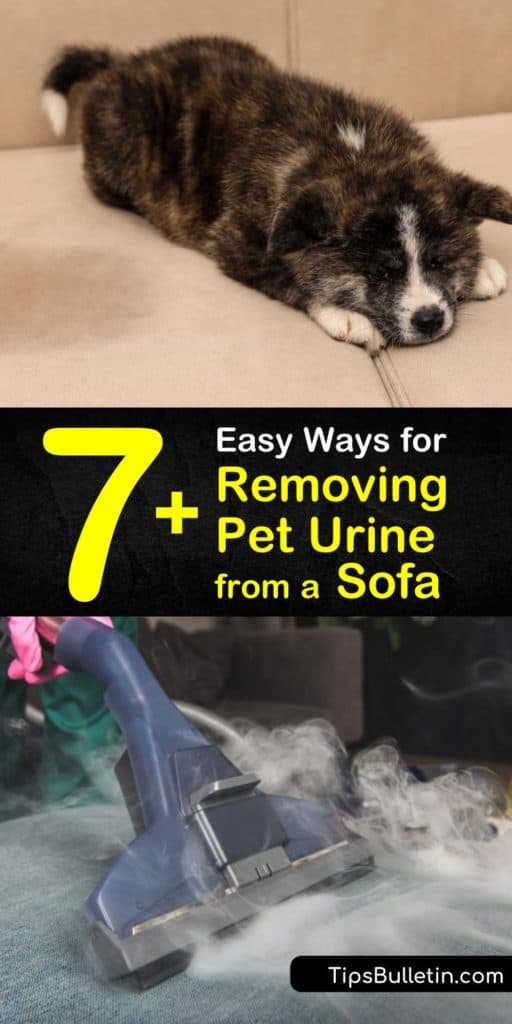 If you found these urine stain-fighting tips helpful, then please share your favorite recipe for how to clean urine from a couch with friends and family on Facebook and Pinterest.