Whether you just bought your first home with vinyl flooring or have decided to install new luxury vinyl flooring, you're probably wondering how to care for it properly. While cleaning vinyl floors takes less work than natural wood flooring, there are a few things that you need to know. In the following list, we show you how to clean vinyl plank flooring as well as offer some useful tips and tricks for maintaining its beauty.
There are various types of vinyl flooring, including luxury vinyl plank and vinyl tile. Luxury vinyl can be installed in all areas of the home and it makes an easy-care yet beautiful accent in any room.
Vinyl plank flooring is a low maintenance flooring type that can be easily cared for and cleaned. It's more durable than hardwood floors and is an ideal choice for homeowners with children and pets.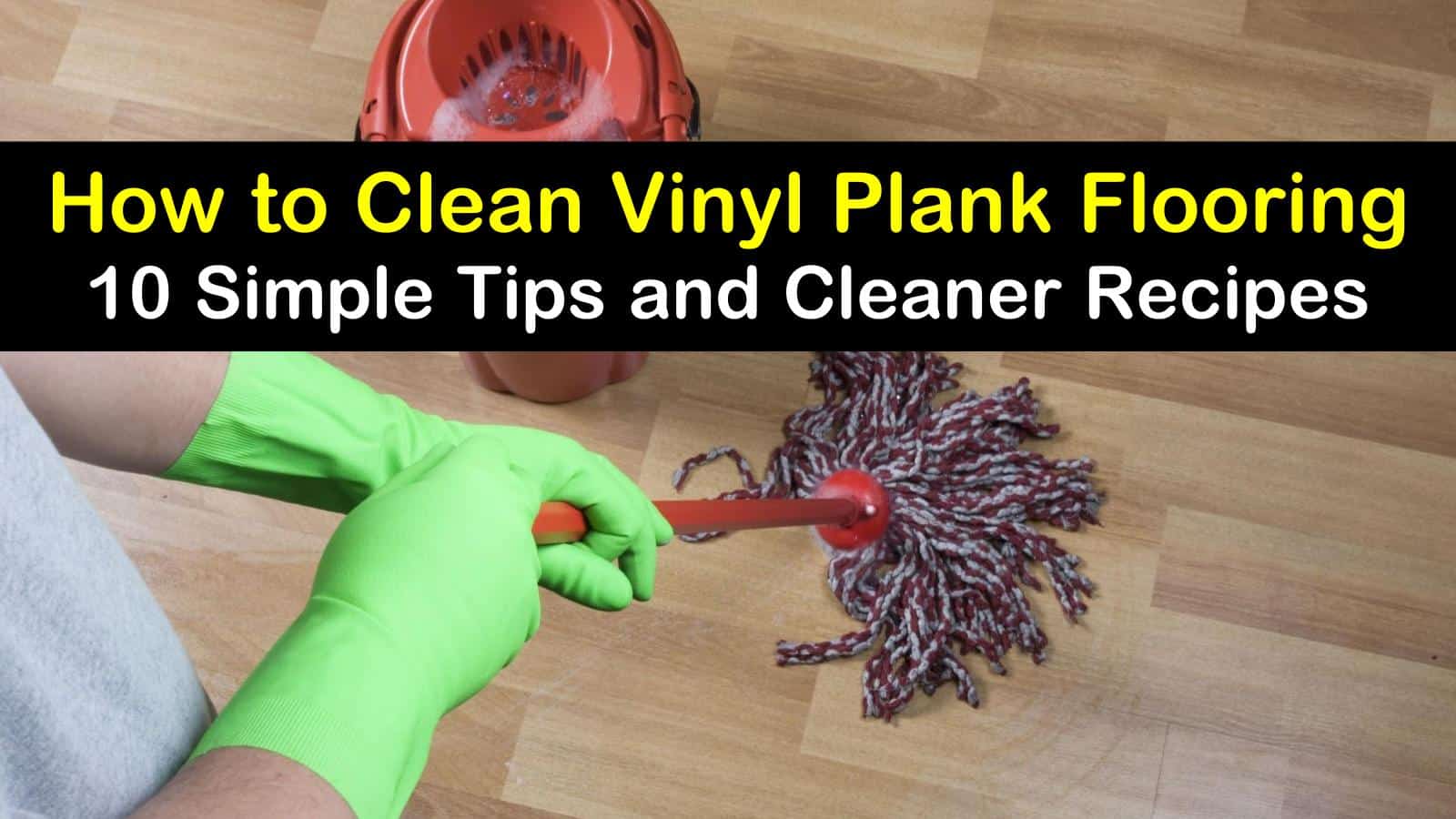 Cleaning Vinyl Plank Floors
If you have difficulty telling the difference between a luxury vinyl floor and a laminate floor, you're not alone in this confusion. Laminate flooring is a wood-based product, while luxury vinyl flooring is a plastic-based product.
All types of vinyl flooring are also completely waterproof. Therefore, cleaning and maintenance will differ between the two flooring types. Y
ou can clean a vinyl floor with a laminate cleaner but it is not recommended to clean laminate with most vinyl flooring cleaning supplies. Here are several ways that you can clean vinyl plank flooring properly without using harsh cleaning products or abrasive cleaners.
How to Care for Vinyl Plank Flooring
It's essential to know how to care for vinyl plank flooring and protect it from everyday occurrences that can scratch the surface. The scuffing of shoes and furniture can lead to small scratches that will dull the floor over time.
Many of the recipes we provide can not only be used on vinyl plank flooring but can also clean linoleum flooring, as well. While not exactly the same, the materials both respond well to similar cleaners.
Protect Vinyl Plank Flooring
Place a doormat at the entryway to the room with the luxury flooring. Sand and debris like to cling to the bottoms of shoes and feet. Once those tiny particles of dirt make their way onto the vinyl flooring, there is a good chance that friction will cause scratches to the finish.
Another way to protect the vinyl flooring is to place felt pads beneath any furniture that rests on the floor. Doing this is especially important for furniture that will be slid across the floor regularly, such as stools and chairs.
The felt will protect the flooring from damaging scratches. You should also avoid using furniture with rollers. Desk chairs that are rolled across the floor will leave scratches to the surface over time.
How to Sweep a Vinyl Plank Floor
While a vinyl floor is low maintenance flooring, there are still some steps that you should take when cleaning vinyl to keep it scuff-free and shiny. The following recommendations show you how to sweep vinyl plank flooring properly to ensure it stands the test of time.
Vinyl Plank Floor Sweeping Method
Be sure that you sweep the vinyl flooring frequently. Regular sweeping will keep those tiny particles of dirt from building up and scratching the surface. Choose the right kind of broom for the job. Consider using a soft, nylon-bristle broom instead of one with hard bristles.
Start by sweeping along the corners and edges of the room, working the dirt towards a designated area. Continue sweeping from one side of the room to that spot, allowing the dirt to accumulate in a pile. Once the entire room is swept, use a dustpan and sweep the pile of dirt off the floor.
How to Vacuum a Vinyl Floor Properly
There are a couple of benefits to using a vacuum over a broom to remove dirt and debris from a vinyl floor. A vacuum will not kick up dust as a broom does, and it will also suck up fine dirt particles from those nooks and crannies that a broom may miss.
Vacuuming is also an excellent first step as a way to clean engineered hardwood flooring to get rid of stray dirt and dust before getting into the nitty-gritty of cleaning the surface.
Vacuuming Vinyl Flooring
If you plan on vacuuming your vinyl floor, make sure that the vacuum has a removable beater bar. The beater bar is the rotating bristle bar that is located beneath the vacuum and is used for pulling up hair and debris from the carpeting. Vacuuming the vinyl flooring with the beater bar still intact can cause scratches to the surface.
Start by using the handheld hose attachment of the vacuum to get into small areas beneath cabinets and along walls. Use the vacuum unit to suck away dirt, dust, and debris by moving back and forth from one end of the floor to the other.
How to Mop a Vinyl Plank Floor
While mopping a floor may seem pretty straightforward, there are a few do's and do not's that should be followed for a proper floor mopping. Incorrectly mopping a floor may cause scratches and damage to the floor.
Vinyl Floor Mopping Method
The floor must be swept free of any debris before you begin mopping. If there is any dirt grit on the floor, you risk scratching the surface. Routine mopping can be done every week using a little dish soap and clean water.
You can also use one of our cleaning methods listed below. After dunking the mop head into a water solution, use the wet mop head to clean the floor using a circular motion to form a figure eight. This motion ensures that dirt and grime are not pushed aside.
Remember to keep rinsing the mop head so that you aren't spreading dirty water along the floor. If you opt to use a steam mop for vinyl floors, check the manufacturer's instructions.
Be sure to sweep the floor before steam mopping it. Have several mop pads on hand so they can be easily changed when dirty.
Deep Cleaning Luxury Vinyl Plank Flooring
There may be times when that floor needs extra deep cleaning. Deep cleaning luxury vinyl plank flooring once a month will ensure that it maintains its original shine and luster. It will also make future routine cleaning more manageable.
Make sure to ventilate the room and wear rubber gloves. Mix the water and ammonia in the bucket. Using an old toothbrush, dunk the head into the cleaning solution and scrub away any heavily soiled areas of the floor.
Use a mop to clean the floor using circular motions. Dump the bucket of cleaning solution and refill it with clean water. Rinse and wring the mop and then wipe down the floor using fresh water.
Cleaning a Vinyl Floor with Apple Cider Vinegar
Did you know that there are many different apple cider vinegar uses both for cooking and cleaning? Apple cider vinegar is an ideal choice when it comes to cleaning a vinyl floor.
In this DIY vinyl floor cleaner, the acidity of the vinegar loosens grease, grime, and the build-up of dirt without leaving a soapy residue behind like many commercial cleaners do.
If you don't like the vinegar smell you can always add a few drops of your favorite essential oil to the mixture to mask the odor and leave behind a fresh scent.
To clean vinyl floors or as a natural cleaning solution for linoleum floors, pour the apple cider vinegar and hot water into a bucket. Add a few drops of dishwashing soap and use the mop to swish the liquid around without making too many suds.
Use a damp mop to clean the floor using a circular motion. Make sure that you rinse and wring the mop in the bucket frequently as you go along to keep from spreading around dirty water and debris.
This vinegar solution is also ideal for cleaning vinyl shower curtains. Pour the mixture in the tub and soak the curtain for an hour or so. Rinse well and hang to dry.
Eliminate mold, soap scum and more by soaking in this vinyl cleaning recipe. Stubborn stains may need a little scrubbing with a soft-bristled brush.
You can also use this simple remedy as a vinyl furniture cleaner, most often found in pieces for the patio. Scrub the furniture and use the garden hose to rinse clean. Air dry.
Cleaning a Vinyl Floor to Remove Grime Build Up
This method is excellent for cleaning floors that have a lot of built-up gunk and dirt. Baking soda is a mild scouring agent that scrubs away grime, while vinegar is an acidic liquid that loosens up grease. The solution also contains lemon juice that will leave the room smelling fresh and clean.
Start by giving the entire floor a good sweep to remove any sand and dirt. Mix the vinegar, water, and a splash of lemon juice into a bucket. Before mopping the floor, sprinkle a layer of baking soda onto the dirty areas of the floor.
Get the cloth wet with the vinegar cleaning solution and wipe the areas of baking soda until all the grime is broken up. Rinse the cloth with water and wipe away the residue. Use the mop and vinegar cleaning solution to clean the entire floor.
While it's easy to clean your vinyl floor with this solution, it's also a great way to wash vinyl siding. Either wash by hand or put the mixture in your pressure washer to get your house sparkling clean.
Easy Vinyl Floor Cleaning
This technique is the easiest way to clean a vinyl floor during routine cleaning. The solution uses vinegar, which is naturally acidic enough to break down stuck-on dirt and grime yet gentle enough to use on vinyl flooring. White vinegar also acts as a disinfectant.
Mix the white vinegar with warm water in the bucket. Dunk a clean, dry mop into the cleaning solution and wring out as much of the liquid as you can. Clean the entire floor using circular motions. Make sure that you continue re-dunking and ringing the mop as you mop.
Removing Those Scary Stains from a Vinyl Floor
Have you ever had the kind of stain on a floor that seems impossible to remove? We're talking crayon marks, nail polish, and anything else that makes you gasp with disbelief.
No worries. We have a few tips for removing crayon marks and some of those other scary stains without resorting to harsh chemical compounds.
Vinyl Floor Stain Remover
To remove nail polish from the floor or to get paint off vinyl floor, scrub the area using a non-abrasive scrubbing pad. Pour a little isopropyl alcohol onto a soft cloth and gently rub onto the stain. Be sure not to spread the stain around. Use a damp cloth to wipe away residue.
To remove rust stains, pour some lemon juice onto a damp sponge and work at the stain until gone. Use a wet cloth to remove any leftover residue.
You can also clean accidental artwork off a vinyl floor if you've discovered that your child left their artist mark using crayons. Use a plastic putty to gently scrape the colored wax off the floor. Put the knife at an angle to prevent scratching. Finish up by wiping the area clean with a sponge and hot water.
Scuff marks are the result of tennis shoes or furniture with rubber feet that have been dragged on the floor. To remove those stubborn scuff marks from the floor, add several drops of Jojoba oil or WD-40 to a cloth and rub the area until the marks are gone.
How to Bring Back the Shine to a Vinyl Floor
Over time, a vinyl floor can lose some of its shine due to age, use, and traffic. You can remedy this by simply adding a little bit of baby oil to the cleaning solution. The oil will bring out the natural shine that the floor once had.
Mix one cup of the white vinegar into a bucket of hot water. Add a few drops of baby oil to the water solution and mop the area as you normally would.
Of course, it's a different story if you have a vinyl floor that is beyond cleaning or repair. It may be time to brush up on the different ways to remove vinyl floor tiles from concrete or other surfaces.
The same applies to ways to remove linoleum from concrete and other types of floors, too. Learning how to complete this task the right way ensures that you save both time and money.
As you can see, it's reasonably easy to clean vinyl flooring once you've got the right DIY cleaning solution. Positioning a doormat at the entrance to your home, performing a deep cleaning to clean vinyl floors, and routine cleaning will keep the shine and sparkle you desire in a luxury floor.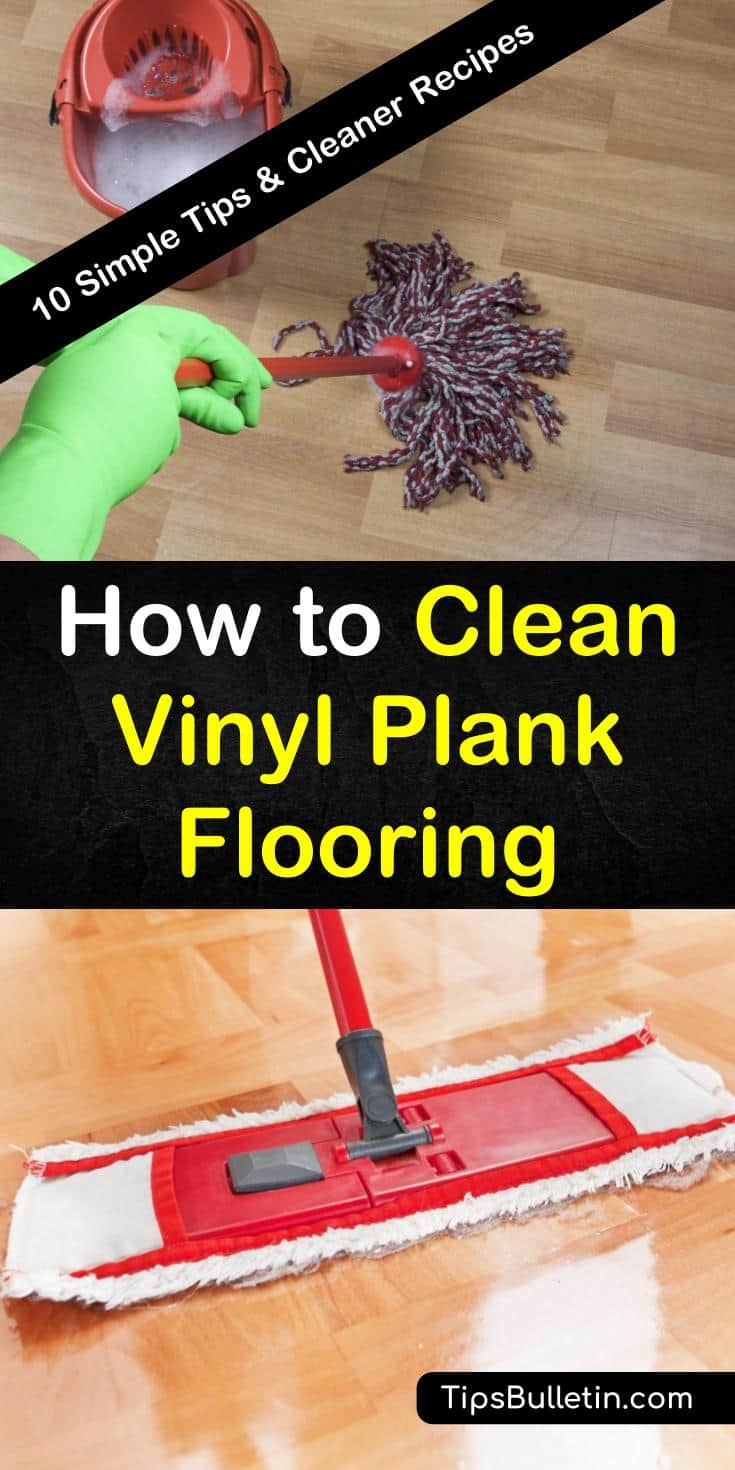 We hope our cleaning tips on how to clean vinyl plank flooring were helpful to you, and we'd love it if you share these vinyl floor cleaning recipes with your friends and family on Pinterest.