So, you're ready for that fresh coat of paint on your wall, but your painting project won't be complete without handling the first significant step in the process: cleaning your walls. No matter what paint color you plan to use, dirty walls just won't cut it when it comes to achieving that smooth, flat finish. So how to clean walls before painting, and which cleaning products work the best?
There are many cleaning options available to you when it comes to washing walls. Most of the ingredients for these simple cleaning recipes are supplies you use during your regular household chores.
When cleaning walls before painting, take into account specialty paints that may require additional supplies to remove, such as crackled paint or wallpaper glue. Either way, the perfect solution for how to wash walls before painting can be found in this easy-to-follow tutorial. All that's left to do is to round up the supplies and get started.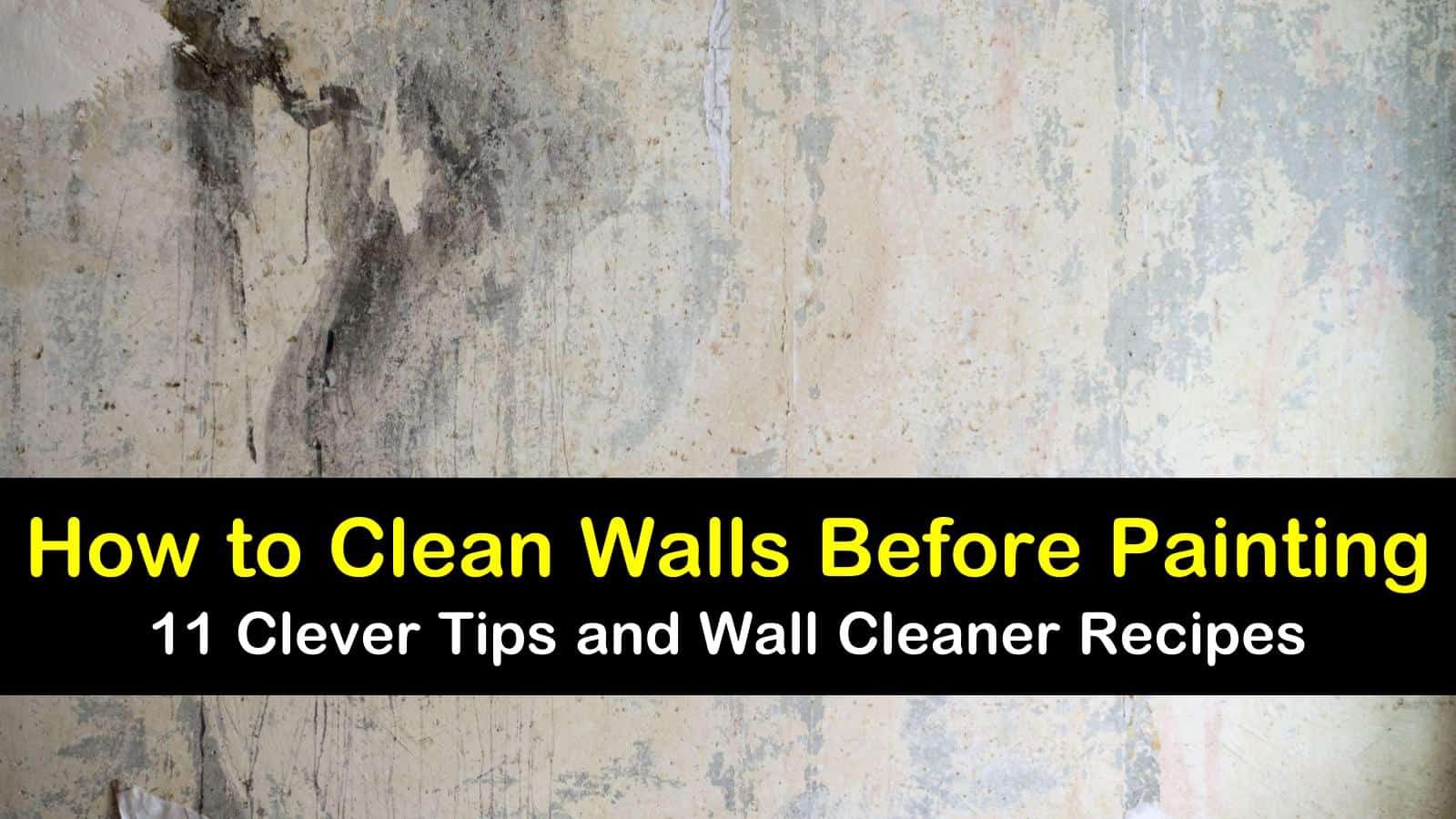 Everything to Know about Cleaning Walls before Painting
The first thing to do when cleaning your walls is to gather everything you need for it. For the most part, all these techniques require the same equipment, with the occasional tool for improving stain removal thrown in for good measure. The preliminary supplies you'll need are listed here.
You may be wondering why you need painting supplies like roller covers and drop cloths before you even begin painting. While most of these ingredients are safe to use on walls, they might also discolor your floor in the process. And, in cases where you need a little extra reach to prep walls, an extension pole will become your new best friend.
Vacuum Up Dust and Cobwebs
One of the first steps to take when cleaning your walls is to use a vacuum cleaner. While this sounds absurd, using the vacuum attachments to suck up dust particles in the small cracks and crevices in your walls is essential for removing every little speck of dirt before painting and it will get paint off walls that is peeling all over the place.
Besides vacuuming in corners, vacuum along the baseboards to clean any dust that may have collected there. The longer attachments are also a great way to sweep away cobwebs near ceilings.
Vinegar: How to Wash Walls Before Painting
The best ingredient for cleaning almost every surface in your home is vinegar. Not only does using vinegar to clean walls remove dirt and grime, but it disinfects them, as well.
One of the only times you might not want to use vinegar is when prepping wood walls for a new paint stain. The acetic acid in the vinegar will eat away at the wood, slowly destroying it before you even get started painting.
For an easy way to wash walls, combine the two ingredients in a large bucket and blend well. Afterward, pour part of the solution into a spray bottle and clean areas one portion at a time.
If cleaning by hand, use a soft towel to scrub and dry the walls after spraying. You can also use an extension pole with clean roller covers on the end of it to wash hard to reach places by using the rollers the same way you would a cleaning sponge. Your walls are now ready for that fresh coat of paint.
Clean Walls with Rubbing Alcohol
The next excellent recipe for cleaning walls before painting includes using another powerful disinfectant: rubbing alcohol. To counteract the smell of vinegar and rubbing alcohol when using this cleaner, add in some essential oils for a fresh, clean scent. While this one calls for peppermint essential oils, use any scent you prefer.
When cleaning flat paint walls, choose a dish soap without any additives in it, including bleaching agents, antibacterial cleaners, or moisturizers not only to clean the surface effectively but also to not cause harm to it before applying new paint.
Use a sponge or spray bottle to apply the cleaning solution to the wall and scrub either using a brush with soft bristles or a cleaning cloth. Allow the wall to air dry when finished. This recipe also doubles as a non toxic floor cleaner.
Sand Down Textured Paint Before Cleaning
In some cases, you need to remove old paint from interior walls before you can start with a fresh coat of paint. If you used crackled or textured paint during the first paint job, remove as much of that ahead of time for a smooth foundation.
Start by wetting the surface of the wall with warm water. If you have large chunks of textured drywall, use a putty knife or strip of sandpaper to gently wear down the textured paint on the surface of the wall.
Before painting, you may want to add an extra layer of primer, even if your paint already comes with one, to make sure the surface is completely smooth and ready for painting. When sanding over large areas at a time, you also should wear a mask and goggles to avoid getting any of the wall dust in your eyes or mouth.
If you are going to be repainting a metal surface that has visible rust, you also need a way to remove rust from metal before painting. Sanding is an excellent method to tackle this task. Proper surface preparation always leads to a better painting job.
Remove Grease Stains with Baking Soda Scrub
Whether on kitchen walls or another area of your house, it's not uncommon to see grease spots popping up. Take care of these yucky little marks before prepping your walls for painting. To remove grease, make a baking soda scrub to lather over the spots.
In addition to using this method to clean walls before painting, it's also a safe way to eliminate grease spots even after you paint walls. The mixture won't harm, dull, or remove latex paint or semi-gloss, meaning this is one recipe to keep handy. In some variations, you can also add in a spritz of lemon juice for additional degreasing powers.
Trisodium Phosphate: Powerful Wall Cleaner
For an alternative grease and grime remover, trisodium phosphate makes an excellent contender. Even without greasy patches that need cleaning, this is the perfect product for an all-over clean on walls. While this is a non-toxic cleaning solution, you still need to wear a protective covering to avoid skin irritation.
Work in small areas when cleaning, using a sponge to wipe down a few square feet of the wall at a time. For every small space that you clean, let it soak for a couple of minutes, then rinse the wall using a clean cloth and water.
Rinse the solution away before it has time to completely dry. After rinsing with clean water, allow the wall to air dry on its own.
Patch Up Holes Before Painting
Part of the cleaning process is also doing a few minor home improvement repairs. Leaving gaping holes open and unmended makes the painting process more difficult, but even small punctures from nails leave behind unattractive welts in the walls.
To clean up this problem before painting, fill in the holes with wall putty during the cleaning process. Larger holes may require the addition of a small piece of drywall or a putty knife and screen to cover them.
Though, if you're covering up small nail holes, use a Q-tip or your finger to spread it over the hole. A small sheet of sandpaper may also be necessary to flatten the tiny welt left behind after removing the nail.
Clean Paintbrushes Properly Before Starting
One excellent cleaning step to take before painting your walls is to clean the brushes ahead of time, too. Your clean-walls practices start with the application of the new paint, which means you don't want to apply that fresh coat with hard or dirty bristles. As you wash walls in preparation for painting, allow the brushes to soak in a paint brush cleaning solution, as well.
Before using this cleaner, ensure that your brushes are free of as much paint as possible by scraping them clean with a putty knife or rinsing them under some water. Next, swish the bristles around in a little jar of paint thinner, but do not let them soak, as this causes the hairs to weaken.
Next, rinse them with clean water and soak them in a separate jar with fabric softener and water. Rinse with water again, then hang it up to dry.
Remove Wallpaper Glue with Hot Water
If you wallpapered your room, then you have a few additional steps to take before cleaning. The first is to remove the paper and remove wallpaper border glue, which may require a scraper to wedge loose any pieces of paper that don't want to let go of their home so quickly.
After removing all the wallpaper, however, you still have another issue to deal with before using a homemade wall washing solution. This step includes removing any adhesive residue left behind by the wallpaper glue.
Luckily, this is a simple fix which mainly requires the use of hot water. The hotter the better, since heat is one of the best ways to remove glue from surfaces.
Of course, be careful when handling anything too hot and wear protective clothing. To remove with hot water, soak the area, then scrub with a soft towel. In some cases, you may also need to use a scraper to gently remove the adhesive from the wall.
Cleaning Walls Before Painting Using Magic Eraser
When it comes to removing stains caused by crayons, pen, or anything really, the Mr. Clean Magic Eraser is one of the best store-bought cleaners you can find. Not only does this get Sharpie off a wall, but it also works great on various types of colored stains.
When adding your cleaning solution to the wall, don't saturate the Magic Eraser sponge. The sponge works fine dry, though adding a spritz or two of the cleaning solution allows it to grip onto the dirt particles even better.
Spray the wall or the sponge, then scrub along the stained area. Rinse with water when finished, and dry with a clean cloth.
Wait Before Painting Walls After Cleaning
Even though you're probably eager to start your paint project, having patience serves you well in the long run. You've just finished cleaning with all manner of useful products, so how long after washing walls can you paint? With most of these options, the solution will dry within an hour or two, which means you can start painting shortly after that.
You don't want to attempt a fresh coat of paint while the walls are still wet. After your first coat of paint, wait an additional 24 hours before adding another one.
Hopefully, you loved reading all about these painting tips for how to wash walls before getting started. The best place to start is to see which ingredients you already have in your cleaning supply arsenal before creating your favorite recipe at home.
No matter which method you choose when cleaning walls before painting, these solutions will surely get the job done. Then, all you need to know is how to paint those walls with ease.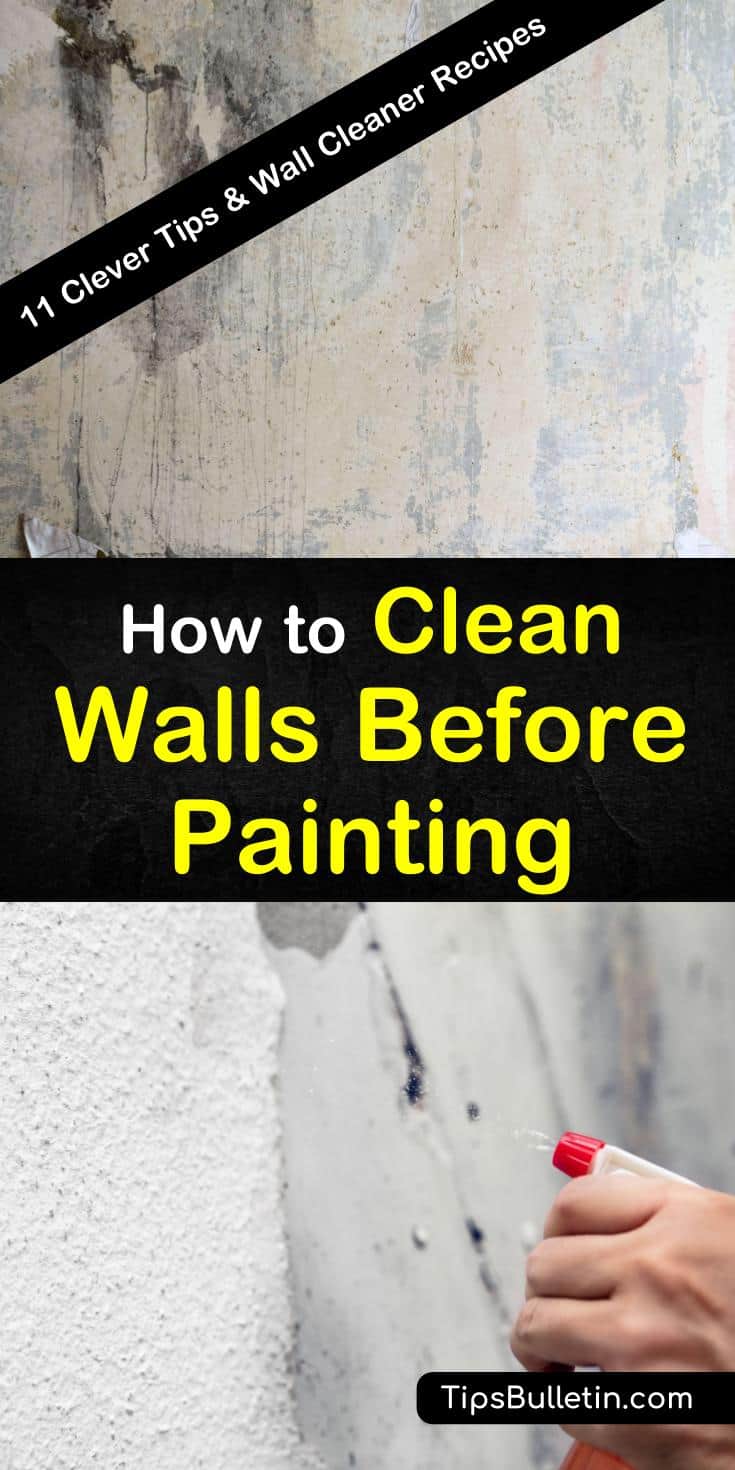 If you found these wall cleaner recipes useful, please remember to share how to clean walls before painting with everyone you know on Facebook and Pinterest.