Keeping your white golf shoes clean is simpler than you might think. Here's how to do it effectively and affordably:
Start with dry brushing to remove loose dirt.
Wash with a mix of warm water and liquid dish soap.
For tough stains, create a paste with baking soda and white vinegar.
Use a toothbrush for precise cleaning on stubborn spots.
Dry the shoes properly, avoiding direct heat sources.
To tackle dirt and stains on your white golf shoes, begin by dry brushing to clear off any loose debris. This quick step prevents dirt from getting further embedded into the shoe during the wet cleaning process.
Next, create a gentle cleaning solution by mixing warm water with a squirt of liquid dish soap. Dip a soft cloth into this soapy mixture and thoroughly wipe down your shoes. This approach is very effective for general cleanliness and is also gentle on most materials.
For more stubborn stains, particularly grass marks, a cheap and fast solution is to make a paste using baking soda and white vinegar. Apply this paste to the stained areas with a toothbrush for precise application and scrub gently to lift the stains. This method is very effective and involves ingredients you likely already have at home.
After cleaning, it's crucial to dry your shoes correctly to maintain their shape and prevent any unpleasant odors. Avoid placing them in direct heat or sunlight; instead, opt for air drying or using a fan to circulate air around them. Stuffing the shoes with newspaper can also help absorb moisture quickly and is a cost-efficient method to ensure they dry out properly.
By following these steps, you can easily and inexpensively keep your white golf shoes looking as good as new.
If you're a golfer, then you undoubtedly have at least one pair of white golf shoes in your closet. Unfortunately, white shoes are the hardest to clean, especially when the material has grass stains and other stubborn stains. Learn how to clean white golf shoes using basic to advanced cleaning methods to help you restore your shoe's good looks.
The color white is one of the most versatile colors since it matches anything, so it's a favorite among golfers for footwear. Not only are white golf shoes easy to pair with any other color, but they stay cool during hot summer afternoons.
However, your favorite golf shoes have to contend with a variety of stains, from everyday dirt and grass to mud from an unexpected rainfall.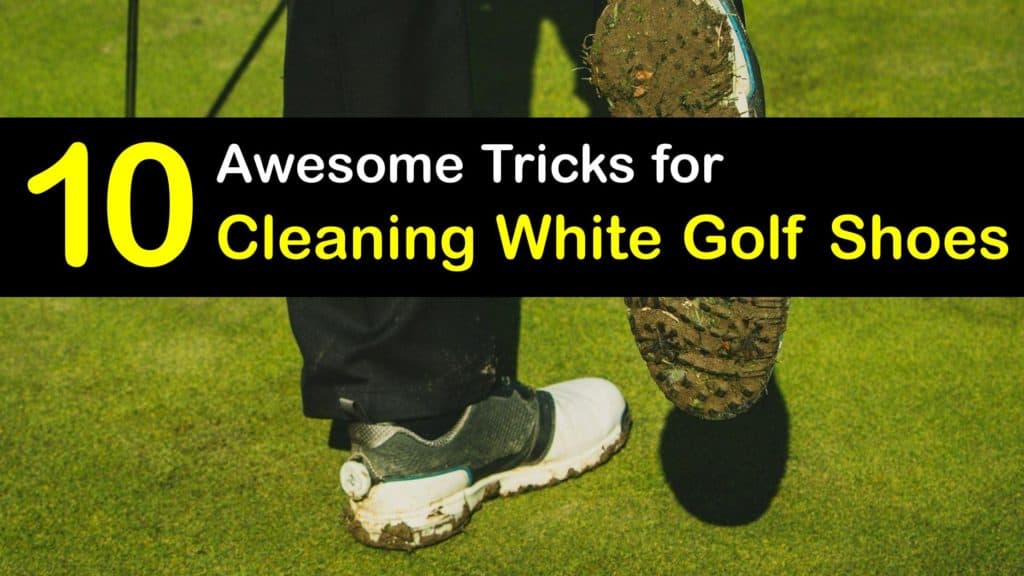 Ways to Clean White Golf Shoes
How you clean your golf shoe depends on whether they are synthetic golf shoes, white mesh shoes, or white leather shoes. It's vital to take proper steps to clean your footwear before, during, and after golfing to ensure they stand the test of time.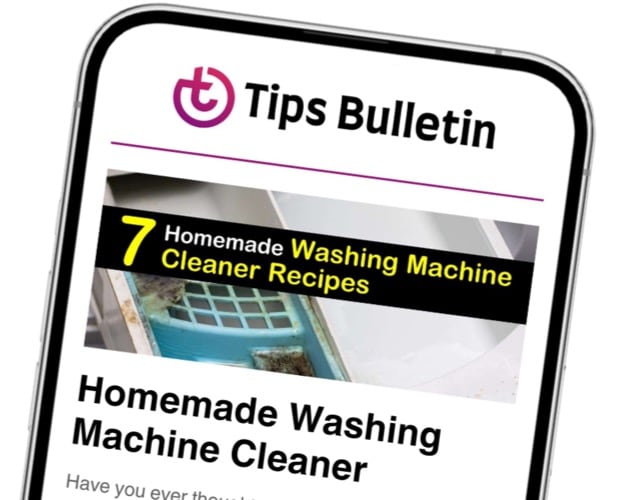 Finally, an email that Transforms Your Home.
Get the latest home and garden tips from our experts, delivered straight to your inbox.
There are many ways to remove yellowing from shoes, and the method you use depends on how old your golf shoes are. Discover different cleaning techniques to remove everything from loose dirt to a stubborn stain and tips for maintaining a mesh, canvas, or leather golf shoe.
Cleaning White Golf Shoes to Remove Dry Dirt and Grass
The first step to cleaning white golf shoes is to dry clean them to remove excess dirt and a grass stain on shoes. However, it's important to ensure your shoes aren't damp before cleaning.
Dry-brush your white golf shoe or to get dirt off white shoes to remove debris.
Set the shoes on a towel on a flat surface and remove the shoelaces. Wipe down the shoe exterior with a paper towel to remove loose debris, and brush the entire outer surface of each shoe with a shoe brush. Clean the shoelaces separately with soapy water or replace them with new laces.
Best Way to Clean White Golf Shoes with Soapy Water
The best way to clean white golf shoes or the way to wash soccer cleats if you don't have a commercial shoe cleaner is to use mild soap and water. Here is how to wash white sneakers and golf shoes with soapy water.
To clean your golf shoes or to get stains out of white fabric shoes, fill a tub or sink with warm water and add some liquid dish soap. Agitate the water with your hands and dunk a soft cloth into the solution.
Wring out excess water and wipe the outer surface of each shoe until they are clean. Rinse the rag with clean water and apply more soapy solution as needed to prevent dirt from spreading.
How to Clean White Golf Shoes with a Shoe Cleaner
While there are several ways of washing golf shoes, the easiest is to use a store-bought shoe cleaner. Explore the different types of cleaners and how to use them to restore your shoes' appearance.
There are a variety of shoe cleaners on the market, so choose one suitable for your shoe type, whether it is fabric, suede, or leather. Some cleaners come in spray form, others are a liquid, and some come with cleaning accessories.
Remove the laces of your shoes and set them aside. Follow the instructions for shoe cleaner and use it to clean each shoe with a cloth.
Ways to Clean a White Leather Golf Shoe
Shoe care varies depending on whether it is a canvas, leather, or suede shoe, and cleaning white golf shoes made of leather materials requires special attention. Find out how to clean leather golf shoes the easy way.
For mild cleaning, use a damp cloth to wipe down the leather surface of your shoes. If they are particularly filthy, clean away stains with a Magic Eraser. Wet the end of the eraser with water, squeeze out the excess, and rub the leather to remove the stain.
Once the shoe is clean, condition the material with a leather conditioner or leather oil. If your leather shoes are still unsightly, consider using white shoe polish to give them a finished look.
Cleaning White Mesh Golf Shoes
A mesh golf shoe is lightweight and comfortable. However, many nooks and crannies in the fabric collect dust and dirt. Choose the best way to clean white golf shoes with mesh material.
There are two ways to clean mesh golf shoes or wash white tennis shoes – hand-washing and machine-washing. To hand wash the shoes, remove the laces and clean the dirty surface with a soft cloth and soapy water.
When cleaning white mesh sneakers or golf shoes in the machine, remove the laces, set the shoes in a washing bag, and use laundry detergent and the delicate cycle to clean them.
Ways to Clean White Canvas Golf Shoes
While it seems like canvas golf shoes are one of the easiest types to wash, the fabric tends to absorb stains, making them more challenging to clean. Clean shoes with canvas material to wash away dirt and difficult stains with items you probably have at home.
Set your shoes on newspapers or an old towel to collect dirty powder residue as you clean. Combine baking soda and vinegar in a container or bowl, and apply the paste to dirty shoes with a rag. Let the paste dry, and brush away the dried powder and dirt with a soft brush.
How to Get Grass Stains off White Golf Shoes
One of the worst stains on your golf shoes is grass stains, especially if your footwear is white. Removing grass stains as soon as they happen keeps your shoes looking new.
To remove grass stains from white shoes, sprinkle baking soda into a small bowl, add a squirt of dish soap, and just enough white vinegar to make a cleaning paste. Use non-gel toothpaste as a substitute if you're in a hurry.
Dab a toothbrush into the paste and apply it to the grass stain on your shoe. Rub with a small, circular motion and rinse the area with warm water to wash away soap residue. Make sure the spot is gone and repeat if necessary. Otherwise, set the shoe aside to air dry before wearing it.
Can You Clean White Golf Shoes in the Washing Machine?
Your shoe type determines whether or not it's safe to wash in the washing machine. Learn how to tell if your footwear is machine-washable and how to safely clean them in the washer.
Most canvas shoes and sneakers made with cotton, nylon, and polyester are machine-washable. However, check the care tag on the inside of your shoe to determine if you can clean canvas shoes or other types in the washer safely.
Remove the laces and set your shoes in a mesh laundry bag or pillowcase. Add your favorite laundry detergent and use the shortest, delicate wash cycle with the cold water setting.
How to Dry White Golf Shoes after Cleaning
After wet-cleaning your golf shoes, it's vital to dry them properly to ensure they do not shrink, get wrinkly or get stinky. Here are a few ways to dry your shoes so they are ready for your next golf round.
If your shoes are cotton or synthetic and do not have gelled soles, they can go into the dryer. However, avoid drying leather or suede in the machine.
Dry them with several clean towels and hang the tied laces outside the door when you close it to prevent them from damaging the drum. Use the low or medium drying cycle and dry them for no more than 60 minutes.
If your shoes are not safe for the dryer, try using a fan. Remove the insoles and position each shoe in front of a fan to air dry. If you don't have a fan, newspapers are a great way to absorb moisture. Ball up the papers, stuff them inside each shoe, and wrap a clean towel around the outsides to soak up excess water.
Keeping White Golf Shoes Clean
Cleaning white shoes is tedious work, and the simplest way to avoid having to clean them more than necessary is to prevent them from accumulating dirt in the first place. Here are several tips for maintaining your white golf shoes appearance.
The easiest way to ensure your golf shoes stay as clean as possible is to waterproof them. There are many different brands, and they work by preventing moisture from passing through a waterproof coating.
When not in use, store your footwear on a shoe rack to keep them tidy, or use a cedar shoe tree to hold their shape and reduce moisture.
It's always good practice to wipe dry dirt and debris off your shoes each time you finish a round of golf. Use a soft towel or brush to wipe the entire surface of each shoe before storing them away and maintain them with a shoe cleaner, saddle soap, or polish.
White shoes are perfect for an afternoon of golf. Unfortunately, the white canvas, leather, or mesh shoes lose their bright appearance over time due to wear and tear. Luckily, several easy strategies can restore your shoes and keep them looking their best for your next round of golf.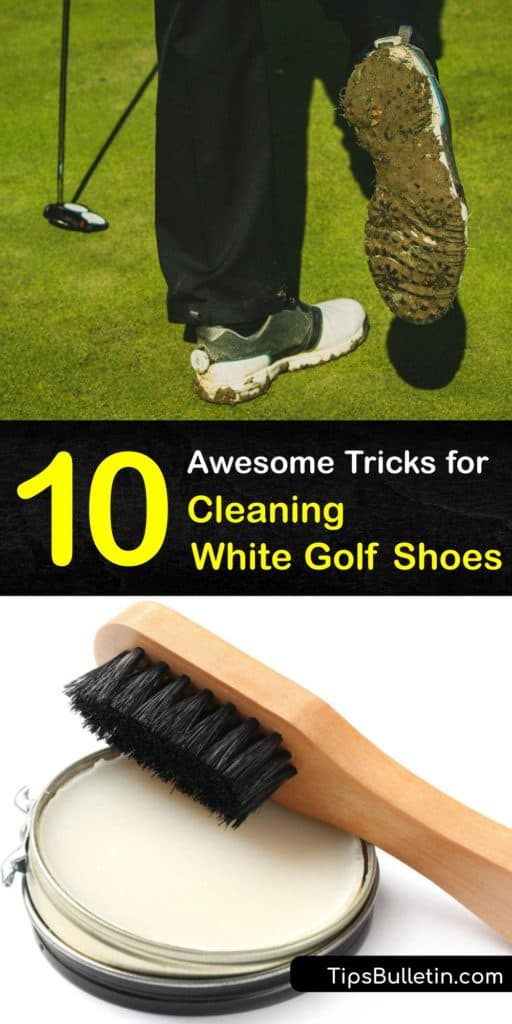 Now that you've learned how to clean white golf shoes to keep them looking new, why not share our white golf shoe cleaning tips and methods with the golfers in your life on Pinterest and Facebook?