Dirt or other tough stains on white mesh shoes, white sneakers, or other canvas shoes is unattractive and difficult to remove. With this guide of quick and easy instructions, learn how to clean white mesh shoes without spreading the dirt or making a mess. Discover how to remove stains off white mesh sneakers without fading or ruining the fabric by using supplies you have around your house already.
These shoes look fantastic, from white sneakers to leather shoes, but are challenging to keep clean. With these simple ideas for how to clean white mesh sneakers without causing wear or degrading the color of your beloved pair, easily remove dirt spots or give them a thorough cleaning.
Find the best approach to cleaning white mesh shoes quickly using the tools and supplies at home. Whether you have access to a washing machine or want to clean your white shoe by hand, you have options.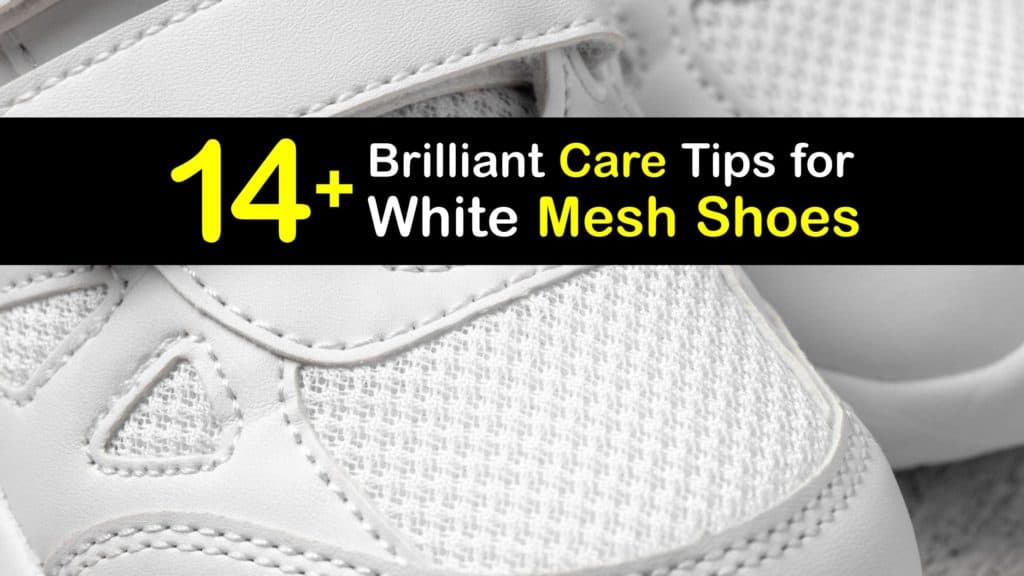 Tips and Tricks for Cleaning White Mesh Shoes
Who hasn't questioned how to clean white mesh shoes at some point? We've all experienced our white mesh sneakers acquiring a stain even the best detergent couldn't altogether get rid of.
A dirt stain is unattractive and must be removed quickly; however, it is both right and wrong to lift it. You risk making the stain worse or harder to remove if you use the wrong approach.
If you've wondered how to remove stains from canvas shoes, there are a few simple steps to take to make it look as if the mark never existed. Easily remove grass stains with a few everyday home items and a little attention.
How to Clean White Mesh Sneakers with Baking Soda
Baking soda is a powerful sneaker cleaner and excels at lifting tough stains to leave you with a clean mesh sneaker.
Mix the baking soda and water until they form a thick paste. Scrub the stain with a scrub brush or old toothbrush. Use small circular motions on the rubber parts on the mesh shoe.
Rinse your white sneakers thoroughly with cool water. Pack white paper towels into the toe areas to soak up excess moisture and set the shoes out to dry in a warm place.
DIY Sneaker Cleaner Solution
This incredibly effective stain remover is simple to make using things you probably already have, and lifts even the toughest stain.
It has a mild fragrance from a few drops of your preferred essential oil, and it won't fade or bleach most shoes. Test the solution on a small and inconspicuous area of your shoe for optimal results before applying it.
Pour the ingredients into a spray bottle. Spray the solution over the stained area. Allow one minute for the cleaning solution to soak into the stain. Scrub gently with a cloth or an old toothbrush.
Rinse thoroughly with cool water and repeat if necessary. This simple DIY cleaner rapidly removes dirt and stubborn stains to leave your white mesh shoes clean.
Clean Canvas Shoes in the Washing Machine
Cleaning your white mesh shoes in the washing machine is straightforward. To break down dirt and stains, use a natural and mild laundry detergent so you don't discolor your white shoes with harsh chemicals.
Add white vinegar to the washer water to help lift stubborn stains and sanitize the shoes while the wash cycle runs. Use this method for cleaning white canvas shoes, too.
Add the detergent as usual, then put the vinegar into the detergent tray. Add a white towel in with your white shoe and wash on a normal wash cycle. Once the process is complete, allow your nylon mesh sneaker to dry naturally.
How to Clean White Mesh Shoes with Dish Soap
Dish soap offers a practical and straightforward approach to removing tough stains from white mesh shoes, and it's also safe for other colors of canvas shoes. If you have leather sneakers, dish soap is an excellent option because it cleans without yellowing the leather.
Dip a cloth into the soapy mixture. Use the cloth to wipe off your canvas shoes. Rub the soapy water gently into your shoes to remove any dirt or stains. To dry your clean sneakers, pat them with a paper towel until the moisture is gone and place them somewhere warm to dry completely.
For the way to get mud out of white shoes, let the mud dry first. Brush off as much as you can and then try dish soap and water for the remaining stain.
Hydrogen Peroxide to Clean White Mesh Tennis Shoes
Hydrogen peroxide works wonders when it comes to removing stains. This household staple is handy when learning how to clean white mesh sneakers.
Hydrogen peroxide is a powerful disinfectant and multi-purpose cleaner, and it brightens dull or stained surfaces. Oxidizing chemicals like hydrogen peroxide break down colored components of chemical structures in the dirt, and the stain is rendered unnoticeable.
To use hydrogen peroxide as a stain remover, combine it with water in a solution.
To remove the stain, massage the mixture into the dirty area with a clean cloth. Scrub in circles with a scrub brush to remove loose debris and help lift the undesirable color in stubborn stains. Allow drying naturally after rinsing with clean, cool water.
White Vinegar is a Powerful Stain Remover
White vinegar is a versatile natural shoe cleaner for even the worst dirt stains and is a quick and easy way to clean white mesh shoes. Because white vinegar is acidic, it's better to dilute it before using it.
Dip a cloth into the solution and squeeze away the excess. Allow the stain to soak up the white vinegar with the damp towel for about half an hour. Scrub the dirt with a scrub brush or an old toothbrush, then rinse with cool water to remove the vinegar. With white vinegar, the stained pigment lifts and rinses out.
Cleaning White Mesh Shoes with Toothpaste
Toothpaste removes biological stains from our mouths, such as food stuck in our teeth from our meals, and keeps our teeth stain-free; this makes it an excellent stain remover as well as a dirt and spot remover for your shoes. Any toothpaste works, but make sure it's the traditional variety, not the gel-based kind.
Use an old toothbrush or another brush with a soft bristle. Apply a small amount of toothpaste to the stain and gently rub it in.
After cleaning, rinse with cool water and blot dry with a paper towel to absorb any remaining wetness or undesirable color. After your mesh shoes have dried, repeat the process if needed until no unwelcome color remains—your shoes will be stain-free and smell fantastic.
Use a Magic Eraser for Cleaning White Mesh Shoes
Magic Erasers, made from dense foam with tiny air bubbles, are remarkably simple and effective on many dirt stains. A Magic Eraser is the answer to how to clean white mesh sneakers, particularly the rubber soles. To activate the foam, soak it in water and scrub with it to remove the harshest stains.
While Magic Erasers are a convenient tool for quickly removing stains, it's wise to practice caution when using them on your shoes.
Always do a tiny test area first to ensure no scratches or scuffing. Magic Erasers are somewhat abrasive, making them suitable for cleaning rubber soles but not leather, mesh, shoelaces, or other delicate materials.
Try Rubbing Alcohol for Clean Sneakers
The aesthetics of white sneakers and leather shoes are both ruined by dirt stains. You probably already have rubbing alcohol, which works well for stain removal. The alcohol breaks down the organic components of the color to remove the unwanted stain.
Always test each cleaning product on an inconspicuous spot before using it. Not all materials are suited for rubbing alcohol. Use a small test spot to ensure this procedure is safe for your shoes without putting them through too much wear.
Soak a clean cloth or a paper towel in rubbing alcohol to remove stains. To remove the pigment, gently dab the dirty area, then thoroughly rinse the cloth in cool, clean water.
If you still see discoloration after your mesh shoes or sneakers dry, repeat the process to ensure all dirt lifts and the original color of your sneakers restores.
How to Clean White Mesh Shoes with Oxiclean
Oxiclean is a cleaning solution that uses oxygen bleach to remove stains and brighten fabrics. Because it is environmentally acceptable and safe to use, Oxiclean is a staple in many a household cleaning cupboard.
The chemical name for oxygen bleach is sodium percarbonate, made up of natural soda crystals and hydrogen peroxide.
When OxiClean comes into contact with water, a chemical reaction occurs, releasing oxygen bubbles to help break down stains and grime. OxiClean powder is environmentally beneficial because the sole by-product is soda ash, a non-toxic and harmless substance.
To use oxygen bleach on soiled mesh sneakers or other footwear, combine two tablespoons of the powder with a gallon of water and soak the stained area for up to an hour. Allow your shoes to dry after rinsing them with fresh water.
To clean white laces, soak them with oxygen bleach, add them to a laundry bag, and toss them in the washer.
Laundry Detergent to Remove Stubborn Stains
These stains won't come out with regular laundry detergent, but using a mild detergent in a concentrated manner is a good idea. This approach is less cost-effective due to the price of detergent and the volume needed, but it may be a viable choice if you don't have anything else on hand.
Detergents with color-safe bleach are usually the most successful at eliminating heavy stains without bleaching the color of your shoes.
Pour a substantial amount of laundry detergent directly onto the stain, work it in with a scrubbing brush or an old toothbrush, and let it sit for 15-20 minutes before washing on a usual cycle in the washing machine.
If the discoloration persists, try a different procedure or detergent. The washer doesn't typically shrink mesh shoes but don't put them in the dryer afterward. Air dry in the house or outside.
It's not usually recommended to put Vans in the washer. Hand cleaning is often your best option.
Nail Polish Remover for Stubborn Stains
Use acetone, better known as nail polish remover, to clean stains from mesh shoes and other garments. Acetone is a stain remover found in various household items, including personal care products and cosmetics.
Dip a cotton swab or a cloth into the acetone to clean with it. Allow the chemical to lift the stain from your shoes by rubbing it back and forth, slowly and gently. Before using acetone, always perform a safety test on an inconspicuous region of your shoes, especially if you have more delicate leather shoes.
How to Clean White Mesh Sneakers with Shaving Cream
Shaving cream restores white shoes to their former brilliance. The white foam removes dirt to restore the luster to your sneakers. It makes little difference if your shoes are made of leather or canvas because shaving cream works on both.
To keep canvas shoes white, with your fingertips, spread a thick layer of shaving cream over the surface of both shoes. Allow a half-hour resting period and scrub the shoes with an old toothbrush, paying close attention to any stained or dirty parts.
Dunk and squeeze extra water out of a soft cloth, such as a white rag or washcloth. Clean your shoes with a damp cloth and allow them to dry.
Baby Wipes as a Sneaker Cleaner
Baby wipes are inexpensive and easy to carry around, making them ideal for removing a persistent stain as soon as it appears and preventing it from sinking into your canvas shoes.
Baby wipes clean while being soft on the skin, so they remove dirt without causing damage to your mesh shoes. As soon as the stain happens, rub the baby wipe back and forth over it to remove it before it penetrates the fabric of your canvas shoes.
The Best Tools for Cleaning White Mesh Shoes
When it comes to cleaning white mesh shoes, soft cloth is ideal. Because of its absorbency, use it with any liquid cleaning solutions mentioned above. It won't scratch or scuff your footwear while removing tough unwanted pigment.
An old toothbrush is excellent for removing grass stains off shoes. Instead of throwing away an old toothbrush, upcycle it into a helpful cleaning tool.
The toothbrush head's compact size makes it ideal for spot cleaning or accessing awkward nooks and crevices. The bristles are flexible and don't scratch your shoes, yet they're small enough to go deep into the weaves of fabric to remove the deepest dirt.
A scrub brush is also helpful. You undoubtedly have one at home, and it's handy to remove stains from shoes in a pinch. A scrub brush's stiff bristles get down into the small weaves in the fabric of shoes, breaking down and removing stubborn stains.
Spot Clean Your White Sneakers
Only the stain-affected region of the garment is treated with spot cleaning, which is a good alternative for leather shoes and other delicates and is regularly used on fine clothes. Because leather is notoriously difficult to maintain, a spot treatment removes the stain without ruining the shoe.
Choose an approach from above and concentrate just on the dirt-affected area. This procedure reduces the number of cleaning products coming into contact with your sneakers, lowering the risk of discoloration.
We hope you enjoyed our article on brilliant ways to clean white mesh shoes. Many household goods you already have on hand help maintain your canvas shoes and keep them looking their best without deterioration.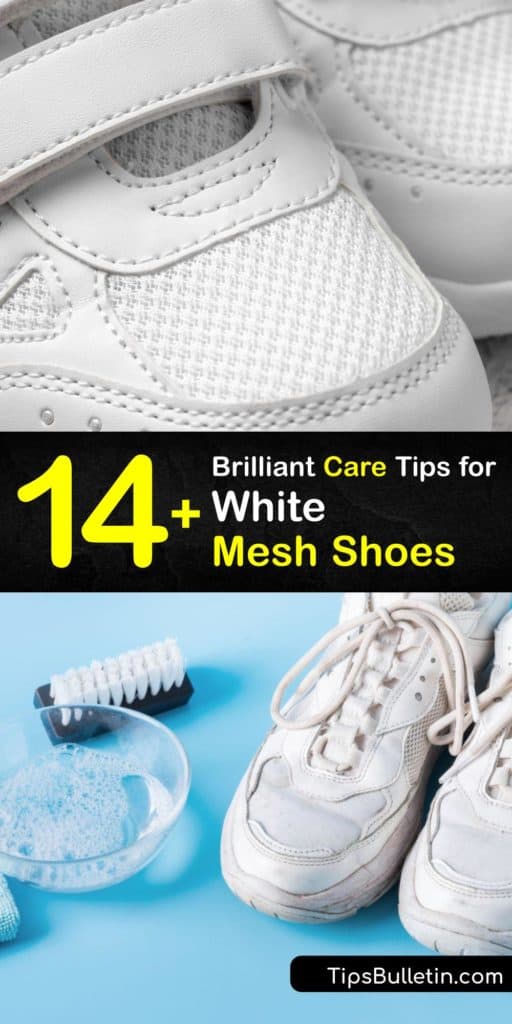 If you found this article on how to clean white mesh shoes helpful, share these smart tips for how to clean white mesh sneakers with your family and friends via Pinterest and Facebook.